FEBRUARY 2023 - ICY BLUE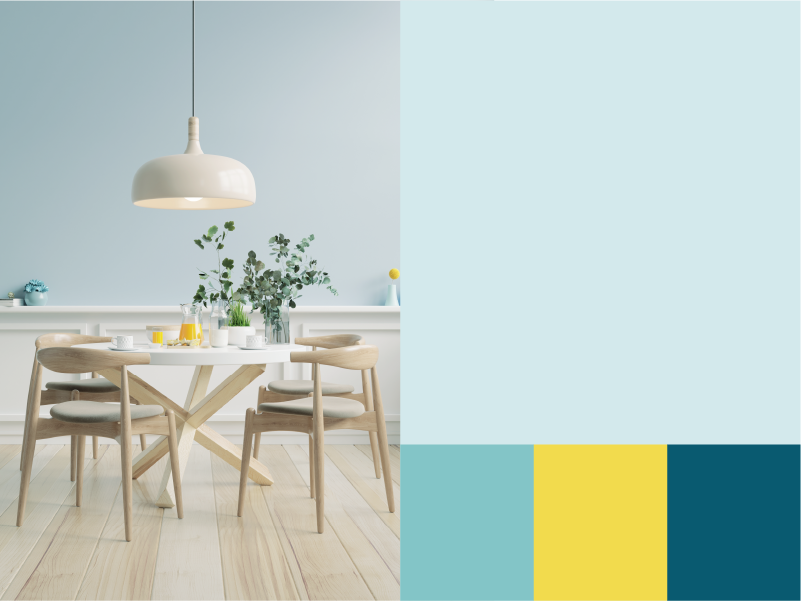 February is a month where most of us are now probably longing for a bit of warmth and sun after a long winter season. However we want to embrace the cold and beauty that this chiller month brings as we look to nature once again to find our inspiration for this month's color of the month: Icy Blue.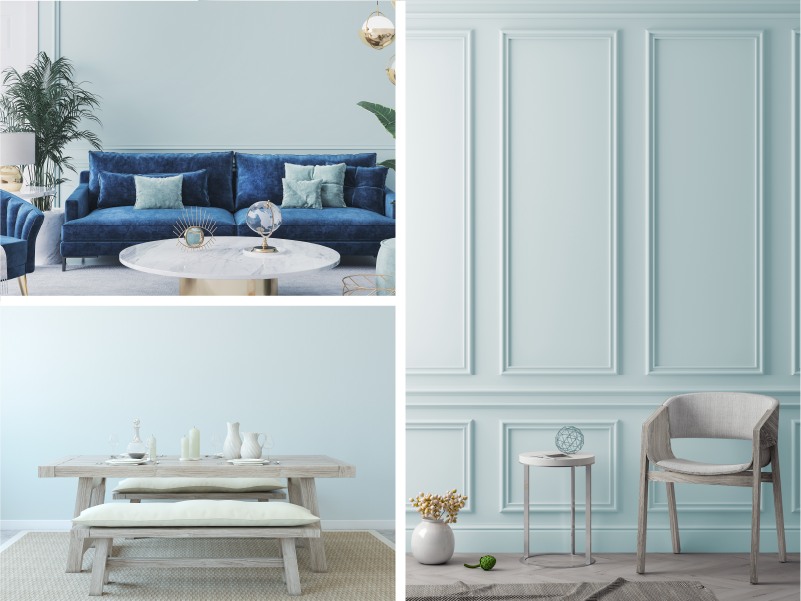 We have focused on the scenic spectacle of mountain glaciers to determine our Icy blue color pallet this month so you can bring a slice of that breathtaking landscape into your home. Icy blue can add a sense of calm to any room and replicate that isolated peacefulness that accompanies a glacier environment.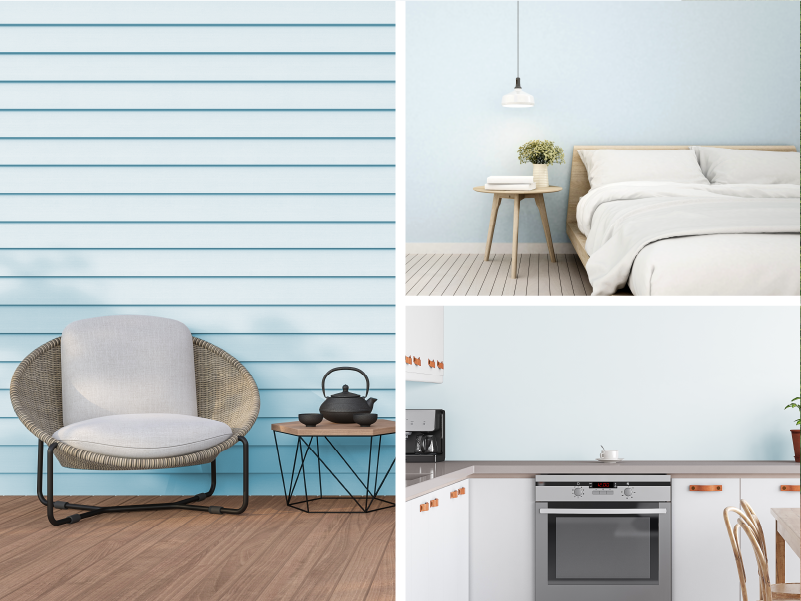 If you want to create a serene energy to your space, Icy blue pairs beautifully with crisp white or natural light wood accents. You can also create a cool monochromatic look by incorporating several shades of blue to mimic the tones of the glaciers. 
It's a color that works in most rooms in your home, from a powder room that needs a fresh revamp to a dining area that's calling out for some tranquility, it really is ever so versatile!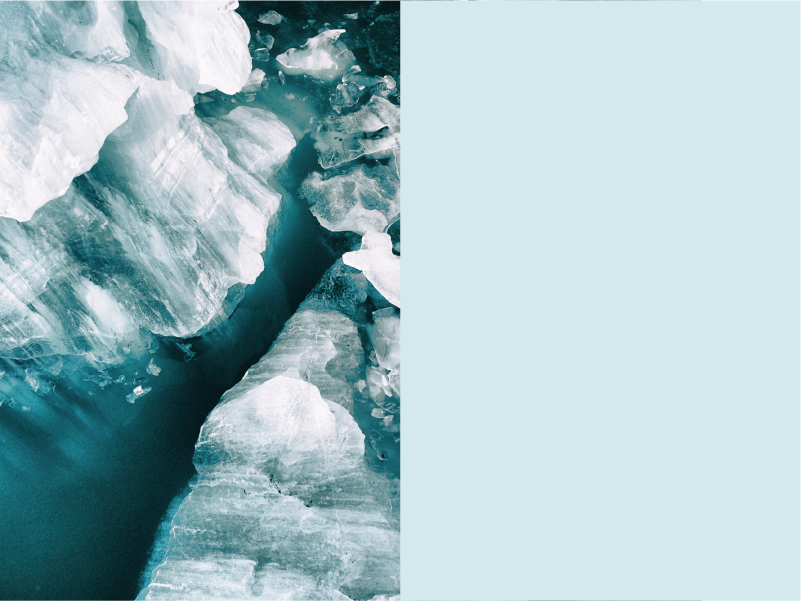 Looking for the perfect shade of Icy Blue? We recommend Icy Blue by Benjamin Moore. If you want to have a transformed space to start your year, WOW 1 DAY PAINTING would love to help you transform your home!  
Want more inspiration? Read our previous Color of the Month features: 
January 2023 - Emerald | December 2022 - White | November 2022 - Gold | October 2022 - Gray | September 2022 - Navy | August 2022 - Beige | July 2022 - Bright Blue | June 2022 - Coral | May 2022 - Pinky Purple | April 2022 - Butter Yellow | March 2022 - Sage Green | February 2022 - Deep Red | January 2022 - Light Orange | December 2021 - Rubellite | November 2021 - Sapphire | October 2021 - Smoky Quartz | September 2021 - Amber | August 2021 - Peridot |  July 2021 - Garnet | June 2021 - Opal | May 2021 - Amethyst | April 2021 - Aquamarine | March 2021 - Amazonite | February 2021 - Rose Quartz | January 2021 - Citrine | December 2020 - Dusty Sage | November 2020 - Charcoal Gray | October 2020 - Orange Clay | September 2020 - Oakwood | August 2020 - Moss Green | July 2020 - Tropical Ocean | June 2020 - Sunflower | May 2020 - French Lavender | April 2020 - Cherry Blossom | March 2020 - Robin Egg | February 2020 - Winter Sunset | January 2020 - Glacier White | December 2019 - Merlot | November 2019 - Mushroom | October 2019 - Licorice | September 2019 - Eggplant | August 2019 - Mint | July 2019 - Blueberry | June 2019 - Vanilla | May 2019 - Guava | April 2019 - Rose | March 2019 - Olive | February 2019 - Mocha | January 2019 - Fresh Lemon | December 2018 - Silver | November 2018 - Royal Blue | October 2018 - Orange | September 2018 - Brown | August 2018 - Magenta | July 2018 - Ivory | June 2018 - Yellow | May 2018 - Peach | April 2018 - Indigo | March 2018 - Green | February 2018 - Red | January 2018 - Gold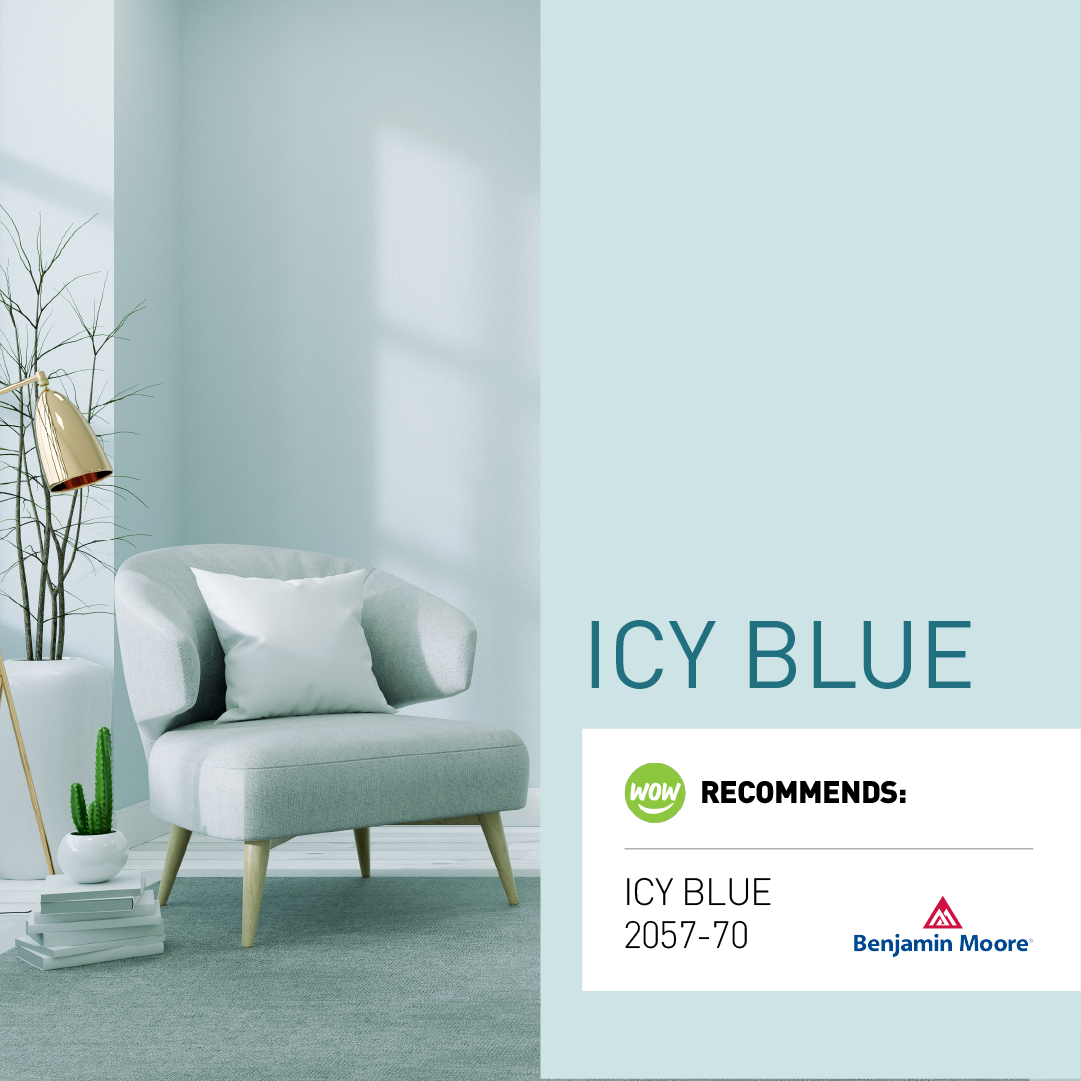 Thinking of trying out Icy Blue in your home? Click below to schedule your free estimate: