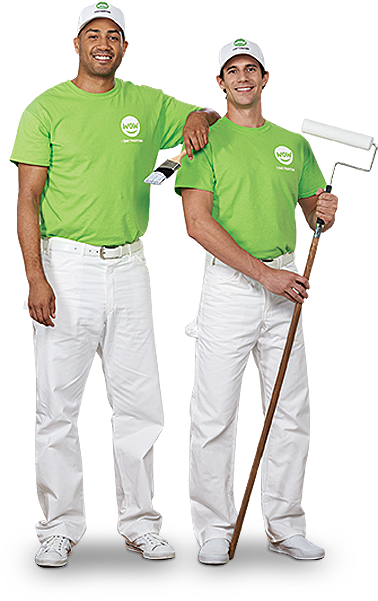 We love what we do! But don't take our word for it, see what our customers have to say!
Good communication from estimator. Pleasant workers. Excellent job.
- Steve Blackwell, Calgary, Alberta
Absolutely the best quality work and the most professional EVER. I would give WOW 10 stars if I could! I was recommended to Ty by a friend of mine. I went to visit one day and noticed that his house had an awesome new paint job. I looked at the lines on the archways and ceiling. I was astonished to see that all the lines were perfect! I had been looking for someone who could do work quality like this for quite some time. I called Ty on a Saturday and received a return call within hours. We scheduled a time on Monday to give me a bid. He actually arrived 15 minutes early which is very unusual. I had told him that I wanted to have some rooms painted as a surprise for my husband who was out of town on business. The bid was very reasonable. I was so impressed by Ty's professionalism that I asked him to begin immediately. He accommodated my needs time wise. The work was absolutely perfect in every way. They even cleaned up everything when they were done. Moved all my furniture and put everything back. Ty is also a great artist. After seeing some of his artwork I decided to commission him to paint a mural on my entryway which has 26 foot ceilings. I'm excited to see what he comes up with.! Anyway...you will get all that you are expecting, and more.
- Gayle Lee, Scottsdale, Arizona
I can't believe what can be accomplished in just one day! I was truly amazed and would recommend to anyone!
- Casey Johnson, Scottsdale, Arizona
Wow 1 Day Painting finished our job today and it is amazing! We went from dark and closed-feeling house to bright and open. The crew were all such nice guys and they work FAST. Alexis was totally communicative about the whole process and the painters always let us know how far they had gotten and how much more time it would take. We will use them in the future for our exterior too. :)
- Beth Mclaughlin, Reno, Nevada
All I can say about my house painting is WOW! Great job guys!!
- Virginia North Customer, Stafford, Virginia
If I could give 10 stars, I would!!! Craig, Kyle and the whole team were absolutely the best in all aspects of the painting of my condo, including the extremely messy, labor intensive job of removing popcorn ceilings throughout the entire unit. I am very happy I chose them to do the work and highly recommend them. Thanks to each of you who worked so hard on this project. Well done!!!
- Charlotte, McLean, VA, Virginia
Wow 1 Day paining was very thorough, professional and efficient.
- Mary Montgomery, San Diego, California
ever had better experience working with contractor Jason follow through gave more than expected wished I had more house to paint
- Mike Orrell, Detroit, Michigan
The room looks great as usual-quality paint, clean trim and no roller marks on the wall. The painter was presentable, very cordial, told us what he was doing when we asked, and cleaned up when he was done. Bonus is they always arrive on time!
- Tracy Bank, Washington, D.C., District of Columbia
Friendly, available and professional service!! I strongly recommend.
- Christiane Raspa, Toronto, Ontario
"The crew was on time, cleaned up, taped off everything perfectly...Fernando, the foreman, was wonderful to work with, very professional. We are a swim/tennis club and the large job was completed in one day, we are very impressed and will recommend WOW to other clubs in the area. Thank you, Steve Chaney Mgr. Fairbrae Swim and Tennis Club"
- Steve Chaney, San Jose, California
We recently had the pleasure of working with Ramsey Frangul and his team in the Cedar Rapids, Iowa market. What a great experience! From submitting an inquiry to job completion, they were wonderful to work with. Ramsey was always updating me on the status of the project beginning with the initial walk around for quoting. His quote came back extremely fair and they were able to schedule my project quickly. His team was professional and courteous. I talked with Ramsey daily throughout the project. I appreciate the opportunity to do a final walk through. There were very few touch ups needed and they were quick to get them done. Oh…and it looks fantastic!!! I would not hesitate to recommend Ramsey and his team to family, friends and neighbors. I am so happy that they are a qualified option in this market!
- Kristy & Dan Ryan, Cedar Rapids, Iowa
Tyrone and his team at Kitchener-Waterloo Wow1Day painted the interior of a 1,540 square foot apartment in our 117 year old Victorian income property. From start to finish, the entire process was quick, efficient, professional and exceedingly courteous. Exceptional service at a fair price and accomplished in an incredible 16 hours! I will definitely use Tyrone and his team again.
- Michelle B, Kitchener, Ontario
The quality of work performed from estimating to cleanup was fntastic.
- Jo Hunt, Worcester, Massachusetts
everything is perfect left 5 Star review on yelp price comepetive, timely and professional
- Channa Jayasekera, San Jose, California
Great painters, faux finish was done perfect. Great people to work with.
- Helen W. , Hinckley, Ohio
Leesha offers superior customer service, the price is fair and good quality. Receiving exceptional value is what will keep me coming back and keep recommending her.
- Renee Lavallee, Ottawa, Ontario
The team I had worked in sync with each other and finish the job completely in less time than was originally scheduled. They absolutely did a beautiful job. The red walls that were covered in a light tan we're quite a challenge to them both. The paint job looks absolutely fabulous.
- Mary Byrnes, Sarasota, Florida
The team painted my entire 1800 sq ft home. Project required 2 coats and sometimes 3. Dated dark colors were replaced with tropical bright happy colors. Each crew member was the utmost professional and courteous. Each one insisting that I was constantly please with the outcome. I am not certain which is more awesome, the new paint and look or how awesome Steve and his crew was. I certainly recommend Steve Lewis and WOW 1-Day Painting.
- Rick Richter, Sarasota, Florida
The Wow 1 Day team was great. They took the time to walk me through the estimating process and all the differences in paint types. It really made the difference that they cared enough to walk me through the process and make things comfortable every step of the way. Highly recommend.
- Andrew Spainhower, Scottsdale, Arizona
Would rate 11 if possible just immaculate and professional service, great communication, no hassel over a very fair price, better than clean as a whistle. of course will reccommend to others. keep your painter he was just Great! Wants to know when the stock will go public want in on such a great company.
- Robert Burns, Toronto, Ontario
very pleased will call again salesman Matt charming/ understood what I wanted/ / go to the job done/done after husband went to work and done before he got home. issue with plants dallus stork were brused/ steam broken used a drop cloth. score 9 that is how you keep a marriage happpy"
- Charmine Neary, Westchester, New York
WOW 1 Day Painting came out to paint my master bedroom. They were AMAZING! The painters were all uniformed, listened to my concerns, and answered all my questions. The end result was absolutely stunning!! Not to mention that the price couldn't be beat. I will definitely use this company again.
- Kaitlyn Ovard, Reno, Nevada
I needed my entire house painted before we left on vacation. I was pretty stressed out and started looking for painters. Dave came by, gave a quote and promised to have the job done before I left on vacation. They finished the job in 1 DAY and I was so happy with the work. I felt completely comfortable with the price and the service was fantastic. I would highly recommend these guys to any of my friends and family. Thanks so much!!
- Sarah, Seattle, Washington
The painters were personable and did everything they promised. We plan on using them again in the future. They did excellent work and a high quality job.
- Scottsdale Customer, Scottsdale, Arizona
WOW 1 DAY PAINTING came out to paint my master bedroom. They were AMAZING! The painters were all uniformed, listened to my concerns, and answered all my questions. The end result was absolutely stunning!! Not to mention that the price couldn't be beat. I will definitely use this company again.
- Kaitlyn O., Reno, Nevada
We had our living room painted in our house recently. I was really pleased how the WOW crew was on time, finished the job in less time than they estimated, and most importantly did a very good quality job for a fair price.
- Tracy H., Fort Collins, Colorado
Alex was professsional and handled all my requests. Job well done!
- Gordana Grbic, San Jose, California
The staff is fast, on time, professional, detail oriented, and willing to make sure all their work comes out great. They go above and beyond. I would DEFINITELY recommend WOW 1 DAY PAINTING. I will be calling them again in the near future for more work to be done in my house.
- Sonja Rodriguez, Worcester, Massachusetts
2367Great service and work! Thanks!
- Daniel Williams, Mississauga/Oakville, Ontario
<! -- // row inner -->