FEBRUARY 2021 - ROSE QUARTZ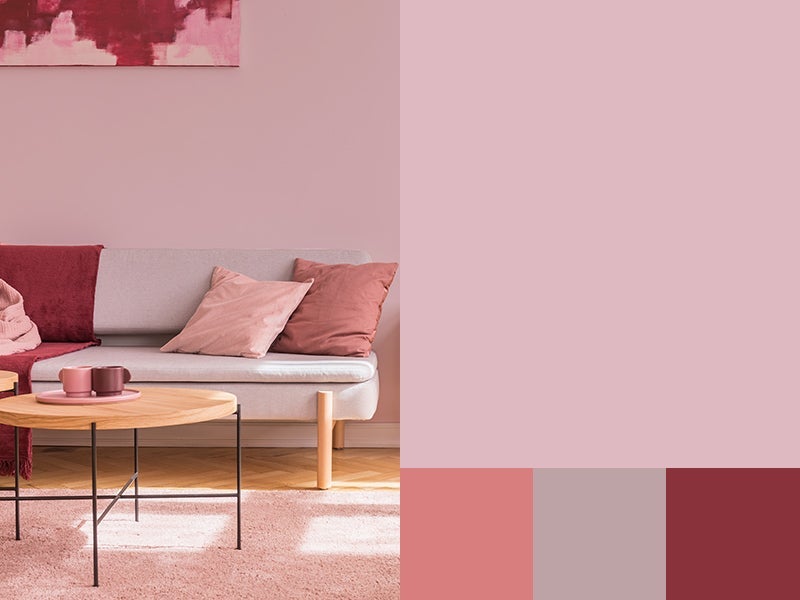 February is here and love is in the air! With Valentine's Day this month, many people associate the month with love and romance, which is welcomed on these chilly winter days. February's Color of the Month selection is inspired by these feelings, but with an added element of self-care and wellness. Say hello to Rose Quartz!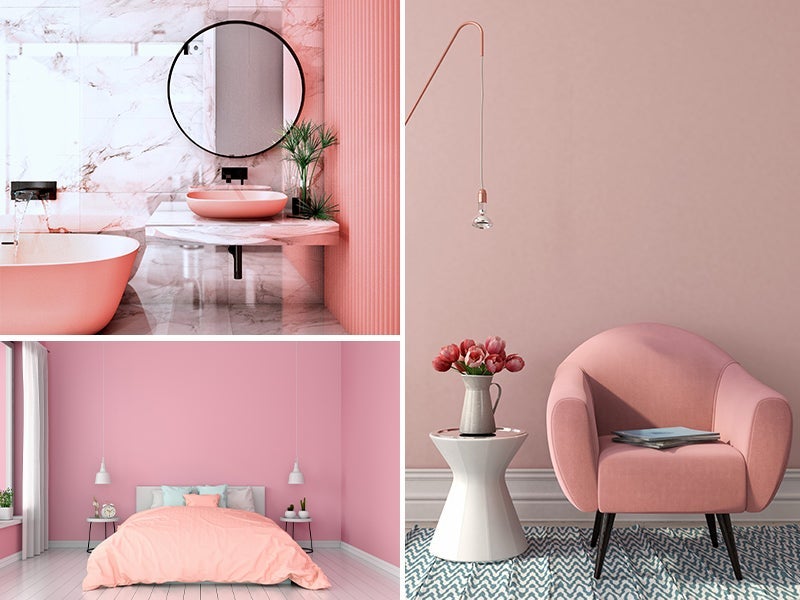 Crystals have become quite a big deal in recent years, with many people snapping up different stones to test out their healing properties. They've also become a huge trend in home decor, simply because they look so pretty! Rose Quartz is one of the most popular stones, thanks to its gorgeous rosy pink color and its unique healing powers. 
Rose Quartz is a stone of the heart, evoking feelings of romance, sensitivity, femininity, and sweetness. It has a feminine energy and instantly brings us warmth and a sense of calm. it's the color of new love, new romance and new relationships. (Could it be more perfect for February?)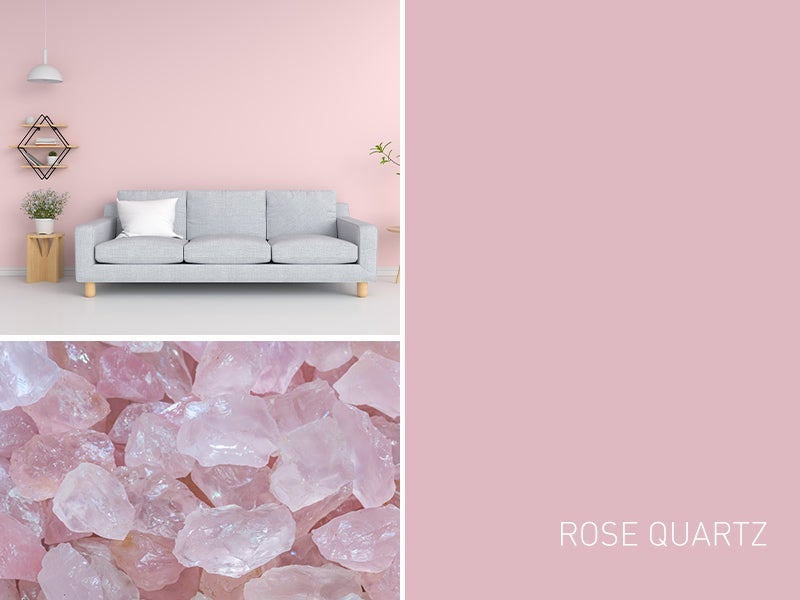 In decor, Rose Quartz is the perfect hue to bring into your space to create a softness and soothing vibe. it's perfect for bedrooms, or an ultra relaxing spa-like bathroom. it's also a gorgeous accent color to use in any space where people gather, like a living room or family room. In fact, Rose Quartz has been a Pantone Color of the Year along with Serenity, a soothing light blue color. This palette is perfect for any space where you want to bring some balance of both warm and cool tones, and create a space that makes you feel calm and happy. 
It also pairs well with muted neutrals like silvery gray, soft beige, and deep earthy browns. If you want to add a little more color, try a gorgeous sage green, soft orchid tone, or peachy pink. Whether you use it as an accent or an allover wall color, any of these colors will help to create a perfectly balanced look.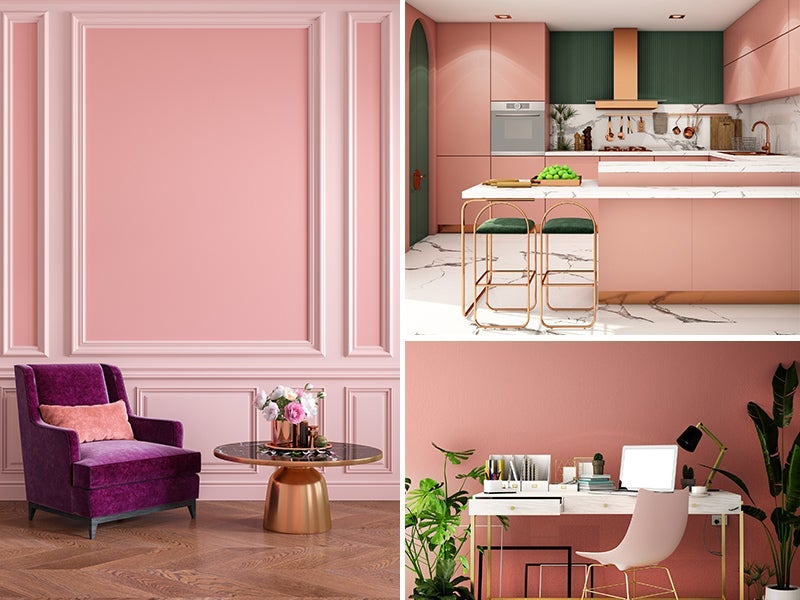 Want more inspiration? Read our previous Color of the Month features: 
January 2021 - Citrine | December 2020 - Dusty Sage | November 2020 - Charcoal Gray | October 2020 - Orange Clay | September 2020 - Oakwood | August 2020 - Moss Green | July 2020 - Tropical Ocean | June 2020 - Sunflower | May 2020 - French Lavender | April 2020 - Cherry Blossom | March 2020 - Robin Egg | February 2020 - Winter Sunset | January 2020 - Glacier White | December 2019 - Merlot | November 2019 - Mushroom | October 2019 - Licorice | September 2019 - Eggplant | August 2019 - Mint | July 2019 - Blueberry | June 2019 - Vanilla | May 2019 - Guava | April 2019 - Rose | March 2019 - Olive | February 2019 - Mocha | January 2019 - Fresh Lemon | December 2018 - Silver | November 2018 - Royal Blue | October 2018 - Orange | September 2018 - Brown | August 2018 - Magenta | July 2018 - Ivory | June 2018 - Yellow | May 2018 - Peach | April 2018 - Indigo | March 2018 - Green | February 2018 - Red | January 2018 - Gold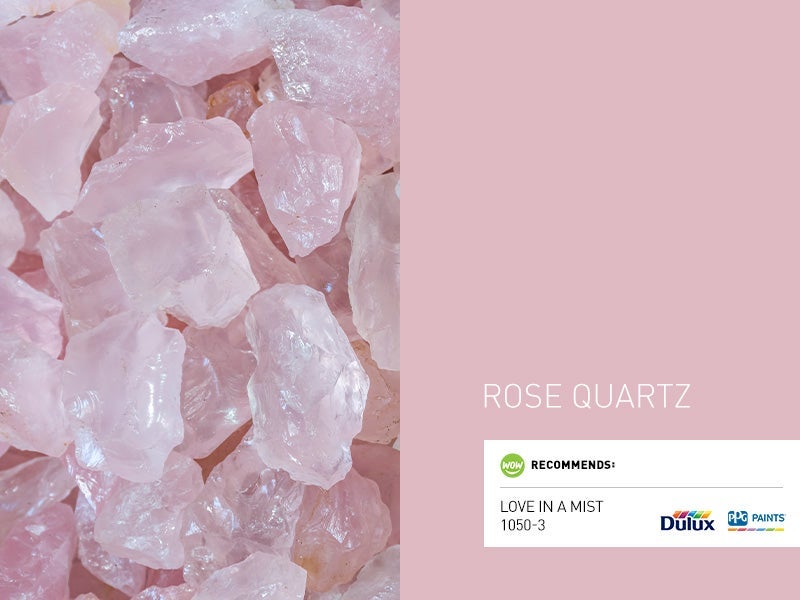 If you're ready to give Rose Quartz a try, we think Love In A Mist PPG1050-3 from PPG Paints & DLX1050-3 from Dulux would be a great fit. Click below to schedule your free estimate: