How To Buy A Franchise
The WOW 1 DAY PAINTING Franchising Process
What does the process of becoming a Franchise Partner look like? Here's a step-by-step guide on how to start a franchise with WOW 1 DAY PAINTING:
Initial Assessment: It all starts with a phone call to determine if you're the right fit, and to give you more information about our available opportunities. 
Market Study: If we all decide that we want to move forward, you will enter the due diligence stage. This involves a market study, where you'll develop a thorough understanding of the industry within your territory.
Budget and Financial Forecast: We work with you to build a realistic business plan and financial forecast. You will also review our Franchise Disclosure Document (FDD), and we'll discuss your funding and financing plans/options. 
Speaking to Our Franchise Owners: Interview our Franchise Partners to learn more about their experiences, their opinions on the business, and what it takes to be successful. 
Discovery Day: You'll attend a virtual discovery day* which includes meeting with leadership and the teams that will support you. It's also when we finalise your business plan and territory.
Franchise Awarded: It's time to celebrate! Your corporation will be established, you'll pay your franchise fees, and we'll produce your franchise agreements for signing. You'll then start your on-boarding and training.
Our Franchise Selection Process
It's a thorough process, but this is a life-changing decision – and we need to make sure that you're right for us, and that we're right for you. Over 30 years, we've identified the traits and skills of successful franchise partners. Here's what it takes to be considered for a WOW 1 DAY PAINTING franchise:
You love to lead.
You're proactive — and hungry to hit your goals.
You value integrity above all else.
You're a strong communicator.
You can think on your feet.
You've got grit — you've faced challenges before and you battle through.
You choose to see the positive in every situation.
You value exceptional customer service.
You want to be hands-on in your business and build something from the ground up.
Is this you? Submit your details today, and let's talk! Starting a new business can be exciting, yet intimidating. Let us help guide you, every step of the way.
Image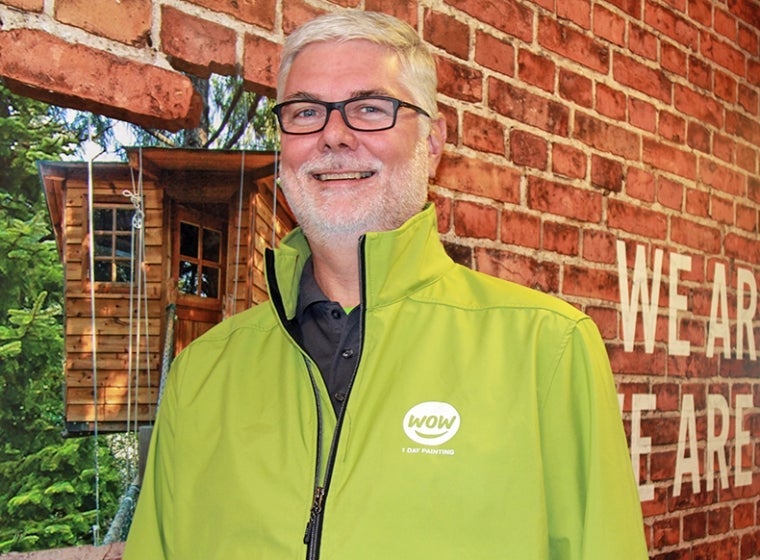 I was looking for something in home services. Something that isn't going away – an industry that's been around for years and will continue on for years. WOW 1 DAY PAINTING's whole model is focused on the customer, providing that exceptional experience, and delivering on what you promise. That really checked the box for me, because it's those things that are important to me as a consumer. 
Kevin Sweetnam
Monmouth County, NJ