September 2022 - Navy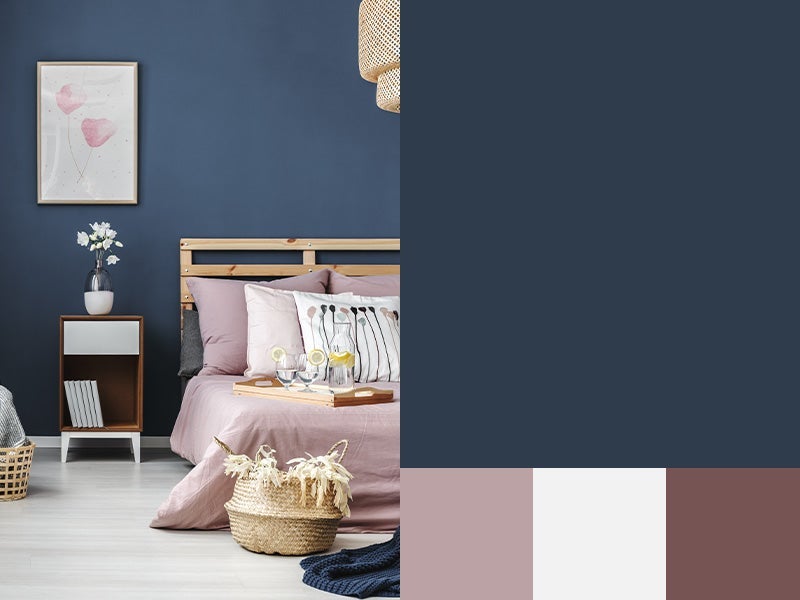 it's always hard to say goodbye to summer and as the sun sets that little bit earlier each night and the weather gradually starts to cool off this month we slowly start to creep into fall. However we can't deny we are a little excited for the start of sweater season and cozy nights curled up on our couch.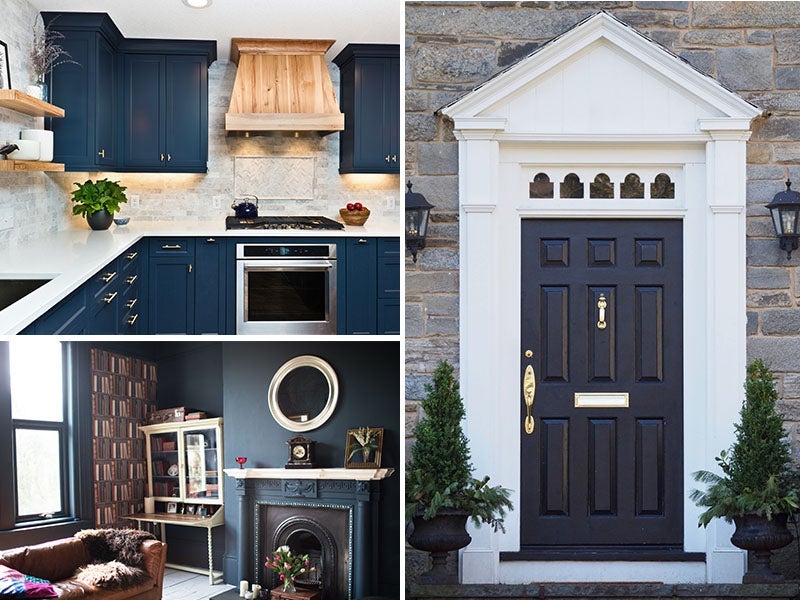 So as the season starts to change our color palette does too and that's why this month's color of the month is: Navy. This deep blue hue is just what we need to cozy up our homes this fall. When you think of the traditional colors of the season, your mind probably goes straight to the bright shades of yellow, red, and orange that emerge as the season starts. However, we get that same warm and comforting fall feeling from the dark tones of Navy but still allowing our interiors to look chic and stylish at the same time.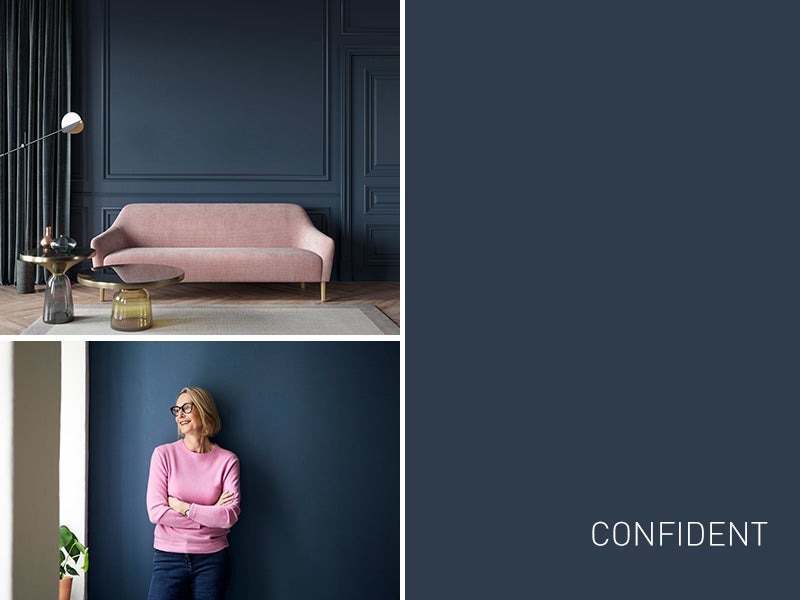 It can be seen as a bold color choice for your home and that is why our emotion behind this color this month is - Confident. This authoritative color commands attention in a room whilst allowing your decor to stand out against its unafraid backdrop. Your plants become more vivid and your white or gold trims will sing next to your navy wall - bringing confidence to all the features around your home.Navy can be brought in on an accent wall, in a stunning pattern like chevron, or a whole room. Having lots of natural light in a room can help the darker navy walls not seem like a closed-in box & really help the beautiful color stand out.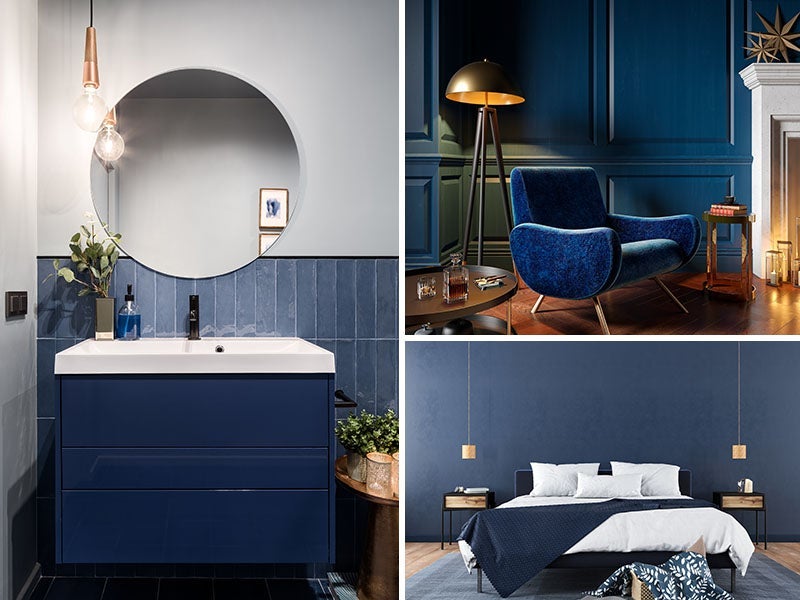 There are so many places to use blue in the home - bathrooms that need some added personality, your Kitchens that need an updated modern look or even a nursery for a gender neutral alternative to grey. The possibilities are endless. 
Looking for the perfect shade of Navy? we recommend Naval by Sherwin Williams. If you want to bring the sunshine to your home this summer, WOW 1 DAY PAINTING would love to help you transform your home!  
Want more inspiration? Read our previous Color of the Month features: 
 August 2022 - Beige | July 2022 - Bright Blue | June 2022 - Coral | May 2022 - Pinky Purple | April 2022 - Butter Yellow | March 2022 - Sage Green | February 2022 - Deep Red | January 2022 - Light Orange | December 2021 - Rubellite | November 2021 - Sapphire | October 2021 - Smoky Quartz | September 2021 - Amber | August 2021 - Peridot |  July 2021 - Garnet | June 2021 - Opal | May 2021 - Amethyst | April 2021 - Aquamarine | March 2021 - Amazonite | February 2021 - Rose Quartz | January 2021 - Citrine | December 2020 - Dusty Sage | November 2020 - Charcoal Gray | October 2020 - Orange Clay | September 2020 - Oakwood | August 2020 - Moss Green | July 2020 - Tropical Ocean | June 2020 - Sunflower | May 2020 - French Lavender | April 2020 - Cherry Blossom | March 2020 - Robin Egg | February 2020 - Winter Sunset | January 2020 - Glacier White | December 2019 - Merlot | November 2019 - Mushroom | October 2019 - Licorice | September 2019 - Eggplant | August 2019 - Mint | July 2019 - Blueberry | June 2019 - Vanilla | May 2019 - Guava | April 2019 - Rose | March 2019 - Olive | February 2019 - Mocha | January 2019 - Fresh Lemon | December 2018 - Silver | November 2018 - Royal Blue | October 2018 - Orange | September 2018 - Brown | August 2018 - Magenta | July 2018 - Ivory | June 2018 - Yellow | May 2018 - Peach | April 2018 - Indigo | March 2018 - Green | February 2018 - Red | January 2018 - Gold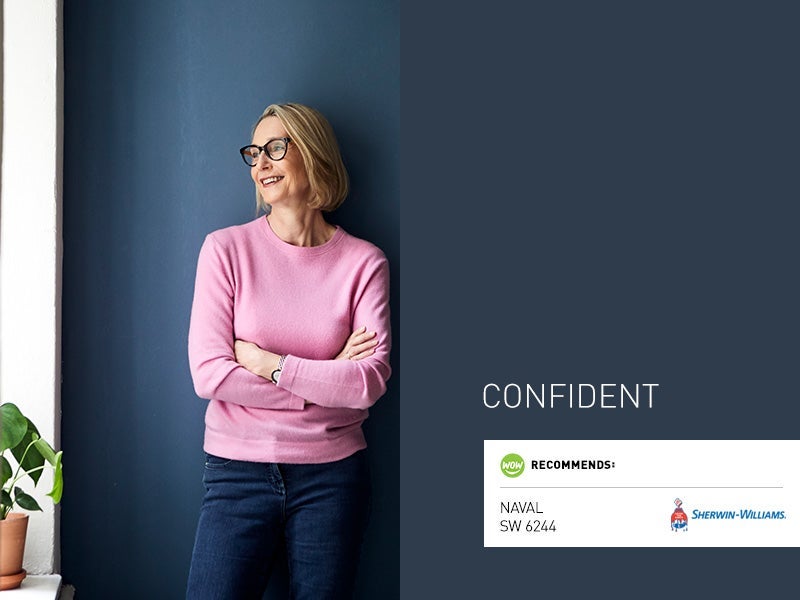 Thinking of trying out Navy in your home? Click below to schedule your free estimate: