June 2022 - Coral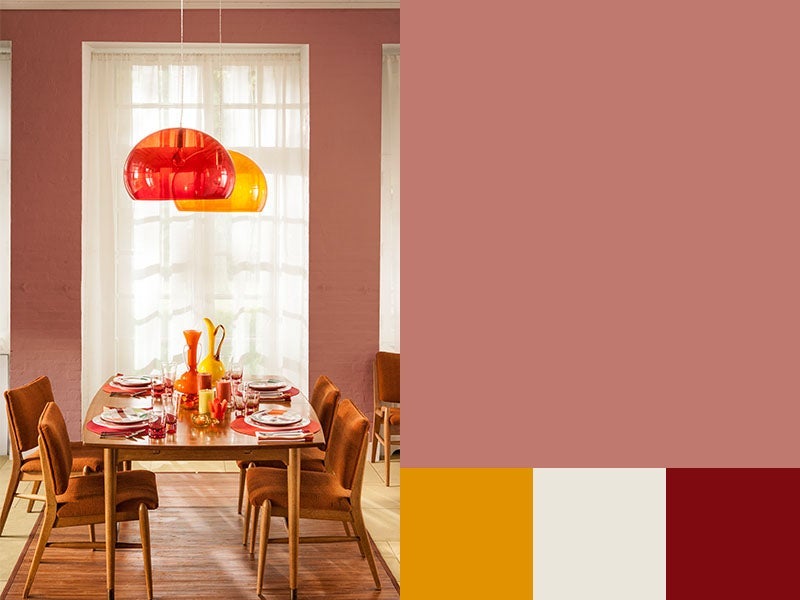 it's official! June includes the first day of summer and also the longest day of the year! So with warm summer evenings fast approaching and the endless possibilities that summertime brings, we can almost feel the sand between our toes and the sun on our faces. Which is why the color of the month for June is a Coral. And what more fitting emotion behind this month's color than 'excited'?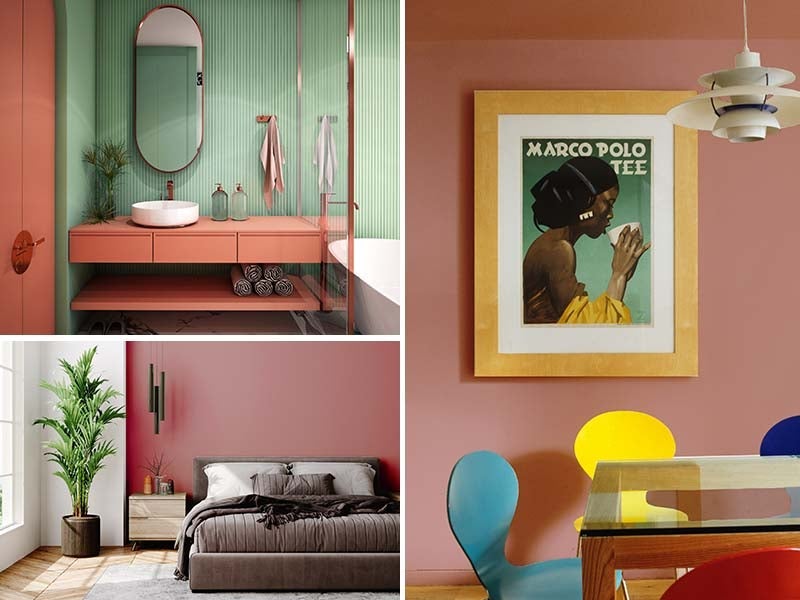 Coral is a warm, dynamic, and invigorating color, blending the femininity of pink with the optimism and energy of orange - and is widely seen as a color that symbolizes positivity, something that we all need a bit of in our lives! 
So on that exciting and positive theme, where better to use this energizing color than in your home office? You can ditch that second cup of coffee in the morning as your coral walls will be giving you extra energy to get through your to-do list.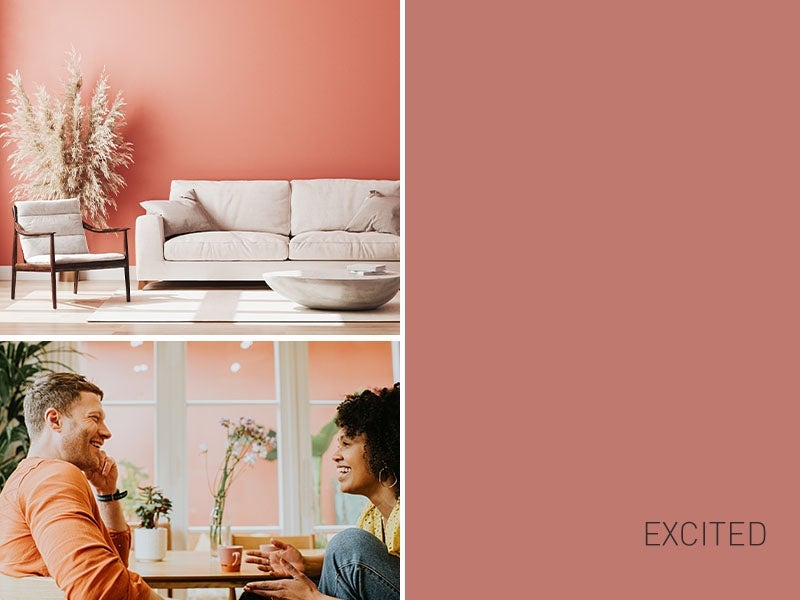 In your home, coral can also be used to liven up your living room, creating a sense of warmth and coziness by bringing that sunshine feeling right onto your walls. 
Wish you were flying away on vacation this month? There's no need to jump on a plane, a splash of coral on your walls can give you those moroccan riad vibes and instantly transport you to a exotic heaven. 
Coral is also a color that can take on the boldest of color pallets. Pairing it with mustard yellows and deep reds conjures up the flavors of India and Morocco, spices and sunsets.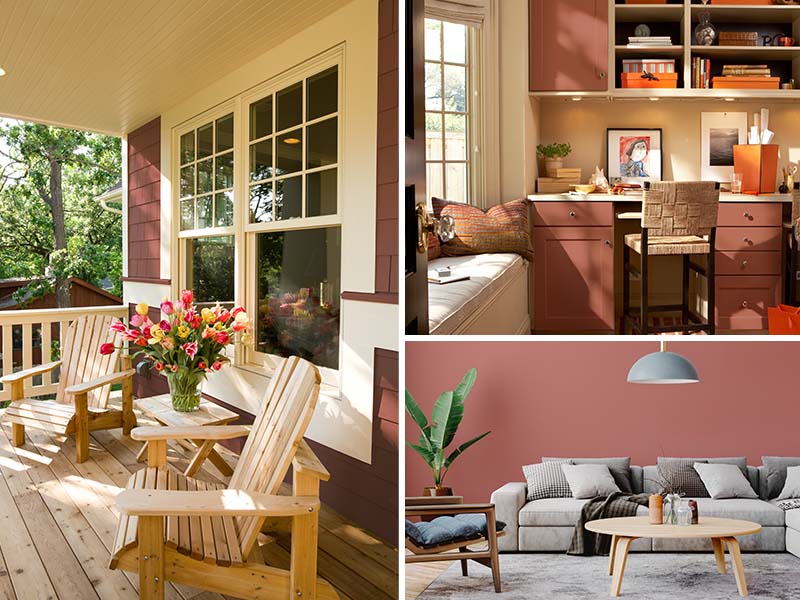 Alternatively, if you want to keep Coral as the main focus and have a fresher color palette, try matching it with soft creams, accents of gold and top with flourishes of green foliage - creating your own little slice of paradise right at home.
And if you've been toying over what color will give you a welcoming curb side appeal, look no further - as this is a great color to use on the exterior of your home too. Coral pairs perfectly with green hues, making your lawn look extra lush this summer - and the envy of all your neighbors!
Looking for the perfect shade of Coral? we recommend Coral Clay by Sherwin Williams. If you want to bring the excitement this summer, WOW 1 DAY PAINTING would love to help you transform your home!
Want more inspiration? Read our previous Color of the Month features: 
 May 2022 - Pinky Purple | April 2022 - Butter Yellow | March 2022 - Sage Green | February 2022 - Deep Red | January 2022 - Light Orange | December 2021 - Rubellite | November 2021 - Sapphire | October 2021 - Smoky Quartz | September 2021 - Amber | August 2021 - Peridot |  July 2021 - Garnet | June 2021 - Opal | May 2021 - Amethyst | April 2021 - Aquamarine | March 2021 - Amazonite | February 2021 - Rose Quartz | January 2021 - Citrine | December 2020 - Dusty Sage | November 2020 - Charcoal Gray | October 2020 - Orange Clay | September 2020 - Oakwood | August 2020 - Moss Green | July 2020 - Tropical Ocean | June 2020 - Sunflower | May 2020 - French Lavender | April 2020 - Cherry Blossom | March 2020 - Robin Egg | February 2020 - Winter Sunset | January 2020 - Glacier White | December 2019 - Merlot | November 2019 - Mushroom | October 2019 - Licorice | September 2019 - Eggplant | August 2019 - Mint | July 2019 - Blueberry | June 2019 - Vanilla | May 2019 - Guava | April 2019 - Rose | March 2019 - Olive | February 2019 - Mocha | January 2019 - Fresh Lemon | December 2018 - Silver | November 2018 - Royal Blue | October 2018 - Orange | September 2018 - Brown | August 2018 - Magenta | July 2018 - Ivory | June 2018 - Yellow | May 2018 - Peach | April 2018 - Indigo | March 2018 - Green | February 2018 - Red | January 2018 - Gold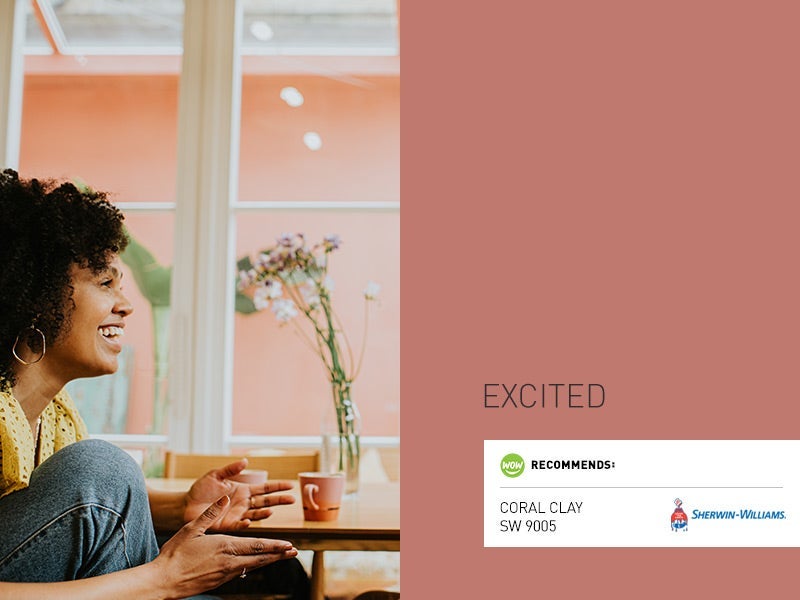 Thinking of trying out Coral Clay in your home? Click below to schedule your free estimate: