APRIL 2021 - AQUAMARINE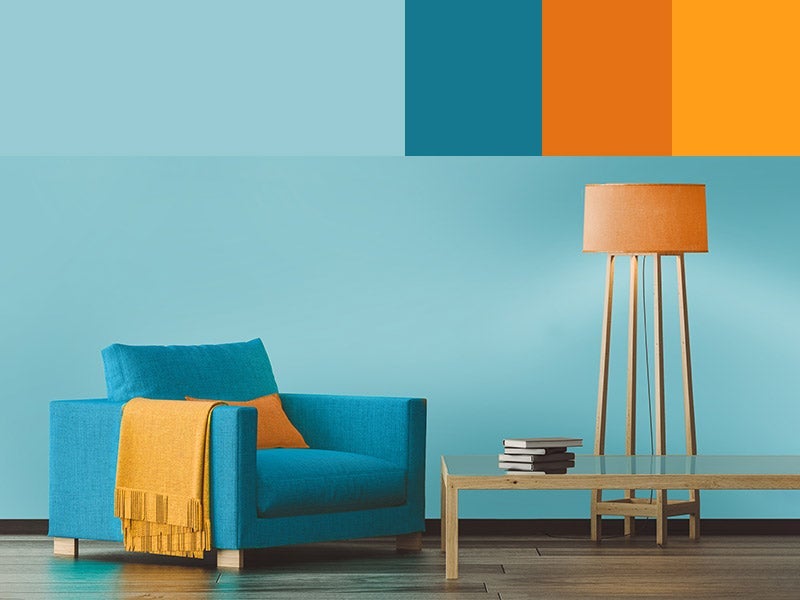 While spring might make it's official arrival in March, we don't truly see the season come to life until April. It always feels like the earth is waking up from a winter's nap and bringing an array of bright colors with it. Those sunny spring days are what inspired our choice for April's Color of the Month: Aquamarine!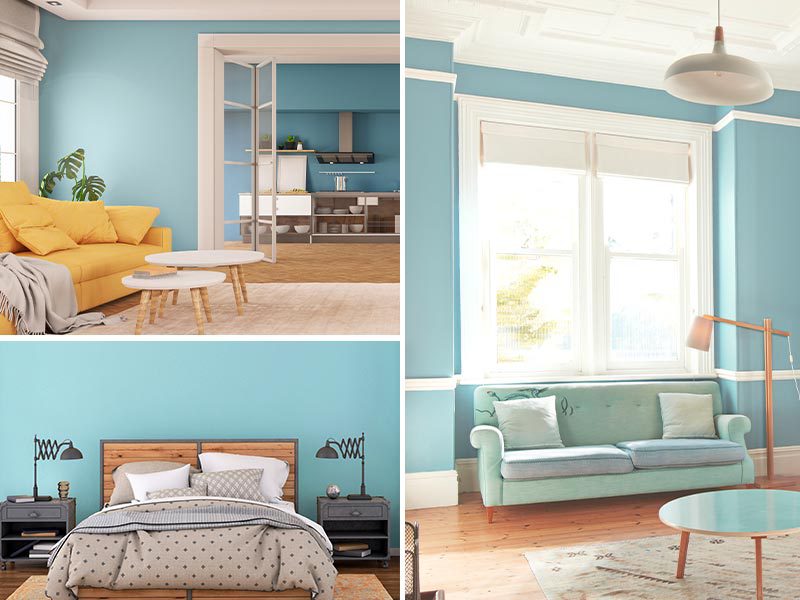 Aquamarine is a gorgeous shade of blue that has a light tint of spring green, and can be found between cyan and green on the color wheel. You might also know it as the birthstone for March, but we think this pretty hue perfectly captures the essence of spring and is perfect for April too! 
The word "aquamarine" comes from the Latin words for "water" and "of the sea." it's a perfect description of this sparkling stone. The stone itself can have an array of shades, ranging from a soft translucent blue to a more turquoise shade. In this case, we're talking about a brighter blue, with just a hint of green.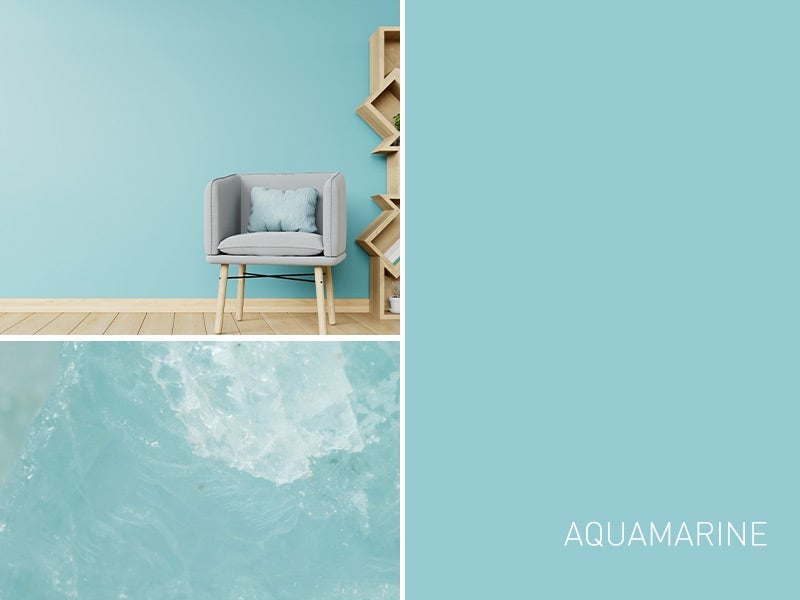 In decor, aquamarine is the perfect color to bring an element of calm to any room. If you're after a beachy vibe, it pairs beautifully with soft neutrals like sand and crisp white. You can also create a cool monochromatic look by incorporating several shades of blue and green to mimic the tones of the ocean. 
For a more tropical feel, you can add in some vibrant pink, peach, and orange as accent colors. If you prefer a more chilled out beach house vibe, natural light wood accents and some cool distressed white furniture create that soothing feeling of being by the water. Or if you're after a more modern, sophisticated look, pair it with charcoal, bright white, and darker wood accents.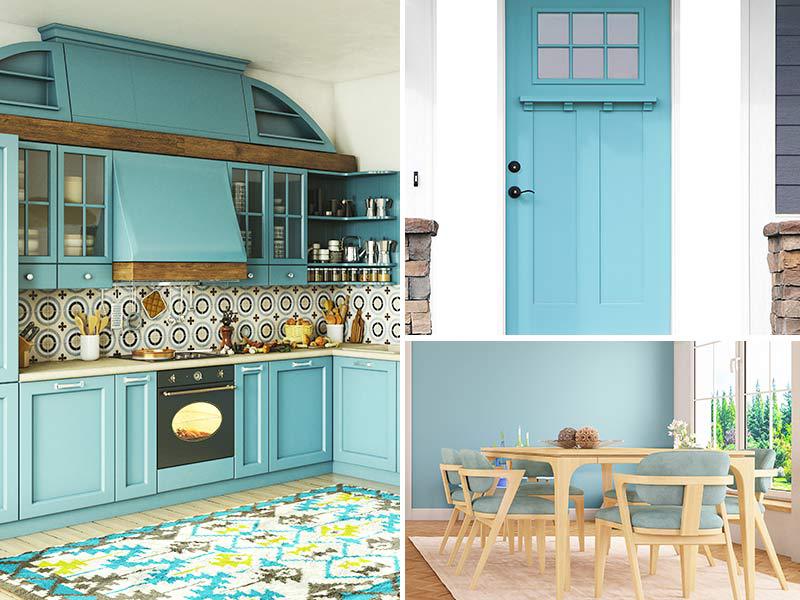 it's a fun accent color to work with, since it works so well with a variety of hues, from natural to bright and vibrant. However, it also makes a great allover wall color for a look that truly stands out. it's also a fun color to feature on the outside of your home! For just a hint of color, it would be perfect on a front door or as an accent on trim or window shutters. Or if you really want a look that stands out, why not choose it as an allover color for your exterior? Talk about curb appeal! 
However you choose to bring this gorgeous color to your home, WOW 1 DAY PAINTING would love to help you make it happen! If you're ready to give Aquamarine a try, we think Gentle Aquamarine by Sherwin Williams would be a great fit. 
Want more inspiration? Read our previous Color of the Month features: 
March 2021 - Amazonite | February 2021 - Rose Quartz | January 2021 - Citrine | December 2020 - Dusty Sage | November 2020 - Charcoal Gray | October 2020 - Orange Clay | September 2020 - Oakwood | August 2020 - Moss Green | July 2020 - Tropical Ocean | June 2020 - Sunflower | May 2020 - French Lavender | April 2020 - Cherry Blossom | March 2020 - Robin Egg | February 2020 - Winter Sunset | January 2020 - Glacier White | December 2019 - Merlot | November 2019 - Mushroom | October 2019 - Licorice | September 2019 - Eggplant | August 2019 - Mint | July 2019 - Blueberry | June 2019 - Vanilla | May 2019 - Guava | April 2019 - Rose | March 2019 - Olive | February 2019 - Mocha | January 2019 - Fresh Lemon | December 2018 - Silver | November 2018 - Royal Blue | October 2018 - Orange | September 2018 - Brown | August 2018 - Magenta | July 2018 - Ivory | June 2018 - Yellow | May 2018 - Peach | April 2018 - Indigo | March 2018 - Green | February 2018 - Red | January 2018 - Gold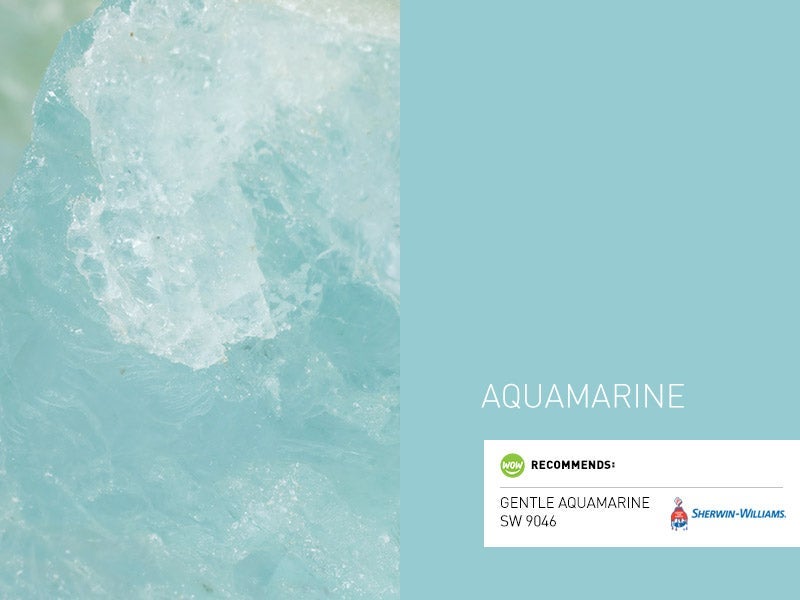 Thinking of trying out Aquamarine in your home? Click below to schedule your free estimate: