MARCH 2021 - AMAZONITE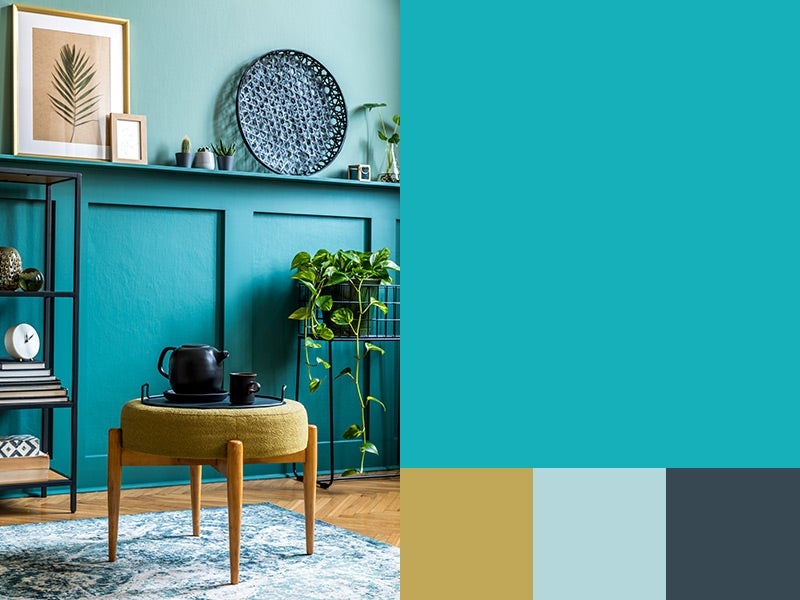 March is when we start shifting away from winter and focus on that fresh spring energy. it's a time where we naturally look for a refresh. That often means starting to swap out those deeper tones in our winter wardrobe for brighter hues and slowly starting to shed those cozy layers for lighter looks. The same feeling applies to our home decor as well! That's what we had in mind when we chose the Color of the Month for March: Amazonite!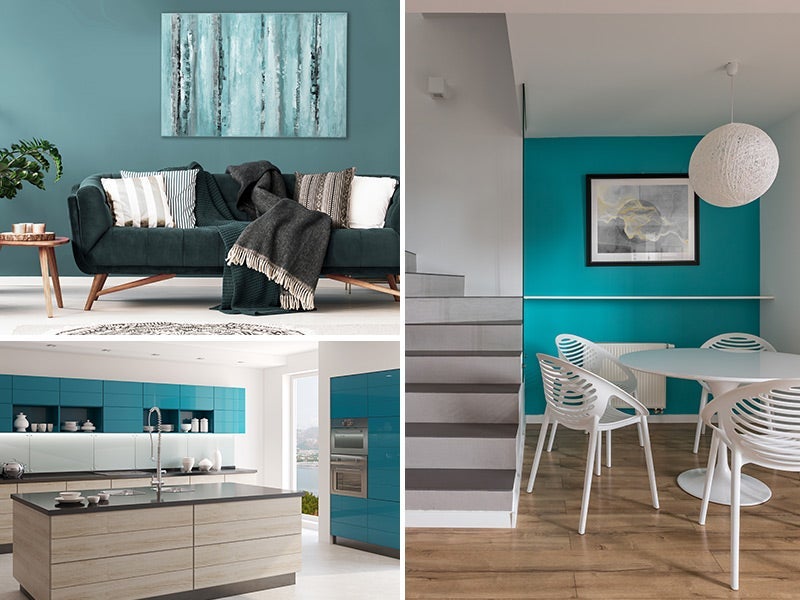 Amazonite is a vibrant shade of blue-green, which perfectly captures that spring feeling we're after. It has the energy of green with the calming elements of blue, creating a gorgeous balance in any space. The Amazonite stone is truly special and is somewhat rare-it's not commonly found in very many places around the world. It has a similar look to turquoise stone, but is mixed with white flecks instead of black. 
As for its properties, Amazonite is said to have a soothing effect on the nervous system, helping to ease stress and help keep the energy around it calm and cool. Who wouldn't want those qualities present in their home? it's also said to be associated with money, luck and overall success, often being called "the gambler's stone".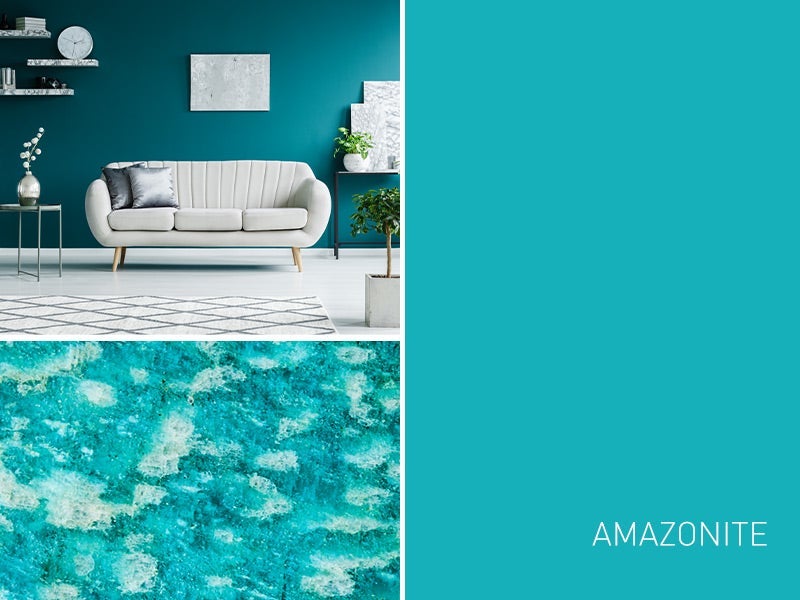 In decor, this turquoise tone is quite versatile, as you can easily change up your color palette to bring out the type of energy you want in the space. For a more calming, relaxed vibe in a spa-like bathroom or bedroom, pair it with soft neutrals like white, taupe, soft gray, and natural wood tones. For a living room, kitchen, or any other room where you want things to feel a little more lively, pair it with bright white, pops of yellow, pink, and other shades of green. 
If you're after something on the more dramatic side, Amazonite would look incredible as an allover wall color, paired with more muted furniture and accessories. If that seems a bit too intense for your liking, you can always experiment with an accent wall, or choosing a couple of walls for this brilliant pop of color. It also works beautifully when you choose to bring it though just in furniture and accessories with a lighter wall color.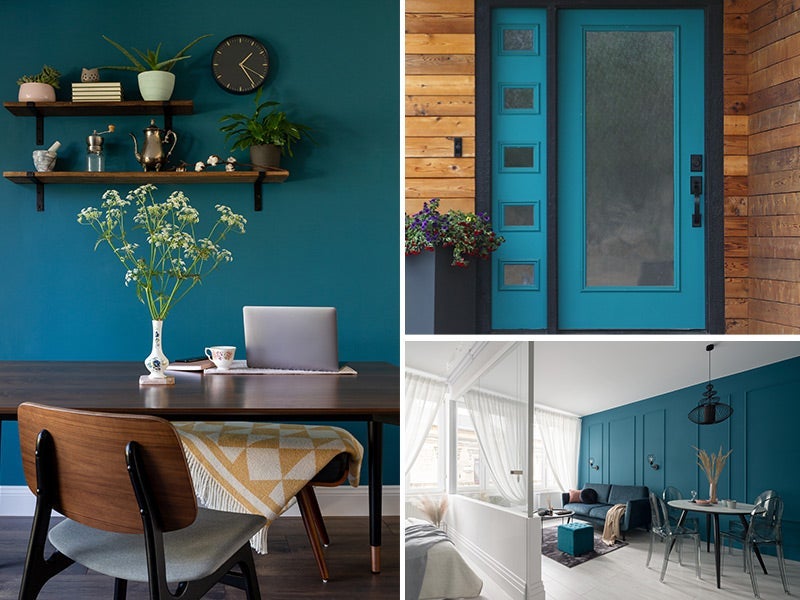 Want more inspiration? Read our previous Color of the Month features: 
February 2021 - Rose Quartz | January 2021 - Citrine | December 2020 - Dusty Sage | November 2020 - Charcoal Gray | October 2020 - Orange Clay | September 2020 - Oakwood | August 2020 - Moss Green | July 2020 - Tropical Ocean | June 2020 - Sunflower | May 2020 - French Lavender | April 2020 - Cherry Blossom | March 2020 - Robin Egg | February 2020 - Winter Sunset | January 2020 - Glacier White | December 2019 - Merlot | November 2019 - Mushroom | October 2019 - Licorice | September 2019 - Eggplant | August 2019 - Mint | July 2019 - Blueberry | June 2019 - Vanilla | May 2019 - Guava | April 2019 - Rose | March 2019 - Olive | February 2019 - Mocha | January 2019 - Fresh Lemon | December 2018 - Silver | November 2018 - Royal Blue | October 2018 - Orange | September 2018 - Brown | August 2018 - Magenta | July 2018 - Ivory | June 2018 - Yellow | May 2018 - Peach | April 2018 - Indigo | March 2018 - Green | February 2018 - Red | January 2018 - Gold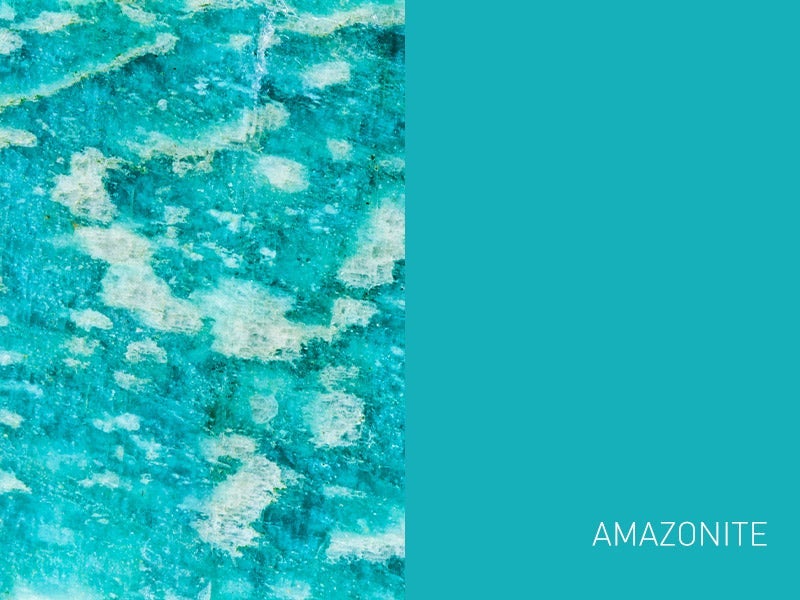 Thinking of trying out Amazonite in your home? Click below to schedule your free estimate: