10 Beautiful Bathroom Paint Colors for Your Next Renovation
Bathrooms are very personal spaces, for obvious reasons. So even though it might sound a bit odd, when you're thinking of redecorating this space, you need to ask yourself an important question: How do you use the bathroom? (Go ahead, get all your giggles out of the way before we move on.)
What we really mean is thinking how and when you spend your time in this room. For example, are you the shower and run type who needs a space to wake you up in the morning as you rush around? Are you looking for a spa-like space where you can let the stress melt away as you soak in the tub at night? Or do you need a family-friendly style to accommodate busy mornings that also serves as your quiet space for some relaxing in the tub?
Your answers to this question will help guide your bathroom color choices. Once you know what sort of vibe you're after, it's a bit easier to pick a hue. Here are some of our favorite bathroom colors of the moment to help you get inspired!
Our Picks for the Best Bathroom Paint Colors
Taupe
Soft Gray
Bright White
Charcoal
Light Blue
Light Green
Creamy White
Pistachio
Brown
Cerulean Blue
1. Taupe
Taupe is a perfect choice for those who want to go with a neutral, but still give the space some warmth. This gorgeous brown-gray shade is classic, but with a modern twist. There are several variations of taupe to choose from, each lending a slightly different feeling to the space. A more brown-heavy taupe gives off a more earthy look, while a more gray version is a mit moodier and more modern. For a hint of color, try a lighter shade of taupe with a more purple base.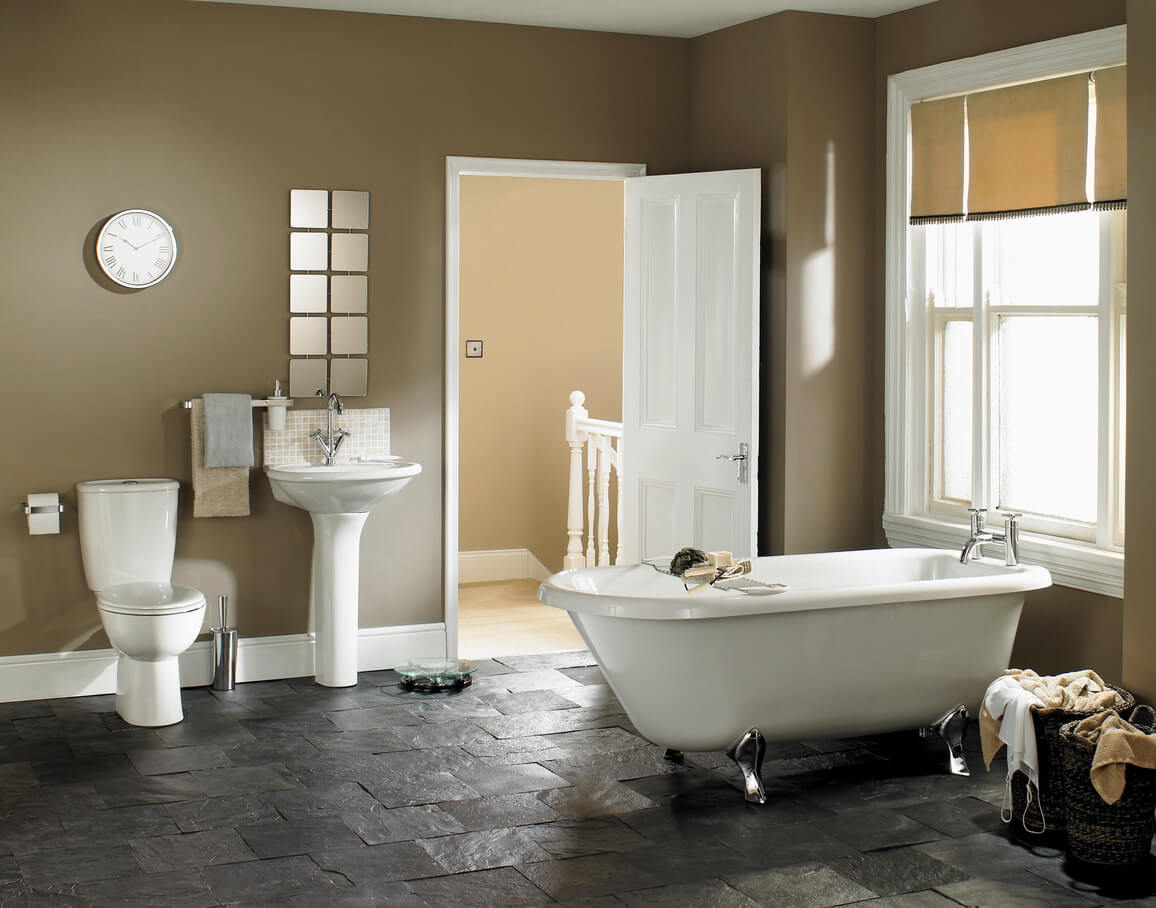 2. Soft Gray
A soft, light gray is a great way to keep things neutral while adding some edge. It brings in the cooling colors of granite and concrete, but is still quite soothing. To balance out the cool tones, try mixing in dark wood elements (perhaps in flooring or furniture) to warm things up. For a classic look, go with simple neutral accents. For a more vibrant option, accent with pops of color in your accessories, like bright towels or a patterned shower curtain. You can really go wild with your color choice here, since soft gray goes with pretty much everything from soft pink to bright orange.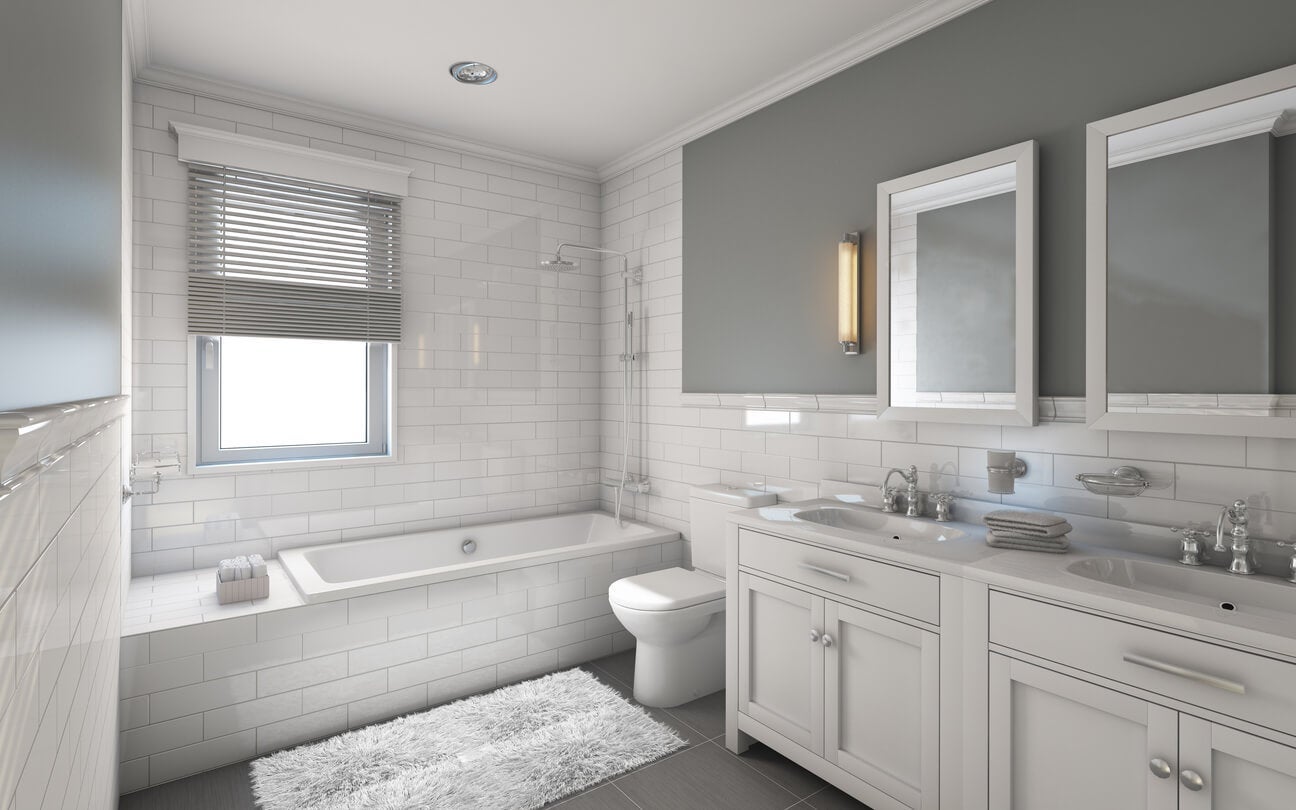 3. Bright White
A clean, crisp white bathroom is the ultimate in classic bathroom style. Though white walls are a relatively simple concept, this look can be quite striking and sophisticated. We love the idea of using different textures to break up the look. Try different shapes of tiles on the floor and in the shower, with crisp paint on the walls and all white accents. If top to bottom white is a bit too much for you, try warming things up by using light wood accents or softer neutrals. To keep things bold, go with bright accessories: think yellow, pink, or green.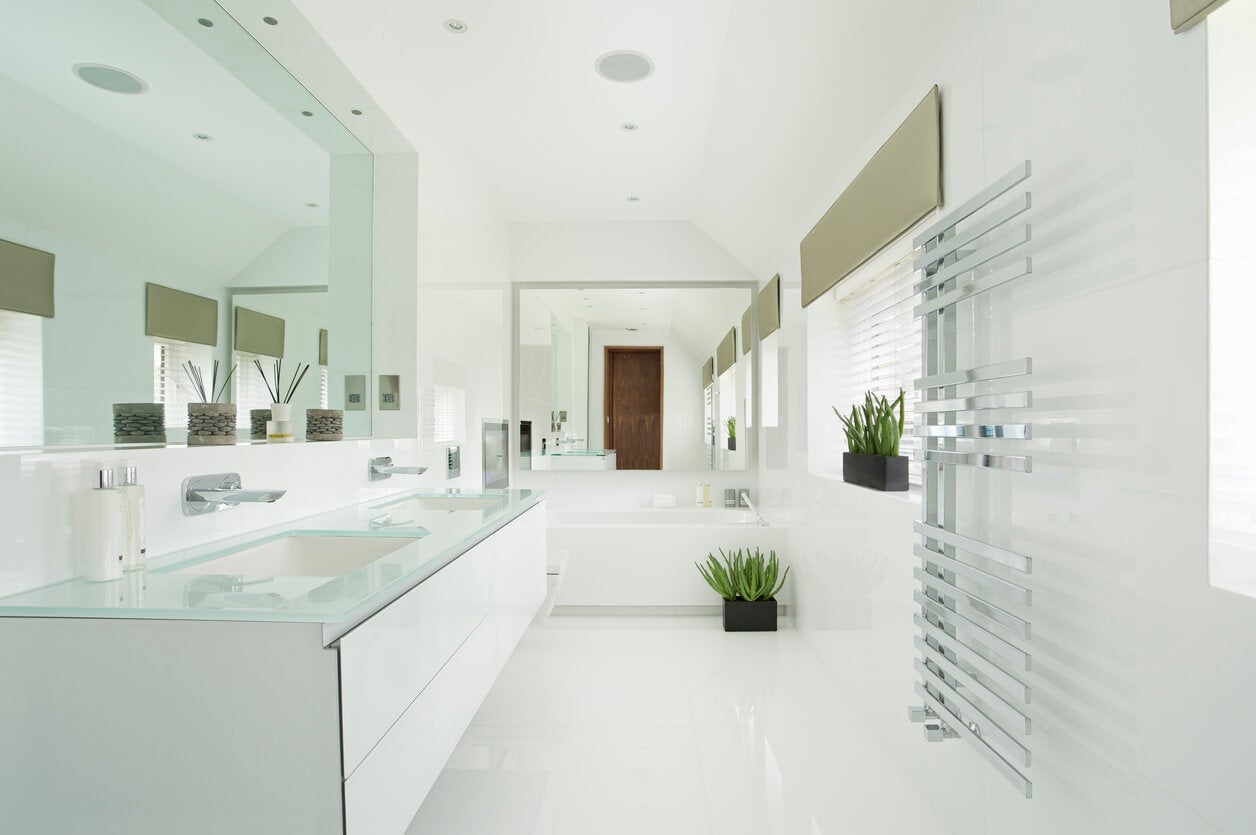 4. Charcoal
If you're looking for a more dramatic bathroom look, try charcoal. It's a more moody, sophisticated alternative to soft gray. While it's a bit on the darker side, it has has warm elements, which makes it quite versatile. It gives your bathroom a cozy feel, but still keeps that contemporary edge. Charcoal pairs well with natural wood tones and metallic accents for a space that is very chic, yet still relaxing.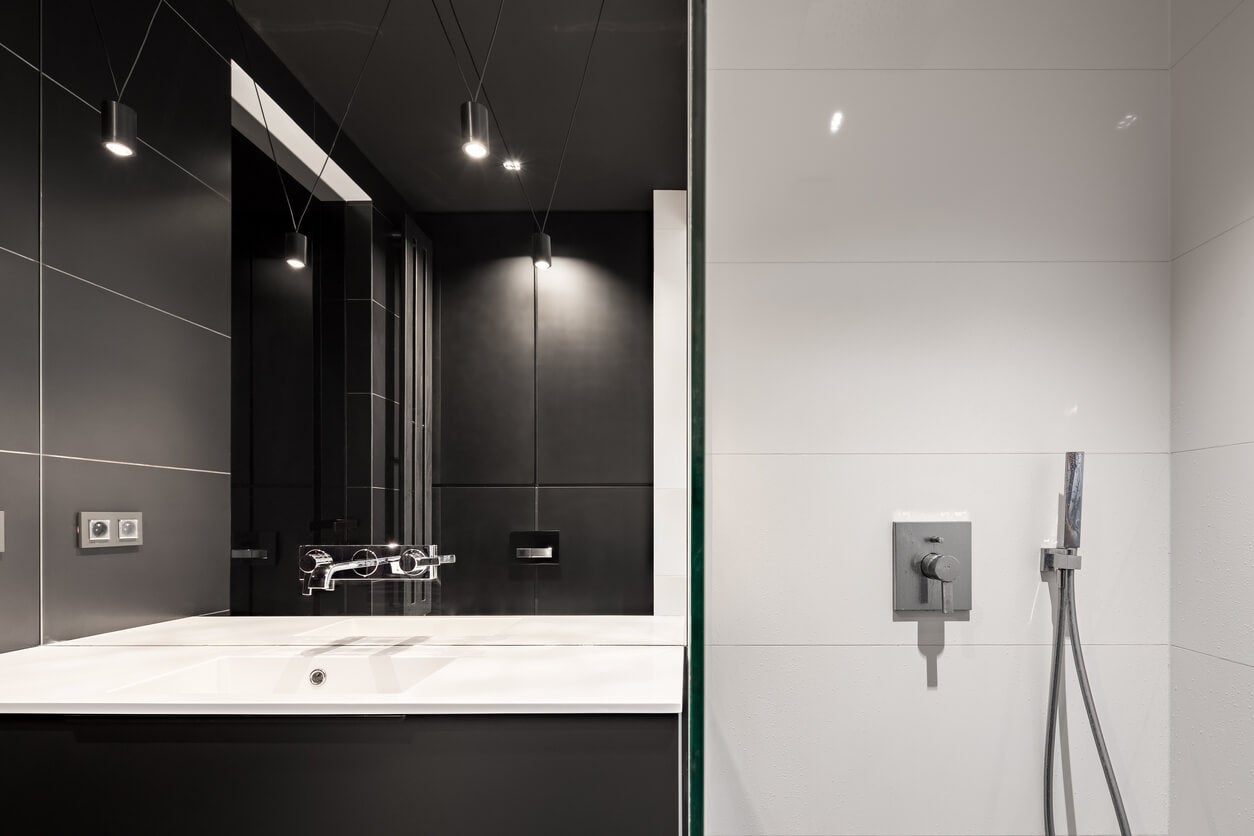 5. Light Blue
We're talking about the gorgeous shade of blue you see when you look up to the sky. You can't help but feel relaxed when you're surrounded by this dreamy hue. Using light blue as your wall color creates a very spa-like feeling, but you can also get that same feeling when you use it as an accent color. It's a perfect match with white tiles and white trim details, for a palette inspired by a brilliant blue sky with fluffy white clouds on a sunny day. For a slightly more muted version that truly gives you a tranquil feeling, try a version of this shade with more of a gray base instead.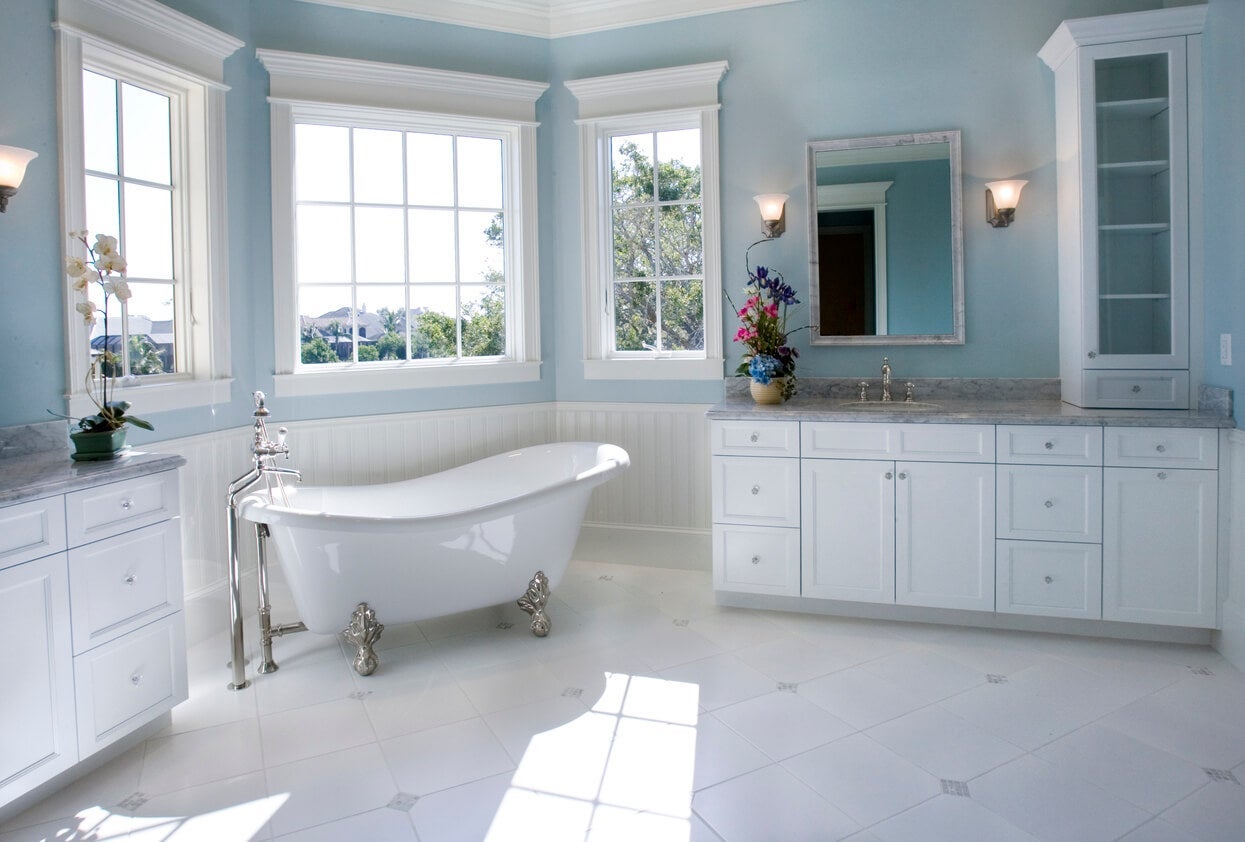 6. Light Green
When you decorate with green, it gives you the feeling of bringing the outdoors in. It's a very calming color that helps to bring a cooling effect to a very bright and sunny room. This shade mixes well with other earthy tones inspired by nature, like brown, taupe, and sand. A few variations of light green to consider are a dusty jade or sage for a more earthy feel, or seafoam and mint for something a little more bright and fun.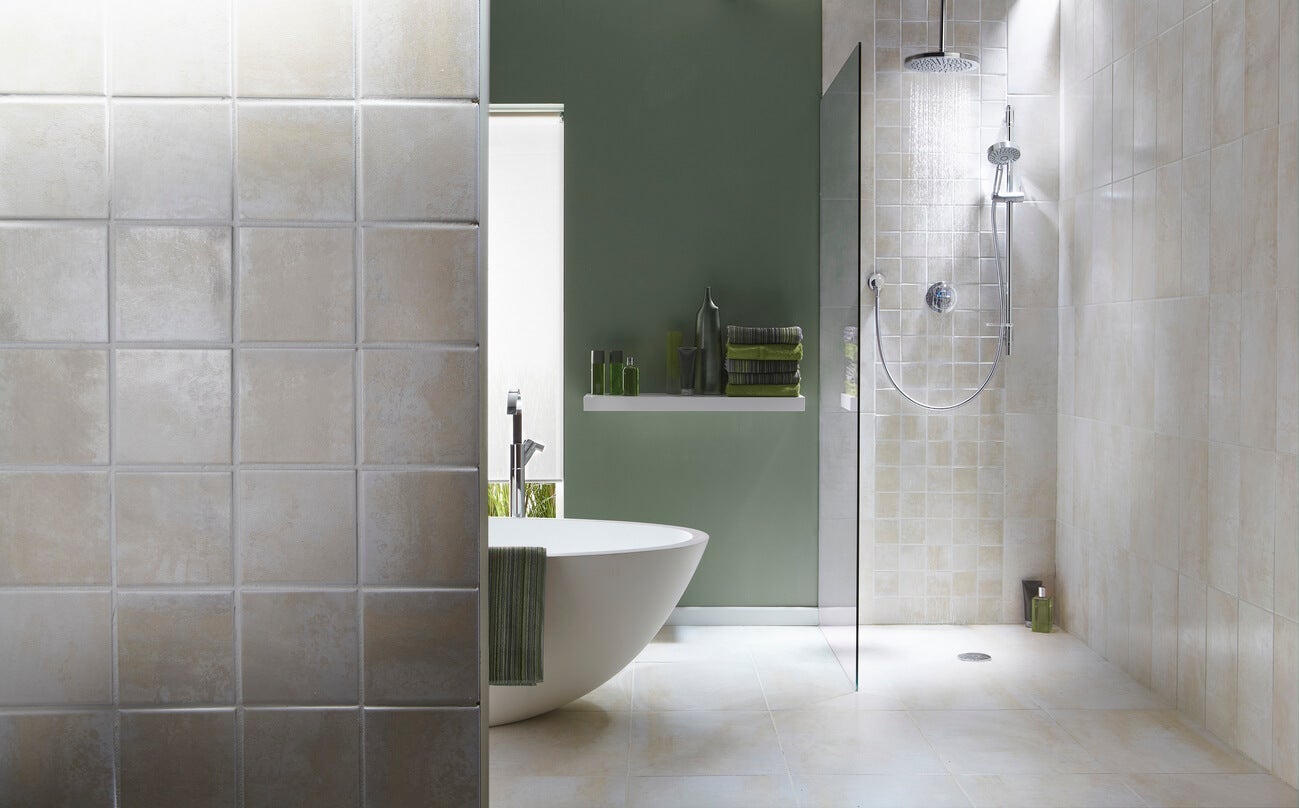 7. Creamy White
If a bright, sharp white feels a little too intense for you, try a creamy white with a buttery warm base. This classic version of white adds some warmth to a colder, dark space. This gorgeous neutral pairs well with softer accent colors like light pink, soft lavender, or metallics with a vintage patina. It's a choice that's definitely classic, but certainly not boring.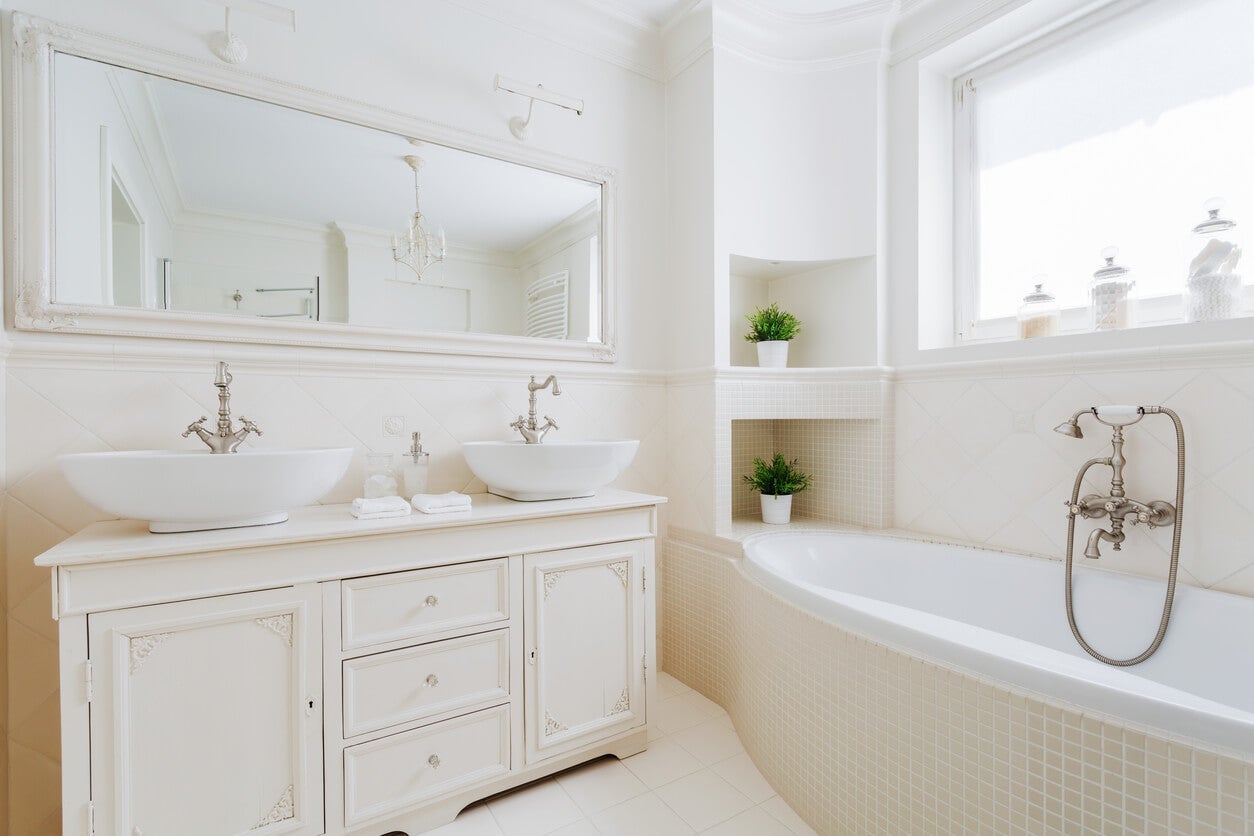 8. Pistachio
This green is a little more vibrant than the light pastel greens we mentioned earlier. This shade brings a burst of energy to your room without being too in your face. It pairs perfectly with bright white accents to create a sleek and sophisticated bathroom style. If you want to tone it down a bit, pair it with natural woods and browns for a more earthy vibe.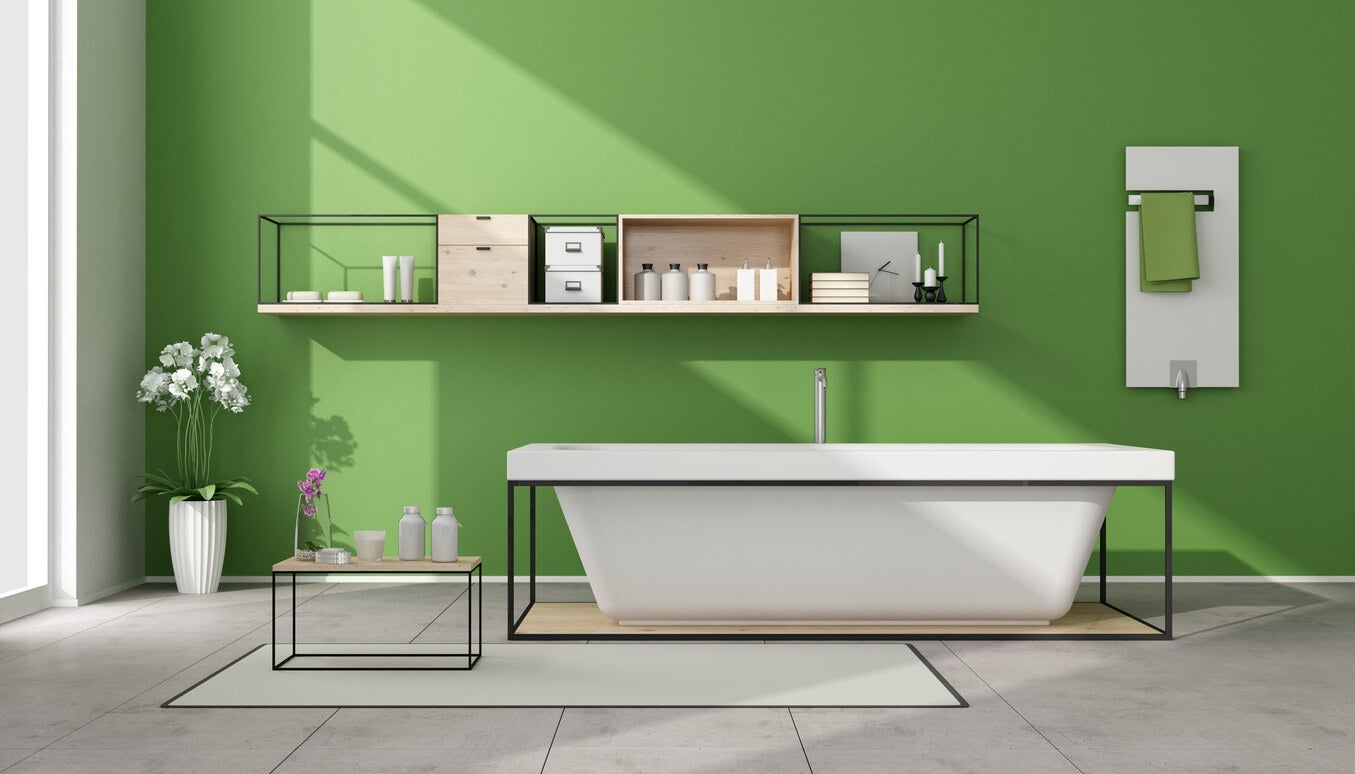 9. Brown
If you want to create a bathroom with a very calm, earthy look, brown is the way to go. In any shade, brown creates a very relaxed, spa-like atmosphere. A dark chocolate brown creates a more dramatic feel and looks quite sleek when paired with metallic gold accents. A medium tone is more soothing and pairs well with details in lighter tones. A softer light brown works well as a neutral backdrop to feature accent colors like cream, beige, or soft blue.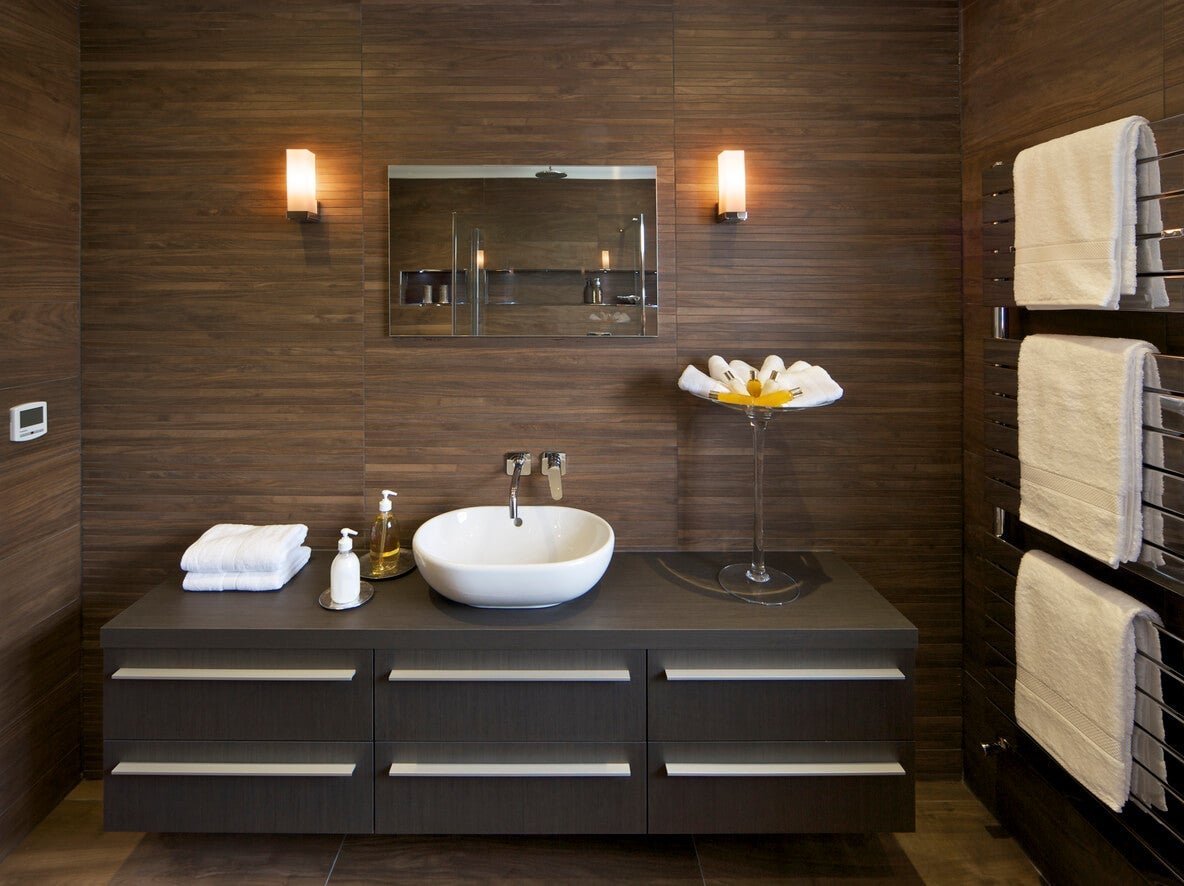 10. Cerulean Blue
This bright and beautiful blue is the color of the sea-specifically, the kind of gorgeous water you see at a tropical beach. Even though this color is bright, it's incredibly calming, making it a perfect choice for a family bathroom. It instantly creates a relaxed, beachy style that will leave you feeling those vacation vibes all year long. Try pairing it with crisp whites for a more traditional nautical-inspired look, or more vintage-toned whites and pops of tropical brights for a beach house style.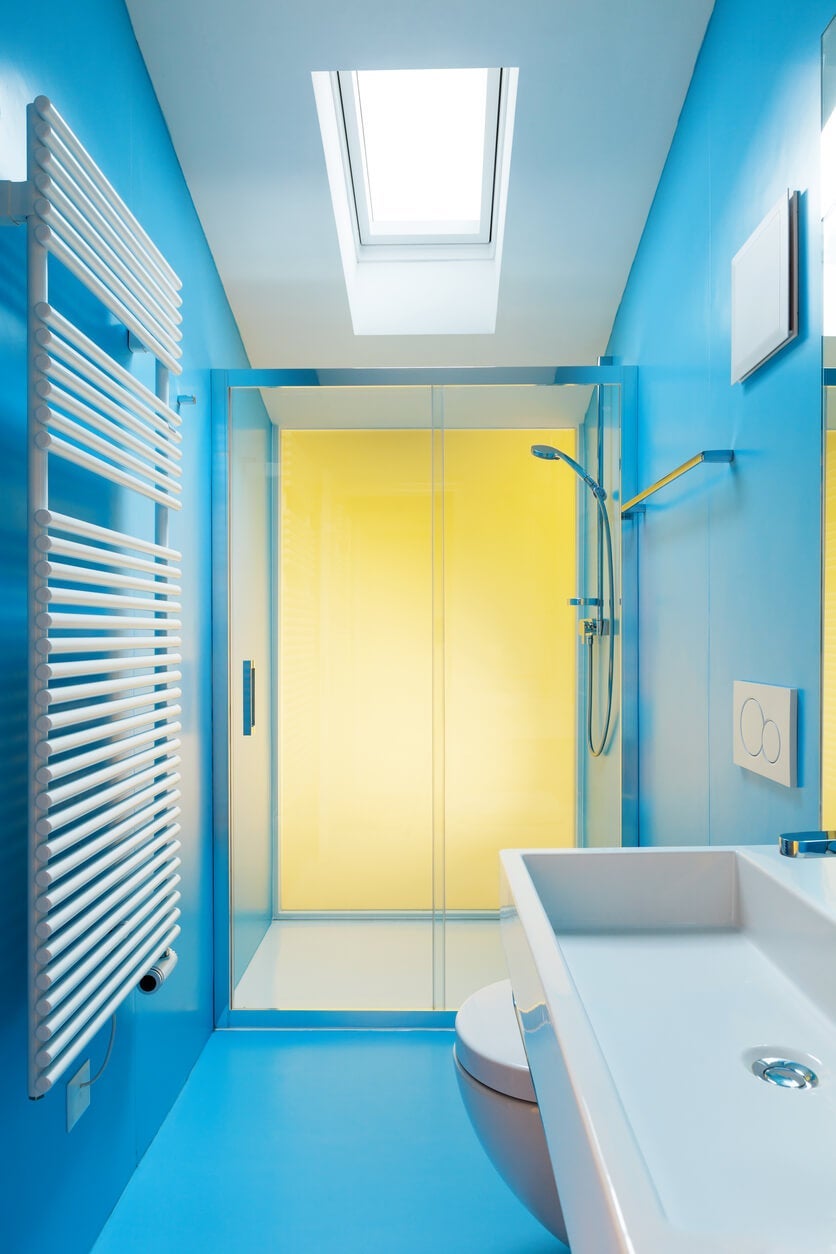 Want more inspiration? Read our other blog posts:
Easy Home Improvement Ideas to Increase Home Value | 9 Peaceful Paint Colors to Help You Relax | The Best Paint Colors For Selling A House | How To Use A Paint Color Wheel | How to Find a Good Painter 
Ready to renovate and repaint your bathroom or the interior of your home? Click here to schedule your free estimate: