Our Color Predictions for Meghan Markle's Baby Nursery
Sarah Robinson
Whenever there's news of a royal baby, the whole world gets excited about it. With Meghan, the Duchess of Sussex, set to welcome a new baby in the spring, it's all anyone can talk about! (Including us.) While we don't know if they're expecting a boy or girl, we have a few guesses when it comes to color choices for the royal nursery.
What color will they choose for the royal baby nursery?
The most traditional color options for nurseries are baby blue and baby pink. But we know Meghan Markle is a fashionista who is always on trend, which is why we think she's more likely to go with something more fresh and modern. Here are our top color predictions for the new nursery.
Rose
Rose would make a great choice for the wall color in a baby girl's room. This gorgeous shade of pink just happens to be our choice for April's Color of the Month! It's a more soft and subtle alternative to baby pink, with a little more sophistication. To create a modern palette that really shows off this gorgeous shade, we recommend pairing it with soft gray, white, and warm hints of gold.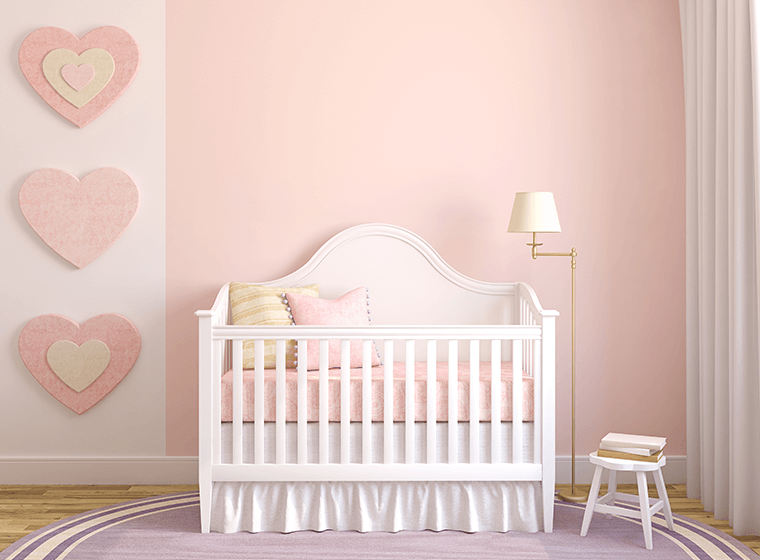 Royal Blue
This one offers a fresh take on the traditional baby blue boy's room and also happens to be our Color of the Month from November 2018. This rich shade of blue reminds us of the sky at dusk—a perfect tone to soothe little ones when it's time to go to sleep. Since it's on the darker side, they might want to keep it to an accent wall or painted furniture. It looks great when paired with crisp white, natural wood accents, and softer neutrals. (Plus, the name makes it kind of a perfect fit!)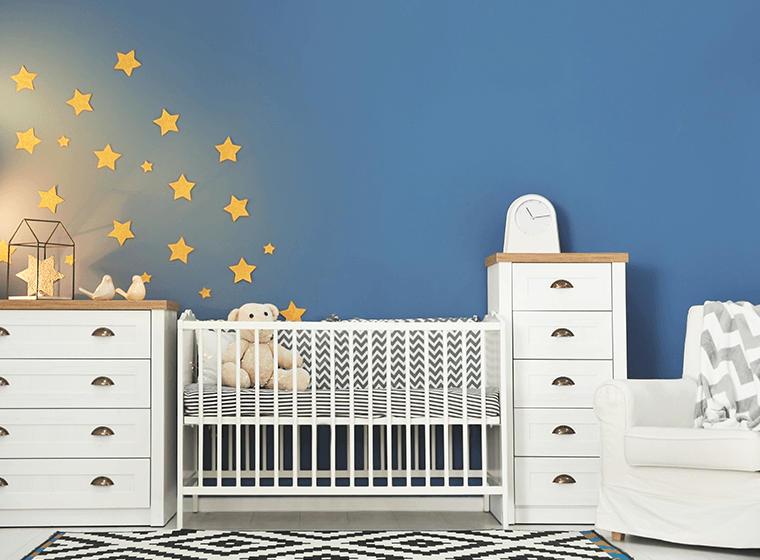 Crisp White
On her first outing as Prince Harry's official girlfriend, Meghan famously wore a crisp white shirt, paired with jeans. Since then, she's worn white on many occasions, often with a small pop of color. That's why we think this particular nursery color makes so much sense for the royal baby. White walls and white furniture will give any nursery a modern look, while a mix of soft textures and colorful details in accessories keep things playful and fun for a new baby. This look also has the benefit of being gender neutral, which seems like a choice that is perfectly in line with the couple's style.
Soft Gray
Gender neutral nurseries are becoming increasingly popular and are especially smart if you've decided not to find out whether you're having a boy or girl. Soft gray is a perfect choice for a neutral nursery since it works so well with both warm and cool accent colors. Gray walls look lovely with crisp white trim and accents in cream, blush pink, sage green, or buttery yellow. For a bolder look, make the accent colors more bold in sunny yellow, bight blue, or bright pink.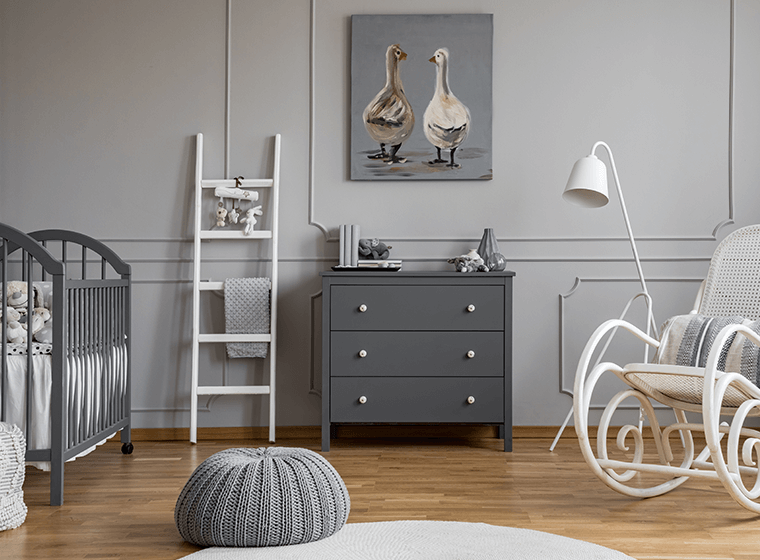 We might never know for sure which color they end up choosing, but we wouldn't be surprised to hear if it was one of these cute options. We can't wait to get a first glimpse at the newest member of the royal family soon!