Benefits to painting vinyl siding
Sarah Robinson
Vinyl siding has always been a popular choice for the exterior of all types of homes. It's got a classic look, and happens to be quite budget-friendly! People also love that it's pretty low-maintenance in terms of taking care of it. However, though it is incredibly durable, it's not indestructible. Over time, you might notice that your vinyl siding is starting to look a bit dull and chalky, or maybe you've simply grown tired of the color after a few years. The good news is, it's actually fairly easy to revive and make it look like new again. All it takes is some paint!
Why it's better to repaint than replace
The main advantage of choosing to paint your vinyl siding instead of replacing it is the cost. As you can imagine, it's typically much cheaper to opt for paint as opposed to paying for brand new siding — usually around 15-20% the cost of full replacement (which would also require you to pay for takedown and installation!) Painting your vinyl siding will help extend its life a bit—paint can add an extra layer of protection from the elements, especially if you know you'll need to replace it soonish, but you still want to get a few more years out of it. If your siding remains in pretty good shape, it's also a less wasteful option—if it has lots of life left in it, why throw it away?
Of course, there are some situations where replacing it is a better option. If your siding is badly damaged, warped, or you require new insulation, you might be better off starting fresh.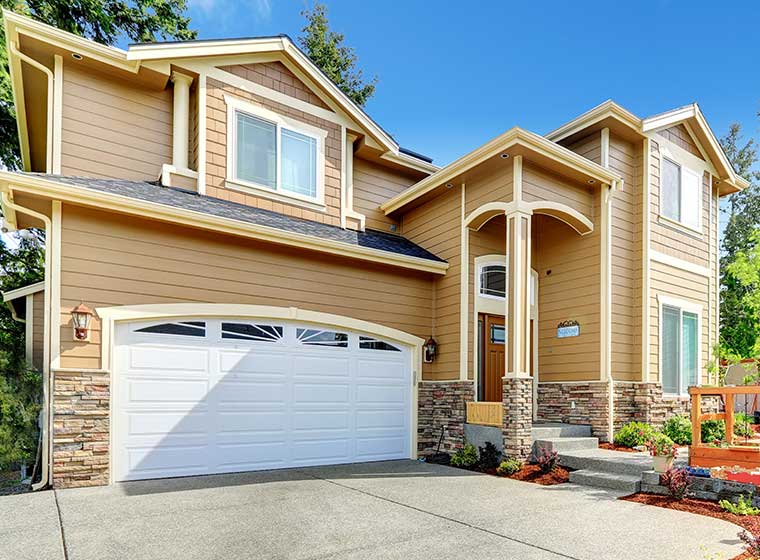 How to repair & paint vinyl siding
Yes, you really can paint vinyl siding! Many people think they're stuck with that same color forever when it comes to vinyl, but it's actually pretty easy to paint. It's not all that different from painting most other outdoor surfaces. As long as you make sure to prep everything the right way, your paint job should run smoothly.
1) Check your siding for damage
Before you get started, you'll want to assess the state of your siding and look for any obvious signs of damage. Things to look out for include cracks, holes, or warping. Minor damage can often be repaired before painting, but if you're not sure, you can always get a professional to take a look at it before you decide to move forward.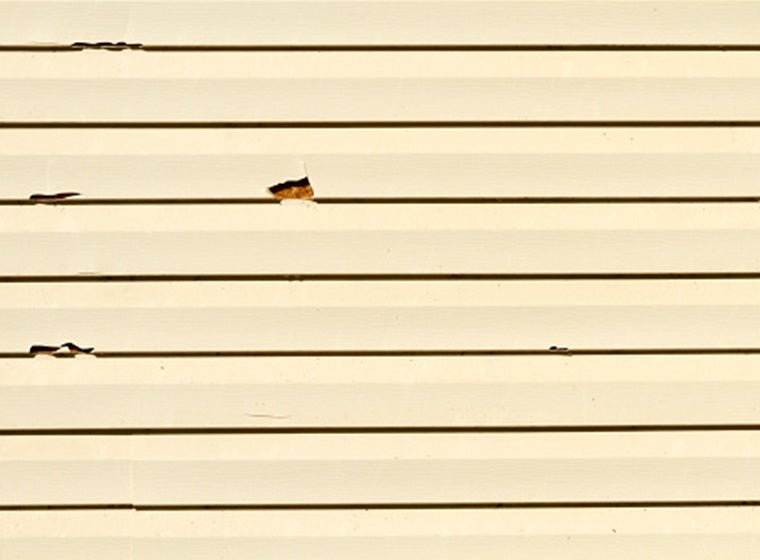 2) Choose the right paint
Until recently, options for this type of paint job were fairly limited. However, new advances in paint technology have given us a lot more variety, especially when it comes to color. Overall, you'll want to choose a water-based paint that is compatible with vinyl siding and, most importantly, choose a color that is safe. Check with the supplier on what colors they have available specifically for vinyl. Choosing the wrong paint or color can damage your siding. For example, paints such as VinylSafe® colors from Sherwin Williams or the Colors for Vinyl selections from Benjamin Moore are specially formulated and give you the option of using darker colors!
This one is great for those who prefer elevated neutral tones. The colors of the beach are always a smart way to bring those summer vibes all year long. Of course, bringing actual sand indoors would be pretty messy, but you can get that same feeling of being at the beach by adding colors like white, ivory, pale gray, and beige. You can create a whole palette of colors for your space taken from the beach, by adding in accents and accessories in shades of turquoise, ocean blue, and pops of coral or peach.
3) Prep your vinyl surface
The key to getting a gorgeous coat of paint on your siding is to have a clean surface to start with. The goal here is to make sure you remove any mold, mildew, chalky buildup, and debris from the surface. Mix up a cleaning solution (see some suggestions in this how to guide) and use a soft bristled brush to apply the solution and gently scrub away, then rinse off the solution afterwards. Make sure you allow time for the siding to completely dry before you start painting.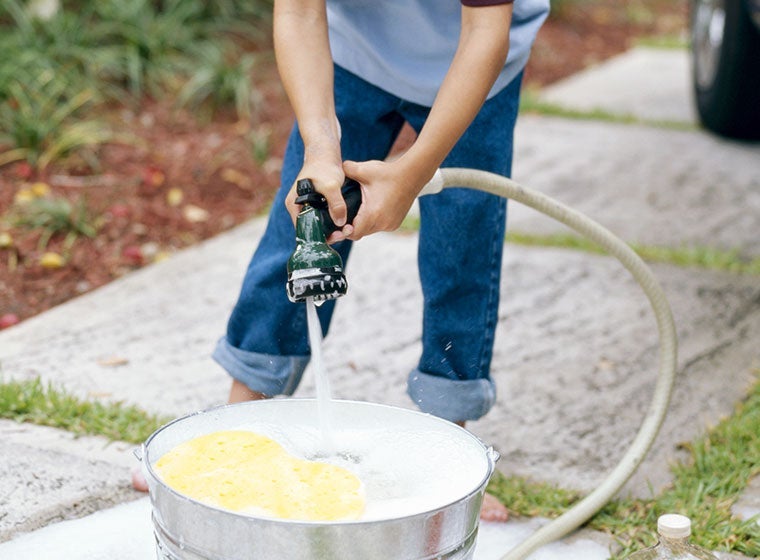 4) Start painting
In many cases, you can get away without using a primer, but you may still need to start with a full coat — especially if the new color requires a primer for proper coverage. When you're ready to apply your color, you'll want to do two coats to ensure the best results. You can use a roller or sprayer, as long as you ensure even coverage on the surface. It's important to make sure you give the first coat enough time to dry before you start on the next coat. And one more tip: avoid painting in direct sun!
After the second coat is dry, you'll want to take a closer look for any spots that need touch-ups, or you might even decide that you need another full coat.
If you make sure you do all the prep work properly, painting your vinyl siding can be a great way to give your home a whole new look while saving yourself a bit of money. However, it's important to note that painting your home's exterior is definitely not a small job. If you're considering painting your vinyl siding, WOW 1 DAY PAINTING is ready to help
We're experts at exterior painting and can get the job done faster than you can imagine. We make it easy to transform your home, handling all the prep work and giving our expert advice along the way, so you get the look you're after. Book your free, no-obligation estimate today!