Columbia Painters
Now proudly serving Columbia and the surrounding areas!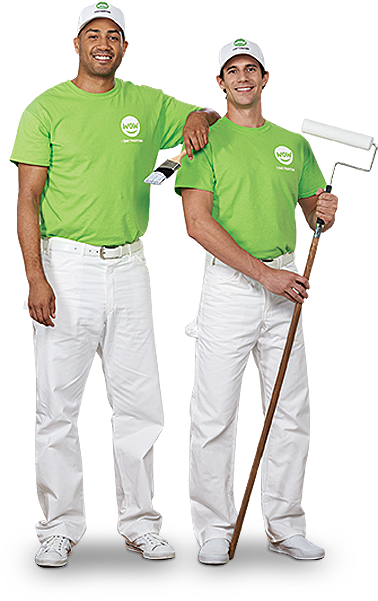 Professional Painters in Columbia, MD
When you need your home or office painted, you don't want to deal with the time and effort it takes to do it yourself, and you don't want contractors disrupting your space for days, or even weeks, on end. So what other option do you have?
The answer is WOW 1 DAY PAINTING! We're creating happy customers by providing the quality you expect in a timeline that's unexpected. In fact, our name says it all – our business model is getting your painting job completed in just 1 day.
What a Day a Difference Makes
WOW 1 DAY PAINTING has made it our goal to revolutionize the painting industry. Why take the time and energy to hang around for a period of up to a few weeks, when you could have it done at the same standard of quality in 1 day?
What a difference a day makes. Whether it's an interior, exterior or commercial job, it doesn't matter. We'll complete any job in a single day, creating happy customers; it's the quality you expect in a timeline that's unexpected.
The Painting Process
We aim to WOW you with our speedy service, from start to finish. Here's how the Columbia painting process will go:
When you call us for your free estimate, we'll work right with you to draw up plans, and at the end, we'll hand you a written estimate. This works in two ways; first, it provides clarity over the entire scope of the project to ensure for an accurate price quote, and second, it gives our team concrete plans to work off of on painting day to ensure exceptional quality and your satisfaction. We'll also reconfirm everything prior to paint day, including details like paint color and start time.
Blink and you'll miss us! When we arrive on time, we'll do whatever prep work is required. Whether the job is inside or outside, on any type of surface, we'll prepare it for painting to ensure durable, high-quality painting. We don't use paints or any materials that will leave harsh odors or fumes, so when we're gone, you'll hardly know we were ever there, except for the exceptional new paint, of course!
Every step of the way, our site foreman will check that the work matches the plans, and at the end of the day, we'll do a full walkthrough just to make sure you're happy with the work and no touch ups are required. We're creating happy customers. What a stroke of genius!
A Full-Service Painting Company
In short, all kinds! Here are some of the wide variety of work we can do, all in only 1 day:
Exterior house painting
Interior house painting
Commercial painting including whole office repainting
Re-painting for property managers
Painting for real estate
Moving from a house and into a new one? WOW 1 DAY PAINTING will do either job (or both!) all in 1 day. Speed + Quality = WOW!
Our work is a stroke of genius. Interior and exterior, all the painting is done with low or no VOC paint – we care about the environment and the safety of you, your family (including pets!), and workers. Our big crews are made up of friendly, uniformed painters who are dedicated to start and finish on time. Every WOW 1 DAY PAINTING crew member is fully trained in order to provide you with the quality you expect in a timeline that's unexpected.
Schedule a Columbia Painting Contractor Today!
When you hire a painter for any sized project, what is your expectation? Do you value quality over speed? Wouldn't it be nice to have both? WOW 1 DAY PAINTING understands that feeling, and wants to make it a reality. Imagine leaving for work and coming home to freshly painted house. We can make that happen! Guaranteed awesome (and fast. And friendly.)
We'd love to show you the ways we can make the toughest jobs easier, and make your painting project a stress-free, 1 day endeavor. Call today or go online to get a free estimate and learn more about how we can WOW you!
<! -- // row inner -->