Clarksville Painters
Now proudly serving Clarksville and the surrounding areas!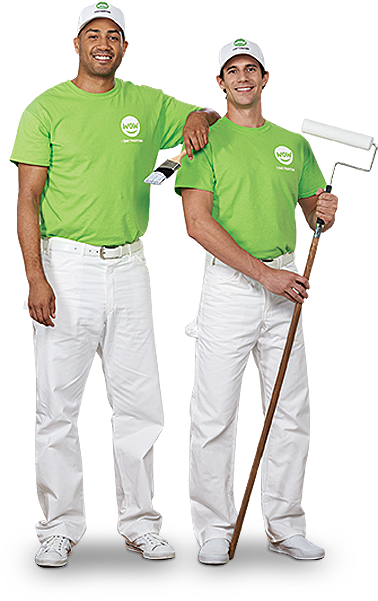 Professional Clarksville Painters
Painting is a big job, and not all painting companies are made equal. When you're tired of struggling with a roller and brush or simply want a team you know you can trust with your valuable property, you're in the right place.
Painting with WOW 1 DAY PAINTING is the only way to receive exceptional quality results with little disruption – in just 1 day! Whether you have one room in mind or need assistance with your entire home or commercial facility, our big crews of friendly, uniformed painters will be ready to handle any job in just 1 day. We offer interior and exterior painting for both residential and commercial customers. Blink and you'll miss us!
Licensed and Bonded Painters
At WOW 1 DAY PAINTING, we think quality should come first, guaranteeing you a job done right. Every member of our team is licensed, bonded, and insured for your peace of mind, giving you a name you can trust when it comes to the safety and security of your home. We've perfected our systems and techniques so that our professionals will give you the quality you expect in a timeline that's unexpected.
Free, On-Site Estimates
No two paint jobs are completely the same, which is why WOW 1 DAY PAINTING will never charge you a blanket rate for the help you need. Instead, our professional estimators will evaluate your property, your painting requirements, and the scope of what you have in mind in order to create a customized quote designed specifically for you. We'll present you with your proposal in writing for your review, and our painters will follow what we put together to the letter to ensure every job is completed to your exact specifications.
The Painting Process
Prepping for a paint job is a big job. Moving furniture, laying down tarps, edging borders with painter's tape, and priming walls all require time and precision. If you're worried about the state of your home after a big job, WOW 1 DAY PAINTING will put your fears at ease. Our teams are highly experienced, going the extra mile to make your floors will be safe, your furniture is protected, and your walls are ready for painting. When we're done, we'll pack up and clean up, put everything back the way it was when we arrived, and say goodbye without leaving a trace – except for the high quality paint on the walls!
No matter what you have in mind, WOW 1 DAY PAINTING will make it happen. Instead of sending a painter or two, we'll come prepared with our big crews to tackle even the largest projects in a single day without sacrificing quality. We have experience with virtually every part of the painting process, including walls, siding, brick, stucco, doors, molding, and so much more. In addition, we value the environment, which is why we always use no VOC and low VOC paints. With our help, you'll never receive anything but the best. Guaranteed awesome (and fast. and friendly.)!
Creating Happy Customers
At WOW 1 DAY PAINTING, we know that our customers should always be number one. That's why we'll always be here by your side to make sure you're as satisfied as possible, even years after the fact. From the moment you call our team to set up an appointment, we'll do whatever it takes to complete your job to the highest quality levels. On the day of your job, we'll carefully handle the painting projects you requested, and walk you through when we're done to make sure no stone was left unturned. We'll even call you the next day to follow up to make sure you're WOWed.
Schedule a Clarksville Painting Contractor Today!
Are you ready to see what a difference a day makes? Call WOW 1 DAY PAINTING Clarksville or go online to schedule your free estimate. We're the only painting professionals who will give you the quality you expect in an unexpected timeline. Contact us today.
<! -- // row inner -->