How to Make Your Colorful Kitchen Island the Center of Attention
Sarah Robinson
image via deVOL Kitchens
In most homes, the kitchen is the center of activity. It's where we end up with friends and family to cook, eat, and hang out. Eating is an important social activity, so we tend to naturally gather in the kitchen. It's important to make your kitchen feel warm, welcoming, and above all, feel like it fits in with your style.
That being said, not everyone is comfortable with splashing bright colors all over their kitchen walls. But if you want to add some color without going all in, there's an easy way to do it—consider brightening up your kitchen island!
Think of your kitchen island as a piece of statement furniture. It doesn't need to necessarily match the rest of your kitchen cabinets. Painting it with a contrasting color is a great way to add some personality and visual interest to your space.
Add Some Personality with a Colorful Kitchen Island
If you want to stick to neutrals on your walls and cabinets, a colorful island is a great way to punch up a softer look. When choosing your accent color, make sure you don't just choose a random color. It still needs to feel like it fits in with the rest of the kitchen.
If you're not sure where to start, take a look at the other colors present in your kitchen. Pull your highlight color from details in tiles, fabrics, or any accent pieces you want to highlight.
It's also important to consider the style of your kitchen island when choosing a color. Keep in mind that certain colors will look better on vintage-style islands, while others are better suited to more modern looks.
White-Washed Finish
If you aren't feeling an intensely bright island, you can tone any color down by adding a white-washed finish over it. This look adds an instant vintage feel to your space and lets you bring in some color while still keeping a softer look overall. It also adds some cool texture to a solid finish.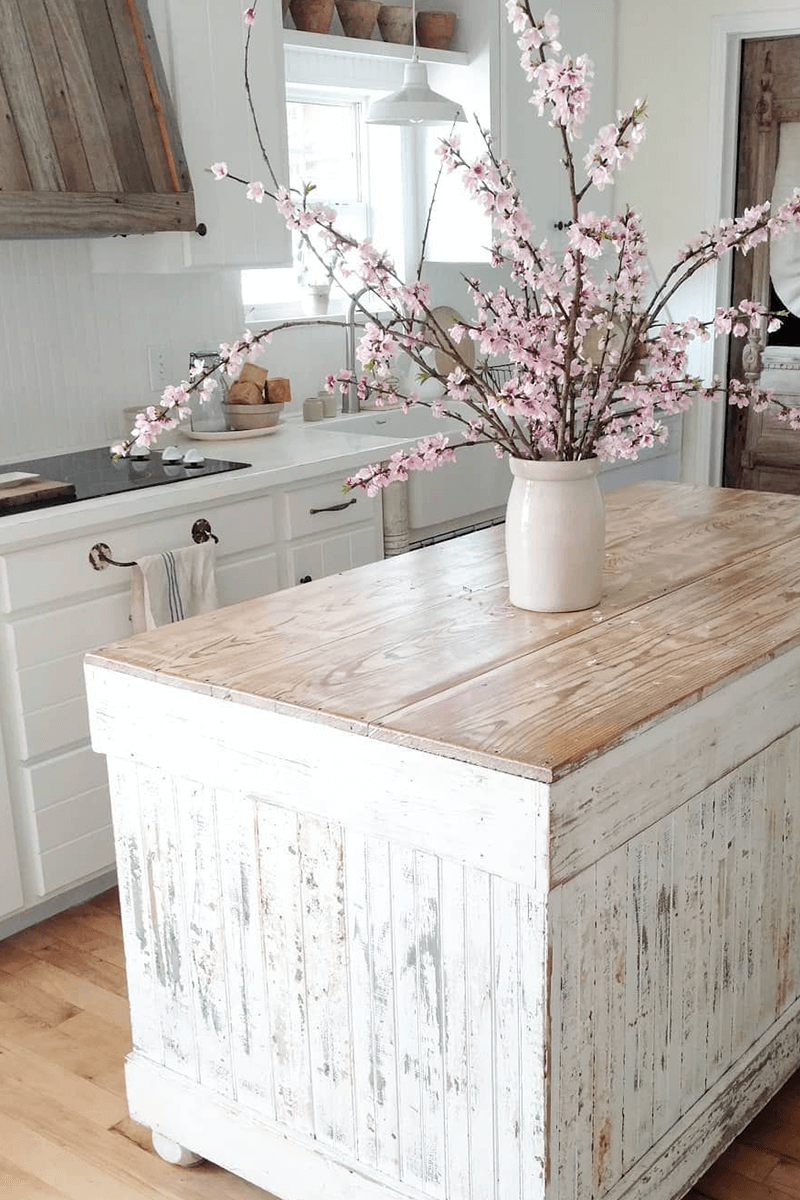 Image via Becky Cunningham Home
Bright red
A brilliant shade of red is a surefire way to make your island stand out. With red, adding a glossy finish looks extra sleek and modern. This color works beautifully with dark wood kitchen cabinets or a crisp white kitchen and is sure to capture everyone's attention.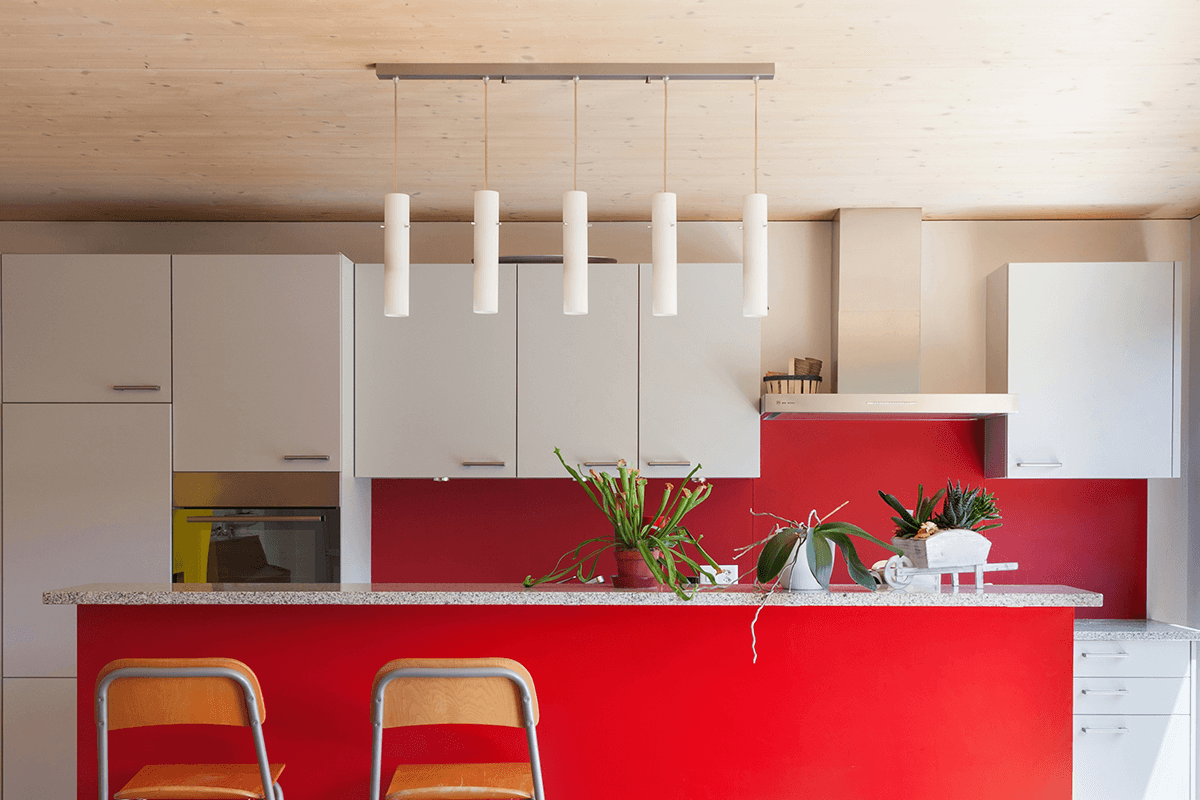 Image via iStock
Contrasting neutrals
If you've gone with bright walls or cabinets, you can add contrast to your space by keeping your island neutral. Think soft gray, crisp white, or natural wood tones, which will help balance out brighter colors while still creating a focal point in the room.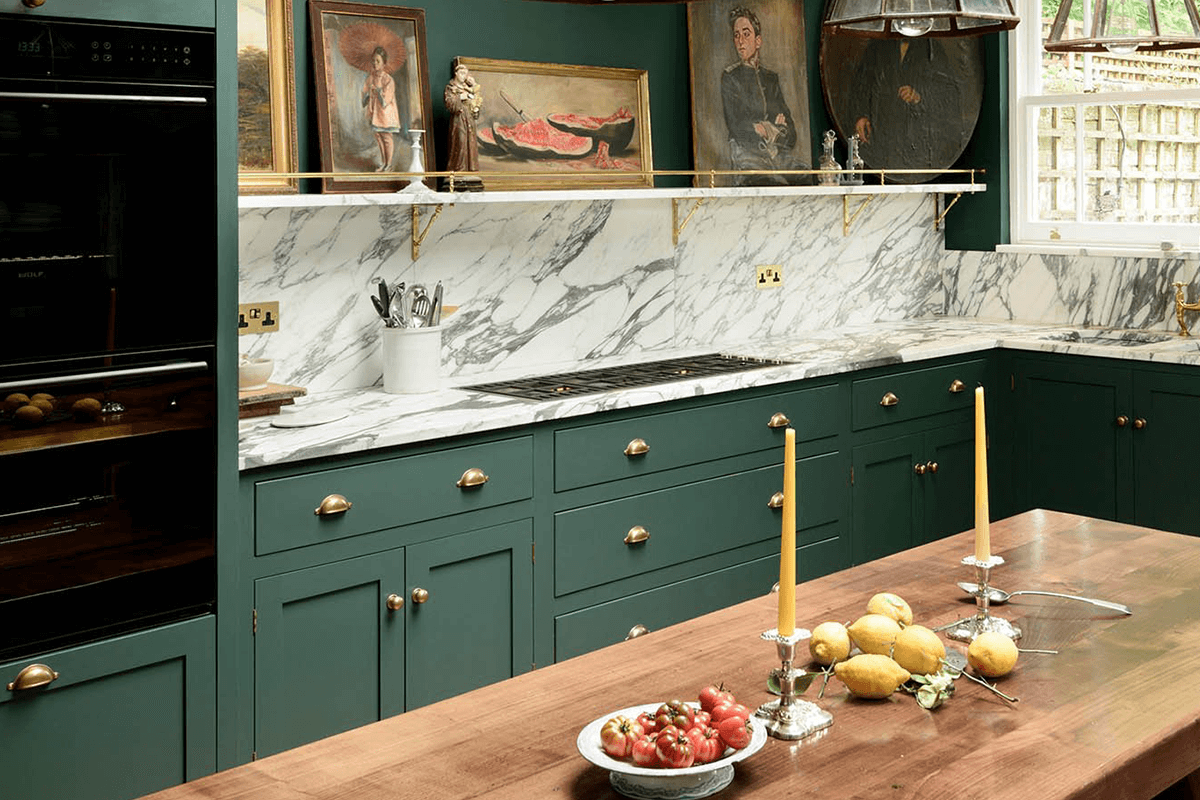 image via deVOL Kitchens
Bright warm shades
Shades of orange, bright yellow, and dark reds are great for adding a cozy feeling to your space. A fiery bright island looks especially cool in an all white (or mostly white) kitchen.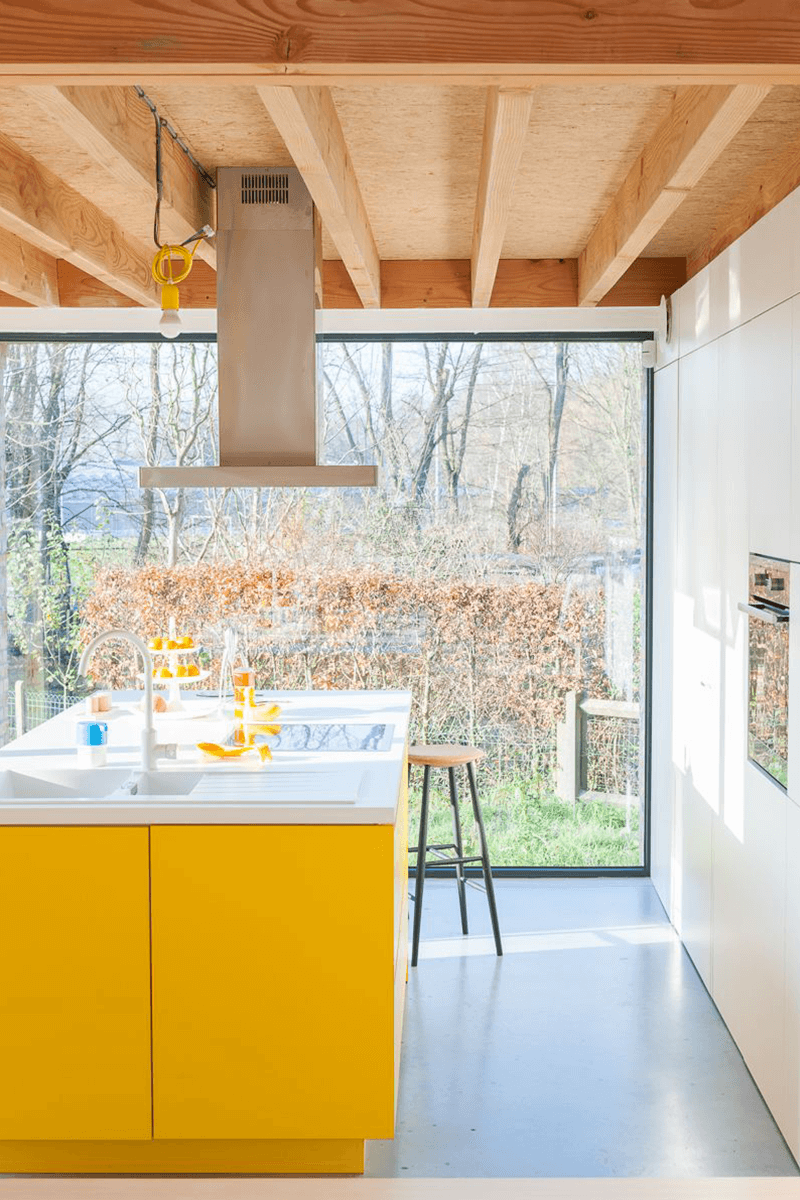 Image via Studio Scott
Black
For a kitchen with lighter neutrals or softer pastel colors, a black island adds a modern touch. This look really pops in an all white kitchen and works especially well on smaller islands that wouldn't normally stand out as much.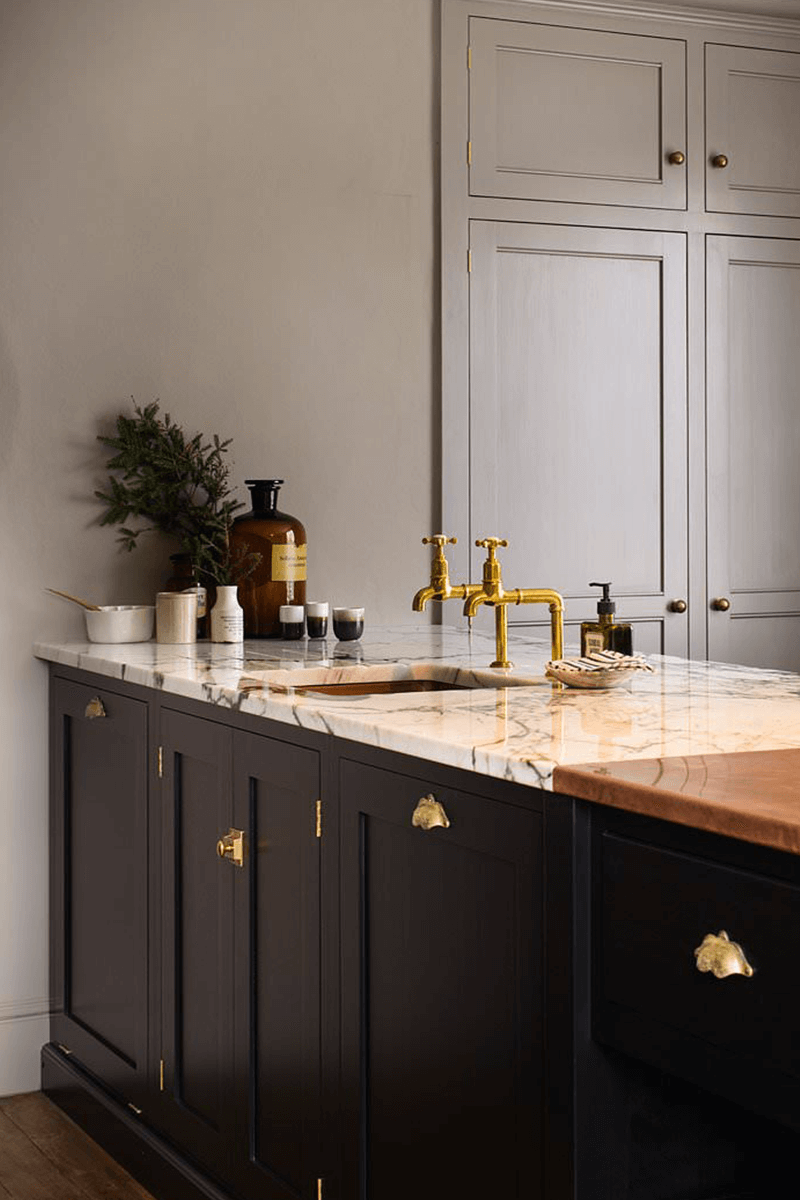 Image via deVol Kitchens
Cool brights
Cool colors include greens, blues, purples, and grays. A shade of blue (whether light or dark) can give your kitchen a laid back, beachy feel, which makes it extra inviting. A brilliant green can help to balance out any warm colors and create.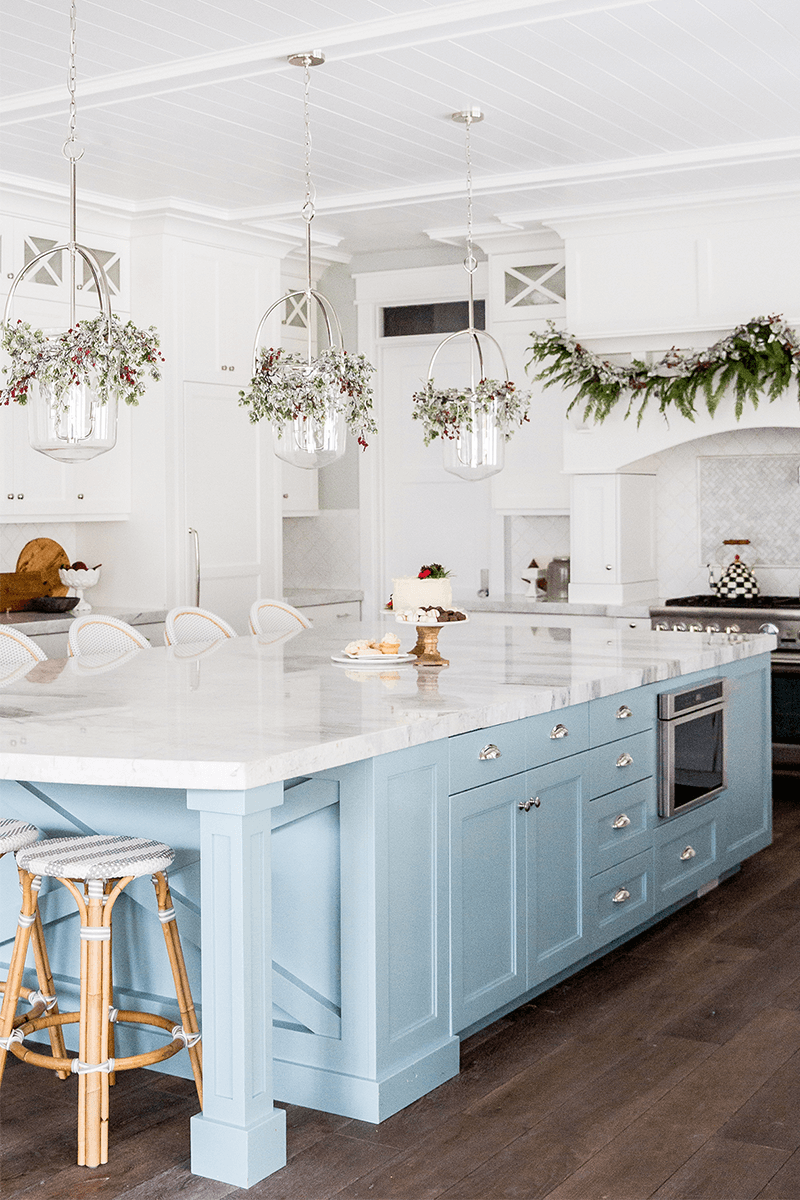 Image via Pink Peonies
Natural wood
Though natural wood tones are definitely neutrals, they can still stand out in a room. If you've got cabinets in a solid color, a natural wood grain island will add some cool contrasting texture.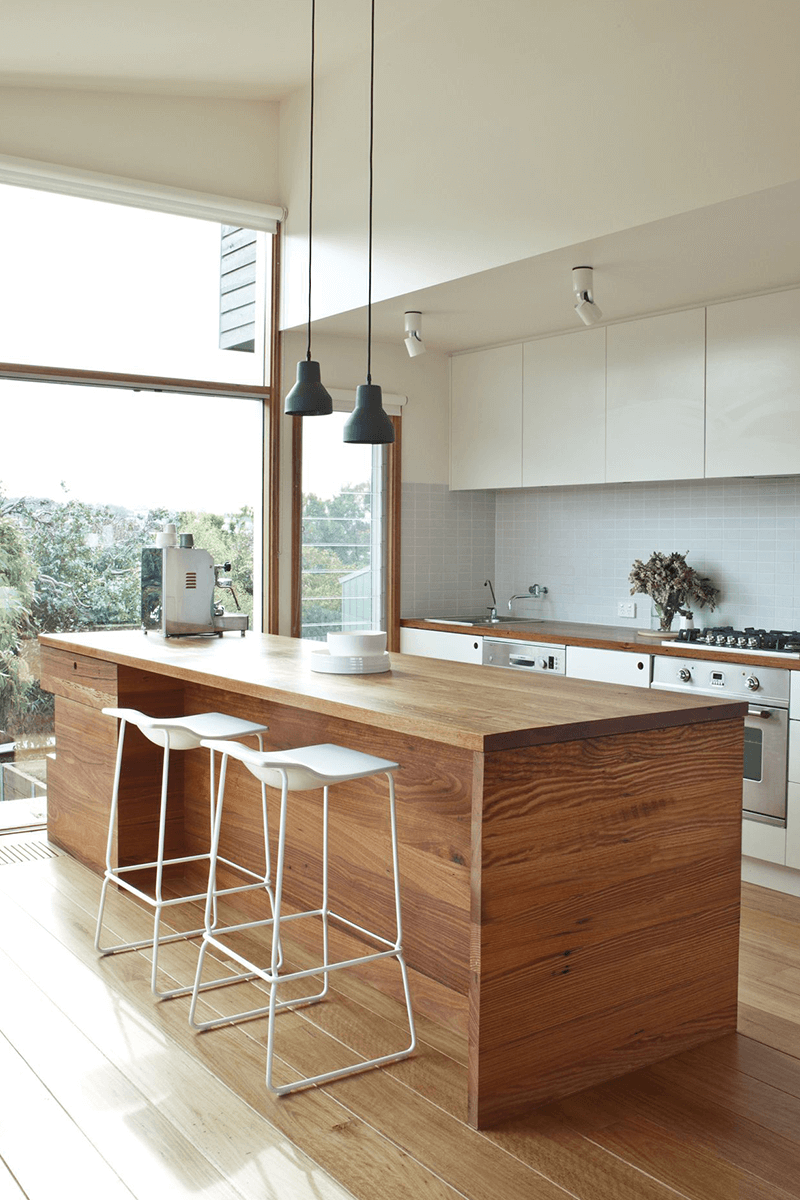 Image via Doherty Design Studio