How To Turn Your Entertainment Area into a Backyard Oasis This Summer
As the season warms up, let's prepare your alfresco space for entertaining and relaxing. Simple design choices, such as color palette and overall theme, can turn your outdoor space into a backyard oasis. Not only does a well-painted space enhance your house's curb appeal, but it will also help you enjoy the summer sun to the fullest.
Choosing the Right Colors
You might turn to home magazines and Pinterest for inspiration when picking a color scheme for your backyard. However, consider what you're working with. Your new color choices should complement the aesthetic of your home and landscaping. This goes for the colors of your exterior paint job and the architectural style. 
Natural light will also impact the space. Note whether the area gets direct sun or shade throughout the day. 
One way to get a flawless look for your backyard oasis is to choose a color palette inspired by the surrounding landscape. A coastal town in Maine will have very different colors than the southwest desert or the forested hills of Appalachia.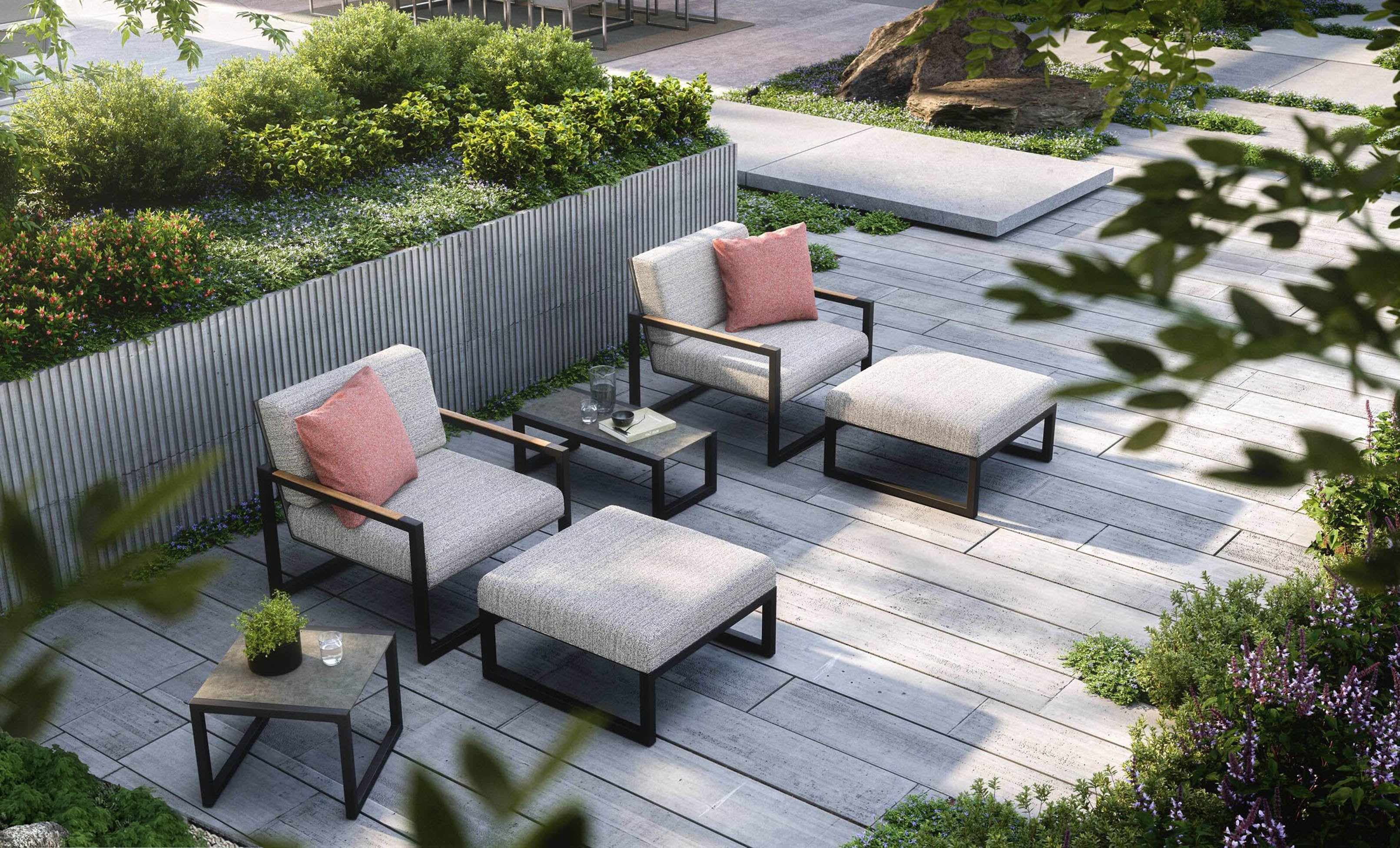 Painting Techniques
Painting different outdoor elements is a bit different than painting a bedroom. Instead of simple drywall, your backyard oasis might include concrete, brick, wood, and metal on the patio, walls, and fencing. Use these tips to paint each different surface:
Decks and Wood (Sanding and Staining): Sand it to get an even surface before priming and painting.
Brick: Power wash to get the dust out of the perforations. Because of its porous nature, a paint sprayer works best.
Concrete: Sand and, in some cases, etch, but it's always best to consult a paint specialist on the best product.
Metal: Instead of sand and wash, use a wire brush, power wash, and a red-oxide primer instead of a non-corrosive primer to protect it from rust.
An acrylic primer will help the paint last longer for all exterior painting. Also, check the weather before starting your project. The paint will need at least two days to fully dry.
Incorporating Decorative Elements
As you create your backyard oasis, you don't have to stop with a beautiful color palette and professional paint job. Add a decorative element for some bonus pizazz. 
An outdoor space is ideal for an accent wall or a beautiful mural. Not artistic? Use stencils to create effortless visual interest.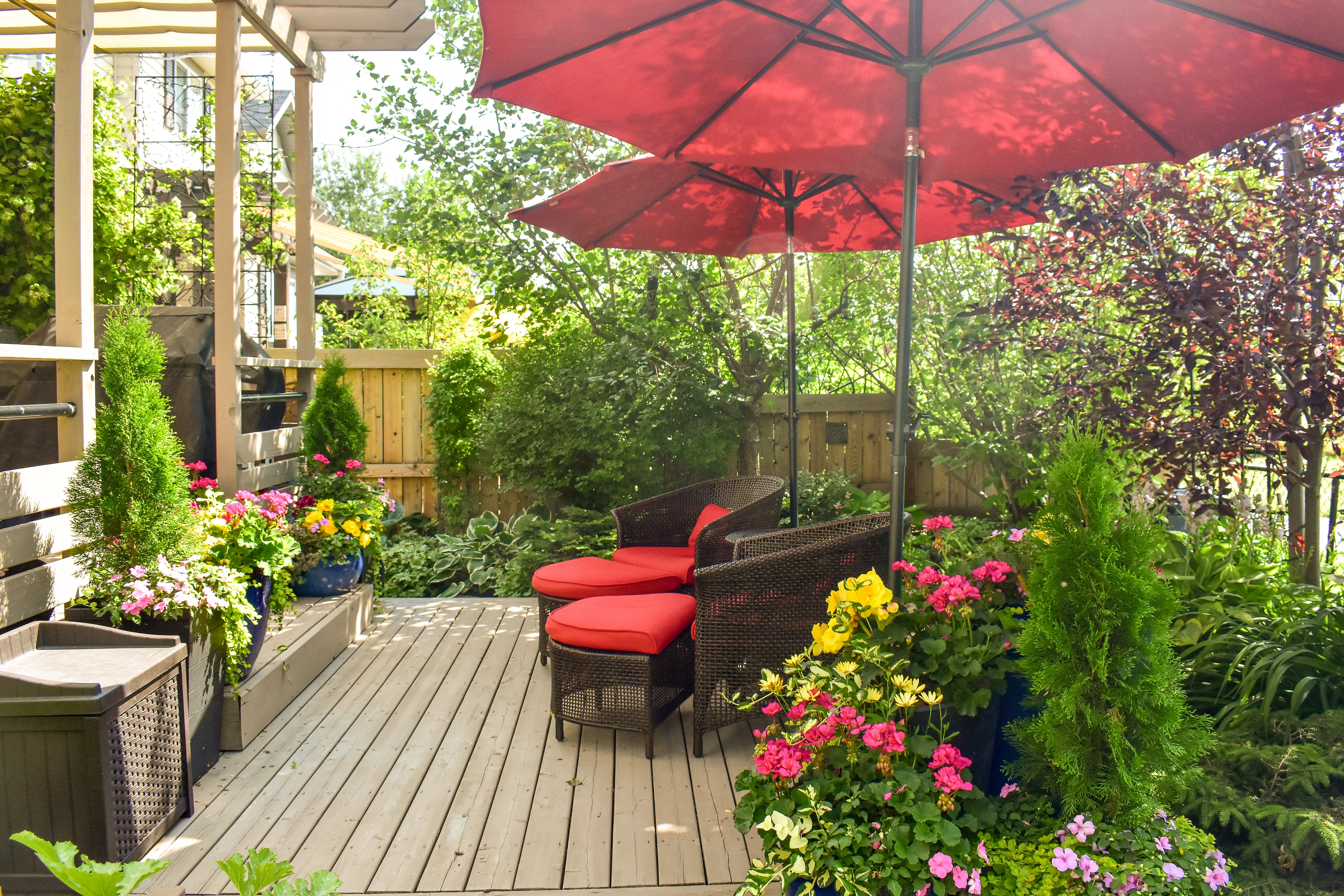 Maintaining the Backyard Oasis
Painting outdoor surfaces to last comes with an added challenge. In addition to your use of the space, they'll be exposed to elements like sun, rain, and snow. 
Use proper sealants on each surface to protect your oasis for the long haul. Acrylic sealer and waterproof polyurethane work on most surfaces and give them extra durability. Moving forward, routine cleanings with soap and water can keep grime from degrading the paint.
A Backyard Oasis Ready to Use with No Mess or Fuss
With a beautiful color palette, well-planned painting techniques, and a few decorative elements, your backyard oasis can reach its full potential. Need some help along the way? Hire a team from WOW 1 Day Painting to create your dreamy patio space. 
Our experts come with all the knowledge and tools needed to leave you with a beautiful, professional paint job that will last. 
Exterior Painting
In The News
Paint Colors
Remodeling Ideas