Backyard renovation on a budget
It's about that time of the year to wash the deck, get the dust off the BBQ and pull that cover off the patio dining set. Every year those chairs, table and umbrella get a bit dingier, a bit closer to being replaced but rather than spend hundreds of dollars to buy all new stuff, here are a few tips to rejuvenate your outdoor furniture.
If you have time to lean, you have time to clean
Sometimes all that's needed is a little elbow grease! Your local hardware store will have several outdoor furniture cleaning products that'll get the job done but even a simple solution of water and mild dishwashing detergent with a sponge or soft brush will do the trick and it won't scratch or bleach your pieces.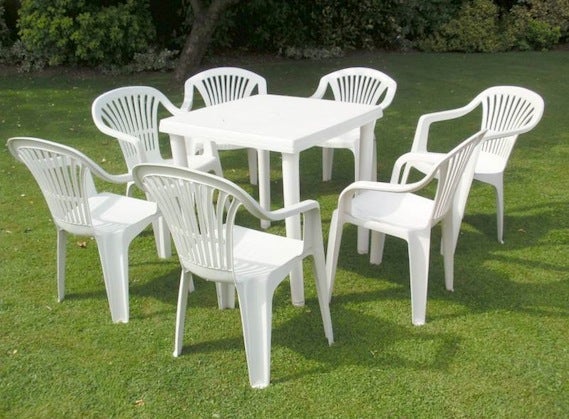 Spray spray away!
Here's your chance to channel your inner graffiti artist. There are several spray paint products made for both metal and plastic in a variety of colors that you can use to give your furniture a quick refresh or if you're so inclined, a complete color change! 2 examples of products that are perfect for this are Krylon Fusion for Plastic or Rust-Oleum if you're spraying metal.
Make sure you clean thoroughly to get rid of any dirt or dust before you paint as that will affect the paint's ability to adhere to the surface. Have wood furniture? Don't worry, there are just as many cleaning, staining and sealing products available to you as well.
Image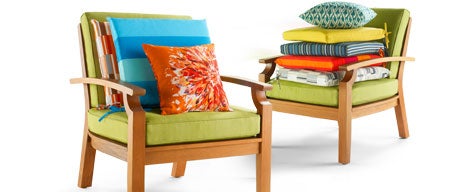 Comfy colorful cushions
Cushions are an easy way to add colour and comfort to those old looking chairs and they easily cover up any blemishes that have accumulated over years of use. Most cushions are also designed to be universal, so matter the type or brand of chair you have, you should be able to find a cushion to fit. Choose a color scheme with your cushions and then accent with pillows just like you would in say a living room. You can also go one step further and pick out an umbrella that matches your new color scheme.
There's no denying that we all like to have new things. But if you're on a budget and want that old patio furniture to look, feel and smell brand new then hopefully these tips will help!