Paint Your Way to a High-end Finish with These Low Budget Floating Deck Ideas
Your outdoor space is just as important as your home's interior. In fact, when properly decorated, your backyard can act as an additional "room" for you and your family to enjoy day-to-day. However, as with any home improvement project, renovating your outdoor space can be a significant financial investment. Let's dive into some low budget floating deck ideas to help you transform your outdoors on a dime.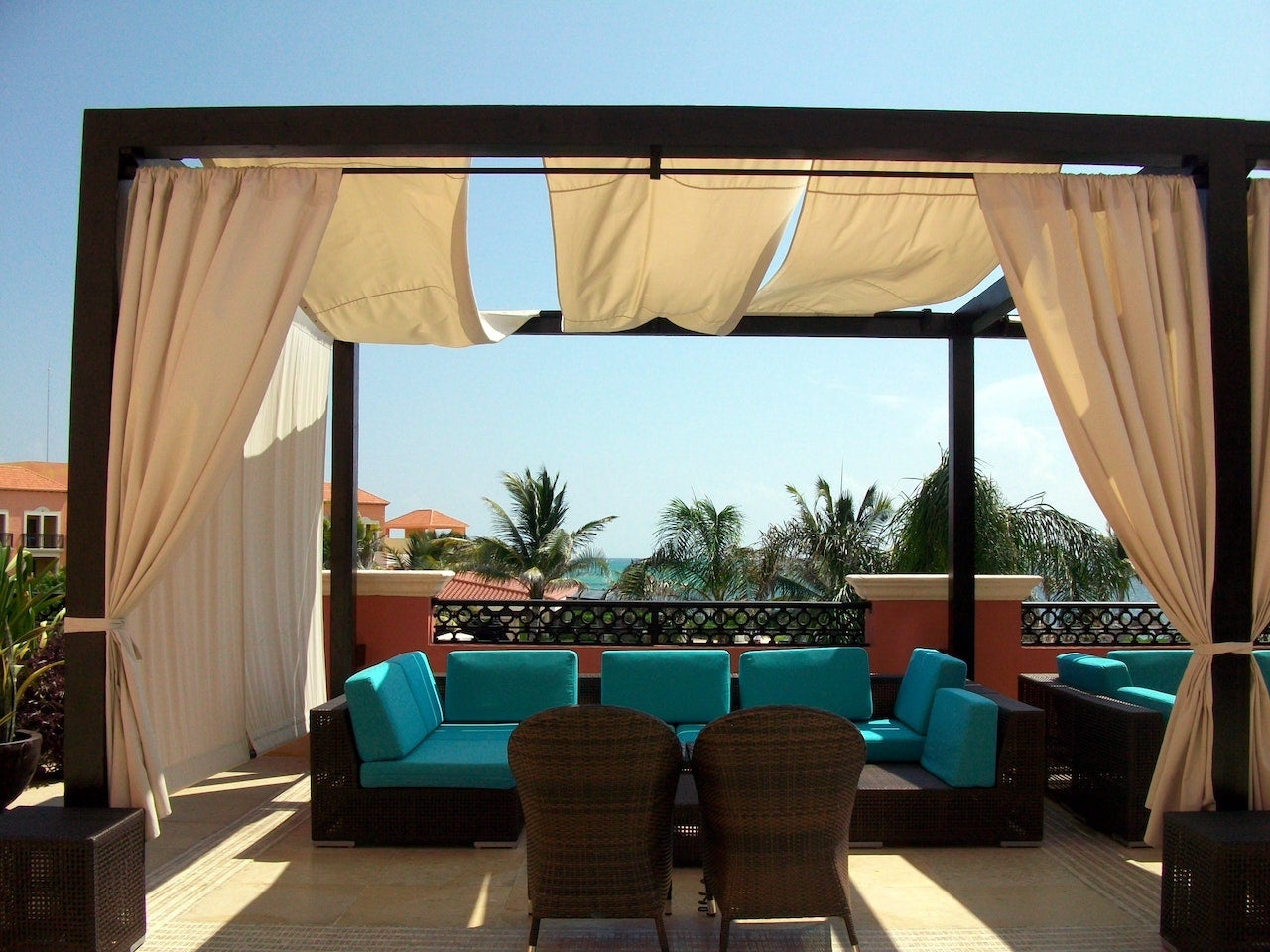 Low Budget Floating Deck Ideas Enhanced With These Simple Tips 
Transforming your outdoor space into an oasis doesn't have to break the bank. There are plenty of low budget floating deck ideas that can be put into practice—and you can use these handy tips to help achieve the backyard of your dreams.
Creative Painting Techniques 
Never underestimate the power of a humble paint can. With it, you can create geometric patterns, stencil designs, and accent colors to add visual depth to your deck. If you use the right application techniques, you can also use paint to create faux finishes that instantly liven up your space for cheap. 
Just make sure you prepare your surfaces for exterior painting before you begin. This way, you can ensure the best possible outcome for your paint job as well as the longevity of the coat. 
Enhancing with Accessories 
Dress up your floating deck with budget-friendly accessories that complement your paint job. Vases and planters—in a variety of sizes, colors, and shapes—are great for adding visual interest. Should you have a little wiggle room in your budget, you can also add waterproof pillows and outdoor rugs to build a cozy atmosphere on your deck.
How to Choose the Right Paint
Whatever paint job you are about to undertake, the first step is determining the right type of paint for the project. For instance, when you paint your floating deck or other exterior surfaces, you consider paints that are durable and weather-resistant. 
Acrylic-based paints dry quickly and can prevent moisture damage; meanwhile, oil-based paints are more budget-friendly and great for covering wooden surfaces. Beyond these concerns, some paints may have other features worth considering such as waterproofing, anti-slip options, and mold resistance. 
Type of paint aside, you also want to choose the right paint color. This can make or break your aesthetic—it could compound the harmony or clash with the colors of your home. Consider factors such as light conditions and deck surface texture, as these will have an effect on the appearance of the paint color.
Inspirational Ideas and Examples 
To give you a more exact idea of how smart paint choices can help you spruce up your floating deck, check out these examples! 
If you want a contemporary look for your floating deck, simple is the way to go. Opt for brown hues—walnut, mahogany, burgundy, or chocolate brown—like the design below. You can also use minimalist outdoor furniture for a chic modern aesthetic.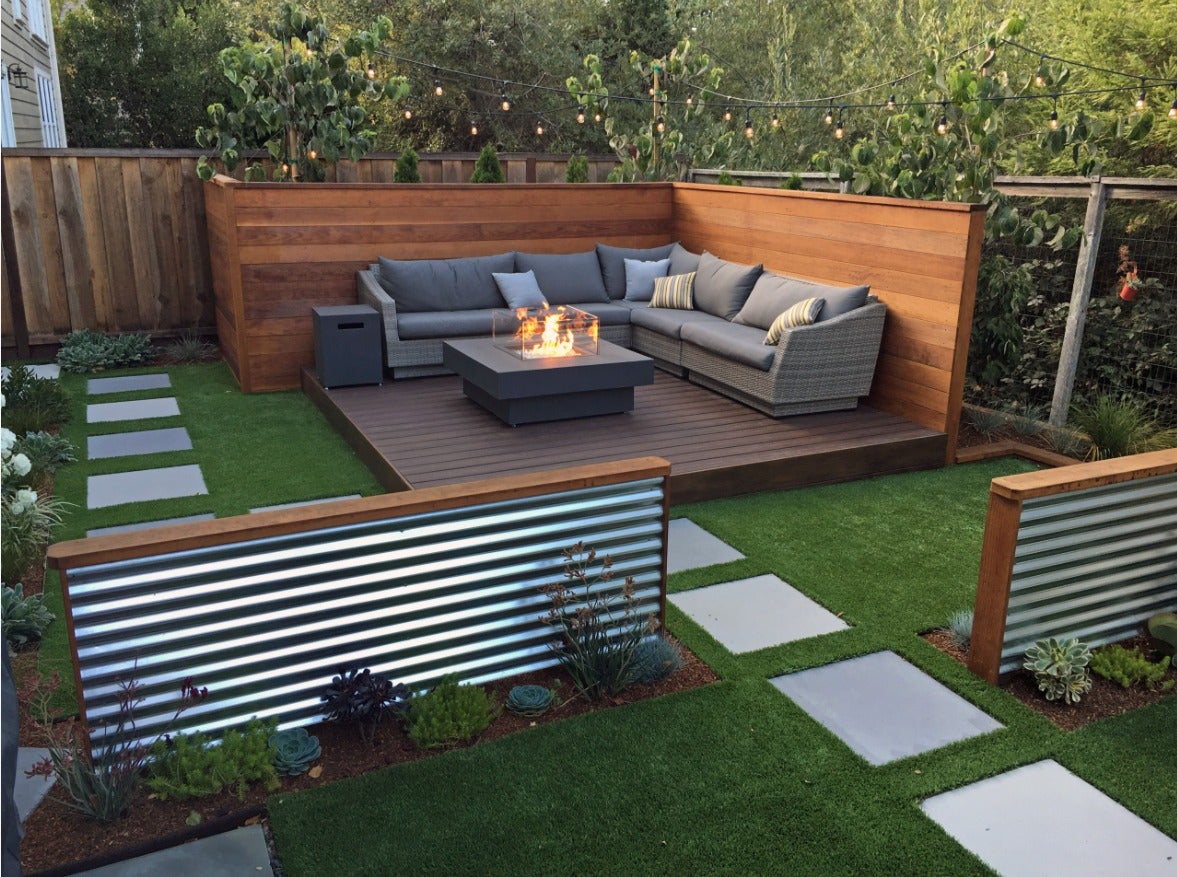 Patterns like this checkerboard design make for an eye-catching foundation, which you can build on with either monochromatic or colorful furniture.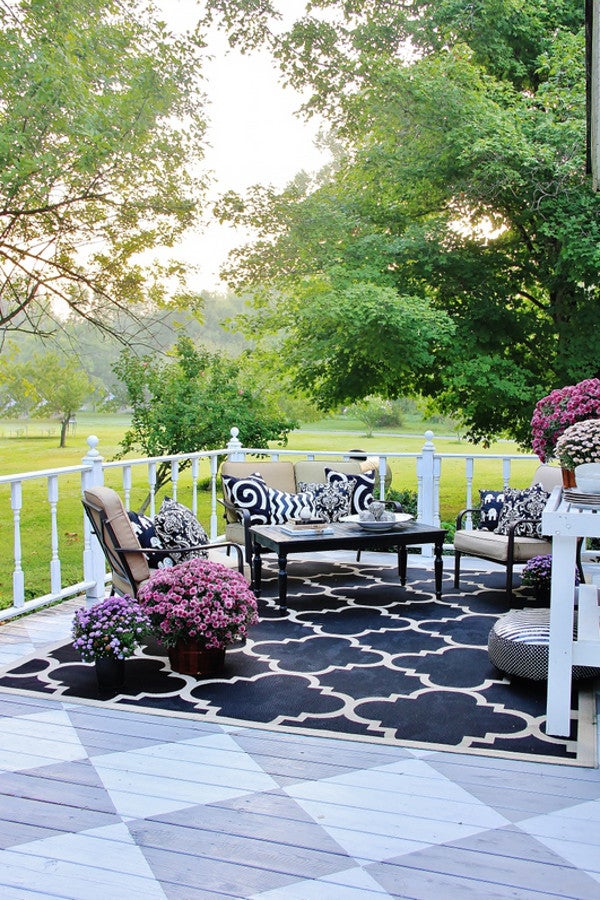 Dainty designs like this white lace stencil can be an ideal option for those who want to achieve an elegant balance between rustic and sophisticated for their deck.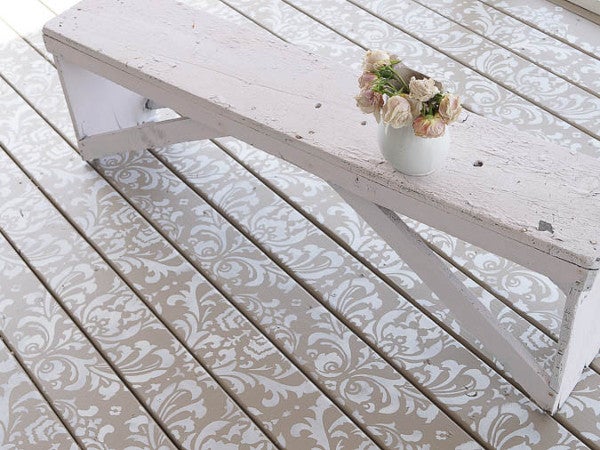 Upgrade Your Backyard's Aesthetic 
Your backyard is one of your home's best assets for entertaining guests as summer approaches—get ready for sunset drinks on the deck or brunch on the patio. However, before turning it into your summer hangout, consider dressing it up a bit first. Be it repainting your deck, replacing your outdoor furniture, or simply adding more plants, we hope these tips get your creative drive going.
Of course, the season is nearly here—so if you're going to have your floating deck project ready, you have to act fast. That's where WOW 1 DAY Painting comes in. Our name is no joke—get ready for the fastest turnaround you've ever seen! Our team makes it a point to understand your unique painting needs during the consultation to deliver dream results; all of our work comes backed with a two-year warranty for your peace of mind.
What are you waiting for? Let's get started ASAP!
Exterior Painting
In The News
Remodeling Ideas