Rockville Painters
Now proudly serving Rockville and the surrounding areas!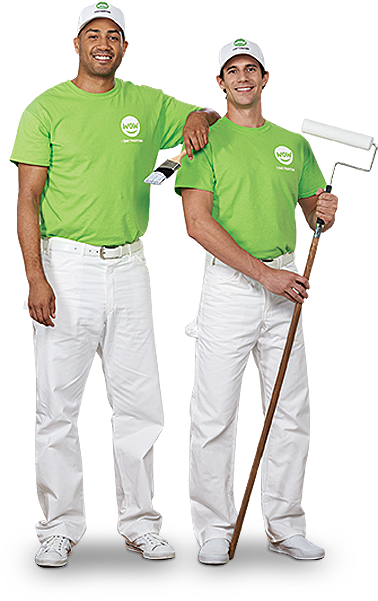 Professional Rockville Painters
Are you looking to get painting done for your home or business? Looking for professionals who can give you the quality you expect in a timeline that's unexpected? Then you need WOW 1 DAY PAINTING. We're your favorite local painting company that can get any painting project done in just 1 day without compromising on quality – or customer service. Blink and you'll miss us!
Rockville Painting Service
We're in the business of creating happy customers. That's why we offer both residential and commercial painting services to the Rockville area. There is no job too large or too small – due to our unique set up, we'll scale our painting crew depending on the size of the job. And no matter what, we'll have it done in 1 day! From brick to wood, stucco to dry wall, we can paint it with speed and quality. Here's what we'd be happy to do for you:
Paint your home: we'll give your home the great look you're craving!
Paint your business: we'll make your business catch the eye of every customer walking by!
Paint the interior: we'll add value to your home with a fresh new look!
Paint the exterior: we'll protect your home or business from the ruthless elements!
Partner with you: perfect for professionals who needs regular painting!
What a Difference a Day Makes
As friendly and as committed to great service as we are, we know you'd rather be doing things with your family than hanging out with us. That's why we're committed to getting your paint job done in 1 day. From the first phone call to the time we're finished painting, we want the paint job to run as smoothly as possible. If you're not saying WOW, we haven't done our job.
The Painting Process
Over the years, we've developed a process that allows us to give you the quality you expect in a timeline that's unexpected. This process is our stroke of genius, and it's why we're always creating happy customers. Here's how we'll WOW you:
We'll schedule your free, no obligation estimate and come out to your home or business to get the details of your painting needs and provide you with an accurate quote.
We schedule a paint day that works for you. We can also discuss the best types of paint for your project and help you pick colors in preparation.
The day before we'll confirm all of the details – the paint, the address, and that you're ready to be WOWed.
On paint day, our big crew will arrive on time. We'll take a quick tour and lay down ground sheets to protect your flooring, as well as covering any furniture that would otherwise be exposed. We'll also prep the surface being painted by doing things like filling nail holes, sanding, and power washing.
Then we paint. Our friendly, uniformed painters will inspect their work as they go to ensure the results are exceptional.
When we finish, we'll walk you through your freshly painted space to ensure that you are completely WOWed.
Blink and you'll miss us! We clean up and leave nothing behind.
Schedule a Rockville Painting Contractor Today!
WOW 1 DAY PAINTING is creating happy customers with speed and quality. If you're interested in seeing what a difference a day makes, give us a call or go online. We'll start by scheduling your free estimate.
<! -- // row inner -->