Cupertino Painters
Now proudly serving Cupertino and the surrounding areas!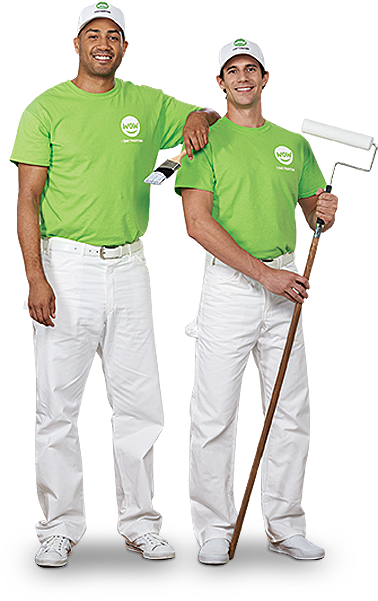 Professional Cupertino Painters
How long do you think it should take an experienced team of professional painters to paint your house? And how long do you expect it to take? With WOW 1 DAY PAINTING, it's only going to take 1 day. Leave in the morning and come home at night to find a perfectly painted place. Our big crews of friendly, uniformed painters will deliver the quality you expect in a timeline that's unexpected.
A Full-Service Painting Company
WOW 1 DAY PAINTING is guaranteed awesome (and fast. and friendly.) Operating throughout the Cupertino area, we paint the interiors and exteriors of both commercial and residential properties. Our painters have experience painting virtually any surface you can think of, including stucco, brick, wood siding, vinyl siding, drywall, wood trim, cedar shingles, doors, and more. We paint:
Interiors: We'll give your home a fresh new look
Exteriors: Protect your siding from sun, wind and rain while also turning it into the best looking place around
Residence: Get ready to stage your home for the market, update your look, or add value
Commercial Properties: Draw your customers into your business with a bright, attractive look
Partnerships: If you or your clients need regular painting services, you need WOW 1 DAY PAINTING
Free, No-Obligation Estimate
WOW 1 DAY PAINTING is committed to being the best painting services provider in Cupertino. Whether it's your phone call to schedule a free estimate, or the perfect paint job we leave you with, we want you to say WOW! We don't just hire the best painters – we hire the best painters who are the best people. Our team of painters will guarantee that your experience is exceptional. WOW!
The Painting Process
It's only natural to wonder how WOW 1 DAY PAINTING is able to WOW you in such a short period of time. We've developed a seven step process.
We discuss the project. This starts with your free, no obligation estimate. Give us an address and one of our representatives will meet you there to discuss your painting needs. Once we're 100% positive we have the details of your project correct, we'll provide you with a written quote.
You select your paint and we schedule paint day. If you're feeling uncertain about which paint to select, our experts will guide you towards the best decision for your project.
We give you a call and confirm all of the details the day before your scheduled paint job.
We send our big and uniformed crew to your address. We arrive on time and proceed with measures designed to protect your property and furniture. Ground sheets will be laid across the floor, and any furniture still in the painting area will be covered. To ensure the best paint job possible, we'll power wash, sand, caulk, and fill in nail holes. Proper preparation creates paint perfection.
Time to paint! During the painting process, our most experienced painters continually inspect our work and guarantee it's up to the WOW 1 DAY PAINTING standard.
Guaranteed awesome. We'll show you the final results and ensure that you are completely WOWed.
Blink and you'll miss us! It's time to clean. We will clean everything – after our team of friendly painters has left your property, all you'll have to remember us by is the paint on your walls and the smile on your face. Thanks to our use of low and no VOC paint, you won't have to deal with the harsh fumes that are a product of traditional paints. WOW!
Schedule a Cupertino Painting Contractor Today!
Go online to schedule your free estimate, or give our friendly staff a call. The WOW 1 DAY PAINTING experience is going to leave you saying WOW by giving you the quality you expect in a timeline that's unexpected. What a difference a day makes!
<! -- // row inner -->