Round Rock Painters
Now proudly serving Round Rock and the surrounding areas!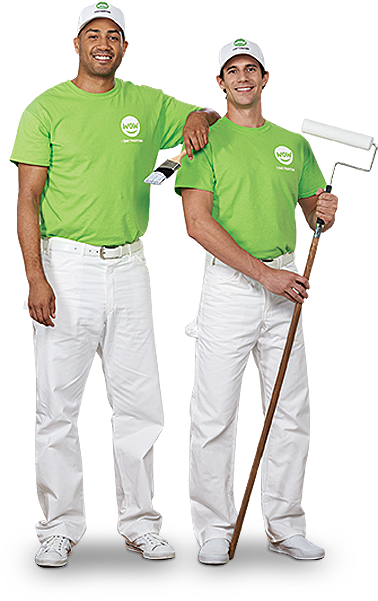 Professional Round Rock Painters
There is no household maintenance task more bothersome and tiring than painting your home. Any building with wood siding or other paintable services requires a fresh coat of pain from time to time as the elements chip away at the layers. Doing this job on your own can take a week or more, and requires climbing ladders, dangling from the roof, and sweating under the hot sun.
Instead of spending all of your own precious time on it, why not find a group of Round Rock painters to do it for you? WOW 1 DAY PAINTING can do all of that hard work for you, and do it without interrupting your daily household schedule over the course of several days. In fact, our name says it all. At WOW 1 DAY PAINTING, you'll get the quality you expect in a timeline that's unexpected.
A Full-Service Painting Company
WOW 1 DAY PAINTING is a Round Rock painting company creating happy customers one paint job at a time. We offer 1 day painting service to residential and commercial customers, covering both interior and exterior painting jobs. However, it isn't the variety of services we offer that sets WOW 1 DAY PAINTING apart from other Round Rock house painting companies, it's our promise to get the job done quickly and efficiently. When you work with us, you won't believe what a difference a day makes!
Among the many benefits of working with WOW 1 DAY PAINTING are the following:
Fast and friendly 1 day painting service.
No premiums for our 1 day service.
We use zero VOC and low-VOC paint to minimize our environmental footprint and leave no harsh odors in your home or office.
Free estimates on your painting job.
Friendly, uniformed painters and large crews to get the job done quickly. Blink and you'll miss us!
Guaranteed awesome!
Residential Round Rock Painting Service
WOW 1 DAY PAINTING offers residential painting services that include both interior and exterior paint jobs. Whether you have a bedroom or living room that could be revitalized with a vibrant new coat of paint or you want to add some curb appeal to your house with a new color outside, WOW 1 DAY PAINTING has the friendly, fast, professional painters to get the job done.
We'll provide you with a detailed proposal for our Round Rock painting services in writing; confirm the final paint colors and a start date in advance, and then complete your painting in 1 day! If you're worried about the valuables or other fragile items in the rooms to be painted, we'll conduct a walkthrough with you beforehand to identify any items that should be removed to ensure the room is ready for painting. When it comes to covering floors and protecting furniture, we'll make sure everything is protected before we start.
In addition to interior and exterior painting, our Round Rock painters can also fill holes or cracks in walls, repair damage to drywall, remove wallpaper, replace window caulking, and even power wash your home's exterior surfaces to remove mildew and other dirt or debris. All of this will be done as part of the prep work to ensure your paint job is exceptional and lasts.
Commercial Round Rock Painting Service
If your office space requires a fresh coat of paint to improve the professional look and appeal of your business, WOW 1 DAY PAINTING can provide the stroke of genius you need. We understand that your business can't be closed for days on end or deal with frequent interruptions. This makes our 1 day service an excellent option for any commercial painting job.
We'll minimize downtime for your company, and deliver exceptional results that are guaranteed awesome. Like our residential services, we provide detailed proposals in writing beforehand, carefully prepare the site, and use our eco-friendly paint to ensure no lingering harsh odors when your employees return to work. Best of all, we're licensed, insured, and bonded professionals so you can have peace of mind when working with WOW 1 DAY PAINTING.
The Painting Process
Other Round Rock painters simply cannot compete with WOW 1 DAY PAINTING. In just three steps and 1 day, you'll have a fresh coat of paint in the bedroom, on your house, or around the office. We offer free, professional estimates. We prepare for every job by first building a paint team with enough professionals to get the job done in 1 day. Finally, we start and finish on time so you get the quality you expect in a timeline that's unexpected!
Schedule a Round Rock Painting Contractor Today!
Call us today to schedule our Round Rock painters, or go online to book a free estimate from WOW 1 DAY PAINTING. What a difference a day makes.
<! -- // row inner -->