Pflugerville Painters
Now proudly serving Pflugerville and the surrounding areas!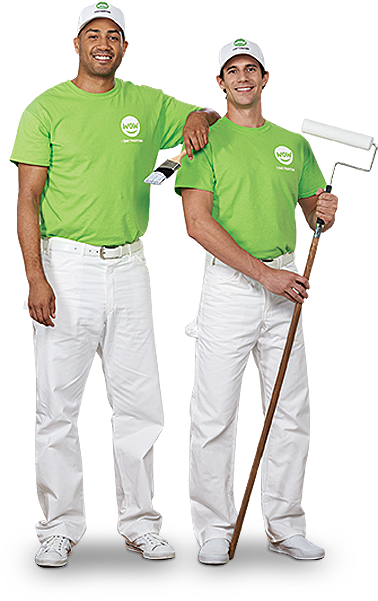 Professional Pflugerville Painters
If it's time for a fresh coat of paint, whether it's for the interior of your home, the exterior, or your business, do you know your local painting company that is guaranteed awesome? Regardless of the look you'd like to achieve with your renovations, makeover, or brand new space, we can help you achieve it. And we can do so in as little as 1 day.
WOW 1 DAY PAINTING's Pflugerville painters are available for residential and commercial painting. And while we have the professional ability to get the task at hand done in just 1 day, we'll do so without the sacrifice of quality. With our big crews of friendly, uniformed painters, we get your paint job done with the quality you expect in a timeline that's unexpected.
A High-Quality Painting Company
When our Pflugerville painters are handling your painting project, we guarantee the high-quality painting results that a professional painting company should provide in a fraction of the time it typically takes to complete.
With other painting companies it could take days or even weeks of disruption to get the job done. But not with the WOW 1 DAY PAINTING team! How do we do it all in just 1 day? We have a formula for 1 day success, which includes exceptional training and detailed planning: speed + quality = wow!
The Painting Process
Our steps to success include:
Estimate: The first step is providing you with a free, no obligation estimate. We'll take a thorough walk through of the areas that you want painted to determine the full scope of the job. This not only provides us with the information our painters need to successfully complete the job, but it ensures that we provide you with an accurate quote.
Confirmation: Prior to your scheduled paint day, we'll call to re-confirm essential details like start time, scope of the work, and paint colors.
Prepping: The next step, after we've scheduled your job, but before we actually pick up a paint brush, is the prepare the surfaces for paint. This includes work like filling holes, caulking, sanding, and power washing. Establishing a clean, smooth surface will help ensure that the exceptional paint job we provide will be long lasting.
Painting: This is the phase you've been waiting for! Blink and you'll miss us. Our big crew will start and finish on time – we'll provide the quality you expect in a timeline that's unexpected. When the day is finished, we'll take a walk through to ensure we've expertly completed all the painting and then we'll take you on a walk through to make sure you're completely satisfied. What a difference a day makes.
Commercial Painting Services
In addition to painting commercial spaces, we offer:
Real Estate Partnerships: We work with real estate agents to provide professional painting to their clients, whether they need painting done to add value and curb appeal to the home they are selling, or want painting done prior to moving in to their new home.
Property Management: If you're a property manager searching for a painter that can help you to get that rental unit ready for new tenancy asap, WOW 1 DAY PAINTING has got you – and your walls – covered
Schedule a Pflugerville Painting Contractor Today!
We are guaranteed awesome (and fast. and friendly.) We are creating happy customers by providing exceptional results in just 1 day. You'll be WOWed.
Additionally, we care about your safety and the environment. That's why we only use low and no VOC (volatile organic compound) paint. You won't be bothered by fumes when you arrive at the end of the day to your newly painted space, and you won't have to worry about the health of your family, pets, or coworkers.
To get started with our team of Pflugerville painters, contact the professionals of WOW 1 DAY PAINTING to request an estimate today! Call us or go online.
<! -- // row inner -->