The WOW 1 DAY Painting Story
Creating Customer Service Magic
In 2010, serial entrepreneur Brian Scudamore was looking for a company to paint his home when an interesting ad caught his eye: a painting company claiming its team could paint an entire house in a day. Skeptical but curious, Brian decided to hire them.
On painting day, Brian welcomed the painters into his home before leaving for work. When he returned that evening, the first word that left his mouth was 'WOW'! Not only was the job executed on time, but the quality of the work was exceptional. Brian had an idea.
He approached the business owner about franchising the company. WOW 1 DAY PAINTING became the second brand to join Brian's growing family of successful home service franchise systems, O2E Brands.
We're not just another painting company. WOW 1 DAY PAINTING is poised to disrupt the painting industry in the same way 1-800-GOT-JUNK? revolutionized junk removal 30 years ago.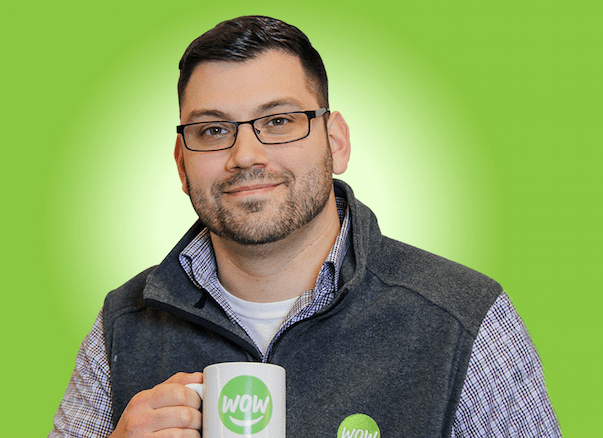 "I don't just punch in and out anymore, because I know I'm building something bigger. It gives me a sense of ownership and pride. Everything even says "WOW" on it — and that's how I feel when I'm driving the truck or wearing the brand. Best of all, I like knowing that if I put the work in, I truly do reap the rewards for what I am putting in."
Franchise Partner - Bergen County, NJ
Why Join WOW 1 DAY Painting?
WOW 1 DAY PAINTING is backed by the same culture of founders, back-end systems, and tried-and-true marketing that made 1-800-GOT-JUNK? the world's largest junk removal company. If you're selected to start your future with us, we'll support you every step of the way.
Community of Owners
When you join WOW 1 DAY PAINTING, you're a part of the O2E Brands family. You have access to the knowledge and expertise of fellow franchise partners across all three of our brands.
SMART RISK
Franchising gives you the best of both worlds: the freedom to be your own boss, with the back-end systems and support of a trusted brand to set you up for success.
TRIED-AND-TRUE MARKETING
Everything's in-house — from creative to national media buys — so you can focus on developing your business. It's our recipe for successful conversion.
EXISTING CUSTOMERS
Our broad customer base has been identified over 30 years and three brands. This multiplier effect of brand recognition lowers the cost of customer acquisition and enables you to capture demand in your market.
BACK-END SYSTEMS
The WOW 1 DAY PAINTING model is based on the proven systems and processes that made 1-800-GOT-JUNK? an international, multi-million-dollar brand.
TRUSTED BRANDS
We have 30 years of experience in helping small businesses grow. The proof is in our 5-star reviews: we provide the exceptional service our customers deserve.
CULTURE OF FOUNDERS
You have the chance to leverage your leadership and business skills to write your own founder's story. Owning a business gives you the freedom to choose your own future.
SPEED + QUALITY = WOW
We deliver the quality you'd expect in a timeline that's unexpected. This is how we're revolutionizing a traditional industry.