Color of the Month October 2023:
Shiitake
When it comes to refreshing your home this fall, there's one color that's stealing the spotlight – Shiitake by Sherwin-Williams. In October 2023, this mindful shade of beige is taking center stage as the Color of the Month. So, if you're looking to infuse your living space with a sense of mindfulness and minimalism, you're in the right place. Join us as we explore the soothing and versatile, and timeless qualities of Shiitake and discover how it can transform your home into a tranquil sanctuary.
The Allure of Shiitake
Shiitake, a mushroom-inspired hue, offers the perfect blend of warmth and coolness. It's the kind of color that invites you to slow down and appreciate the beauty in simplicity. In a world often filled with chaos, Shiitake provides a sense of balance that resonates with minimalist sensibilities. Whether you're a fan of contemporary design or prefer a classic look, Shiitake seamlessly fits into any aesthetic.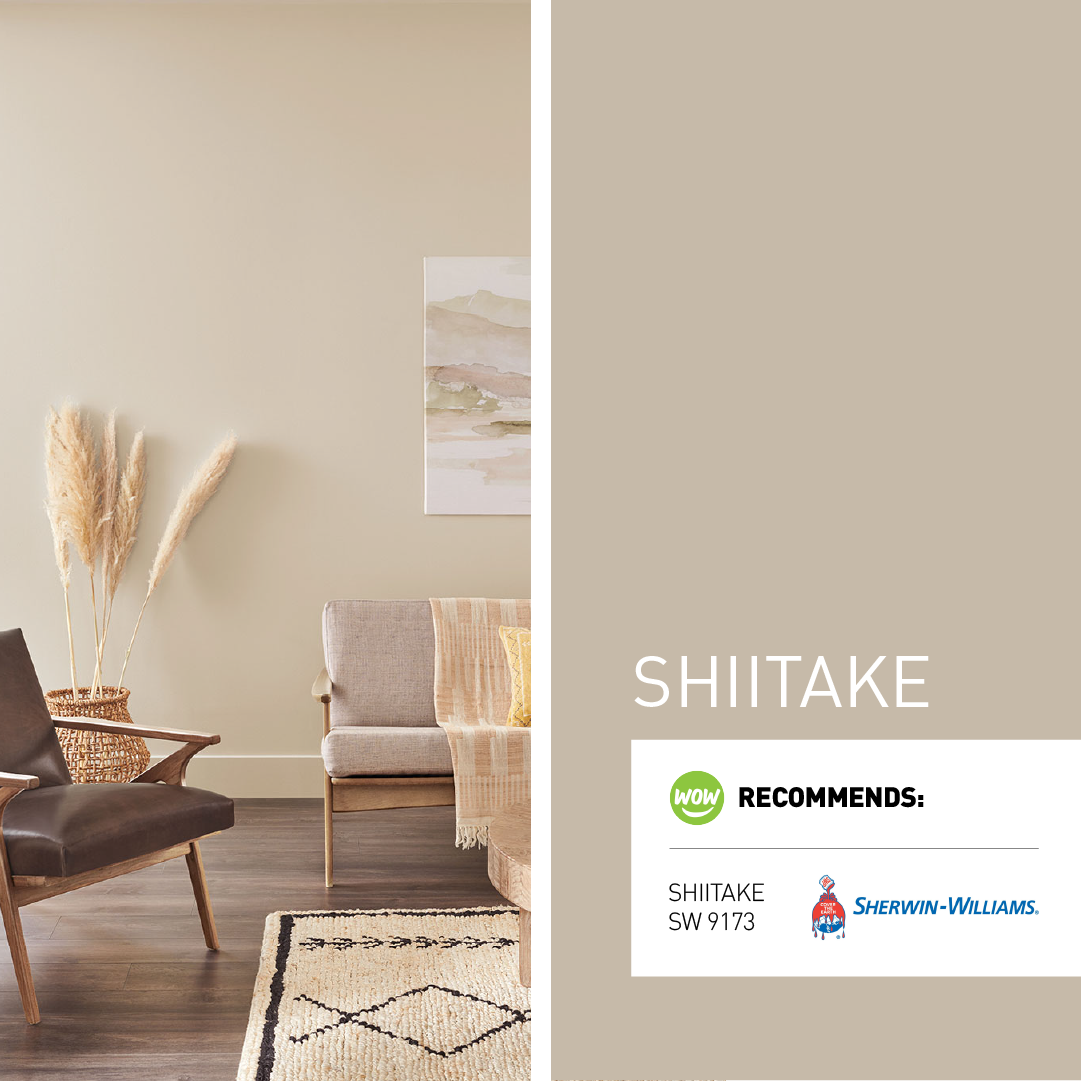 Creating a Minimalist Haven
PEACEFUL BEDROOM:
Imagine entering a relaxing and peaceful atmosphere at the end of the day. Painting your bedroom walls in Shiitake can establish a calming and sophisticated backdrop. The neutral and balanced nature of this color promotes serenity, making it ideal for a restful sleep environment.
DINING ROOM ELEGANCE:
Elevate your dining room's elegance by painting it in Shiitake. This hue creates a refined and inviting setting for entertaining guests. It works well with both traditional and contemporary dining room furniture. Add a statement chandelier and a coordinating area rug to complete the look.
BATHROOM RETREAT:
Transform your bathroom into a spa-like retreat by using Shiitake on the walls or as a tile color. This calming hue pairs beautifully with crisp white fixtures, creating a serene atmosphere. Add accents like natural wood vanities, plush towels, and greenery to complete the soothing ambiance.
SOPHISTICATED KITCHEN:
Give your kitchen a sophisticated and timeless look by choosing Shiitake-colored cabinets. This elegant choice pairs well with various countertop materials, such as granite or quartz, and adds a touch of tranquility to your culinary space. You can further enhance the kitchen's aesthetics by adding complementary hardware and light fixtures.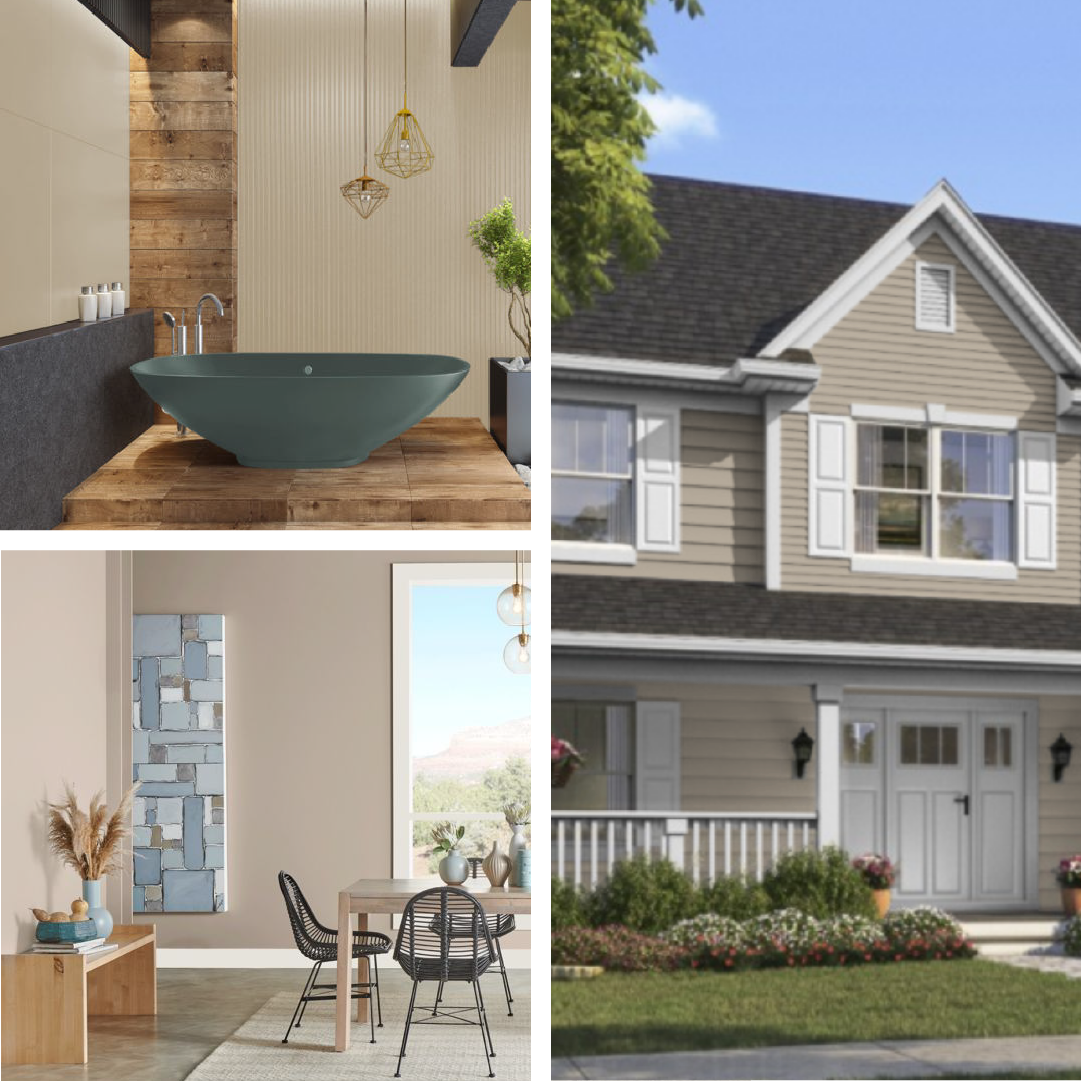 Standing the Test of Time Outdoors
One of the most significant advantages of working with Shiitake is its timeless quality.
A VERSATILE CANVAS:
Shiitake provides a versatile canvas for personalizing your home's exterior. This neutral backdrop allows you to get creative with accent colors for doors, shutters, and trim.
A WELCOMING ENTRYWAY:
If you opt to update your exterior accents like doors and trim, use Shiitake to create a cohesive and welcoming entryway. This color pairs beautifully with natural materials like wood and stone.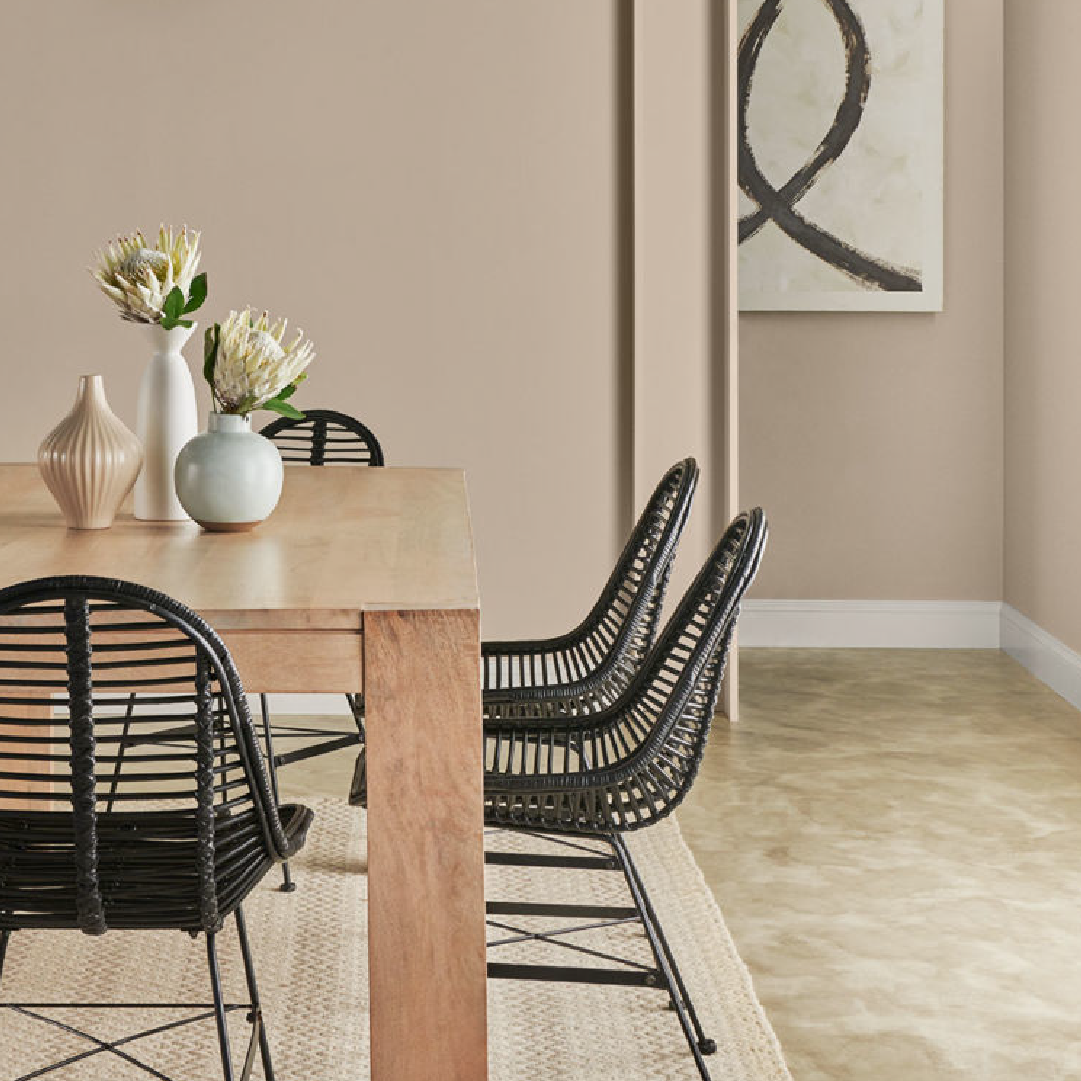 Styling Suggestions
Shiitake serves as the ideal canvas for crafting a minimalist haven within your home. Use the color as a starting point and fill the rest of your space with complimentary accents to keep things interesting.
Warm Wood Tones: Add a touch of natural elegance while maintaining the minimalist ethos. The combination of Shiitake and wood creates an inviting and cozy atmosphere, perfect for relaxing during the crisp autumn evenings.
Minimalism: Shiitake is more than a color; it's a lifestyle choice that allows you to appreciate the beauty in simplicity. Embrace the "less is more" philosophy and only welcome items into your home that you'll admire for years to come.
Matte Accessories: Accessorizing with matte-finished items can enhance the minimalist chic of your space. Think about incorporating matte-finish decor, such as vases, picture frames, or lampshades. These accessories introduce subtle texture and depth to the room without overwhelming the serenity of Shiitake.
Ready to refresh your home with Shiitake?
This fall, embrace the mindful elegance of Shiitake by Sherwin-Williams. Now that we've helped you imagine a new color for your home, let us help you create an oasis of tranquility in your living space that you'll cherish for years to come. Book a free estimate with WOW 1 Day Painting today—don't miss out on the opportunity to make your home a masterpiece of minimalist design this fall!