Color of the Month June 2023: Sand
As we continue our journey this year through nature's captivating hues, we delve into the mesmerizing realm of sand. Ah, sand! Its mere mention evokes a wave of nostalgia, transporting us to sun-drenched shores, leisurely walks along the beach, and cherished holiday memories. This June, we celebrate sand as our color of the month, immersing ourselves in its warm embrace, tranquil aura, and nostalgic charm. By incorporating sand into our homes, we can bring the essence of those blissful moments into our everyday lives.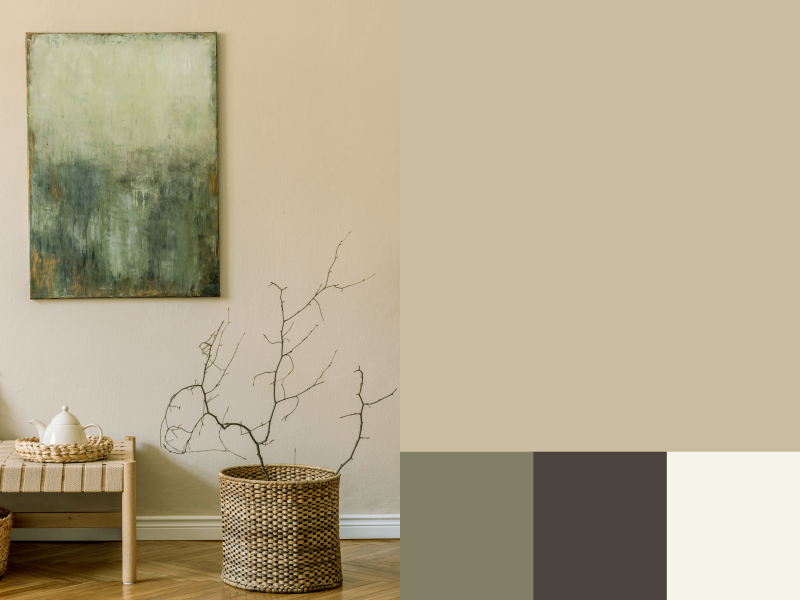 Let's dive in deeper and discover the inspiration behind this month's color, along with the wonderful ways we can infuse it into our living spaces!
Serene Kitchens:
When it comes to kitchens, Sand can create a soothing and inviting atmosphere. Consider painting your kitchen walls in this gentle shade, allowing natural light to bounce off and brighten the space. To complement the Sand backdrop, opt for cabinets and countertops in a crisp, clean white. This combination creates a light and airy feel, making your kitchen a place of relaxation and culinary inspiration.
Dreamy Bedrooms:
Transform your bedroom into a serene oasis. Paint the walls with this comforting hue, and watch as it effortlessly creates a peaceful and cozy environment. Pair it with soft, earthy textures in bedding and rugs for an added touch of warmth. For a harmonious look, our color pairing of an olive green accent wall complements Sand beautifully, adding a hint of nature to your sleeping sanctuary.
Inviting Living Rooms:
Since sand-colored walls provide a neutral backdrop, incorporating different textures throughout the room like adding a plush rug, textured throw pillows, a knitted pouf, or woven baskets will create a cozy atmosphere. Rich brown or dark wood furniture can also provide contrast and visual balance to the room. You can also Incorporate natural materials in your living room to complement the sand-colored walls. wicker chairs, jute rugs, and plants can add warmth and a touch of nature to the space. 
Spa inspired Bathrooms:
Incorporate the soothing nature of Sand into your bathroom, transforming it into a spa-like retreat. Paint the walls in this serene hue, and add cream-colored towels and bath accessories to create a refreshing atmosphere. To enhance the organic feel, choose elements like bamboo flooring or scallop shell tiles. The resulting space will offer a tranquil escape, reminiscent of a day at the beach.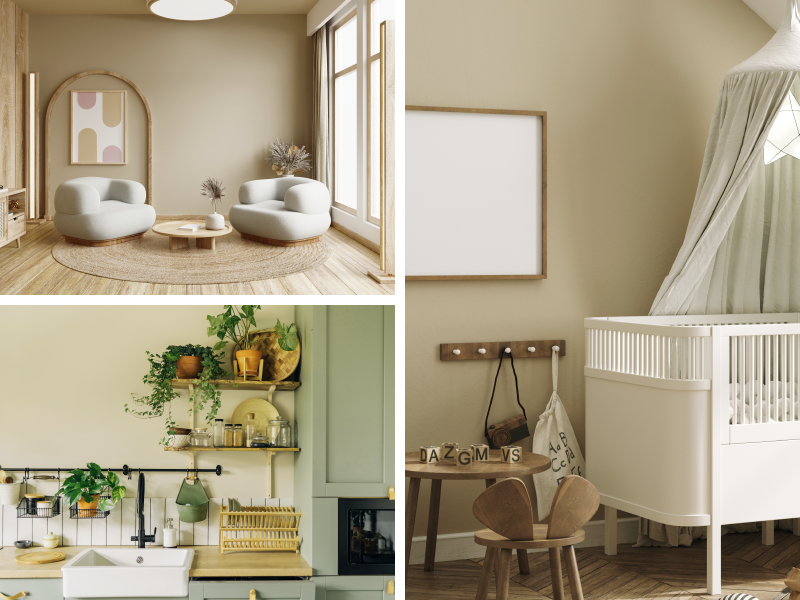 Color Pairings
To add depth and character to your Sand-inspired spaces, we've carefully selected three color pairings that work harmoniously with this natural shade.
Olive Green: The earthy tones of olive green provide a wonderful contrast to Sand. Consider using this hue for accent walls, furniture pieces, or decorative elements. It adds a touch of nature and vitality to your space, creating a visually appealing and balanced composition.

Dark Brown: The richness of dark brown complements Sand perfectly, creating an inviting and warm atmosphere. Incorporate this shade through wooden furniture, flooring, or decorative accessories. The combination of Sand and dark brown creates a sense of grounding and adds a touch of sophistication to any room.

Cream: If you prefer a softer and more neutral palette, cream pairs beautifully with Sand. Use cream-colored curtains, rugs, or throw pillows to add a touch of elegance and versatility to your space. This pairing creates a calming and timeless ambiance that suits a wide range of interior styles.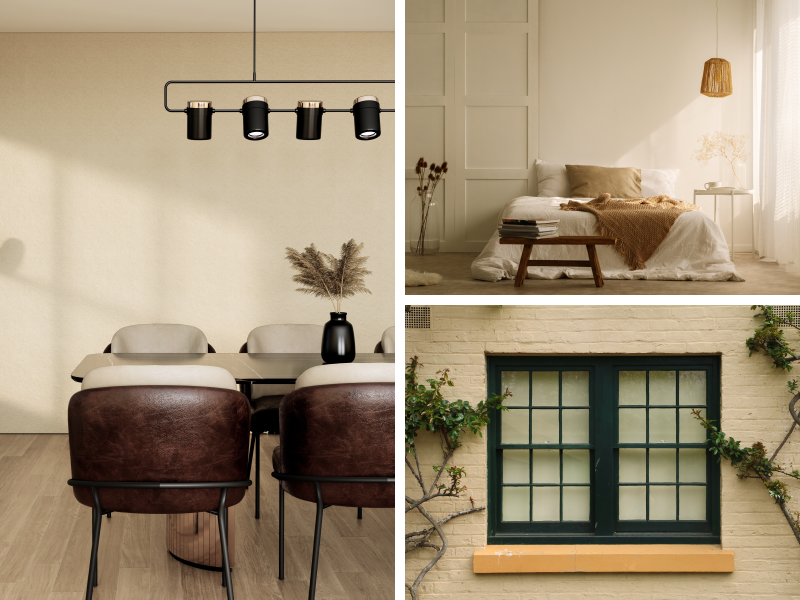 Why not let the beauty of sand extend beyond your home's interior? Embrace its allure on the exterior and watch your house become a welcoming haven that harmonizes with its surroundings. Consider painting your home's exterior in a warm sand hue to create a welcoming and relaxed atmosphere from the moment you step foot outside. The color will evoke visions of beachside cottages and coastal charm.
Create a Serene Summer Oasis with Sand
Ready to make your room over for Summer? We recommend Shaker Beige from Benjamin Moore . Now that you're armed with our color of the month, it's time to call in the pros to help you paint it. Book a free estimate with WOW 1 DAY Painting today—let's make your home renovation dreams a reality.