Color of the Month September 2023:
Midnight Blue
As September gracefully arrives, bidding adieu to the sweltering summer and ushering in crisper air and longer nights, we find ourselves at the perfect juncture to delve into the captivating world of the Color of the Month - Midnight Blue. This month, we are drawing  inspiration from the enchanting starry night sky. So, let's dive into the depths of this stunning hue and how it can transform your interior and exterior spaces to give them a touch of drama. 
Picture this: a clear, cool night, and above you, an expanse of velvety Midnight Blue sky adorned with twinkling stars. This very imagery has inspired our color choice for September. Midnight Blue is a deep, rich shade that effortlessly marries the elegance of navy with the mystique of deep indigo. It exudes a sense of calmness, making it a perfect choice for spaces where you seek solace and relaxation.

Bringing the Starry Night Sky Inside
Bedroom Bliss:
Picture your bedroom adorned in Midnight Blue walls. It's like sleeping under a starry night sky every night. Add some cream or sandy-colored bedding for a cozy contrast, and you've got yourself a dreamy retreat.
Living Room Elegance:
Give your living room a touch of celestial charm by incorporating Midnight Blue as an accent wall or in your furnishings. A forest green or black accent piece, like a couch or coffee table, complements this rich hue perfectly.
Bathroom Serenity:
Bathrooms can be transformed into tranquil havens with Midnight Blue tiles or paint. Pair it with crisp white fixtures and accessories to create a spa-like atmosphere.
Kitchen Drama:
For a bold and unique kitchen, consider Midnight Blue cabinets. Combine them with black or stainless steel appliances, and you'll have a space that's both elegant and functional.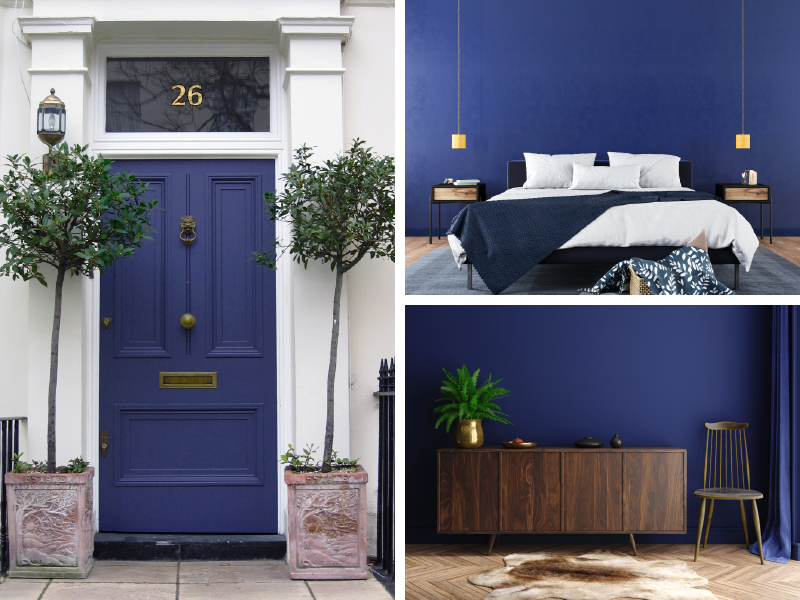 Extending the Magic Outdoors
Your home's exterior is equally important, and Midnight Blue can make a striking statement.
Front Door Charm:
Painting your front door in Midnight Blue welcomes guests with a touch of elegance. Frame it with cream or sandy-colored siding to create a captivating entrance.
Exterior Accents:
Consider using Midnight Blue for exterior accents like shutters, trim, or window frames. Paired with forest green foliage in your garden, your home will become a showstopper.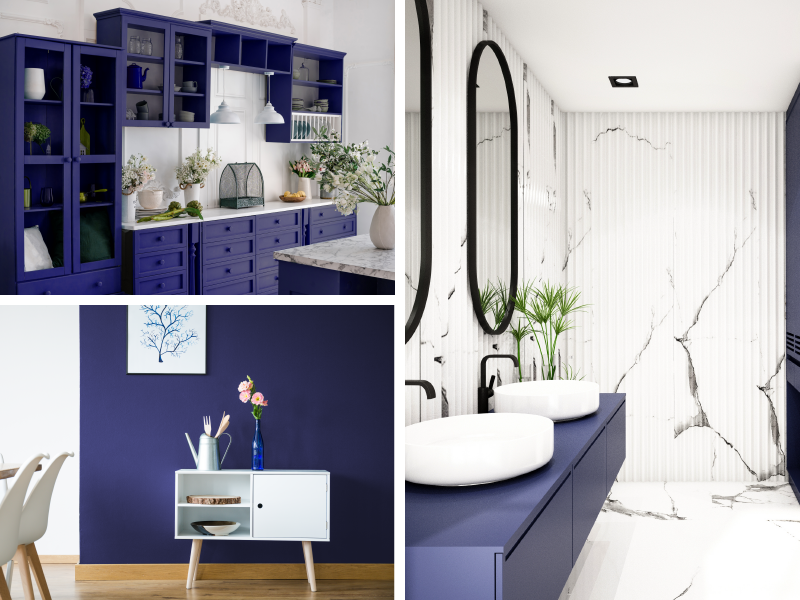 Creating a Harmonious Palette
To truly bring out the beauty of Midnight Blue, it's important to choose complementary colors thoughtfully. These neutral hues provide balance and warmth. They create a sense of coziness when paired with Midnight Blue.
Cream/Sandy: These neutral hues provide balance and warmth. They create a sense of coziness when paired with Midnight Blue.
Forest Green:Nature-inspired and refreshing, this color complements Midnight Blue beautifully, evoking a sense of harmony with the great outdoors.
Black: As an accent color, black adds a touch of drama and sophistication. Use it sparingly for a stunning contrast.

Transforming your home this September.
Let your imagination run wild and watch as your living spaces transform into an inspiring oasis that captures the essence of a starry night sky. We recommend Starry Night Blue by Benjamin Moore. Now that you're armed with our color of the month, it's time to call in the pros to help you paint it. Book a free estimate with WOW 1 DAY Painting today—let's make your home renovation dreams a reality.