Women of WOW: Amy VanWanseele
Failure is not an option! 
At least not for Amy VanWanseele, WOW 1-DAY PAINTING Denver West franchise partner. 
Juggling so many tasks at the same time may intimidate even the most seasoned people. But not Amy. She believes 25 years of experience working in some of the toughest roles in corporate America has prepared her well to meet every challenge head-on in her current role as entrepreneur.
 

"As a business coach, I managed large teams of people effortlessly, ran my own P&L territorial teams and understood cash flows well,"

she says.

"That helped me immensely when I decided to launch my own business and work towards building a strong team and culture in my organization."

 
Today, Amy manages a six-member team of people and owns two mobile units at WOW 1-DAY PAINTING in Denver, Colorado, working closely with contractors and customers to meet the high demand for quality interior and exterior painting services in the region.
"Every day, we are out there, making sure that our customers are happy and satisfied with our high-quality work,"

she says.
Amy joined the WOW 1-DAY PAINTING family in July 2021 – at a time when the COVID-19 pandemic had brought the world on its knees. "I found my true calling at WOW 1-DAY PAINTING – it was an opportunity to do something different and what I enjoyed the most," she points out.
Amy never looked back since. As a woman, it was a bit of a challenge in the beginning. Painting is perceived as a male-dominated industry and, initially, Amy found it tough to convince contractors that women could get the job done just as well. "Working in any male-dominated industry does require thick skin, a good sense of humor, and most importantly, the willingness to show and earn respect," she points out.
Image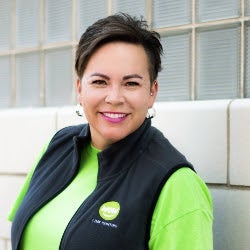 Keeping the momentum going, Amy interacted with women entrepreneurs in the community who experienced similar challenges and had become successful businesspersons themselves. "Their insights about how they overcame perceptions helped shape my thinking and apply them to my own operations," she says.
In the process, Amy learned that being straightforward and honest, continuing to learn and ask questions, and being able to interact with her co-workers at all times, has helped her in building an environment where everyone can thrive.
Today, with the active support of husband Armand and daughter Kaylin, Amy strikes a good balance between work and family life. "I'm proud to be a part of an amazing team that makes its customers go WOW with every job we complete," she says. 
Amy's best advice for aspiring entrepreneurs

?
"It's important to stay focused and surround yourself with positive people all the time. Don't listen to the noise out there. Just look at the opportunities around you and you will shine."