Add a Splash of Green to Any Room
Spring is in the air! After a long, gray winter, we're excited to bring a little color back into our lives. The WOW 1 DAY PAINTING Color of the Month is green! It's the perfect hue to help brighten things up in your home.
When spring arrives, we see the return of green to the landscape, with leaves returning to trees and flowers starting to sprout up in gardens everywhere. Adding some green to your space is the perfect way to bring some of that freshness of the outdoors, indoors!
Perhaps one of the best things about decorating with green is that there's a perfect shade for everyone. Whether you want to go super bold and intense with a bright lime or keep things calm with a hint of mint, there are plenty of ways to bring some elements of green to your home.
Rooms with Great Green Color Schemes
When you're thinking about how to work with green, consider the feeling you want to create in the space. Do you want your living room to give people a burst of energy and encourage lively conversation? Or do you want it to feel more relaxed and laid back? Figuring this part out first will help guide your choice of shades.
Next up, you'll want to think about how much color you want to bring into the space. For a lighter, more pastel green, you could go with allover wall color. However, with a brighter shade of green, you might want to stick to a feature wall or furniture accents.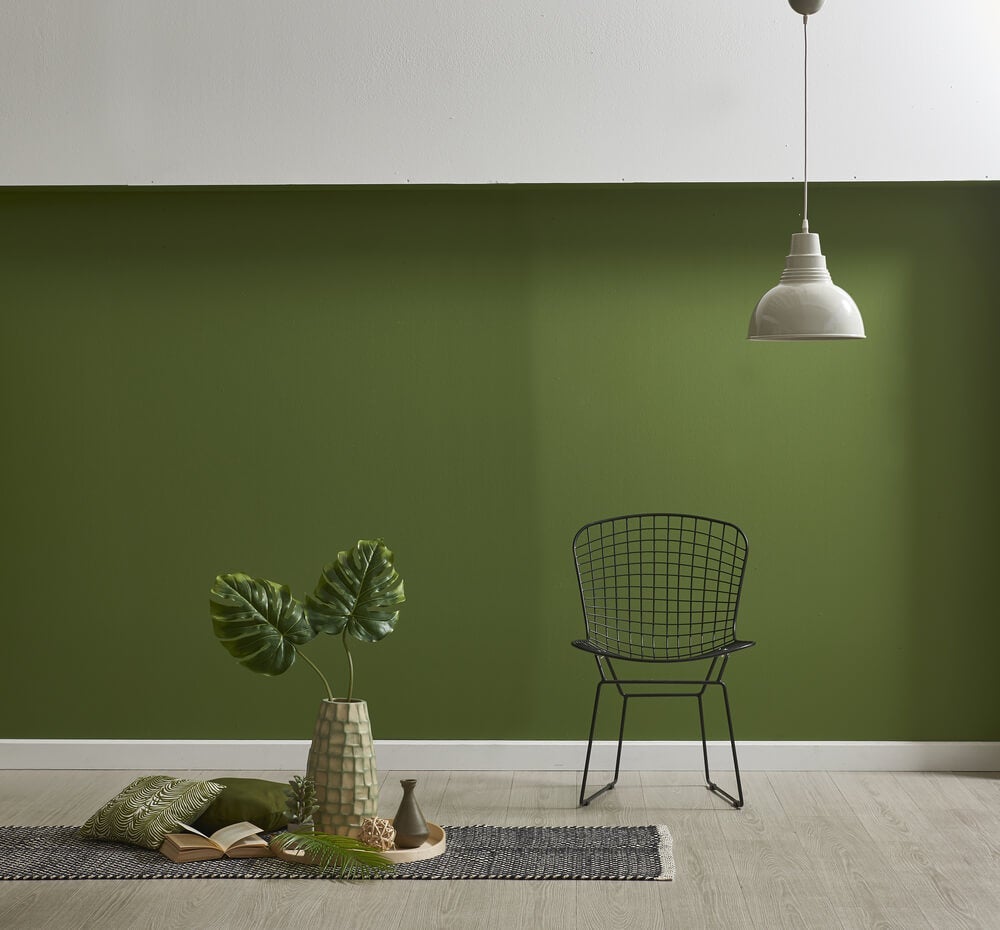 Olive green color scheme
Olive green is a great choice for those who want something on the bolder side without being too bright and intense. It's a richer, more natural tone that works well in any room. It makes a striking wall color and brings an element of sophistication to your space. When you're working with olive, try pairing it with browns and warm natural wood tones like walnut or oak.
If a dark olive seems like a bit too much, there are some gorgeous lighter shades that are perfect for allover wall color. Light olive green is quite soothing and brings an earthy, calming vibe to your room. Both light and dark olive greens pair well with neutral colors and more natural textured fabrics. If you want more of a color pop, you can also add in elements of blue-it's adjacent to green on the color wheel, so it's a natural pairing.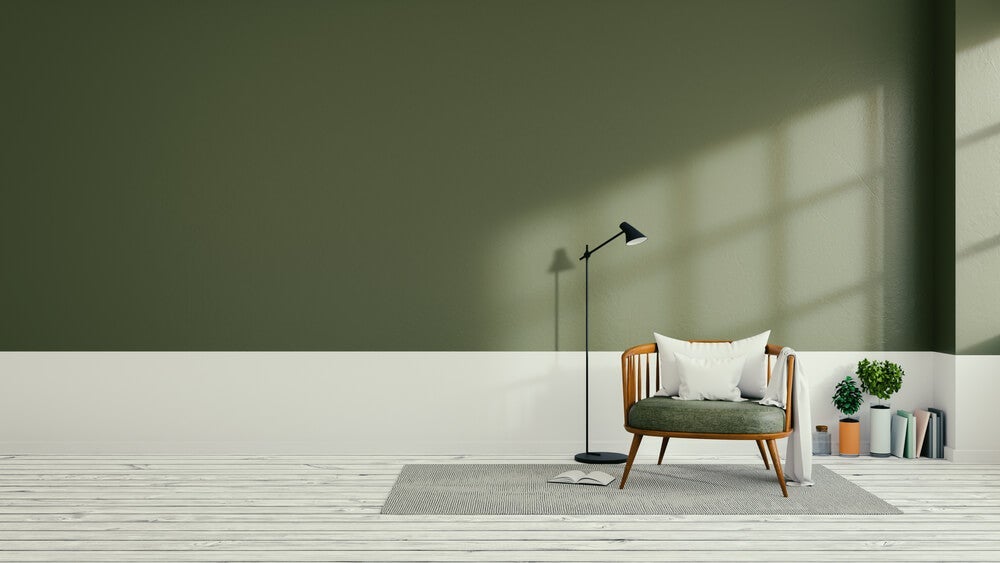 Sage green color scheme
If you're looking to create a calm space to relax in, look to sage green. This gorgeous tone feels more gentle than many other shades of green and is perfect for giving a hint of color without being overwhelming. Its calming nature makes it an ideal color for bedrooms and bathrooms, or any space you think of as a bit of a retreat.
For a more classic look, pair silvery sage walls with crisp white trim and creamy accents. If you're after a more natural feeling, pair with light wood, cream elements, and soft gray furniture. To create a sophisticated space with sage, pair it with darker wood and rich colors from the other end of the spectrum like burnt orange, mahogany, and deep gold.

Mint green color scheme
Mint is similar to sage, but it's a little brighter and energetic. Because it's a little brighter, it works best in rooms that have a great deal of natural light. Mint walls are perfect for giving a room a bit of a retro feel, since mint was very popular in the 50's and 60's.
Mint is fun to work with since it pairs well with both bright colors and other pastels. Of course, you can always keep it classic by accenting with crisp white and slightly darker shades of green. For an ultra-feminine feel, match it with other pastels like yellow, pink, or lavender.

Hunter green color scheme
If bright and sunny isn't what you're after, hunter green is a much darker and richer option. Hunter green adds a sophisticated and regal tone to a living room. If you want to keep things a little more earthy, try pairing it with browns, dark wood tones, and neutrals. You can also add in some deep reds and blues to give it a similar vibe to a hunting lodge or rustic cabin. To bring up the sophistication level, pair your deep hunter green with gold accents for a truly luxe vibe.

Lime green color scheme
Lime is perfect for adding a shot of energy to a space. This color is quite bold, so it's something that needs to be used in a smart way. Allover lime walls might be a bit intense, so you might want to consider trying an accent wall, or painting some furniture. To bring down the intensity, try pairing lime green with light wood tones, crisp white, or a black and white pairing to create some balance.

Teal green color scheme
For those who aren't quite ready to jump into a bright green, teal is the perfect shade to play with. Teal is a gorgeous mixture of blue and green, which brings a calming and tranquil feeling to any space. A brighter teal gives off a more tropical vibe and really pops with bright white, and its color wheel match of coral.
Teal isn't limited to beachy styles, however. It can be incredibly sophisticated and pairs well with blue, cream, white, and soft neutrals. A more moody dark teal looks fabulous against dark red accents for a truly luxurious feeling.