The 12 Colors of Christmas
WOW 1 DAY PAINTING presents the 12 Colors of Christmas: all of our holiday favorites in one place. We're taking inspiration from the things that keep us happy during the festive season. From cookies to trees to blankets, scarves, and sleeves, we've covered it all.
Day 1 - The Basic Red
Nothing says December like this audacious shade. Deep red is not only perfect for the holidays but also works well with year-round trends. It's bold enough for accent walls in living rooms and bedrooms, yet sleek enough to dress the whole room in it. During the holidays it pairs well with green and metallic hues. It's sure to bring feelings of warmth and comfort to your home with a festive twist.
Day 2 - The Christmas Tree Green
If we could say that we had a favorite shade of Christmas green, this elegant shade would be the one. Bright, radiant, and vivid are just some the traits this hue holds. It's sure to light any space with it's glow and pairs well with hues that hold red and brown undertones. We love it because it reminds us of Christmas trees straight from nature.
Day 3 - Hot Cocoa
The inspiration for this color comes from one of our favorite winter delights - hot cocoa. What is better than a warm cup of hot chocolate on a cold winter day? It's the perfect hue because it compliments just about anything. It will highlight the textures of your furniture, the brightness of your fixtures, and all the detailed elements of your decor. It's a classic neutral with a great holiday feel.
Day 4 - Winter Wonderland 
Image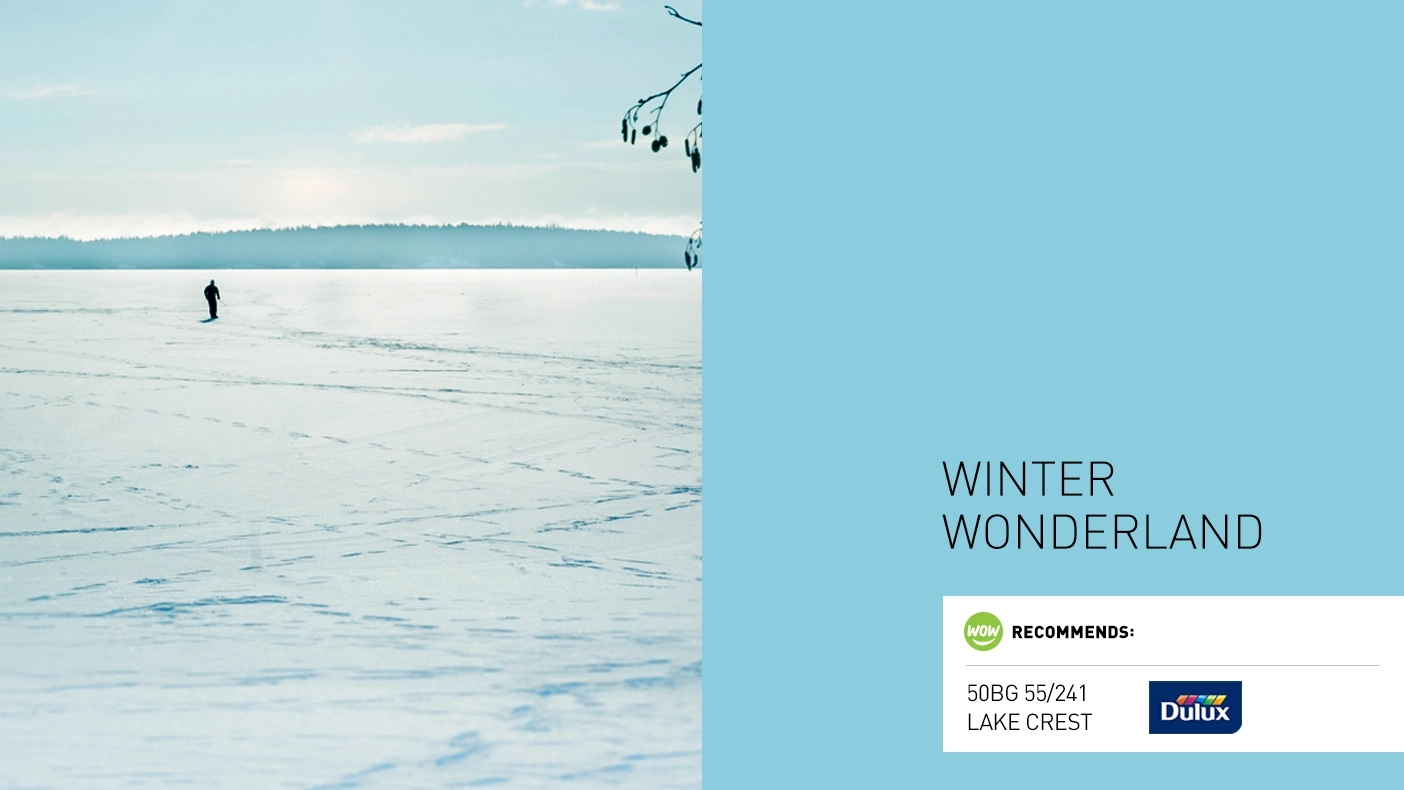 The color that sings, "...walking in a winter wonderland." It's got all of our frozen color desires packed into one shade. This is the hue we see during the fresh ice outdoor morning skate. (Accompanied by mittens and scarves of course.) A cool shade with a tranquil essence, it's perfect for any bedroom, office, or hallway. It's a great color to experiment with, especially if you're seeking color inspiration for that upcoming renovation project.
Day 5 - Snow White
A hue that highlights the beauty of a familiar winter weather pattern - snow. Loved by some, while feared by others, it sure has it's highs and lows. Whatever your feelings may be, there is no doubting the freshness this shade carries. Crisp, clean and graceful, it's guaranteed to add elegance to any space you choose to use it in.
Day 6 - Holiday Baking
Imagine if all your favorite holiday treats were combined into one color. This would be it. Cookies, candies, cakes, and pastries - oh my! Not only does this hue satisfy our sweet tooth, but it charms the walls too. This vivid shade pairs well with dark tones in spaces designed for leisure. We recommend seriously considering this color for your next paint inspiration session.
Day 7 - Dark Winter Skies
Shorter days and longer nights, reflecting a dark blue tint in the sky. A color so beautifully blue it reminds us of the deep Adriatic Sea waters. This is the color we see when we glance over the December skies complimented by the moon and stars in the distance. This hue is ideal for ceilings, accent walls, and kids rooms. Kick it up a notch by adding seasonal decals to highlight this alluring shade.
Day 8 - Knitted Warmth
This color is inspired by the knitted things that keep us warm this time of the year - sweaters, blankets and all the other essential grays that come with December temperatures. Despite a somewhat gloomy appearance, this shade holds a ton of charm. The potent undertones clear its status as a true statement color making for a cozy yet structured hue, perfect for any living space in your home.
Day 9 - Santa Red
We like to call this one Santa red because we are certain if Santa has a shade, this is the one. This is the red we see all month long, in our seasonal decorations, treats, and coffee cups included. A color with a profile so vibrant it's appropriate for use all year long. It's great on its own but even better when complemented by other rich shades with darker undertones.
Day 10 - Vanilla Candles
This color reminds us of the warm feelings candles bring us this time of year. If you ask us, vanilla candles are the warmest scent of the season as they provide us with much-needed light and heat this time of the year. It's true that all candles have such abilities but not all are available in a classic shade. This neutral hue is so vigorous it pairs with just about anything. Try it for yourself!
Day 11 - The Shining Star
The sparkly flare in the night sky and on top of the Christmas tree. A gold so golden we couldn't find any other way to express how we feel about it. This color has a lustrous glow that will bring shine to dining rooms, entries, and corridors. Our favorite spot for this flashy hue is usually in and around the Christmas tree but with a color like this, the possibilities are endless.
Day 12 - Seasonal Charm
The fancy household silverware that comes out on special occasions is what inspires this unique shade. If you're looking for festive flare all year long, this is the color for you. Polished metallics carry a special seasonal charm associated with feelings of happiness and content. Therefore, this color is best suited for happy places like kitchens and family rooms.