How to WOW in the Bedroom
Turn up the Style Dial in the Bedroom
Whether you want to add spice or serenity, paint is a quick and easy way to transform your private chambers. Afterall, your bedroom is an expression of you, so it's important. When it comes to creating the perfect boudoir, a little paint and a lot of imagination is really all you need. Go from drab to fab with these five painting tips, sure to inspire a great night's sleep.
1. Paint a Ceiling Masterpiece
You don't need to be Michelangelo to create a ceiling masterpiece. A striking ceiling is a quick fix and will give your bedroom the luxurious lift you've been wanting. Try a slightly darker shade than the walls to make the ceiling feel lower and the whole space more intimate. Yes, white ceilings look good, they're safe and we love them but if you want to add some excitement that doesn't include red walls or mirror balls, a daring ceiling paint will do the trick.
2. Glam up Your Headboard
Nothing speaks X-factor like a glamorous headboard. Think gold or chocolate tones but if that doesn't sound like you, think upcycled wood with a sleek painted finish in burnt orange or lime green. Make sure you do the prep work to create a smooth clean surface first. A can of primer and a few coats of spray paint later and you will have the desired effect.
3. One Bold Wall
Image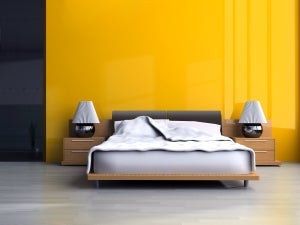 This is not a boring bedroom. That's what you can always say about a bedroom with a great accent wall. Painting one statement wall might sound risky in the living room but not so in the bedroom. In fact, your bedroom is crying out for color and this is a great way to go there. This is a one day painting job. What are you waiting for?
4. Bring Nature Inside
Image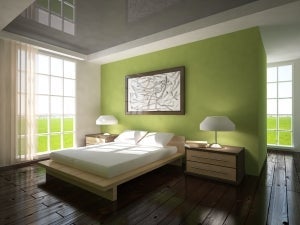 If you seek more serenity, look outside for inspiration. Bring the colors of the outdoors in to create that peaceful, clean environment. Mix white and green contrasting walls, simple plants and casual wooden pieces to create that true nature-inspired look you're craving. Connecting with nature has never been easier.
5. Create the Well Traveled Look
Image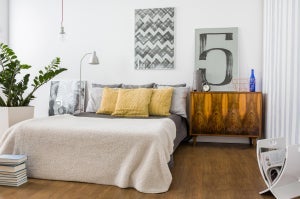 If you've been around the world and back, your room's gonna show it. In the complex world of yard sale finds and souvenirs, keeping your room either sexy or peaceful is a daily challenge. Remove junk and showcase your best pieces with plain fresh white walls. That Moroccan throw pillow will thank you.
More Love for Your Bedroom
You don't need to move house or buy new furniture. Start right where you are with a professional paint job that will leave your bedroom looking WOW long beyond Valentine's Day.
Interior Painting
Paint Colors