WOW 1 DAY PAINTING is operating in Colorado North!
WOW 1 DAY PAINTING is proud to announce our newest franchise partners: Honorio and Sami Martinez. Now operating in Colorado North in the Loveland, Longmont and Johnston areas, the Martinezes have spent their lives leading up to this opportunity. Honorio is a management and leadership expert, and Sami is a master in home renovation and design.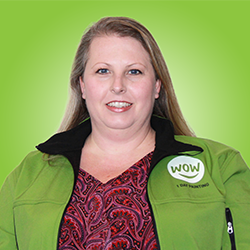 The couple is now bringing their experience to the WOW 1 DAY PAINTING family. Their team has hit the ground running and is ready to serve new customers today.
Here, Honorio and Sami share why they decided to realize their dream of business ownership with WOW 1 DAY PAINTING, and what they're most excited for in their new journey.
Why did you choose WOW 1 DAY PAINTING?
After relocating to Colorado, we were looking for a business we could start that shared our commitment to excellence and customer service. With WOW 1 DAY PAINTING, the top priority is to provide an exceptional customer experience. We knew instantly it was a perfect fit.
What was your background prior to joining WOW 1 DAY PAINTING?
Honorio has spent the majority of his professional career in management, logistics, and customer service. He has certifications in Management Excellence, focusing on team building and leadership. His attention to detail and professional leadership style has earned him his peers' respect.
Sami attended Interior Designers Institute in Southern California and has had an extensive career in the design field. To date, she has worked with over 100 new home builders spanning four states, which translates to well over 4,000 homes! She specializes in everything from new home construction to custom kitchens, textiles, and color consulting.
What are you looking forward to most about being a WOW 1 DAY PAINTING business owner?
We are most looking forward to reaping the rewards of our efforts and giving back to our community.
Giving back is one of the most important things to our family. We have four children of our own and have fostered dozens more. Whether it's sitting on the board of the local Foster Parent Association, fundraising for charity, or mentoring other foster parents, we are always ready to lend a hand.
What are your passions outside of work?
We love to travel and take long road trips with our family. Experiencing the rich history around our country is always at the top of our list.
What makes the Colorado North Territory unique?
We truly believe Northern Colorado is one of the most beautiful places in the country to live. We wake up to the Rocky Mountains each morning and are surrounded by some of the most amazing landscapes in the world. There are just too many amazing things here to list, but the warm and caring people are number one.
Fun facts about you, or anything else you'd like to share?
We have four children ranging in age from 6 to 24, and we have one grandson. We have also helped raise close to 30 children through foster care.