How to make yours stand out from the rest
When it comes to your home, the front door is its focal point. It's the first thing people see when they drive or walk by and it's how your home makes its first impression. As the saying goes, you only get one chance at a first impression so make it count!
Color choice
Picking the color of your front door is the perfect opportunity to choose something fun, vibrant and bold. You're not going to paint your home bright red but why not your door? It'll help your home stand out especially if contrasted against something more neutral. If going bold isn't your style, go with something pastel and subtle. A soft yellow or even a light green can still add flair to your home's aesthetic. Keep in mind that painting your door can be tricky; check out this recent blog post for a few tips on how best to do it.
Accessories
There are a TON of accessories you can buy to help your door stand out from the rest. Simple items like door knobs and handles can easily complement the color you've chosen. There are hundreds of options when it comes to door hardware and there are many different finishes to choose from, everything from antique bronze to satin nickel.
Image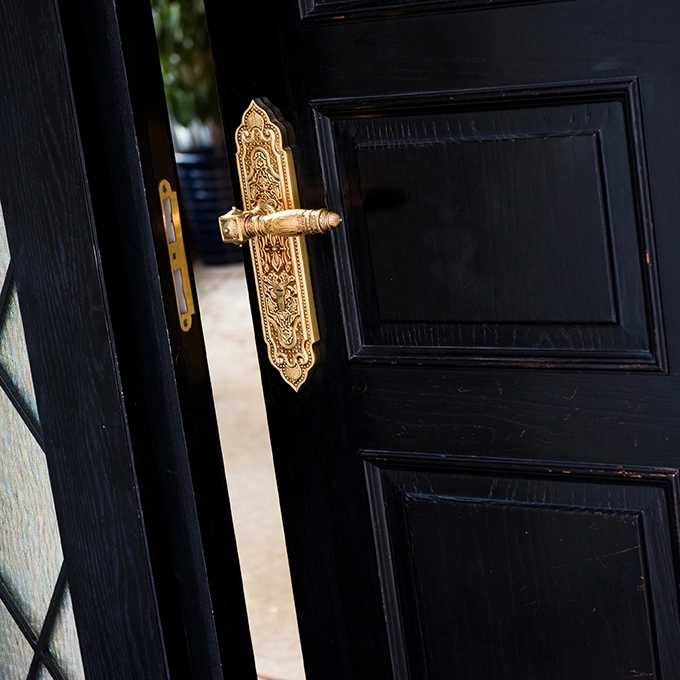 Like with door hardware, house numbers come in many different styles and finishes. Choose a contrasting color to help it stand out and look for something big and bold. It'll look great and will also be readable so your visitors know they're at the right house.
Personalizing and customizing your door is a relatively easy way to make a statement about your home. It's a way to show off your personal taste to the outside world without actually having to invite anyone in. No matter what you decide, be creative as it's the first thing people are drawn to whether they're coming for a visit or simply just cruising by.