Hygge Your Home: Creating A Cozy and Inviting Space
Hygge is a term you might have seen or heard recently, but you're probably wondering what it is. Pronounced "hoo-ga", it's a Danish concept that expresses a very specific feeling. This unique word describes a feeling of ultimate comfort. It's warm, cozy, and a space that really feels like home, and creating a warm, welcoming, and restful space for yourself and your loved ones to enjoy.
It's not just about a design style either, but rather a combination of elements. Imagine yourself inside on a cold winter morning, curled up on a comfy sofa in front of the fireplace, under a pile of soft knitted blankets, sipping on a cup of hot coffee while you watch the sunrise. That's what hygge really means!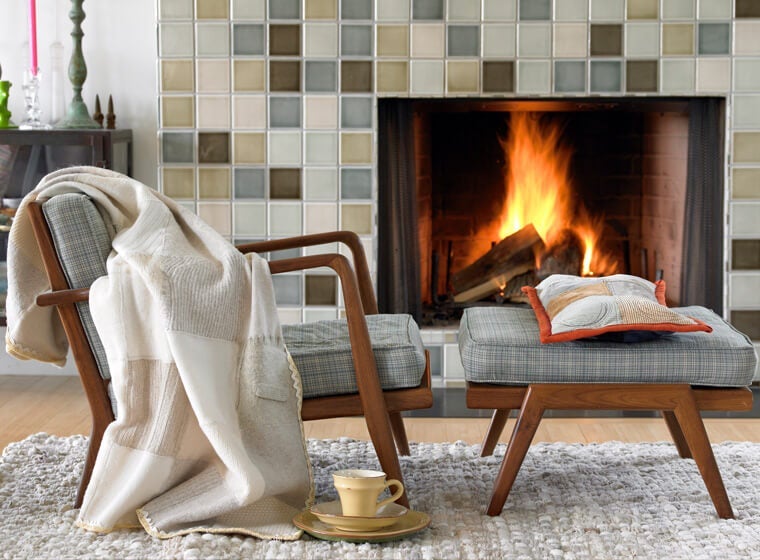 Elements of a Hygge Home
Now that you know what it is, you probably want to know how you can bring it into your own home. To create your hygge space, there are a few common elements you'll want to incorporate into your room. When you get the right balance of all these things, you'll definitely feel those cozy vibes.
Neutral Color Palette
A neutral color palette is key in Scandinavian design. It's all about minimalism-after all, it's hard to feel relaxed in a room that feels busy and overstimulating. A neutral color palette works well for creating a cozy atmosphere, as it takes the focus away from the walls and really lets the items in the room do the talking. It's all about highlighting different textures, shapes, and unique objects. Keeping your walls neutral will let you focus on your favorite pieces and bring in subtle hints of color through objects rather than bold statement walls. Remember, neutral doesn't have to mean boring! There are plenty of warm paint colors that would work well in a hygge room.
Incorporate Different Textures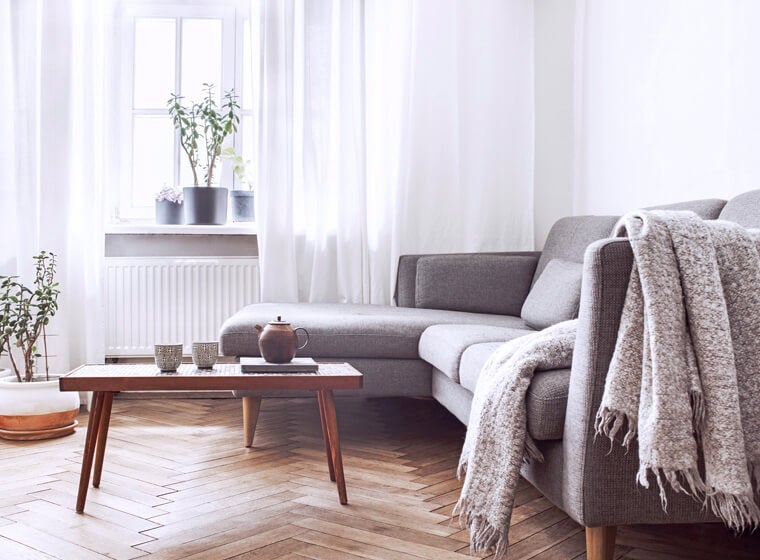 Part of the hygge experience is that it's very tactile. There are lots of different finishes and textures to touch and feel. Part of its charm is the blend of styles and different elements of decor. Here are a few ideas of textures you can bring into any room to up the hygge factor:
Faux fur: a luxuriously soft faux sheepskin rug or fuzzy throw pillows.
Soft fabrics: add a mixture of fluffy throw pillows in different fabrics and finishes, which contrast with your furniture. (Think natural fibers like velvet, silk, or worn linen.)
Chunky knits: knit blankets, throw pillows, floor pillows, poufs, macrame wall hangings.
Smooth textures: marble accents on tabletops, unique pottery and glassware.
Natural elements: wood flooring, wood furniture and decorative elements, jute or rope rugs, and plants.
Create Warmth with Light
When it comes to creating a calming space, lighting is everything. Find ways to incorporate as much natural light as possible in your room. If you have big windows, treat them as the focal point. When you need to add more light, lean towards warm light for additional coziness. This means adding lots of candles for a soft glow and making use of your fireplace if you have one. (All types of fireplaces - gas, wood, electric - are good for adding warmth and a glow to the room.)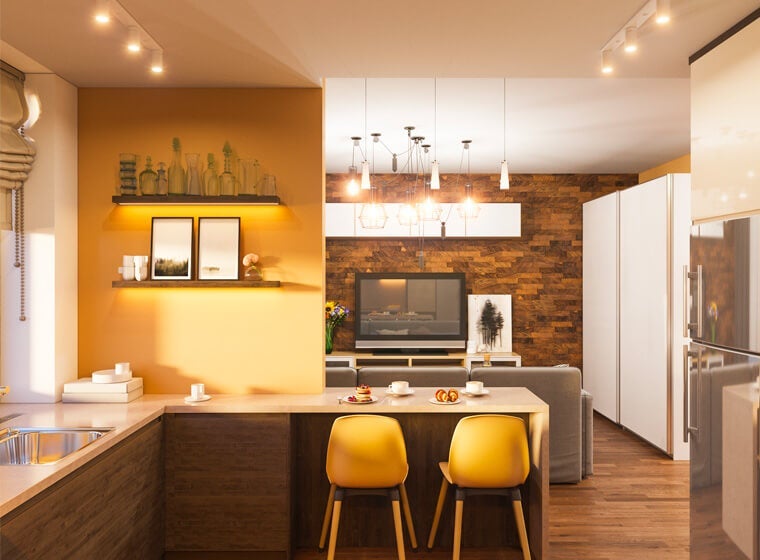 Keep It Minimalist
The key to creating a relaxing space is to keep things simple. When you've got too much stuff in a room, it can make it hard for your mind to slow down and truly relax. Part of creating that comforting space is to make sure you're surrounding yourself with pieces that you really love. You'll find that if you only bring in items that truly bring you joy, you'll naturally have a less cluttered room.
Looking to bring some hygge into your home? We can help you find the perfect paint color to create a backdrop for the cozy room of your dreams. Book your estimate today!