Now open: WOW 1 DAY PAINTING Lexington
Franchise partner Edward T. Wright finds his new calling in entrepreneurship
When Edward T. Wright decided to become an entrepreneur last year, he already had an impressive career track record – he had earned his PhD, was a respected executive pastor at a local church, an involved member of his community, and a dedicated family man. His latest achievement is a far cry from all that he's done so far – being a business owner in his own community.
"I reached a point in my career when I realised I was ready to move beyond what I had done so far,"

Wright states.

"I have always had a strong pull towards owning my own business, and it got to the point where I knew that was the next step for me and I could no longer ignore it."
As a franchise partner for WOW 1 DAY PAINTING Lexington, Wright sees many opportunities to engage the closely knit yet vibrant Kentucky community that he has called home for the past 10 years. His location joins the large network of WOW 1 DAY PAINTING's family-owned and operated franchises and serves Lexington and nearby communities of Nicholasville, Versailles, Georgetown, Winchester and Wilmore.
"The journey to becoming an entrepreneur has been filled with several bumps and learning experiences,"

he points out.

"However, with the help of my wife and my team, we have been able to create something that I think will be a longstanding business in our community."
Wright believes acquiring the WOW 1 DAY PAINTING franchise was paramount to meet the growing demand for high-quality residential and commercial painting services across the region. "We are excited about the possibilities that lie ahead and the opportunity to grow more entrenched in our community through owning a business," he says.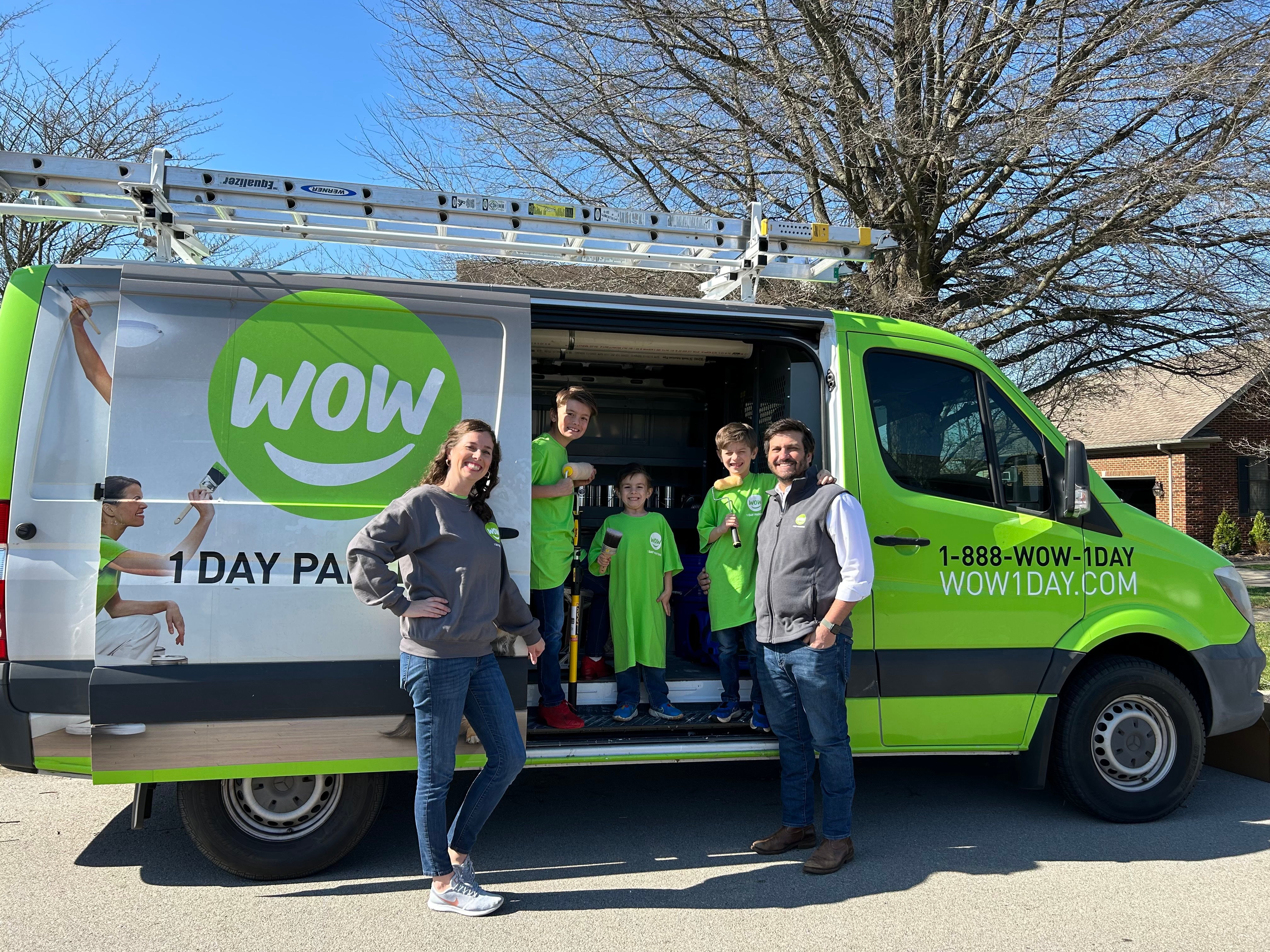 For years, Wright has been involved with the Lexington community, where he has served as an executive pastor at First Alliance Church. Running a new business where he can bring his customers' vision to life is another way of engaging with people and beyond, he points out.
Wright always wanted to be an entrepreneur and decided to approach WOW 1-DAY PAINTING in 2022 to seek a franchise in his area. Lexington, Kentucky's second largest city, is currently experiencing an unprecedented growth in metropolitan developments and Wright believes customers and contractors in the city could greatly benefit from quick and efficient painting services that his team offers.
Wright and his wife, Melinda, were also motivated to create a business legacy for their three sons. "The goal for us over the next several years is to build something that my boys can walk into after completing their education," he points out. "They obviously have the choice of following their own dreams and doing whatever it is they are truly passionate about, but I wanted to make sure that they have this as an opportunity if they so desired."
Wright believes the backend support from the WOW 1-DAY PAINTING team is critical to run his business efficiently. "You don't have to reinvent the wheel. Their systems are tried and true and if followed will result in success," he points out. 
 

"

You are a part of something MUCH bigger and you feel that every time you reach out to another owner and they immediately help you with the problem you have. Everyone in the brand truly is rooting for and willing to ensure your success,"

he adds.

 
Wright's story serves as an inspiration to anyone looking to achieve success while pursuing their passion. He has shown that with hard work, dedication, and persistence, it is possible to overcome even the most significant obstacles and achieve remarkable success.