How to match your wall colour to your furniture
Image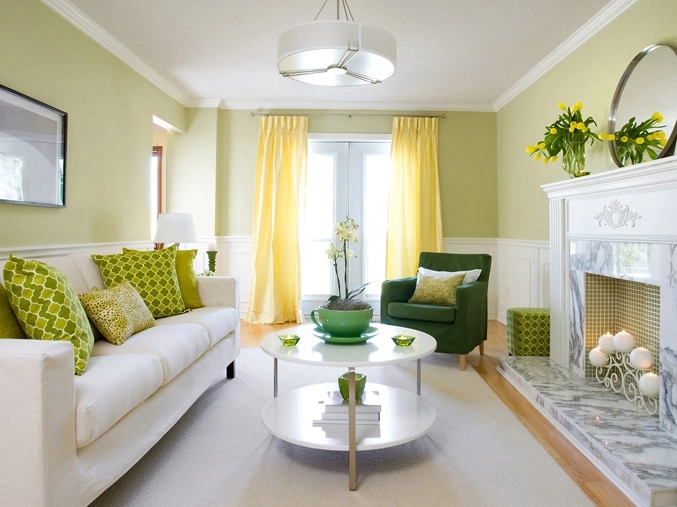 Spring living room, courtesy of Brandon Barre photography.
HOW TO MATCH YOUR WALL COLOUR TO YOUR FURNITURE
It is the age old story: which came first, the furniture or the paint? The answer is always going to change, depending on the situation. However, there is a bit of an art that come into play when decorating the home, just like when you are putting an outfit together each day. So how do we go about matching up our decorative tastes to the colours that paint the theme of our homes?
Here are 4 easy tips to help you put together the cohesive look that you have always dreamed of!
1. Assess Lighting
Take a look at the room of choice. Is it small or large? Floor to ceiling windows or no glimpse of the sunlight? If the room is small, opt for a lighter palette to create a more spacious feel. Darker colours will close in the confined space, yet will add drama to a larger room that needs pulling together.
2. Consider Neutrals
If your furniture makes a statement- for example a red or orange couch, I suggest choosing a more neutral backdrop. By picking a gray, tan or white shade, you will emphasize that bold style but also compliment it, creating a more relaxing feel.
3. Consider Complementary
To make your space aesthetically pleasing, try taking a gander at our friend, the colour wheel! Take the colour of your couch or furniture piece of choice, and match a colour OPPOSITE on the wheel. Opposite colours on the wheel add contrast to the style! If the look is too bold for your taste, select within the same family.
4. Give yourself options
Once you have an idea of the look you want to create, select a few possible palettes. Now when I say a few, I mean 10 or more. You don't want to pigeon-hole yourself into a colour that is going to be nothing less than perfect! Come home with your gatherings and hold them against your furniture, ask yourself, "How does this make me feel?" It is important to ensure that the colour you are choosing reflects you accordingly.
Redecorating, designing and painting can be quite the process. By tackling your projects with a strategy, you are more likely to be satisfied with the final results.
If you decide that you need some help, or have changed your mind about those modern 'zebra print' walls, you can always call 1-888-WOW-1DAY! and we will tackle your walls in a number of hours.
Featured Picture Credit: http://www.oldmanse.co.nz/popups/red.html