First Impressions Matter: 5 Exterior Wall Painting Ideas to Create a Curb Showstopper
Looking for ways to freshen up the look of your house and boost its street appeal? In this article, we outline a few exterior wall painting ideas that you can try.
Your home's exterior sets the tone for what visitors can expect from its overall aesthetic. Think of your home's exterior as your calling card; you want to put your best foot forward! Take that blank canvas and turn it into your block's showstopper. With these exterior wall painting tips, you'll be brimming with ideas! From accent walls and color blocking to textures and murals, we'll help you make your property pop on your block. 
1. Accent Colors
Is there an empty wall on your house's exterior? Perhaps you feel like your porch is hiding your main door? Feeling like that single-tone paint job washes out your home on the block? Accent colors can save the day.
Whether it's an eye-popping statement door, a dark contrasting trim, light shutters to open up the space, or any other subtle touch, there's no end to the accent wall painting ideas. You can experiment with different colors, textures, or designs to create a focal point, break the monotony, or add an exciting design element to your home's facade.
2. Color Blocking and Stencils
Along the same lines, color blocking can help break up space if you have a larger home. This helps add some complexity to your exterior; you can color block to emphasize architecture, create a contemporary statement, or segment your property a bit. The idea is to add visual flow to an otherwise indistinct mass. 
You can take the color blocking a step further with elaborate stencil work too! Depending on how you use these techniques, you can make a wall look more lived-in, create the illusion of texture, or add decorative elements to your home exterior. Use the colors on your facade and how you arrange them to tell a story.
3. Strategic Colors
Just because everyone else on your block picks from the same handful of neutrals, it doesn't mean you have to! Planning your color ideas strategically can make your wall painting project the touch that elevates your home above your neighbors'.
Bold exterior color schemes—be it bright hues like mustard and teal or deep black and terracotta—add drama to your exterior, making you the statement of the street. On the other hand, if you want a splash of color on their house exterior but aren't ready to experiment with bold colors, classic muted yellows, watery blues, deep reds, and lush greens offer a tasteful offer middle ground.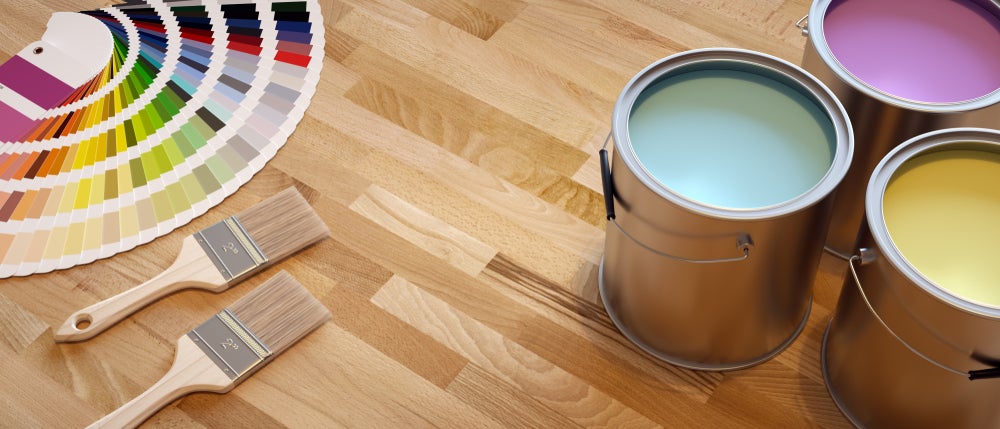 4. Neutrals Are Nice Too
Of course, there's something to be said for the classics. Regarding wall painting ideas, earth-tone color palettes and muted hues like taupe, beige, and gray never go out of style. What's more, they easily match with elements of your exterior that aren't so easy to change—stone and brickwork, wooden elements, and roofing materials.
5. Textured Painting
Sometimes, less is more when it comes to color—but you can use texture to add depth to your walls anyway. For instance, if you aim for a monochromatic minimalist design, make it more enjoyable with a lime wash paint or a splatter knockdown application. 
Boost Your Home's Curb Appeal With the Right Paint
Whether you're putting your house on the market or are simply looking to dazzle the neighbors, your property's facade is a worthy investment. One of the simplest ways to invest is to give it a fresh coat of paint!
And when it comes time to repaint those exteriors, hire a pro to help you out—like WOW 1 DAY PAINTING. Our team will provide the cleanest and speediest exterior paint job you've ever seen—we live up to our name! Schedule a free consultation today, and let's start making your wall painting ideas a reality.
Exterior Painting
In The News