What is a Drop Cloth and Why Do You Need Them?
Sarah Robinson
What is a drop cloth
Drop cloths are large sheets of fabric (typically canvas) or plastic, which are used to cover floors, countertops, furniture, and any other surface you want to keep protected while painting. They protect these surfaces from paint splatters, drips, and larger spills. Laying down your drop cloths is an important step of your pre-painting prep work, and would typically happen after you've moved everything out of the room. It's best to remove everything you can from the space and only leave items that are too large or difficult to move out of the room, such as larger pieces of furniture. Then you can cover the floors and these remaining items with your drop cloths before you bring in your other supplies and finish setting up. 
Why drop cloths are needed for interior painting
If you've ever painted anything, from art projects to tiny touch ups, you know how easy it is to end up with paint splatter, no matter how careful you are. Even the most seasoned painter can't totally avoid paint splatter! It's just the nature of working with paint. That's why reliable professionals always take the time to properly lay down drop cloths as part of their prep work for any painting job. If you're planning to take on a paint job on your own, drop cloths are definitely something you'll want to include on your supply list.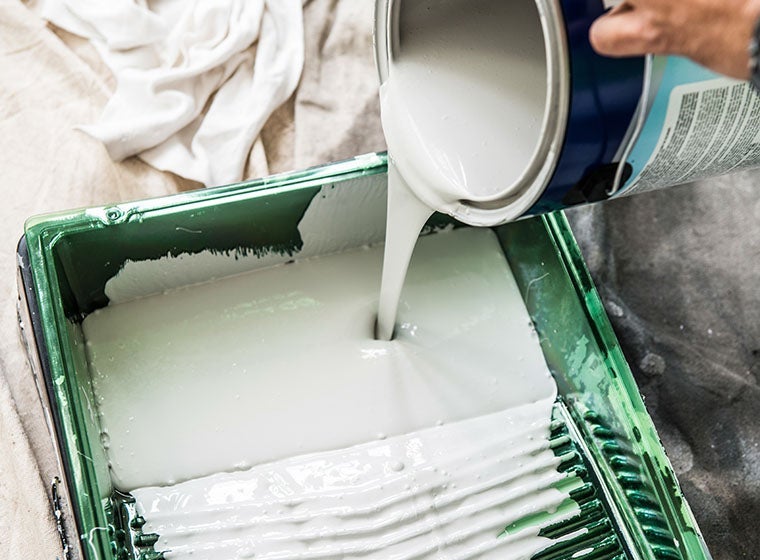 How to choose a drop cloth
When it comes to choosing a drop cloth, there are two main types to consider: plastic or canvas. They each have their advantages and disadvantages, but both types are effective at protecting your space from accidental damage due to splatters and spills. 
Plastic drop cloths are typically the cheaper option and have a more limited purpose. They're lightweight, easy to use, and many plastic drop cloths are actually disposable. So if you don't anticipate needing to have drop cloths on hand for future painting jobs, a disposable plastic drop cloth might be the way to go. There are also more durable versions, which are essentially tarps. Plastic can be very slippery on indoor flooring, which can potentially be dangerous. They also need to be taped down to stay in place, which can take longer to set up. However, plastic drop cloths are great for covering furniture and are also great for exterior painting jobs. 
Canvas drop cloths are typically the go-to choice for professional painters. They're very durable and can be used for covering everything from floors to furniture. Standard canvas cloths can be slippery on floors, so look for one with a rubberized coating on the back to prevent slipping and bunching up. Canvas is also a more sustainable choice than plastic, since they're very durable and are meant to be used over and over again. Though they may be more expensive, they will definitely last! 
If you don't want to invest in drop cloths or other painting supplies yourself (and don't want to have to worry about storing it all) it's worth considering hiring professional painters to take care of it for you. When you work with WOW 1 DAY PAINTING, you'll save a ton of time—we can complete most jobs in just 1 day! We always take care to properly prep before every painting job, to keep everything safe and protected while we work. If you're ready to see what a difference a day makes, book your free, no-obligation estimate today!