What is a Drop Cloth and Why Do You Need Them?
What is a Drop Cloth?
A drop cloth is a versatile tool used to protect surfaces while painting. These protective sheets, typically made of canvas or plastic, shield floors, countertops, furniture, and more from paint splatters, drips, and spills. Incorporating drop cloths into your pre-painting preparation is crucial, and it's best done after you've cleared the room of most items, leaving only larger pieces of furniture that are challenging to move. By covering these surfaces, you ensure a clean and protected work area before bringing in your painting supplies.
Why Drop Cloths are Essential for Interior Painting
From art projects to minor touch-ups, paint splatters are almost inevitable when working with paint. Even experienced painters can't completely eliminate the risk of splatter. That's why professionals prioritize the use of drop cloths as part of their pre-painting routine. If you're planning a DIY paint job, drop cloths are a must-have on your supply list to safeguard your space and belongings from unintentional paint mishaps.

Selecting the Right Drop Cloth
When it comes to choosing a drop cloth, you'll encounter two main options: plastic or canvas. Each type has its own advantages and drawbacks, but both effectively protect surfaces from accidental damage caused by paint.
Plastic Drop Cloths: These are a cost-effective choice, often disposable, and come in lightweight versions or more durable tarp-like options. They're convenient for covering furniture and are particularly useful for outdoor painting projects due to their resistance to the elements. However, they can be slippery on indoor floors and require taping down for stability.
Canvas Drop Cloths: Preferred by professionals, canvas drop cloths are durable and reusable. They're suitable for various surfaces, from floors to furniture. To prevent slipping and bunching on floors, choose a canvas drop cloth with a rubberized backing. While they might be pricier, their longevity and sustainability make them a worthwhile investment.
Different Drop Cloths for Various Scenarios and Settings
Different painting situations call for specific types of drop cloths. Here's a breakdown of ideal drop cloths for different settings:
1. Outdoor Painting and Decks: Opt for heavy-duty plastic tarps. They withstand the elements, offering water-resistance and durability. Their ruggedness ensures protection from outdoor debris, making them perfect for outdoor painting projects and deck refinishing.
2. Stairs and Tight Spaces: Use runner drop cloths for areas with limited space. Their elongated design covers walkways without excess material, keeping surfaces protected without creating tripping hazards.
3. Furniture and Delicate Items: Canvas drop cloths with rubber backing provide reliable protection for furniture and delicate objects. The rubber prevents slippage while the canvas guards against splatters.
4. Large Rooms and Open Spaces: Extra-large drop cloths are ideal for substantial coverage without constant repositioning. Rectangular or square options allow you to tailor them to your space.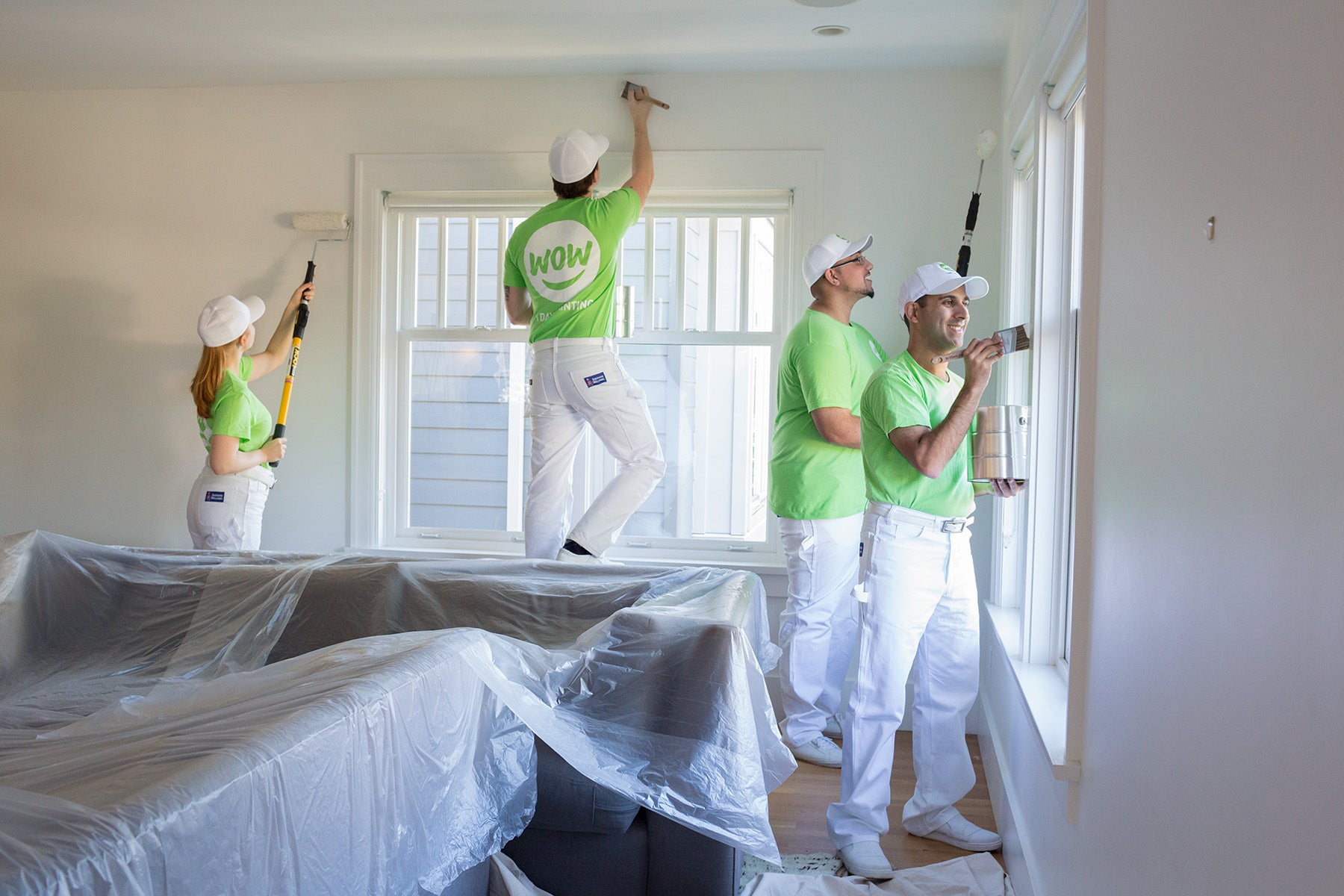 Selecting the Right Size and Shape
Opting for the right size and shape of drop cloth can significantly enhance your painting experience. Consider these options:
1. Rectangular Drop Cloths: Versatile and suitable for standard-sized rooms, they offer broad coverage.
2. Square Drop Cloths: Great for symmetrical areas or protecting central surfaces.
3. Runner Drop Cloths: Perfect for hallways, stairs, and narrow pathways.
4. Circular Drop Cloths: Protect rounded surfaces like dining tables and cylindrical furniture.
By selecting the appropriate size and shape, you'll optimize protection while minimizing waste.
Incorporating these insights into your painting preparations will enhance your DIY endeavors. If you don't want to invest in drop cloths or other painting supplies yourself (and don't want to have to worry about storing it all) it's worth considering hiring professional painters to take care of it for you. When you work with WOW 1 DAY PAINTING, you'll save a ton of time-we can complete most jobs in just 1 day! We always take care to properly prep before every painting job, to keep everything safe and protected while we work. If you're ready to see what a difference a day makes, book your free, no-obligation estimate today!
In The News
Interior Painting
Remodeling Ideas