Just because you are on a tight budget - whatever that means for you - doesn't mean you have to skimp on style. Here are three tips to help you get that great wow! feeling from your home without that dreaded how?from you bank account.
Used and Repurposed
Image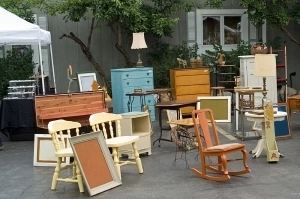 The most obvious suggestion when it comes to designing on a budget is to buy used and repurpose what you already have.
Exploring flea markets, antique stores, and garage sales are great ways to find great pieces - some may need a touch of love, but others may still be in fine condition. As the saying goes, someone else's trash may be your treasure!
So what about those possessions you already have that you think may be trash? Think again. You may be able to turn them back into treasure! Spruce up picture frames by repainting them and then, rather than buying art, frame your own photographs, unused mirrors, old stamp collection, or pressed flowers! You can also brighten up old lamps with a coat of paint - choose a silver or gold spray for a classic metallic look - or with new lamp shades.
You can also repurpose aging or mismatched items to give them new life in your home. Is your grandmother's china just packed away in a closet? Hang a variety of dishes on the wall (you can also do this with your collection of cast iron skillets or wooden mixing spoons). Do you still have a collection of mismatched wooden chairs from your first apartment? Sand them down and repaint or restain them ? being matched in color but unique in style will add a muted creativity to any room. And if you have any skills behind a sewing machine, take old tea towels or last season's clothes to make new cases for your throw pillows.
Be Strategic
Image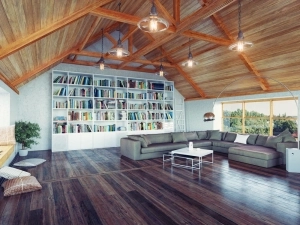 Another way to stick to a budget is to play to the room's strengths. If you have a large window with a great view, let that be the strongest feature of the room: invest in chic curtains to frame the window and bring in the fewest number of lamps that the size of the room requires in the evening. If you have beautiful hardwood flooring, don't cover it up with too much furniture and don't bother with area rugs. In any case, be careful about including colors, patterns, art, or extra furniture that could distract from or block the natural strengths of the room.
Being strategic in decorating a room that already has beautiful elements means you don't have to go overboard. Let the room itself be the design, rather than the furniture and accessories you bring into it. Be creative, but feel free to stay simple.
Go Bold
Image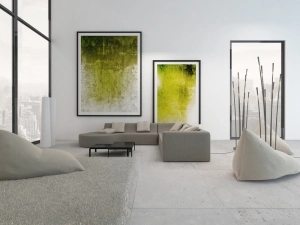 If the room has no exceptional or defining features, invest in a focal point. Rather than having an entire room repainted, paint just one feature wall or the ceiling instead. This will save you some time and money without having to compromise on design. Alternatively, a large piece of art or an intricate rug can offer the same effect while being slightly more complex for the eye.
Combine boldness and repurposing by highlighting your interests. If you're an avid musician, turn your guitars into visual art by hanging them on the wall (when not being played!). If you're a Lance Armstrong at heart, put a bike rack over the fireplace to highlight your wheels. Insatiable reader? Get a unique bookshelf to feature your collection across one wall . Whatever your interests are, they can be utilized to create the visual center of any room.
A great benefit of going bold in one area of a room is that it allows you to be minimalist in the rest. If you have a bold art piece on one wall, you're generally best leaving the other walls bare. If you have a large, beautifully designed rug, you don't want too many chairs or accessories distracting from it. Once you've chosen your focal point, you can simplify (and save on) the rest of the room.