Is More Better? In Painting…Yes (usually)
Paint has changed a lot over the past 15 years. Mostly for the good.
In recent years, many states and provinces have instituted government policy on VOC levels that have restricted the production and retailing of oil or alkyd based consumer paints.
Good news for the environment. Good news for recoating quicker. Certainly good news for WOW-1DAY! Painting as the improvement of waterborne paints is a big reason why our 1 day completion model actually works.
Without the improvement of waterborne (also known as latex or acrylic) paints, completing a house in 1 day wouldn't be possible. Breathability, better color retention, shorter dry times and clean-up are all advantages of using a good quality acrylic based paint.
However, there are some drawbacks.
Acrylics simply don't give the same coverage as a good quality oil paint. In the past, a painter may get by with just 1 coat of oil on trim and doors. With acrylic, you must generally allow for a 2 coats to ensure completely opaque finishes on walls and trim.
So, how do you know when 1 coat will do? What about going light over dark? Reds and yellows and oranges…oh my!
Let's look at this from a few different angles.
Say you have a condo that is a bit tired looking but you still like the color. With a good color match, there really is no reason why using a bit of primer over any dark marks (with the color you are using), plus 1 full top coat won't give you a first rate paint job.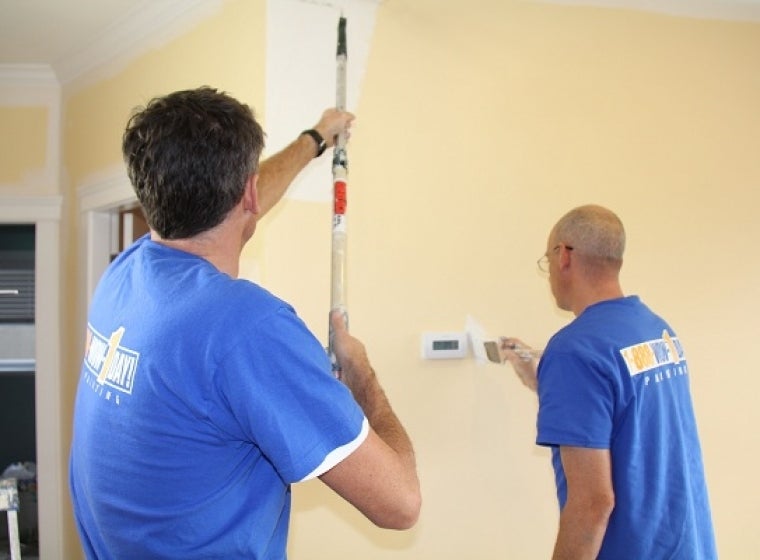 But what if you want to change colors?
If you're going to a red, yellow, or any vibrant colour then typically you should allow for 3 coats – a tinted grey primer followed by 2 top coats of the wall paint.
Paint manufacturers, particularly Sherwin Williams have a "P" or Primer system associated with many colors in their fan deck. To ensure true color opacity, they often assign a particular shade of grey to work in conjunction with the desired top coat.
Follow the prescribed "P" system and you will rarely need more than 2 top coats over the primer.
On exteriors, because of expansion/contraction, rain, humidity and UV light degradation, 2 coats is almost always recommended to ensure the coating will have a long life span.
However there are certain times when adding additional coats to an exterior of a home could actually cause a coating failure.
For example, an older home may have 10 to 20 coats of paint on exterior walls. Adding new paint over top of fully cured, less flexible paint, can cause the paint to bubble and release down to bare wood, leading to the previous 10-20 layers to peel off along with the new coat you just put on.
To remedy this, simply scrape the bubbles, spot prime the bare wood and touch up as needed.
The "best practice" for older homes is to strip all existing paint off and start from scratch. However, this is usually a massive undertaking and most people would rather scrape a few bubbles to avoid this huge amount of work.
To summarize, 1 coat when doing a refresh, 2 coats when doing a color change and always 2 coats for exteriors.
And don't forget the primer!