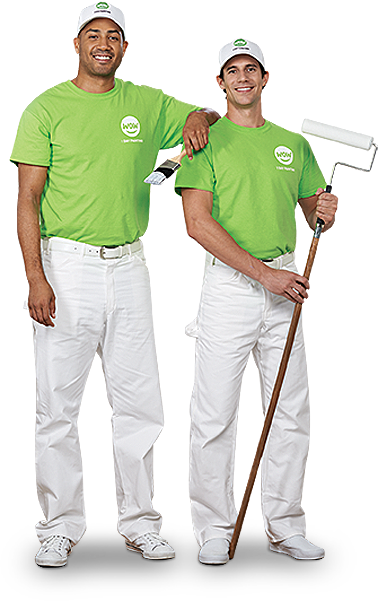 There's no place like home
From lightening up a living room, to a complete color overhaul, the impact a fresh coat of paint can have on your home is huge!
Taking weeks to try and do it all on your own can also have a huge impact—just not in a good way.
WOW 1 DAY PAINTING has made the process of getting your house painted a whole lot less annoying. We deliver both speed and quality, so you don't have to shift your whole life around just to get your house painted. (It's almost as fast as clicking your heels three times.)
You won't even smell paint fumes after we're gone—we also use zero VOC paint, which is better for you and the environment.
Blink and you'll miss us!
Up-front interior house painting pricing—we don't mess around.
At WOW 1 DAY PAINTING, you'll receive a personalized, detailed proposal that clearly outlines our services and the total cost of your paint job. Our estimators give you an up-front, accurate price—you won't end up with extra costs you didn't plan for. No surprises here!
Interior House Painting Colors
Choosing the right colours can be one of the hardest parts of the job. You don't have to do it alone! We're happy to sit down and consult with you about which colors will work best for your home.
Our experts will walk you through the basics of house paint color schemes and ideas, and help you find the perfect colors for your space.
---
Color Theory 101
Wondering which color palettes will best suit your space? Here are some things to think about when choosing colors:
Monochromatic colors are one hue, varied in saturation and value. For example, a pale red, paired with dark red and a pure red.

Analogous colors are a combination of up to three similar colors. For example, yellow, orange-yellow, and orange.
Complementary colors are based on contrasting colors and often include both warm and cool colors. The high contrast of complementary colors often creates a vibrant look, especially when used at full saturation. For example, yellows and blues.
Check out our blog for more interior painting and color tips.
---
Our Interior House Painters will WOW you, right from the start
After you book your painting job, we'll set up a call before your project date to go over the details.
Ring, ring! Here's what we'll chat about on our first call:
Confirm paint color and details
Ask you to remove all valuables, fragile items, pictures and shelves from the area you're having painted
Recommend finding a place for your pets while painting is completed
Answer any questions you have about your painting project
Send you 2 reminder emails that confirm everything you'll need for an amazing paint day.
We've got your back
We care about your home as much as you do! Before starting to paint, our crew of professional painters will do a walkthrough to assess the project and get your home ready for painting.
Here's what we'll do before we start:
Cover your floors
Move and cover your furniture
Fill holes or cracks in the walls
Repair drywall
Remove wallpaper and window caulking
We're not happy unless you're happy
Nothing more important to us than getting the job done right. We'll do a final walkthrough with you while the paint is drying to make sure no touch-ups are needed, then we'll provide a full clean up once you sign off on the work. The next day, you'll receive a follow-up call to ensure you're happy with everything.
Let's do this.
Book a free, no obligation estimate for your interior painting job today. Call 1-888-WOW-1DAY (1-888-969-1329) or book online.
<! -- // row inner -->