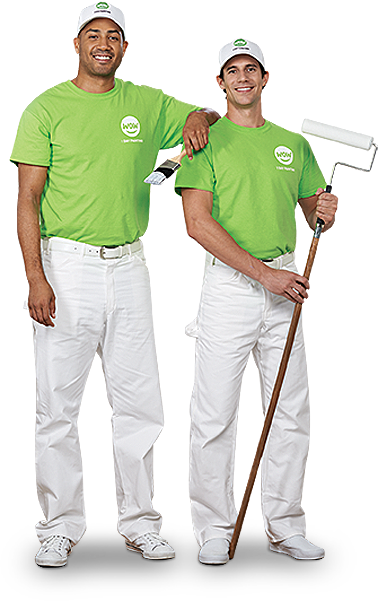 We love what we do! But don't take our word for it, see what our customers have to say!
They were beyond punctual and professional showing up early each morning (we had wallpaper that needed a day to be stripped and walls prepped prior to painting) and explaining each step in the process for me. The crew worked extremely hard and left after 7pm on the final day after a full day of priming and painting. They left my kitchen looking beautiful thanks to the new paint job and the floors were cleaner than when they arrived! They also brought me a bouquet of flowers, which was a very nice touch. : ) It's been a week since they finished and my husband and I love the look of our updated kitchen and are definitely going to contact WOW 1 day painting again for our cabinets and other rooms in our home!
- Jennifer Rinn, Bergen County, New Jersey
You guys were punctual and ready to go. You went above and beyond especially for just a small area that had to be painted compared to what I'm sure you guys usually do.
- Robert Gill, Riverside, California
They came out and gave me the estimate on the spot. The estimated was lower than other, and they were able to come paint the next week. They did the job and it was well done. They cleaned everything up, and even helped me with some of my own "oop" mistakes on my ceiling. I will definitely call them again.
- Debra Bickford, Knoxville, Tennessee
WOW 1 Day Painting was very accommodating in terms of a date and time for the work to be completed and by allowing me to send pictures of the walls to be painted while construction of my home was ongoing. This allowed me to have a general idea of how much my paint job would cost. Once construction was complete, an estimator (his name was Steve... super friendly and knowledgeable guy!) came out to give a final estimate before the work was completed. The work itself was impeccable. The painter's attention to detail was SPOT ON and my feature walls turned out amazingly well. No streak marks and no imperfections. The work was completed in under 6 hours. I couldn't be more pleased with the results!
- Eathan Lindsay, Edmonton, Alberta
We began to paint our entire house and third day in we realized we were over our heads, I called WOW, that afternoon Steve came by to give us an estimate, this was Wednesday. They came on Sat and finished the job. It lifted a huge weight off our shoulders. They did an excellent job and I would not hesitate to recommend them to anyone. I will be using them again in the future.
- Rhian Mochoruk, Edmonton, Alberta
Mike Sanders and his crew operated with the highest level of professionalism throughout my one day job. They checked in with me throughout the day to ensure I was happy with their work and to answer any questions I might have.
- Lisa Bohne, Minneapolis, Minnesota
I used these guys to paint my main floor and they were fantastic. Dave showed up on time for the estimate and they were able to do the job 3 days later. They came in the morning and when I got home everything was complete and looked great. Would definitely recommend these guys!! Its nice to see a company deliver on its promises
- Leigh, Seattle, Washington
Your work is impeccable. The crew finished the job in one working day and left my home in immaculate condition.
- Wendy Kotler, Washington, D.C., District of Columbia
Great painters, faux finish was done perfect. Great people to work with.
- Helen W. , Hinckley, Ohio
When I hired 'Wow 1 day painting' I was a little skeptical. Those thoughts were quickly put to rest when the crew showed up on time, prepared and ready to work. The project wasn't a large one (3 rooms, all of my baseboards and doors) but needless to say I was impressed, they easily finished in one day. Not only that, they did a fantastic job. It has me already thinking about my next project. Id recommend their service to anyone wanting the job done the right way and fast.
- Jonathan Gilmore, Scottsdale, Arizona
It went wonderfully. I appreciate the speed with which the whole process took place, from first contact to job completion. All representatives from the Wow were wonderful to work with from the estimate to the paint job to billing. A perfect experience for someone new to town with no recommendations. I, however, can recommend them highly.
- Stephanie Anthony, Geneva, Illinois
An amazing number of talented painters. They painted trim, ceilings and walls of 3200 square feet in two days. And did a beautiful job.
- Linda Winger, Washington, D.C., District of Columbia
Wow made it really easy to get my house painted. They showed up on and gave me a fair price. 5 Stars.
- Mark Tevis, Scottsdale, Arizona
WOW!! Many thanks to Kyle and Marvin's team. Wish we would have found them much earlier in the game. After several bad experiences and wasting a lot of money we were finally Wowwed!
- Ewelina, Forest Hills, NY, Washington
The team painted my entire 1800 sq ft home. Project required 2 coats and sometimes 3. Dated dark colors were replaced with tropical bright happy colors. Each crew member was the utmost professional and courteous. Each one insisting that I was constantly please with the outcome. I am not certain which is more awesome, the new paint and look or how awesome Steve and his crew was. I certainly recommend Steve Lewis and WOW 1-Day Painting.
- Rick Richter, Sarasota, Florida
Efficient communication and service. Polite and professional. Cleanliness and skill are A+.
- Laura Pillarella, Worcester, Massachusetts
The staff is fast, on time, professional, detail oriented, and willing to make sure all their work comes out great. They go above and beyond. I would DEFINITELY recommend WOW 1 DAY PAINTING. I will be calling them again in the near future for more work to be done in my house.
- Sonja Rodriguez, Worcester, Massachusetts
John and his team went above and beyond their call of duty. They not only manage to finish the job in few hours, but they also fixed our impossible -to-fix wall. They kept coming back to make sure everything was perfect. All the bumps and imperfections in the walls were gone.
- Crystal Mccovely, Las Vegas, Nevada
great experience well organized and excellent communication
- Giselle Damiano, Toronto, Ontario
Friendly, available and professional service!! I strongly recommend.
- Christiane Raspa, Toronto, Ontario
I needed my entire house painted before we left on vacation. I was pretty stressed out and started looking for painters. Dave came by, gave a quote and promised to have the job done before I left on vacation. They finished the job in 1 DAY and I was so happy with the work. I felt completely comfortable with the price and the service was fantastic. I would highly recommend these guys to any of my friends and family. Thanks so much!!
- Sarah, Seattle, Washington
extremely clean and organized, the team that was here today was absolutely amazing. They were all extremely professional, polite and yet sounded like they were enjoying themselves talking to each other throughout the day. This is my second time using WOW 1 day Painting and it won't be the last. I have told everyone about how great you are. I was also re-assured that if I found any spots that may have been missed, they would be back to fix it. Nothing but super impressed with today's team. Thank you so much
- Dianne Froggatt, Hamilton, Ontario
Wow indeed! Alexis and his crew just finished our house. it looks amazing, and was just the change we were looking for! In under two days, we went from dark and closed-feeling to open and bright. What's more is the crew was a total delight to have here; they are excellent painters and totally nice guys. I can't believe how fast and how well they worked. When the rain stops, we'll be looking forward to having Wow 1 Day Painting come and paint the exterior. It feels like a brand-new house. :)
- B.M., Sparks, Nevada
We used WOW to paint our exterior window shutters and decorative gable vents on our home and were very satisfied with the results. The General Manager and crew were professional, timely, efficient and courteous. We recommend them without reservation.
- Bob & Sheryl D., Twinsburg, Ohio
What a wonderful team! Jay is super nice, knowledgeable and responsible, from estimate through completion, they are dedicated to customer service and quality, I am so glad to know them and will definitely have them for future projects and highly recommend them to others!
- Julie W., White Plains, New York
They went above and beyond what they said would do. Very professional and polite. They took care of every little detail and would hire them again or recommend them to a friend. Thanks Jason, Jullien and the crew!
- Horacio Barajas, Calgary, Alberta
Just a fantastic job, always did painting herself and very please with results, the team went ou their way to assist a disabled person and will give an A+ to all she reccommends to WOW
- Jean Gairns, Ottawa, Ontario
WOW 1 Day Painting came out to paint my master bedroom. They were AMAZING! The painters were all uniformed, listened to my concerns, and answered all my questions. The end result was absolutely stunning!! Not to mention that the price couldn't be beat. I will definitely use this company again.
- Kaitlyn Ovard, Reno, Nevada
Tyrone and his team at Kitchener-Waterloo Wow1Day painted the interior of a 1,540 square foot apartment in our 117 year old Victorian income property. From start to finish, the entire process was quick, efficient, professional and exceedingly courteous. Exceptional service at a fair price and accomplished in an incredible 16 hours! I will definitely use Tyrone and his team again.
- Michelle B, Kitchener, Ontario
Absolutely beautiful job, fantastic communication throughout the job. I am 100% wow-ed and even recommended your company already just this morning to a realtor who was very eager to know who did such a great job.
- Chrysta Rae, Edmonton, Alberta
<! -- // row inner -->