How to Choose Paint Colors For Large Rooms
Large rooms are fantastic for entertaining, and an open concept can make a home bright and beautiful. But choosing a paint scheme for such spaces can be hard if they lack focal points, or if you're unsure of which walls to feature. However, when you know what to consider before you paint, choosing the perfect color isn't as intimidating as it seems. 
What to consider when choosing paint colors for large rooms
When it comes to painting a large room, you have a ton of options. Large rooms are perfect for experimenting with color. However, the colors you choose will largely depend on how you want your room to feel. If you use the space for entertaining, you might want something bright and bold, whereas a space that's meant to be more cozy and relaxing should have softer colors.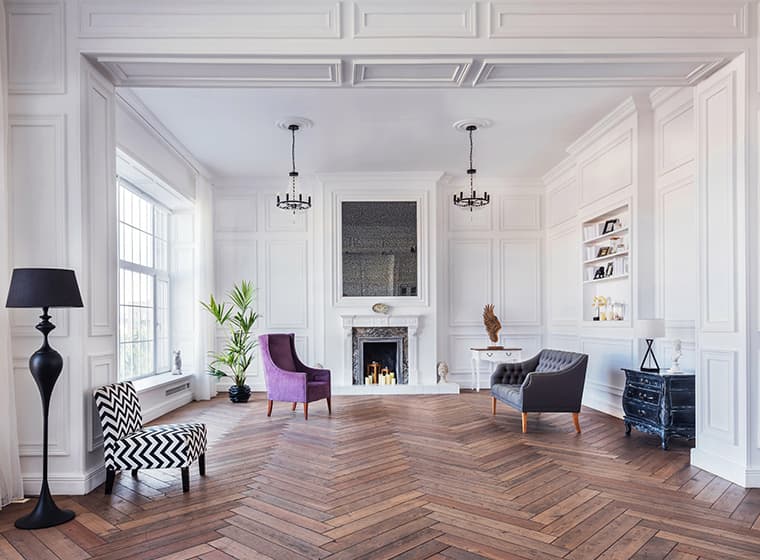 Best paint colors for large rooms 
If you want to make a big room feel more cozy and intimate, you'll want to choose a darker color with warm undertones. Darker colors help to absorb light and make a room feel smaller—if you have a lot of natural light, you can go with much darker colors like a deep purple or navy. If you don't have a ton of natural light, opt for something warm and bright. You can also paint just one accent wall, with the other walls in a neutral shade that helps to balance out the darker tones.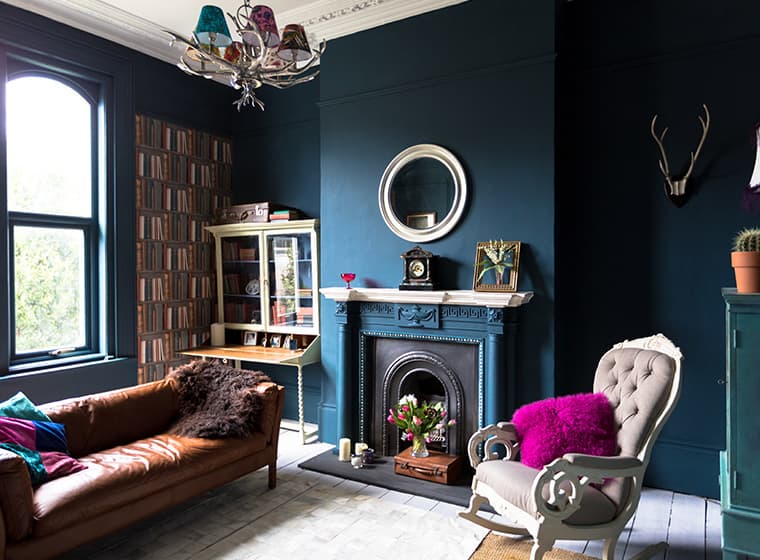 If you want to make the room feel big and open, lighter colors work best. Keep the walls light and use furniture and accessories to add in pops of color. This option is also great because it allows you to more easily change up the look of your space by swapping out accents.
Large living room paint colors
When you're getting ready to choose colors for your living room, think about how you tend to use the space. If you entertain a lot and want your space to feel vibrant and encourage lively conversation, you'll want to go for something on the bolder side. This is perfect for experimenting with darker colors like purple, navy, or a deep red. These colors can tend to look a bit heavy, so they work well for accent walls. You can also look to the brighter side of things and go with something more vibrant like mustard yellow, teal, bright blue, or grass green.
For neutrals, look for warmer shades of white and cream or a soft shade of cafe au lait (a creamy light brown). For cool tones, consider light gray, pale blue, sage green, or a lavender-toned gray for an allover wall color. 
Paint colors for large bedrooms
For bedrooms, it's best to choose colors that have more of a calming vibe. Intense, bright colors can be too stimulating and actually make it harder to relax and fall asleep at the end of the day. If you have a bright color you absolutely love, use it sparingly. Go with a more muted version of the color on an accent wall or keep it to accent pieces. 
Cool colors like blue, green, gray, and lavender are perfect for bedrooms and create a soothing, relaxing space to unwind at the end of the day. These colors work really well in spaces with lots of natural light. Colors like yellow, soft pink, and peach will make your bedroom feel cozy and warm at any time of year and are perfect for rooms without a ton of natural light.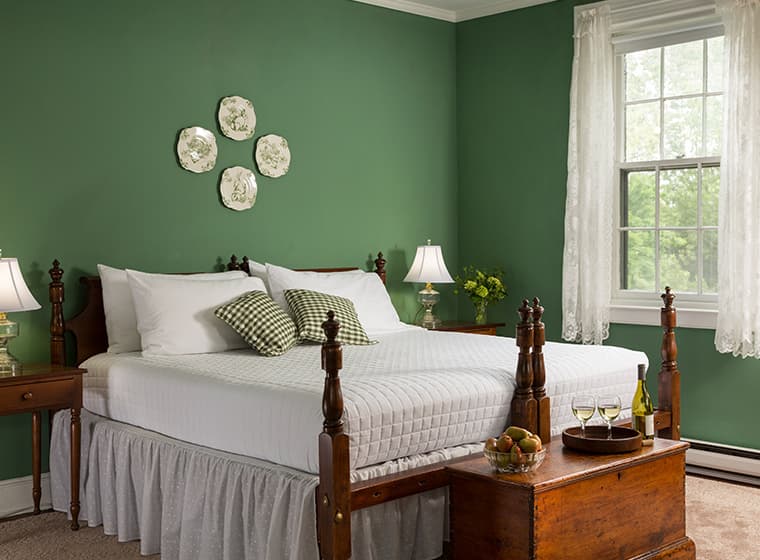 Paint colors for large rooms with high ceilings
If you want to play up extra-tall ceilings and really make your room feel big, open, and airy, you can't go wrong with an all-white look. A classic crisp white really shows off the natural architecture of a space and is ideal for rooms with lots of natural light. If you go with either a crisp white or a slightly warmer creamy shade of white, use your furniture, artwork, and accessories to bring some color into the room. White is the perfect backdrop for any color combination, from bright and bold to softer and more neutral. 
If you want to create a little more drama in your room, choose one wall to paint a dark or bright color. This is great for creating a focal point in the room and works best on a wall with a fireplace, a large headboard, or any other piece of furniture or design element you want to highlight. For the surrounding walls, go with a neutral tone with a similar base to help balance out the feature wall.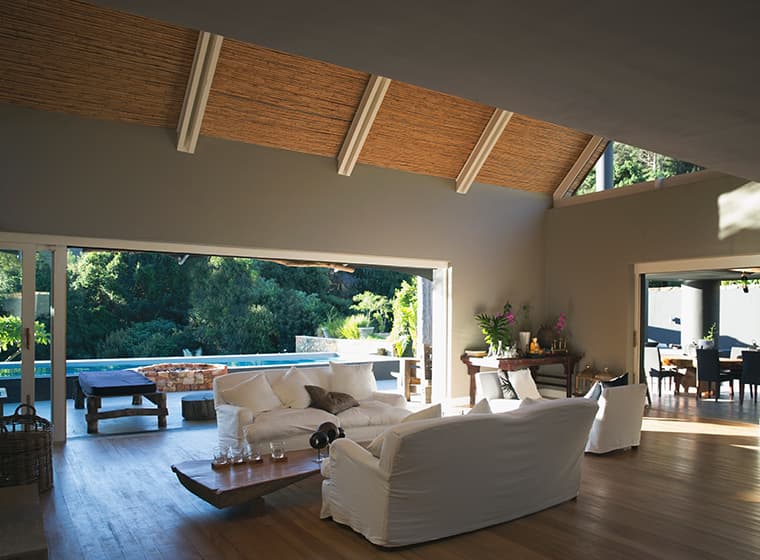 Ready to finally transform that large room and make it feel more cozy? WOW 1 DAY PAINTING can help! In fact, you could have a whole new space in just 1 day. Book your free, no-obligation estimate today!