Eagan Painters
Now proudly serving Eagan and the surrounding areas!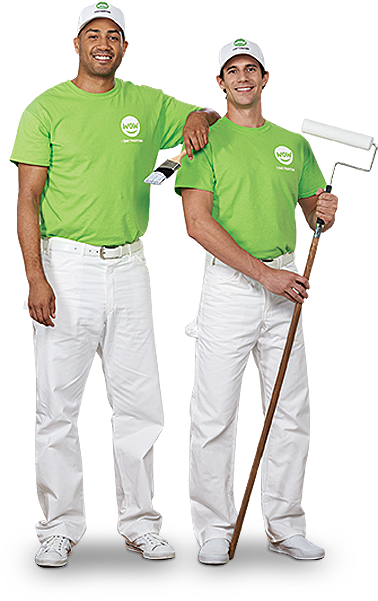 Professional Eagan Painters
It takes a lot of time and effort to paint a single room in your home, never mind multiple rooms or the entire exterior. If you have a paint job, large or small, that needs completion, WOW 1 DAY PAINTING can provide the stroke of genius you're looking for, with the quality you expect in a timeline that's unexpected.
WOW 1 DAY PAINTING hires friendly, professional Eagan painters to complete any job, from a single room to the entire exterior of a home or business, and we guarantee we'll get the job done in just 1 day. Blink and you'll miss us!
Free, No-Obligation Estimates
Our Eagan painters come out to your home or office location after you call us to provide you with a written, professional estimate that comes with no-obligation to use WOW 1 DAY PAINTING services. Whether you're asking us to paint one room or an entire building, our accurate estimation process allows us to determine the scope of the job and send the right number of friendly, uniformed painters to the site on painting day.
Creating Happy Customers
At WOW 1 DAY PAINTING, we believe in creating happy customers. Part of what makes us guaranteed awesome is that we follow up with you to ensure that you're happy with the work.
Each WOW 1 DAY PAINTING job is assigned a foreman who contacts you to confirm the details in advance, and visits your home or office the day of the paint job to ensure everything runs smoothly. The foreman will ensure that the process remains on track to completion in just 1 day, and completes a walk-through with you to make sure the finished results are up to your standards as well so that we leave you WOWed.
Best of all, that very same foreman will call you the next day to make sure the work, paint colors, and products met expectations. Creating happy customers is key to the business and part of our goal to deliver guaranteed awesome results.
Interior and Exterior Painting Service
WOW 1 DAY PAINTING is available for interior painting jobs in both residential and commercial settings. Whether you're repainting a child's bedroom at home or looking for a stroke of genius to brighten the environment in your work space, WOW 1 DAY PAINTING has the painters to help get the job done in just 1 day. There's no need to worry about the preparation either.
Our friendly, uniformed painters will take care of covering larger items, taping around edges and window sills, and even conducting minor repairs (dings in drywall or fresh caulking around windows) to get your interior spaces ready for painting. We'll identify any items you can remove in advance during the walk-through.
At WOW 1 DAY PAINTING, we also provide exterior painting services to commercial and residential customers. During our exterior painting projects, our accurate estimation process truly comes in handy in helping us determine the number of uniformed, professional Eagan painters required to complete your job in just 1 day, while delivering the quality you expect in a timeline that's unexpected.
Licensed and Bonded Painting Experts
The most important part of any contracted service is peace of mind. When WOW 1 DAY PAINTING sends a crew of Eagan painters to your home, we send only friendly, professional, uniformed painters so you know exactly who you're dealing with. All of our crews are licensed and bonded, so there's nothing to worry about while we provide that stroke of genius your home or office needs.
Additionally, WOW 1 DAY PAINTING believes in an environmentally friendly approach to painting. Our Eagan painters use only low- and zero-VOC paints with no harsh fumes, so you can get back to using your interior spaces sooner without the annoyance of those fumes.
Schedule a Eagan Painting Contractor Today!
You won't believe what a difference a day makes when you work with WOW 1 DAY PAINTING. Give us a call today or go online to schedule your onsite, no-obligation estimation. At WOW 1 DAY PAINTING, we believe in creating happy customers, with guaranteed awesome results!
<! -- // row inner -->