Rockville Painters
Now proudly serving Rockville and the surrounding areas!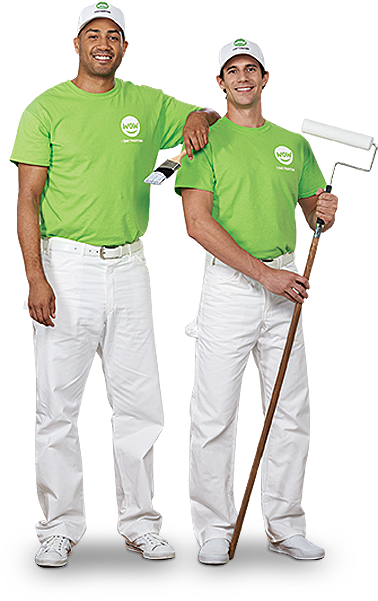 Professional House Painters in Rockville, MD
It's amazing what a simple coat of fresh paint can do to a room or a building. Fresh paint can revitalize a boring family room, add curb appeal to your home, or even brighten up the work-space for your employees. If only it was as easy to apply that paint as it is to dream up the benefits of a fresh coat.
WOW 1 DAY PAINTING hires the best local Rockville painters to help you realize those dreams, and gets every job done within 1 day. Blink and you'll miss us! Whether you need a fresh coat of interior or exterior paint, for a home or office, WOW 1 DAY PAINTING offers the quality you expect in a timeline that's unexpected.
What Makes Us Different?
When you hire WOW 1 DAY PAINTING as your Rockville painting company, you'll work with a company that sends friendly, uniformed painters to your home. We promise to start and finish our projects on time to minimize the disturbances in your life or business operations. Most importantly, we provide exceptional communication so you know what is going on at all times.
How do we keep our 1 day service promise? It's simple really. We hire only professional Rockville painters, and big crews of painters sized to match the demands of the job. Our thorough estimating process allows us to determine exactly how many painters we need to get the job done in 1 day. What a difference a day makes.
Best of all, WOW 1 DAY PAINTING provides free estimates for every job we complete, and we never charge an extra premium to fulfill our 1 day promise. You get affordable pricing every time you hire WOW 1 DAY PAINTING.
Interior and Exterior Painting Services
WOW 1 DAY PAINTING offers exceptional service on interior paint jobs, whether it's a residential bedroom we're painting or a small office space, you won't believe what a difference a day makes. Our professional Rockville painters first conduct a walk-through to let you know which items should be removed, and which items you can leave in the room.
Larger furniture such as beds and couches can stay, and we'll cover the carpet and remaining items to prevent paint stains during the process – the only thing that will be painted is your walls! If you have minor issues with the walls in your room or office, we can help with that too. Our professionals will repair small holes and dings in drywall, and even replace the caulk along window frames in preparation for a quality paint job.
When it comes to completing an exterior painting job, WOW 1 DAY PAINTING really shines. While it might take you a week or more to repaint your own home, the professional Rockville painters at WOW 1 DAY PAINTING can get the job done in 1 day. We provide additional power washing services to clear mildew, chipped paint, and dirt away from your home's exterior before applying a coat of fresh paint.
Professional Commercial Painting Services
WOW 1 DAY PAINTING is proud to offer its 1 day painting services to real estate agents and property managers that need fast turnaround on rental units and homes for sale. There's no time to waste when a sale is on the line, and WOW 1 DAY PAINTING will provide you with the quality you expect in a timeline that's unexpected. We know just how important creating happy customers is.
All of our professional Rockville painters at WOW 1 DAY PAINTING are licensed, insured, and bonded, and our work comes with a two-year guarantee so you enjoy peace of mind when your project is finished. Additionally, we use only paints with zero or low-VOC levels so that you can enjoy your room or new office right away without having to tolerate harsh fumes.
Schedule a Rockville Painting Contractor Today!
If you're ready to refresh your home or office, give WOW 1 DAY PAINTING a call. You can also schedule our professional Rockville painters by using our free online estimate tool. Guaranteed awesome.
<! -- // row inner -->