Cleveland Painters
Now proudly serving Celeveland and the surrounding areas!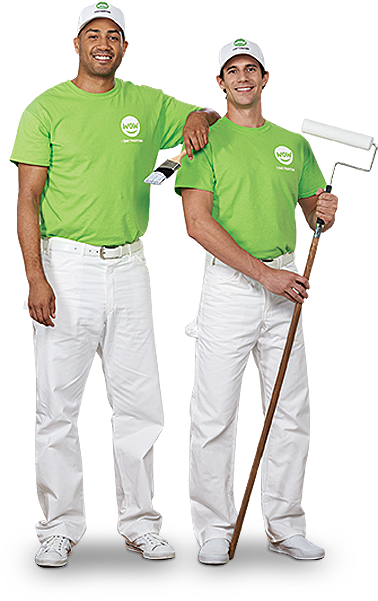 Professional Cleveland House Painters
When you hire a team of painters for a big project in your home or office, you're bound to have a certain set of expectations.
For example, you're going to want a crew that's professional and performs work at a high-quality level, but you may think that means making concessions for speed.
At WOW 1 DAY PAINTING, we don't think you should compromise on speed or quality. In fact we go out of our way to offer you the quality you expect in a timeline that's unexpected. Every step of the Cleveland painting process, we want to WOW our customers and separate ourselves from the competition. Speed + Quality = WOW!
Expert Cleveland Painting Contractors
Our formula for success is Speed + Quality = WOW! for a good reason. We don't think you should settle for anything less.
When you have house painting that needs to be completed, we're happy to provide you with a free, no obligation estimate. Colors, dates and prices come together in the form of a written proposal that we'll hand directly to you. Once you confirm the plans, we'll get to work prepping a team to handle your job from start to finish.
What a Difference Our Cleveland Painters Make
WOW 1 DAY PAINTING brings big crews of friendly, uniformed painters to make sure that your job gets done in 1 day, no matter the size or considerations involved with your project – residential, commercial or otherwise.
When we get to the jobsite, our expert team of Cleveland painters will do an initial walkthrough of the site, taking note of any details that will affect our work. Working carefully from the proposal, we'll complete the job on time while inspecting our work throughout the day for quality. Blink and you'll miss us!
After we're through with your job, it'll be like you're returning to a brand new home! We'll walk through with you to make sure no touch ups are needed.
Why Do Customers Choose Our Cleveland Painters?
There are plenty of reasons to love the work that we do, with a revolutionary combination of quality and speed. Here are just a few:
Our Cleveland team is professional and friendly. Our expert painters take every step to prepare your site, and execute your job to perfection. Our work is a stroke of genius!
The paints we use are low to no VOC, meaning that though we work fast, we still take account for the environment.
We offer a written, two year warranty: that's how sure we are that you'll be satisfied with the work WOW 1 DAY PAINTING does on your property. We'll even check up on you over the duration of the warranty to make sure you're still satisfied! It's all part of the work we do in creating happy customers.
We give you all the pricing details before we even start to make the plans for your project. You get the final say on our prices; no surprise fees or unexpected rate increases!
A Full-Service Painting Company
At WOW 1 DAY PAINTING, we take pride in producing some of the most versatile painting services in the industry. Here are a few examples of services we provide (in just 1 day!):
Interior house painting
Exterior house painting
Commercial painting services
Property management painting services
Real estate painting
Schedule a Painting Contractor in Cleveland, Ohio Today!
Haven't you ever wished that you could hire a team of Cleveland painters for a job, and come home to a completely finished home? With WOW 1 DAY PAINTING, we can make that happen! Call WOW 1 DAY PAINTING Cleveland or go online to schedule your free, no obligation estimate. Guaranteed awesome (and fast. and friendly.)
<! -- // row inner -->