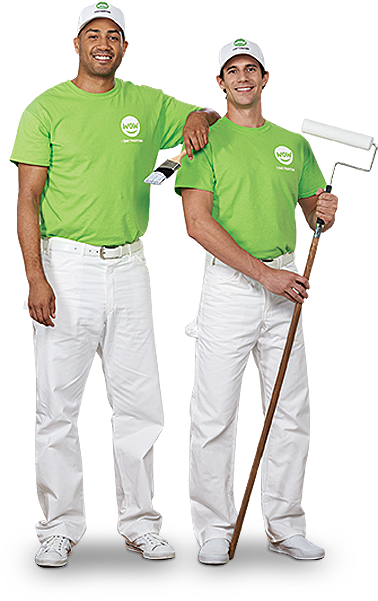 We love what we do! But don't take our word for it, see what our customers have to say!
Tyrone and his team at Kitchener-Waterloo Wow1Day painted the interior of a 1,540 square foot apartment in our 117 year old Victorian income property. From start to finish, the entire process was quick, efficient, professional and exceedingly courteous. Exceptional service at a fair price and accomplished in an incredible 16 hours! I will definitely use Tyrone and his team again.
- Michelle B, Kitchener, Ontario
From the first time we called WOW to set up an initial meeting to their final paint job, the process was easy and the staff was superb. Travis was very accommodating. The painting crew (Jacqueline, Colin, and George) were amazing, friendly, and the bedrooms look wonderful. We would definitely call them again for our other rooms.
- Tony Leite, Mississauga/Oakville, Ontario
The quality of work performed from estimating to cleanup was fntastic.
- Jo Hunt, Worcester, Massachusetts
Absolutely beautiful job, fantastic communication throughout the job. I am 100% wow-ed and even recommended your company already just this morning to a realtor who was very eager to know who did such a great job.
- Chrysta Rae, Edmonton, Alberta
The team was great. Showed up when they said they would. Preparation was very thought out. Performed a couple task that weren't in the bid and didnt charge or complain about it. The job was completed above my expection. And at a price that was that was very far.
- Randy Randy, San Jose, California
Before choosing Wow, I was researching Yelp and couldn't get Painters to fit my timelines. My colleague referred me Wow and I called them. Estimation appointment took sometime but actual Paint Job was scheduled and done very quickly. They are very professionals and done an awesome job. Very punctual and accommodated our requests. Used quality Paint and changed home's interior and brought a new look. I would definitely recommend.Thanks
- Nages Meesala, San Jose, California
WOW 1 DAY PAINTING gave us a competitive price and looked after us and our project using quality materials applied by skilled trades people, on time and on budget! Who can ask for more!
- Fred & Judy Roman, Fraser Valley, British Columbia
"The speed that the job was done and the team was very professional. They really did a great job for us. We will use them again in the near future. Thank you"
- Nancy Craig, Kitchener/Waterloo, Ontario
We had our living room painted in our house recently. I was really pleased how the WOW crew was on time, finished the job in less time than they estimated, and most importantly did a very good quality job for a fair price.
- Tracy H., Fort Collins, Colorado
Lovley people Tracie explained what she was do every step of the way. amazing group of people, beyond his expectations, so very very pleased, you can't tell they were help except the walls are a different color
- Bruce Haynes, York, Ontario
Alex&Edgar were so polite, professional and clean! As they took a lunch break Alex asked me if I needed anything from the store which I thought was terribly sweet! Thank you so much for having such great guys, you should be very proud of them!
- Susan Hoehi, Westchester, New York
spk to Mrs W. very, very happy with WOW- Excellent work will have us back again- already referred us to a neighbor 10 without a doubt
- Paul Weinsten, Kitchener, Ontario
WOW 1 Day Painting came out to paint my master bedroom. They were AMAZING! The painters were all uniformed, listened to my concerns, and answered all my questions. The end result was absolutely stunning!! Not to mention that the price couldn't be beat. I will definitely use this company again.
- Kaitlyn Ovard, Reno, Nevada
The team I had worked in sync with each other and finish the job completely in less time than was originally scheduled. They absolutely did a beautiful job. The red walls that were covered in a light tan we're quite a challenge to them both. The paint job looks absolutely fabulous.
- Mary Byrnes, Sarasota, Florida
Good communication from estimator. Pleasant workers. Excellent job.
- Steve Blackwell, Calgary, Alberta
everything is perfect left 5 Star review on yelp price comepetive, timely and professional
- Channa Jayasekera, San Jose, California
John and his team went above and beyond their call of duty. They not only manage to finish the job in few hours, but they also fixed our impossible -to-fix wall. They kept coming back to make sure everything was perfect. All the bumps and imperfections in the walls were gone.
- Crystal Mccovely, Las Vegas, Nevada
extremely clean and organized, the team that was here today was absolutely amazing. They were all extremely professional, polite and yet sounded like they were enjoying themselves talking to each other throughout the day. This is my second time using WOW 1 day Painting and it won't be the last. I have told everyone about how great you are. I was also re-assured that if I found any spots that may have been missed, they would be back to fix it. Nothing but super impressed with today's team. Thank you so much
- Dianne Froggatt, Hamilton, Ontario
They came out and gave me the estimate on the spot. The estimated was lower than other, and they were able to come paint the next week. They did the job and it was well done. They cleaned everything up, and even helped me with some of my own "oop" mistakes on my ceiling. I will definitely call them again.
- Debra Bickford, Knoxville, Tennessee
Just a fantastic job, always did painting herself and very please with results, the team went ou their way to assist a disabled person and will give an A+ to all she reccommends to WOW
- Jean Gairns, Ottawa, Ontario
When I hired 'Wow 1 day painting' I was a little skeptical. Those thoughts were quickly put to rest when the crew showed up on time, prepared and ready to work. The project wasn't a large one (3 rooms, all of my baseboards and doors) but needless to say I was impressed, they easily finished in one day. Not only that, they did a fantastic job. It has me already thinking about my next project. Id recommend their service to anyone wanting the job done the right way and fast.
- Jonathan Gilmore, Scottsdale, Arizona
Terrific! Estimate appointment was very thorough, wasn't sure if I wanted to do bathrooms but given price was lower than expected requested additional work. Estimate workup very thorough, advised based on what type of paint I was purchasing how much I should have on-hand. Wasn't certain if job would take 1 or 1.5 days but explained would bring 6-man crew to try to finish all in one day. Crew arrived just before expected, everyone introduced themselves and they set to work. Every time there was a question (like where to put something or what to do with any nails I had in the wall for removed artwork), they always checked with me for direction instead of making any assumptions. I checked prior to lunch whether they had sufficient paint in case I had to run out for more, advised there was enough, even needing to do 4 coats in one area to ensure great coverage (red paint on builder-grade white wall). As job was nearing completion, was requested to review all areas - found two areas that needed minor touch-up, which was addressed immediately. Received a thank-you card signed by team & a cookie. I was very pleased with how everything turned out & would recommend them highly - in fact I plan to use them again when I'm ready to take on my kitchen!
- Ashley Steyer, Elgin, Illinois
WOW, One Day Painting. I just moved to the Reno area, was desperate for a house painting Company to paint the inside and garage of a re-sale home we purchased, I called WOW. What an amazing job they did, they were very professional from the get go, did every thing I asked...on time, and made my 'vision' of the dream home I showed them come true. Alex Pahang the co-ordinator is the most polite and organized manager ever, and I felt I could trust him and his paint crew with every detail, they did not let me down. I highly recommend these people.
- Lisa L., Sparks, Nevada
We used WOW to paint our exterior window shutters and decorative gable vents on our home and were very satisfied with the results. The General Manager and crew were professional, timely, efficient and courteous. We recommend them without reservation.
- Bob & Sheryl D., Twinsburg, Ohio
ever had better experience working with contractor Jason follow through gave more than expected wished I had more house to paint
- Mike Orrell, Detroit, Michigan
Quality workmanship , Do What they say they are going to do.
- James Fewagle, Knoxville, Tennessee
The painters were personable and did everything they promised. We plan on using them again in the future. They did excellent work and a high quality job.
- Scottsdale Customer, Scottsdale, Arizona
Customer service was great, quick to respond and deal with. The team onsite was friendly throughout and did a great job painting the house. Job was done quickly and efficiently and they made sure we were happy with the results.
- Dan Young, Toronto, Ontario
Great painters, faux finish was done perfect. Great people to work with.
- Helen W. , Hinckley, Ohio
It went wonderfully. I appreciate the speed with which the whole process took place, from first contact to job completion. All representatives from the Wow were wonderful to work with from the estimate to the paint job to billing. A perfect experience for someone new to town with no recommendations. I, however, can recommend them highly.
- Stephanie Anthony, Geneva, Illinois
<! -- // row inner -->