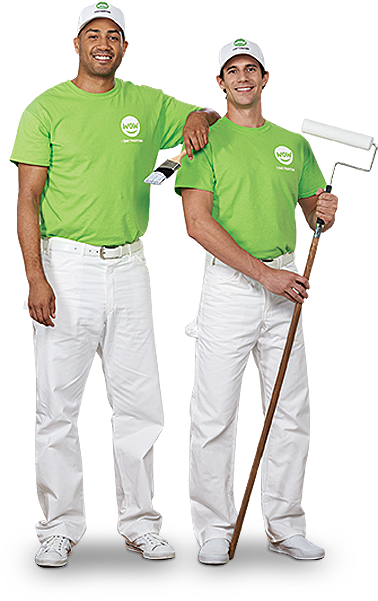 We love what we do! But don't take our word for it, see what our customers have to say!
very good, very friendly painters WOW from all neighhbors that came into see the job
- Sheila Pattison, Toronto, Ontario
They came, and they stayed on the job until it was done. Theses saved us, we have had such bad experience with a few contractors, who stole deposits from us, who showed up high on drugs, these guys brought a true foreman with 35 years experience, and we were so grateful, that they picked up the job in such great way. I give them my highest recommendation. They are so dependable, you can give them our highest possible rating. We were feeling desperate after the last painting company that had contact with us. We gave them a deposit of $1600 and then we never heard from them again. WOW didn't take any money from us, until the job was done to our satisfaction, and we can use them without reservation. They saved us, I don't know where we would be at if it had not been for Joe and Marc Novak coming along to work with us to get this job done. I am so grateful to these guys, because our house looks so beautiful now, we have eight different colors on, it looks gorgeous. If you want to do a promotion for Angie's list, send them out here, we'll tell you our story, and all of it is true. I've never met these guys, but they were true to their words, and they came by and finished the job.
- Cathy Wilson, Elgin, Illinois
It went wonderfully. I appreciate the speed with which the whole process took place, from first contact to job completion. All representatives from the Wow were wonderful to work with from the estimate to the paint job to billing. A perfect experience for someone new to town with no recommendations. I, however, can recommend them highly.
- Stephanie Anthony, Geneva, Illinois
They were very professional, lovely to deal with and did a great job of painting our new condo! We would highly recommend!
- Lynne McNamara, Vancouver, British Columbia
Wow 1 Day Painting finished our job today and it is amazing! We went from dark and closed-feeling house to bright and open. The crew were all such nice guys and they work FAST. Alexis was totally communicative about the whole process and the painters always let us know how far they had gotten and how much more time it would take. We will use them in the future for our exterior too. :)
- Beth Mclaughlin, Reno, Nevada
Terrific! Estimate appointment was very thorough, wasn't sure if I wanted to do bathrooms but given price was lower than expected requested additional work. Estimate workup very thorough, advised based on what type of paint I was purchasing how much I should have on-hand. Wasn't certain if job would take 1 or 1.5 days but explained would bring 6-man crew to try to finish all in one day. Crew arrived just before expected, everyone introduced themselves and they set to work. Every time there was a question (like where to put something or what to do with any nails I had in the wall for removed artwork), they always checked with me for direction instead of making any assumptions. I checked prior to lunch whether they had sufficient paint in case I had to run out for more, advised there was enough, even needing to do 4 coats in one area to ensure great coverage (red paint on builder-grade white wall). As job was nearing completion, was requested to review all areas - found two areas that needed minor touch-up, which was addressed immediately. Received a thank-you card signed by team & a cookie. I was very pleased with how everything turned out & would recommend them highly - in fact I plan to use them again when I'm ready to take on my kitchen!
- Ashley Steyer, Elgin, Illinois
Alex&Edgar were so polite, professional and clean! As they took a lunch break Alex asked me if I needed anything from the store which I thought was terribly sweet! Thank you so much for having such great guys, you should be very proud of them!
- Susan Hoehi, Westchester, New York
Friendly, courteous staff who did a professional job for a reasonable cost and completed the job in the time promised.
- Kaveeta Ajwani, Ottawa, Ontario
Wow indeed! Alexis and his crew just finished our house. it looks amazing, and was just the change we were looking for! In under two days, we went from dark and closed-feeling to open and bright. What's more is the crew was a total delight to have here; they are excellent painters and totally nice guys. I can't believe how fast and how well they worked. When the rain stops, we'll be looking forward to having Wow 1 Day Painting come and paint the exterior. It feels like a brand-new house. :)
- B.M., Sparks, Nevada
I was very happy with Mike's communication regarding our project. When we went into Sherwin Williams to pick out our paint color and the paint guy there referred to Mike and said what a great guy he was to work with, we knew we had picked the right company. The painting job looks absolutely amazing and the price couldn't be beat..
- Aaron & Sarah White , Minneapolis, Minnesota
Absolutely beautiful job, fantastic communication throughout the job. I am 100% wow-ed and even recommended your company already just this morning to a realtor who was very eager to know who did such a great job.
- Chrysta Rae, Edmonton, Alberta
everything is perfect left 5 Star review on yelp price comepetive, timely and professional
- Channa Jayasekera, San Jose, California
You guys were punctual and ready to go. You went above and beyond especially for just a small area that had to be painted compared to what I'm sure you guys usually do.
- Robert Gill, Riverside, California
Friendly, available and professional service!! I strongly recommend.
- Christiane Raspa, Toronto, Ontario
The painting crew was AMAZING! They were on time, super quick, and did such an excellent job on my walls! Thank you Ruth and Carlos!
- Kate Dalton, Vancouver, British Columbia
All I can say is WOW! The job was great, very thorough and efficient. Would highly recommend!
- Columbus Customer, Columbus, Ohio
An amazing number of talented painters. They painted trim, ceilings and walls of 3200 square feet in two days. And did a beautiful job.
- Linda Winger, Washington, D.C., District of Columbia
Would rate 11 if possible just immaculate and professional service, great communication, no hassel over a very fair price, better than clean as a whistle. of course will reccommend to others. keep your painter he was just Great! Wants to know when the stock will go public want in on such a great company.
- Robert Burns, Toronto, Ontario
Could not have had a better experience. The quote was done the next day after calling. The pricing was great. The work was scheduled quickly and completed on-time and in one day as promised. The work was of high quality and looks good. I would highly recommend WOW 1-Day Paining.
- Mike M, Rosemount, Minnesota
The staff is fast, on time, professional, detail oriented, and willing to make sure all their work comes out great. They go above and beyond. I would DEFINITELY recommend WOW 1 DAY PAINTING. I will be calling them again in the near future for more work to be done in my house.
- Sonja Rodriguez, Worcester, Massachusetts
Great painters, faux finish was done perfect. Great people to work with.
- Helen W. , Hinckley, Ohio
Quality workmanship , Do What they say they are going to do.
- James Fewagle, Knoxville, Tennessee
Loved the result with Mike and his team. Our 100+ year old house has never looked better. Excellent communication and even when things didn't go as planned (trim required an extra coat to cover dark brown) good options were presented communicated in a timely manner. Will definitely use next time we need painting done.
- Kyle S, Minneapolis, Minnesota
spk to Mrs W. very, very happy with WOW- Excellent work will have us back again- already referred us to a neighbor 10 without a doubt
- Paul Weinsten, Kitchener, Ontario
Amazing customer service, as I organized painting of a property from Ontario, Work to be done in British Columbia. It went flawless, Lee was great to deal with personality to performance all BRILLIANT
- Sharon Scott , Vancouver, British Columbia
The service went very well. I had them paint the hallway, doors, trim and ceiling. Two painters were out and completed the job in about 6 hours. The painters were personable and did everything they promised. We plan on using them again in the future. They did excellent work and a high quality job. They did an immaculate job with the clean up. I had no problem scheduling the deal.
- Kevin H, New Rochelle, New York
What a wonderful team! Jay is super nice, knowledgeable and responsible, from estimate through completion, they are dedicated to customer service and quality, I am so glad to know them and will definitely have them for future projects and highly recommend them to others!
- Julie W., White Plains, New York
They picked the right name for their business! They showed up when they said that they would, finished ahead of schedule and did a great professional job at a very competitive price. I would definitely use them again!
- Coni V., Fort Collins, Colorado
The painters at WOW 1 DAY are very talented, meticulous, and professional. I am very satisfied with the result of my paint job.
- Kristen, Austin, Texas
Wow made it really easy to get my house painted. They showed up on and gave me a fair price. 5 Stars.
- Mark Tevis, Scottsdale, Arizona
<! -- // row inner -->