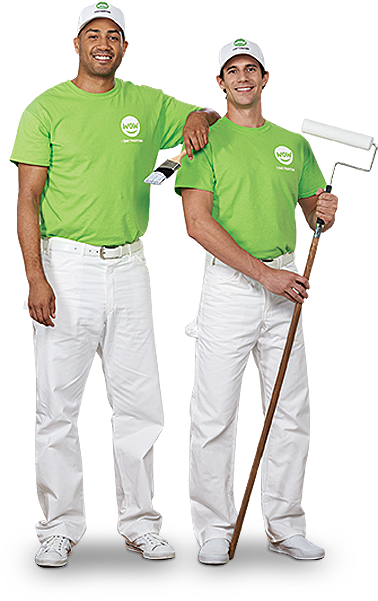 We love what we do! But don't take our word for it, see what our customers have to say!
Your work is impeccable. The crew finished the job in one working day and left my home in immaculate condition.
- Wendy Kotler, Washington, D.C., District of Columbia
We began to paint our entire house and third day in we realized we were over our heads, I called WOW, that afternoon Steve came by to give us an estimate, this was Wednesday. They came on Sat and finished the job. It lifted a huge weight off our shoulders. They did an excellent job and I would not hesitate to recommend them to anyone. I will be using them again in the future.
Excellent experience from start to finish! The crew went above and beyond to make sure everything was done right. I'm very happy with the results.
- Rick Shermer, Miami, Florida
great experience well organized and excellent communication
- Giselle Damiano, Toronto, Ontario
The team I had worked in sync with each other and finish the job completely in less time than was originally scheduled. They absolutely did a beautiful job. The red walls that were covered in a light tan we're quite a challenge to them both. The paint job looks absolutely fabulous.
- Mary Byrnes, Sarasota, Florida
Bottom line is I would hire them again. Incredible customer service, quick to answer questions and ensure satisfaction. That will always win my loyalty. The work was a little rushed toward the end and there are several small areas that were not attended to (drips left on the wall, paint peeled from tape removal and missed nail holes) but overall I am thrilled with the colors and having as much work completed in one day was our main goal and by far achieved
- Samatha Gamble, Minneapolis, Minnesota
If I could give 10 stars, I would!!! Craig, Kyle and the whole team were absolutely the best in all aspects of the painting of my condo, including the extremely messy, labor intensive job of removing popcorn ceilings throughout the entire unit. I am very happy I chose them to do the work and highly recommend them. Thanks to each of you who worked so hard on this project. Well done!!!
- Charlotte, McLean, VA, Virginia
After having to wait to pay for a day I sort of lost my cool. It really wasn't anyone's fault..and honestly waiting ANY other time would not have been a big deal..but ...my temper just boiled over. Bad Day. You guys STILL gave me a 5% discount for the inconvenience...even though I REALLY didn't deserve. Thanks :D I look forward to using you in the future when things aren't so hectic.
- Jennifer Katzmaier, Worcester, Massachusetts
When I hired 'Wow 1 day painting' I was a little skeptical. Those thoughts were quickly put to rest when the crew showed up on time, prepared and ready to work. The project wasn't a large one (3 rooms, all of my baseboards and doors) but needless to say I was impressed, they easily finished in one day. Not only that, they did a fantastic job. It has me already thinking about my next project. Id recommend their service to anyone wanting the job done the right way and fast.
- Jonathan Gilmore, Scottsdale, Arizona
Mike communicated with me professionally to figure out a schedule that met my needs but also was practical for them as well - I understand I am not their only Customer. I'm a Contractor myself with a very busy schedule and having my phone calls or texts returned in a timely manner was much appreciated and allowed me to view and adjust my schedule accordingly.
- Bill Malone, Baltimore, Maryland
<! -- // row inner -->