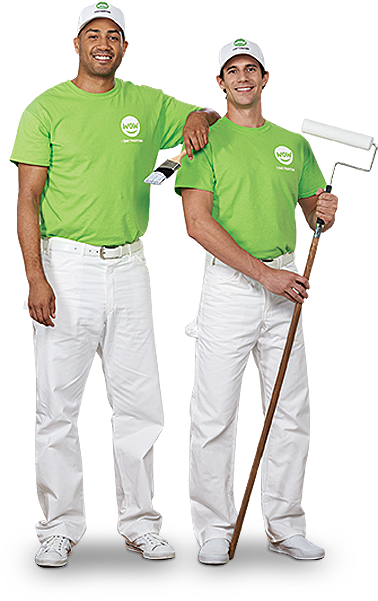 We love what we do! But don't take our word for it, see what our customers have to say!
Customer service and friendliness was superb! I can't think of another experience where everyone I dealt with in person was this friendly and professional. Great experience, thank you.
- Raymond Sze, Vancouver, British Columbia
Absolutely beautiful job, fantastic communication throughout the job. I am 100% wow-ed and even recommended your company already just this morning to a realtor who was very eager to know who did such a great job.
- Chrysta Rae, Edmonton, Alberta
The entire customer experience. You grabbed me for life and all I was doing yesterday was talking about your company. I teach a class in Humber about Digital Projects and dealing with customers, I took my flowers and my mug to teach the students how to make a great customer experience. And yeah of course the wall instead of being yellow, is green... an absolute stunning green. Makes me happy every time I see it. Not because of the color, but because of how you guys made me feel. Thank you!!
- Luis Balaguer, Mississauga/Oakville, Ontario
Wow indeed! Alexis and his crew just finished our house. it looks amazing, and was just the change we were looking for! In under two days, we went from dark and closed-feeling to open and bright. What's more is the crew was a total delight to have here; they are excellent painters and totally nice guys. I can't believe how fast and how well they worked. When the rain stops, we'll be looking forward to having Wow 1 Day Painting come and paint the exterior. It feels like a brand-new house. :)
- B.M., Sparks, Nevada
These guys are amazing!!!! I just moved to the area they accommodated me GREATLY to start the day escrow closed!! So friendly, fast, honest, reliable, and VERY meticulous! I could not be happier with the job they have done for me! I most defiantly will be calling them for all my painting needs!! Thank you WOW painting for doing such a great job!!
- Dena S., Reno, Nevada
The team painted my entire 1800 sq ft home. Project required 2 coats and sometimes 3. Dated dark colors were replaced with tropical bright happy colors. Each crew member was the utmost professional and courteous. Each one insisting that I was constantly please with the outcome. I am not certain which is more awesome, the new paint and look or how awesome Steve and his crew was. I certainly recommend Steve Lewis and WOW 1-Day Painting.
- Rick Richter, Sarasota, Florida
Reliability and honesty is huge! Customer service was great. Easy process--once I decided what I wanted! ;-)
- Kristen Pumphrey, Washington D.C., District of Columbia
Great job and very professional. Involved exterior painting of only one side of house (sunbleached). Very quick job, and reasonably priced.
- Alan S., Boulder City, Nevada
Peter and his team arrived on time, and conducted themselves professionally during the timeframe of our project. Peter and his team fixed a number of deficiencies (i.e. things that were supposed to be primed or areas that were not necessarily paint ready to create a ""perfect finish"") without hesitation and did an amazing job painting our renovation. I would definitely recommend WOW 1 DAY PAINTING to friends and colleagues. Actually, I have been recommending WOW since the beginning of our project to many people. If I had another project in the Toronto area, I would specifically request Peter and his team. I want to thank Peter, Dino, Joe, Sean, Lazlo, Luiz, Rob, Dan and Josh for an exceptional job! And of course George Gill and Val for an amazing experience when they were on-site to give us a quote! Our positive experience with the company started a few months ago with 1-800-GOT-JUNK! I realized that WOW was part of the same umbrella, and because of the amazing service that we had from the crew of guys that came out to empty the contents of the same space that WOW painted, I was sure that hiring WOW would not be a mistake!
- Kim Jones, Toronto, Ontario
Wow made it really easy to get my house painted. They showed up on and gave me a fair price. 5 Stars.
- Mark Tevis, Scottsdale, Arizona
Friendly, available and professional service!! I strongly recommend.
- Christiane Raspa, Toronto, Ontario
Fantastic team work, punctual, courteous... could ask for better service! Thanks again Mike, Boris and Yves for going the extra mile for us..... Tyrone thanks for everything..... we will see you when we do the basement! :)
- Tara Flery, Kitchener/Waterloo, Ontario
Did what you promised, on time.
- Michael Suman, Miami, Florida
You guys were punctual and ready to go. You went above and beyond especially for just a small area that had to be painted compared to what I'm sure you guys usually do.
- Robert Gill, Riverside, California
Great customer service, very accommodating, and affordable. The General manager Sion and his team are amazing, so happy I didn't settle for another company.
- Ashley Edwards, Miami, Florida
They were able to start painting the entire exterior of my house the very next day after they gave me a quote when I absolutely needed it to be done on that time frame. They were very reliable, trustworthy, professional & nice. They went over every detail.
- Gloria Gregg, Miami, Florida
The painters at WOW 1 DAY are very talented, meticulous, and professional. I am very satisfied with the result of my paint job.
- Kristen, Austin, Texas
Everything... costumer service, quality... overall the experience was amazing
- Steffi Gabay, Miami, Florida
Before choosing Wow, I was researching Yelp and couldn't get Painters to fit my timelines. My colleague referred me Wow and I called them. Estimation appointment took sometime but actual Paint Job was scheduled and done very quickly. They are very professionals and done an awesome job. Very punctual and accommodated our requests. Used quality Paint and changed home's interior and brought a new look. I would definitely recommend.Thanks
- Nages Meesala, San Jose, California
WOW, One Day Painting. I just moved to the Reno area, was desperate for a house painting Company to paint the inside and garage of a re-sale home we purchased, I called WOW. What an amazing job they did, they were very professional from the get go, did every thing I asked...on time, and made my 'vision' of the dream home I showed them come true. Alex Pahang the co-ordinator is the most polite and organized manager ever, and I felt I could trust him and his paint crew with every detail, they did not let me down. I highly recommend these people.
- Lisa L., Sparks, Nevada
An amazing number of talented painters. They painted trim, ceilings and walls of 3200 square feet in two days. And did a beautiful job.
- Linda Winger, Washington, D.C., District of Columbia
The crew was lovely and fast
- Sara Duke, Toronto, Ontario
I can't believe what can be accomplished in just one day! I was truly amazed and would recommend to anyone!
- Casey Johnson, Scottsdale, Arizona
John and his team went above and beyond their call of duty. They not only manage to finish the job in few hours, but they also fixed our impossible -to-fix wall. They kept coming back to make sure everything was perfect. All the bumps and imperfections in the walls were gone.
- Taz Kamal, Hamilton, Ontario
Just a fantastic job, always did painting herself and very please with results, the team went ou their way to assist a disabled person and will give an A+ to all she reccommends to WOW
- Jean Gairns, Ottawa, Ontario
Excellent service!
- Nathaly Nessim, Miami, Florida
Mike communicated with me professionally to figure out a schedule that met my needs but also was practical for them as well - I understand I am not their only Customer. I'm a Contractor myself with a very busy schedule and having my phone calls or texts returned in a timely manner was much appreciated and allowed me to view and adjust my schedule accordingly.
- Bill Malone, Baltimore, Maryland
Excellent experience from start to finish! The crew went above and beyond to make sure everything was done right. I'm very happy with the results.
- Rick Shermer, Miami, Florida
They were punctual, precise with painting and left our place in order after painting. Moreover they delivered on the 1 day painting promise which was one of our priorities. I would definitely recommend it to friends and family.
- Roberta Cernautan, Vancouver, British Columbia
The room looks great as usual-quality paint, clean trim and no roller marks on the wall. The painter was presentable, very cordial, told us what he was doing when we asked, and cleaned up when he was done. Bonus is they always arrive on time!
- Tracy Bank, Washington, D.C., District of Columbia
<! -- // row inner -->