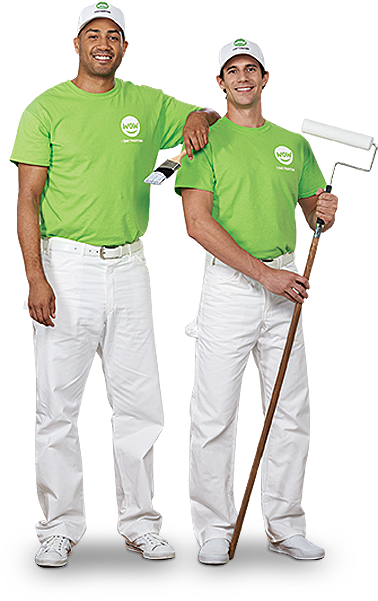 We love what we do! But don't take our word for it, see what our customers have to say!
very pleased will call again salesman Matt charming/ understood what I wanted/ / go to the job done/done after husband went to work and done before he got home. issue with plants dallus stork were brused/ steam broken used a drop cloth. score 9 that is how you keep a marriage happpy"
- Charmine Neary, Westchester, New York
From the first time we called WOW to set up an initial meeting to their final paint job, the process was easy and the staff was superb. Travis was very accommodating. The painting crew (Jacqueline, Colin, and George) were amazing, friendly, and the bedrooms look wonderful. We would definitely call them again for our other rooms.
- Tony Leite, Mississauga/Oakville, Ontario
If I could give 10 stars, I would!!! Craig, Kyle and the whole team were absolutely the best in all aspects of the painting of my condo, including the extremely messy, labor intensive job of removing popcorn ceilings throughout the entire unit. I am very happy I chose them to do the work and highly recommend them. Thanks to each of you who worked so hard on this project. Well done!!!
- Charlotte, McLean, VA, Virginia
Your work is impeccable. The crew finished the job in one working day and left my home in immaculate condition.
- Wendy Kotler, Washington, D.C., District of Columbia
Could not have had a better experience. The quote was done the next day after calling. The pricing was great. The work was scheduled quickly and completed on-time and in one day as promised. The work was of high quality and looks good. I would highly recommend WOW 1-Day Paining.
- Mike M, Rosemount, Minnesota
They came out and gave me the estimate on the spot. The estimated was lower than other, and they were able to come paint the next week. They did the job and it was well done. They cleaned everything up, and even helped me with some of my own "oop" mistakes on my ceiling. I will definitely call them again.
- Debra Bickford, Knoxville, Tennessee
The painters were personable and did everything they promised. We plan on using them again in the future. They did excellent work and a high quality job.
- Scottsdale Customer, Scottsdale, Arizona
They were professional, fast, super tidy and great price!
- Jodie Cohan , Vancouver, British Columbia
Great job and very professional. Involved exterior painting of only one side of house (sunbleached). Very quick job, and reasonably priced.
- Alan S., Boulder City, Nevada
Quality work Professionalism Friendly
- Betty Maloney, Calgary, Alberta
The room looks great as usual-quality paint, clean trim and no roller marks on the wall. The painter was presentable, very cordial, told us what he was doing when we asked, and cleaned up when he was done. Bonus is they always arrive on time!
- Tracy Bank, Washington, D.C., District of Columbia
The guys were wonderful, great customer service...easy to work with and very patient. Everything was done in a day and it looks amazing. So happy with everything!
- Allison Russell, Washington, D.C., District of Columbia
The room looks great as usual-quality paint, clean trim and no roller marks on the wall. The painter was presentable, very cordial, told us what he was doing when we asked, and cleaned up when he was done. Bonus is they always arrive on time!
- Tracy Bank, Washington, D.C., District of Columbia
It went wonderfully. I appreciate the speed with which the whole process took place, from first contact to job completion. All representatives from the Wow were wonderful to work with from the estimate to the paint job to billing. A perfect experience for someone new to town with no recommendations. I, however, can recommend them highly.
- Stephanie Anthony, Geneva, Illinois
The painters at WOW 1 DAY are very talented, meticulous, and professional. I am very satisfied with the result of my paint job.
- Kristen, Austin, Texas
Reliability and honesty is huge! Customer service was great. Easy process--once I decided what I wanted! ;-)
- Kristen Pumphrey, Washington D.C., District of Columbia
Prompt, perfection, professionalism, accurate and truthful!!! They love their work and it shows on my walls!!! Thank you WOW.
- Golfo Tsakoumis, Vancouver, British Columbia
WOW 1 Day Painting came out to paint my master bedroom. They were AMAZING! The painters were all uniformed, listened to my concerns, and answered all my questions. The end result was absolutely stunning!! Not to mention that the price couldn't be beat. I will definitely use this company again.
- Kaitlyn Ovard, Reno, Nevada
WOW 1 Day Painting was very accommodating in terms of a date and time for the work to be completed and by allowing me to send pictures of the walls to be painted while construction of my home was ongoing. This allowed me to have a general idea of how much my paint job would cost. Once construction was complete, an estimator (his name was Steve... super friendly and knowledgeable guy!) came out to give a final estimate before the work was completed. The work itself was impeccable. The painter's attention to detail was SPOT ON and my feature walls turned out amazingly well. No streak marks and no imperfections. The work was completed in under 6 hours. I couldn't be more pleased with the results!
Wonderful professional clean and neat crew. The painting is done quickly and precisely. WOW is my first choice for all painting needs. Nancy
- Nancy Craig, Detroit, Michigan
I needed my entire house painted before we left on vacation. I was pretty stressed out and started looking for painters. Dave came by, gave a quote and promised to have the job done before I left on vacation. They finished the job in 1 DAY and I was so happy with the work. I felt completely comfortable with the price and the service was fantastic. I would highly recommend these guys to any of my friends and family. Thanks so much!!
- Sarah, Seattle, Washington
Great painters, faux finish was done perfect. Great people to work with.
- Helen W. , Hinckley, Ohio
Amazing service by Robby and Ezekiel, very professional.
- Ryan S, Scottsdale, Arizona
I didn't believe their slogan of "1 DAY and Done…..Guaranteed", but they proved me wrong, and with neat, professional results. This is truly the best way to paint a house. Their performance proves there isn't a need to waste a homeowners time dragging a project on for days or weeks. Well done, WOW 1 DAY PAINTING!
- Jill Hill, Calgary, Alberta
Customer service was great, quick to respond and deal with. The team onsite was friendly throughout and did a great job painting the house. Job was done quickly and efficiently and they made sure we were happy with the results.
- Dan Young, Toronto, Ontario
everything is perfect left 5 Star review on yelp price comepetive, timely and professional
- Channa Jayasekera, San Jose, California
The staff is fast, on time, professional, detail oriented, and willing to make sure all their work comes out great. They go above and beyond. I would DEFINITELY recommend WOW 1 DAY PAINTING. I will be calling them again in the near future for more work to be done in my house.
- Sonja Rodriguez, Worcester, Massachusetts
Great service, great price, no complaints. I'd recommend the WOW 1 Day team to anyone.
- Chris Kurtzman, Scottsdale, Arizona
They came, and they stayed on the job until it was done. Theses saved us, we have had such bad experience with a few contractors, who stole deposits from us, who showed up high on drugs, these guys brought a true foreman with 35 years experience, and we were so grateful, that they picked up the job in such great way. I give them my highest recommendation. They are so dependable, you can give them our highest possible rating. We were feeling desperate after the last painting company that had contact with us. We gave them a deposit of $1600 and then we never heard from them again. WOW didn't take any money from us, until the job was done to our satisfaction, and we can use them without reservation. They saved us, I don't know where we would be at if it had not been for Joe and Marc Novak coming along to work with us to get this job done. I am so grateful to these guys, because our house looks so beautiful now, we have eight different colors on, it looks gorgeous. If you want to do a promotion for Angie's list, send them out here, we'll tell you our story, and all of it is true. I've never met these guys, but they were true to their words, and they came by and finished the job.
- Cathy Wilson, Elgin, Illinois
They picked the right name for their business! They showed up when they said that they would, finished ahead of schedule and did a great professional job at a very competitive price. I would definitely use them again!
- Coni V., Fort Collins, Colorado
<! -- // row inner -->