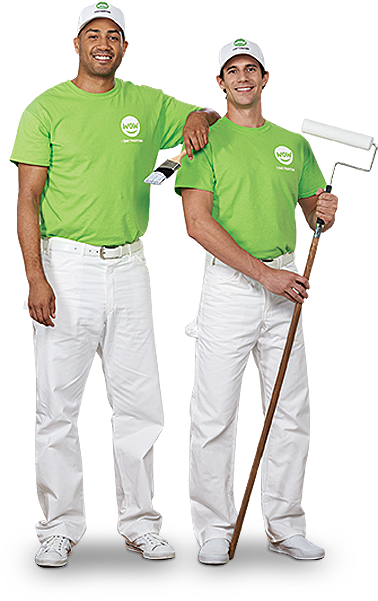 We love what we do! But don't take our word for it, see what our customers have to say!
The painters at WOW 1 DAY are very talented, meticulous, and professional. I am very satisfied with the result of my paint job.
- Kristen, Austin, Texas
The room looks great as usual-quality paint, clean trim and no roller marks on the wall. The painter was presentable, very cordial, told us what he was doing when we asked, and cleaned up when he was done. Bonus is they always arrive on time!
- Tracy Bank, Washington, D.C., District of Columbia
I used these guys to paint my main floor and they were fantastic. Dave showed up on time for the estimate and they were able to do the job 3 days later. They came in the morning and when I got home everything was complete and looked great. Would definitely recommend these guys!! Its nice to see a company deliver on its promises
- Leigh, Seattle, Washington
"The speed that the job was done and the team was very professional. They really did a great job for us. We will use them again in the near future. Thank you"
- Nancy Craig, Kitchener/Waterloo, Ontario
They were very professional, lovely to deal with and did a great job of painting our new condo! We would highly recommend!
- Lynne McNamara, Vancouver, British Columbia
The team at Wow were incredibly easy to work with. Their estimate was more than fair and were very professional. They were clean and respectful of my home and our family. We felt very comfortable with the guys working at our house and were very nice people. The results were great and you could tell they really cared about the finished product. The details and their lines were clean and had zero complaints. I would recommend using Wow to anyone that needs their house painted! Good work guys!
- William Cain, Scottsdale, Arizona
All I can say about my house painting is WOW! Great job guys!!
- Virginia North Customer, Stafford, Virginia
The entire customer experience. You grabbed me for life and all I was doing yesterday was talking about your company. I teach a class in Humber about Digital Projects and dealing with customers, I took my flowers and my mug to teach the students how to make a great customer experience. And yeah of course the wall instead of being yellow, is green... an absolute stunning green. Makes me happy every time I see it. Not because of the color, but because of how you guys made me feel. Thank you!!
- Luis Balaguer, Mississauga/Oakville, Ontario
Great job and very professional. Involved exterior painting of only one side of house (sunbleached). Very quick job, and reasonably priced.
- Alan S., Boulder City, Nevada
I am so happy with WOW 1 DAY PAINTING service that I've already recommended their services to a colleague. From the initial contact with Tyrone and the mid day update/photos to the follow-up at the end of the day to ensure I was happy made for a fantastic experience with WOW 1 DAY PAINTING. They were on time; professional and did a great job. I would not hesitate to call WOW 1 DAY PAINTING again.
- Brenda Slater, Kitchener/Waterloo, Ontario
An amazing number of talented painters. They painted trim, ceilings and walls of 3200 square feet in two days. And did a beautiful job.
- Linda Winger, Washington, D.C., District of Columbia
WOW Painting did a FANTASTIC Paint job on my commercial showroom. Very detailed, and done in 1 day. WOW. Would recommend them to anyone looking for a fair pricing paint job and concern for detail.
- Deb T, Anoka, Minnesota
Mike Sanders and his crew operated with the highest level of professionalism throughout my one day job. They checked in with me throughout the day to ensure I was happy with their work and to answer any questions I might have.
- Lisa Bohne, Minneapolis, Minnesota
What a wonderful team! Jay is super nice, knowledgeable and responsible, from estimate through completion, they are dedicated to customer service and quality, I am so glad to know them and will definitely have them for future projects and highly recommend them to others!
- Julie W., White Plains, New York
The guys were wonderful, great customer service...easy to work with and very patient. Everything was done in a day and it looks amazing. So happy with everything!
- Allison Russell, Washington, D.C., District of Columbia
These guys are amazing!!!! I just moved to the area they accommodated me GREATLY to start the day escrow closed!! So friendly, fast, honest, reliable, and VERY meticulous! I could not be happier with the job they have done for me! I most defiantly will be calling them for all my painting needs!! Thank you WOW painting for doing such a great job!!
- Dena S., Reno, Nevada
I didn't believe their slogan of "1 DAY and Done…..Guaranteed", but they proved me wrong, and with neat, professional results. This is truly the best way to paint a house. Their performance proves there isn't a need to waste a homeowners time dragging a project on for days or weeks. Well done, WOW 1 DAY PAINTING!
- Jill Hill, Calgary, Alberta
The painting crew was AMAZING! They were on time, super quick, and did such an excellent job on my walls! Thank you Ruth and Carlos!
- Kate Dalton, Vancouver, British Columbia
Could not have had a better experience. The quote was done the next day after calling. The pricing was great. The work was scheduled quickly and completed on-time and in one day as promised. The work was of high quality and looks good. I would highly recommend WOW 1-Day Paining.
- Mike M, Rosemount, Minnesota
everything is perfect left 5 Star review on yelp price comepetive, timely and professional
- Channa Jayasekera, San Jose, California
WOW 1 DAY PAINTING gave us a competitive price and looked after us and our project using quality materials applied by skilled trades people, on time and on budget! Who can ask for more!
All I can say is WOW! The job was great, very thorough and efficient. Would highly recommend!
- Columbus Customer, Columbus, Ohio
extremely clean and organized, the team that was here today was absolutely amazing. They were all extremely professional, polite and yet sounded like they were enjoying themselves talking to each other throughout the day. This is my second time using WOW 1 day Painting and it won't be the last. I have told everyone about how great you are. I was also re-assured that if I found any spots that may have been missed, they would be back to fix it. Nothing but super impressed with today's team. Thank you so much
- Dianne Froggatt, Hamilton, Ontario
Great service at a great price
- Alan Cosgrave, Vancouver, British Columbia
Friendly, courteous staff who did a professional job for a reasonable cost and completed the job in the time promised.
- Kaveeta Ajwani, Ottawa, Ontario
very good, very friendly painters WOW from all neighhbors that came into see the job
- Sheila Pattison, Toronto, Ontario
The staff is fast, on time, professional, detail oriented, and willing to make sure all their work comes out great. They go above and beyond. I would DEFINITELY recommend WOW 1 DAY PAINTING. I will be calling them again in the near future for more work to be done in my house.
- Sonja Rodriguez, Worcester, Massachusetts
John and his team went above and beyond their call of duty. They not only manage to finish the job in few hours, but they also fixed our impossible -to-fix wall. They kept coming back to make sure everything was perfect. All the bumps and imperfections in the walls were gone.
- Taz Kamal, Hamilton, Ontario
Amazing service by Robby and Ezekiel, very professional.
- Ryan S, Scottsdale, Arizona
Alex&Edgar were so polite, professional and clean! As they took a lunch break Alex asked me if I needed anything from the store which I thought was terribly sweet! Thank you so much for having such great guys, you should be very proud of them!
- Susan Hoehi, Westchester, New York
<! -- // row inner -->