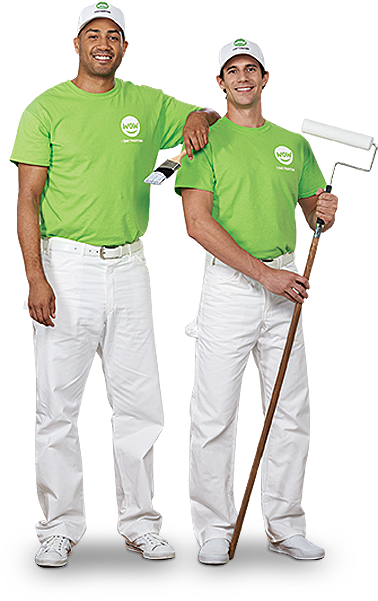 We love what we do! But don't take our word for it, see what our customers have to say!
ever had better experience working with contractor Jason follow through gave more than expected wished I had more house to paint
- Mike Orrell, Detroit, Michigan
Happy with the price and speed.
- Clifford F , Niagara Falls, Ontario
They were punctual, precise with painting and left our place in order after painting. Moreover they delivered on the 1 day painting promise which was one of our priorities. I would definitely recommend it to friends and family.
- Roberta Cernautan, Vancouver, British Columbia
Would rate 11 if possible just immaculate and professional service, great communication, no hassel over a very fair price, better than clean as a whistle. of course will reccommend to others. keep your painter he was just Great! Wants to know when the stock will go public want in on such a great company.
- Robert Burns, Toronto, Ontario
Perfect! Polite, professional, friendly, top quality work.
- Jack S, Niagara, Ontario
Quality work. Friendly staff and done in a timely manner
- Stephanie L , Vineland, Ontario
Alex was professsional and handled all my requests. Job well done!
- Gordana Grbic, San Jose, California
2367Great service and work! Thanks!
- Daniel Williams, Mississauga/Oakville, Ontario
Your work is impeccable. The crew finished the job in one working day and left my home in immaculate condition.
- Wendy Kotler, Washington, D.C., District of Columbia
They arrived on time, did an awesome job, were professional and friendly. I would use them again in a heartbeat.
- Karyn Williams, York Region, Ontario
WOW 1 DAY PAINTING came out to paint my master bedroom. They were AMAZING! The painters were all uniformed, listened to my concerns, and answered all my questions. The end result was absolutely stunning!! Not to mention that the price couldn't be beat. I will definitely use this company again.
- Kaitlyn O., Reno, Nevada
The painters were personable and did everything they promised. We plan on using them again in the future. They did excellent work and a high quality job.
- Scottsdale Customer, Scottsdale, Arizona
Quality work Professionalism Friendly
- Betty Maloney, Calgary, Alberta
"The speed that the job was done and the team was very professional. They really did a great job for us. We will use them again in the near future. Thank you"
- Nancy Craig, Kitchener/Waterloo, Ontario
Good communication from estimator. Pleasant workers. Excellent job.
- Steve Blackwell, Calgary, Alberta
clean,efficient, arrived on time, made my house ready for sale.
- Linda Lefeuvre, York, Ontario
We had our living room painted in our house recently. I was really pleased how the WOW crew was on time, finished the job in less time than they estimated, and most importantly did a very good quality job for a fair price.
- Tracy H., Fort Collins, Colorado
Could not have had a better experience. The quote was done the next day after calling. The pricing was great. The work was scheduled quickly and completed on-time and in one day as promised. The work was of high quality and looks good. I would highly recommend WOW 1-Day Paining.
- Mike M, Rosemount, Minnesota
They were on time and had on a WOW uniform. They made sure everything was covered prior to painting and cleaned up afterward. They were all polite and professional. They did an awesome job!
- Shelia Rollinson, Dallas, Texas
They were amazing. Four painters showed up, repaired large and small areas needing plaster work. There painting is some of the best work I've seen. I highly recommend them.
- Stuart Weinberg, Miami, Florida
Leesha offers superior customer service, the price is fair and good quality. Receiving exceptional value is what will keep me coming back and keep recommending her.
- Renee Lavallee, Ottawa, Ontario
The painting crew was AMAZING! They were on time, super quick, and did such an excellent job on my walls! Thank you Ruth and Carlos!
- Kate Dalton, Vancouver, British Columbia
Very professional, and Jay bent over backwards to help me out and get the work done in short notice. The walls look great and I was able to get my unit rented that weekend because Jay was able to change around his schedule and get the unit painted with a days notice. Well Done! and thank you!
- Adam Bransfield, Westchester, New York
Fantastic team work, punctual, courteous... could ask for better service! Thanks again Mike, Boris and Yves for going the extra mile for us..... Tyrone thanks for everything..... we will see you when we do the basement! :)
- Tara Flery, Kitchener/Waterloo, Ontario
Mike communicated with me professionally to figure out a schedule that met my needs but also was practical for them as well - I understand I am not their only Customer. I'm a Contractor myself with a very busy schedule and having my phone calls or texts returned in a timely manner was much appreciated and allowed me to view and adjust my schedule accordingly.
- Bill Malone, Baltimore, Maryland
WOW did a great job of painting my exterior. They were on time, finished in 1 day, and did a very complete cleanup. Highly recommend WOW 1 Day Painting.
- Edward Mathews, Dallas, Texas
Met with Lee for the estimate, which went well and he was a very nice guy. Once the day came to have the work done Robby and Ezekiel did the actual painting and it came out perfect! I would recommend and use Wow for any future needs, this company is amazing to work with and very courteous.
- Ryan Sabouneh, Scottsdale, Arizona
WOW 1 Day Painting was very accommodating in terms of a date and time for the work to be completed and by allowing me to send pictures of the walls to be painted while construction of my home was ongoing. This allowed me to have a general idea of how much my paint job would cost. Once construction was complete, an estimator (his name was Steve... super friendly and knowledgeable guy!) came out to give a final estimate before the work was completed. The work itself was impeccable. The painter's attention to detail was SPOT ON and my feature walls turned out amazingly well. No streak marks and no imperfections. The work was completed in under 6 hours. I couldn't be more pleased with the results!
Did everything right. Showed up on time. Cleaned the area after the work left it spotless. Covered all furniture with no issues. Great work guys will use u again.
- Paul Rene, Miami, Florida
If I could give 10 stars, I would!!! Craig, Kyle and the whole team were absolutely the best in all aspects of the painting of my condo, including the extremely messy, labor intensive job of removing popcorn ceilings throughout the entire unit. I am very happy I chose them to do the work and highly recommend them. Thanks to each of you who worked so hard on this project. Well done!!!
- Charlotte, McLean, VA, Virginia
<! -- // row inner -->