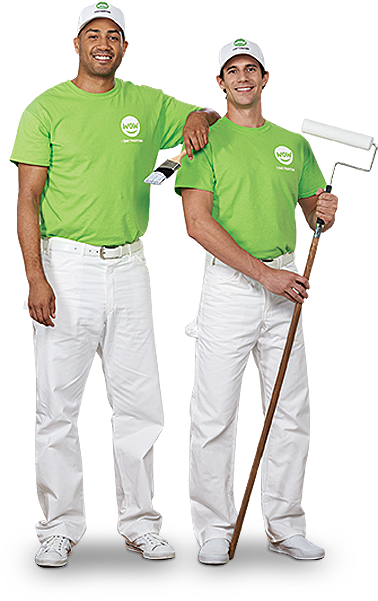 We love what we do! But don't take our word for it, see what our customers have to say!
Tyrone and his team at Kitchener-Waterloo Wow1Day painted the interior of a 1,540 square foot apartment in our 117 year old Victorian income property. From start to finish, the entire process was quick, efficient, professional and exceedingly courteous. Exceptional service at a fair price and accomplished in an incredible 16 hours! I will definitely use Tyrone and his team again.
- Michelle B, Kitchener, Ontario
The staff is fast, on time, professional, detail oriented, and willing to make sure all their work comes out great. They go above and beyond. I would DEFINITELY recommend WOW 1 DAY PAINTING. I will be calling them again in the near future for more work to be done in my house.
- Sonja Rodriguez, Worcester, Massachusetts
Very friendly, quick and thorough. Kim was my painter and I'll be inviting her back to paint my new home!
- Teresa D, Niagara Falls, Ontario
Very professional, and Jay bent over backwards to help me out and get the work done in short notice. The walls look great and I was able to get my unit rented that weekend because Jay was able to change around his schedule and get the unit painted with a days notice. Well Done! and thank you!
- Adam Bransfield, Westchester, New York
Peter and his team arrived on time, and conducted themselves professionally during the timeframe of our project. Peter and his team fixed a number of deficiencies (i.e. things that were supposed to be primed or areas that were not necessarily paint ready to create a ""perfect finish"") without hesitation and did an amazing job painting our renovation. I would definitely recommend WOW 1 DAY PAINTING to friends and colleagues. Actually, I have been recommending WOW since the beginning of our project to many people. If I had another project in the Toronto area, I would specifically request Peter and his team. I want to thank Peter, Dino, Joe, Sean, Lazlo, Luiz, Rob, Dan and Josh for an exceptional job! And of course George Gill and Val for an amazing experience when they were on-site to give us a quote! Our positive experience with the company started a few months ago with 1-800-GOT-JUNK! I realized that WOW was part of the same umbrella, and because of the amazing service that we had from the crew of guys that came out to empty the contents of the same space that WOW painted, I was sure that hiring WOW would not be a mistake!
- Kim Jones, Toronto, Ontario
They arrived on time, did an awesome job, were professional and friendly. I would use them again in a heartbeat.
- Karyn Williams, York Region, Ontario
Polite and professional crew /had performed a quality job/ willing to be interviewed by any media / world of difference between what was and the result of our work/ looks marvelous/ cannnot put into words his pleasure with the job and Brenden was super to work with.
- Glenn Hurst, Vancouver, British Columbia
extremely clean and organized, the team that was here today was absolutely amazing. They were all extremely professional, polite and yet sounded like they were enjoying themselves talking to each other throughout the day. This is my second time using WOW 1 day Painting and it won't be the last. I have told everyone about how great you are. I was also re-assured that if I found any spots that may have been missed, they would be back to fix it. Nothing but super impressed with today's team. Thank you so much
- Dianne Froggatt, Hamilton, Ontario
WOW!! Many thanks to Kyle and Marvin's team. Wish we would have found them much earlier in the game. After several bad experiences and wasting a lot of money we were finally Wowwed!
- Ewelina, Forest Hills, NY, Washington
Amazing service by Robby and Ezekiel, very professional.
- Ryan S, Scottsdale, Arizona
They picked the right name for their business! They showed up when they said that they would, finished ahead of schedule and did a great professional job at a very competitive price. I would definitely use them again!
- Coni V., Fort Collins, Colorado
WOW, One Day Painting. I just moved to the Reno area, was desperate for a house painting Company to paint the inside and garage of a re-sale home we purchased, I called WOW. What an amazing job they did, they were very professional from the get go, did every thing I asked...on time, and made my 'vision' of the dream home I showed them come true. Alex Pahang the co-ordinator is the most polite and organized manager ever, and I felt I could trust him and his paint crew with every detail, they did not let me down. I highly recommend these people.
- Lisa L., Sparks, Nevada
The crew was lovely and fast
- Sara Duke, Toronto, Ontario
Bottom line is I would hire them again. Incredible customer service, quick to answer questions and ensure satisfaction. That will always win my loyalty. The work was a little rushed toward the end and there are several small areas that were not attended to (drips left on the wall, paint peeled from tape removal and missed nail holes) but overall I am thrilled with the colors and having as much work completed in one day was our main goal and by far achieved
- Samatha Gamble, Minneapolis, Minnesota
Wow indeed! Alexis and his crew just finished our house. it looks amazing, and was just the change we were looking for! In under two days, we went from dark and closed-feeling to open and bright. What's more is the crew was a total delight to have here; they are excellent painters and totally nice guys. I can't believe how fast and how well they worked. When the rain stops, we'll be looking forward to having Wow 1 Day Painting come and paint the exterior. It feels like a brand-new house. :)
- B.M., Sparks, Nevada
Flexible, flexible, helpful and friendly. Three-time customer!
- Heather B, Fenwick, Ontario
Quality work Professionalism Friendly
- Betty Maloney, Calgary, Alberta
great experience well organized and excellent communication
- Giselle Damiano, Toronto, Ontario
The WOW crew was honest and upfront about everything. I got several quotes and they followed up very quickly and clearly answered all of my questions and concerns. They explained the quote and cost in detail and even came back out for free. I have already referred WOW to friends and family who are thinking about giving their home or office a new look.
- Michael Dinn, Scottsdale, Arizona
When I hired 'Wow 1 day painting' I was a little skeptical. Those thoughts were quickly put to rest when the crew showed up on time, prepared and ready to work. The project wasn't a large one (3 rooms, all of my baseboards and doors) but needless to say I was impressed, they easily finished in one day. Not only that, they did a fantastic job. It has me already thinking about my next project. Id recommend their service to anyone wanting the job done the right way and fast.
- Jonathan Gilmore, Scottsdale, Arizona
We got back from Montreal and we are very pleased with the color and pleased with the work your team did, WOW'd even!
- Kurt S, St. Catherine's, Ontario
All I can say about my house painting is WOW! Great job guys!!
- Virginia North Customer, Stafford, Virginia
Absolutely beautiful job, fantastic communication throughout the job. I am 100% wow-ed and even recommended your company already just this morning to a realtor who was very eager to know who did such a great job.
- Chrysta Rae, Edmonton, Alberta
Great service at a great price
- Alan Cosgrave, Vancouver, British Columbia
Excellent experience from start to finish! The crew went above and beyond to make sure everything was done right. I'm very happy with the results.
- Rick Shermer, Miami, Florida
WOW 1 Day Painting came out to paint my master bedroom. They were AMAZING! The painters were all uniformed, listened to my concerns, and answered all my questions. The end result was absolutely stunning!! Not to mention that the price couldn't be beat. I will definitely use this company again.
- Kaitlyn Ovard, Reno, Nevada
Prompt, perfection, professionalism, accurate and truthful!!! They love their work and it shows on my walls!!! Thank you WOW.
- Golfo Tsakoumis, Vancouver, British Columbia
Customer service was great, quick to respond and deal with. The team onsite was friendly throughout and did a great job painting the house. Job was done quickly and efficiently and they made sure we were happy with the results.
- Dan Young, Toronto, Ontario
Lovley people Tracie explained what she was do every step of the way. amazing group of people, beyond his expectations, so very very pleased, you can't tell they were help except the walls are a different color
- Bruce Haynes, York, Ontario
Amazing customer service, as I organized painting of a property from Ontario, Work to be done in British Columbia. It went flawless, Lee was great to deal with personality to performance all BRILLIANT
- Sharon Scott , Vancouver, British Columbia
<! -- // row inner -->