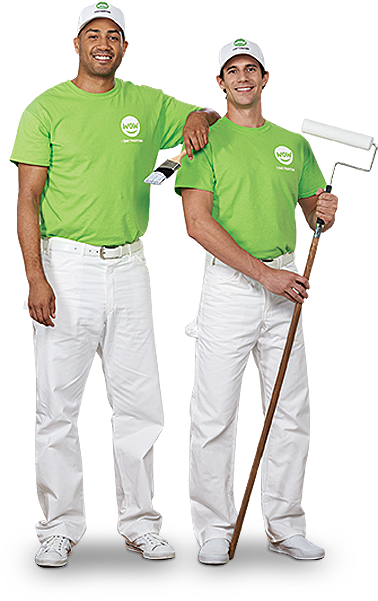 We love what we do! But don't take our word for it, see what our customers have to say!
very pleased will call again salesman Matt charming/ understood what I wanted/ / go to the job done/done after husband went to work and done before he got home. issue with plants dallus stork were brused/ steam broken used a drop cloth. score 9 that is how you keep a marriage happpy"
- Charmine Neary, Westchester, New York
Wow 1 Day Painting finished our job today and it is amazing! We went from dark and closed-feeling house to bright and open. The crew were all such nice guys and they work FAST. Alexis was totally communicative about the whole process and the painters always let us know how far they had gotten and how much more time it would take. We will use them in the future for our exterior too. :)
- Beth Mclaughlin, Reno, Nevada
John and his team went above and beyond their call of duty. They not only manage to finish the job in few hours, but they also fixed our impossible -to-fix wall. They kept coming back to make sure everything was perfect. All the bumps and imperfections in the walls were gone.
- Crystal Mccovely, Las Vegas, Nevada
Alex was professsional and handled all my requests. Job well done!
- Gordana Grbic, San Jose, California
Reliability and honesty is huge! Customer service was great. Easy process--once I decided what I wanted! ;-)
- Kristen Pumphrey, Washington D.C., District of Columbia
The entire customer experience. You grabbed me for life and all I was doing yesterday was talking about your company. I teach a class in Humber about Digital Projects and dealing with customers, I took my flowers and my mug to teach the students how to make a great customer experience. And yeah of course the wall instead of being yellow, is green... an absolute stunning green. Makes me happy every time I see it. Not because of the color, but because of how you guys made me feel. Thank you!!
- Luis Balaguer, Mississauga/Oakville, Ontario
WOW 1 Day Painting was very accommodating in terms of a date and time for the work to be completed and by allowing me to send pictures of the walls to be painted while construction of my home was ongoing. This allowed me to have a general idea of how much my paint job would cost. Once construction was complete, an estimator (his name was Steve... super friendly and knowledgeable guy!) came out to give a final estimate before the work was completed. The work itself was impeccable. The painter's attention to detail was SPOT ON and my feature walls turned out amazingly well. No streak marks and no imperfections. The work was completed in under 6 hours. I couldn't be more pleased with the results!
John and his team went above and beyond their call of duty. They not only manage to finish the job in few hours, but they also fixed our impossible -to-fix wall. They kept coming back to make sure everything was perfect. All the bumps and imperfections in the walls were gone.
- Taz Kamal, Hamilton, Ontario
Customer service was great, quick to respond and deal with. The team onsite was friendly throughout and did a great job painting the house. Job was done quickly and efficiently and they made sure we were happy with the results.
- Dan Young, Toronto, Ontario
The crew at WOW 1 Day Painting were quick, efficient, polite and did a spectacular job painting and cleaning the area afterward.
- Nancy McCune, Worcester, Massachusetts
They were able to start painting the entire exterior of my house the very next day after they gave me a quote when I absolutely needed it to be done on that time frame. They were very reliable, trustworthy, professional & nice. They went over every detail.
- Gloria Gregg, Miami, Florida
If I could give 10 stars, I would!!! Craig, Kyle and the whole team were absolutely the best in all aspects of the painting of my condo, including the extremely messy, labor intensive job of removing popcorn ceilings throughout the entire unit. I am very happy I chose them to do the work and highly recommend them. Thanks to each of you who worked so hard on this project. Well done!!!
- Charlotte, McLean, VA, Virginia
Would rate 11 if possible just immaculate and professional service, great communication, no hassel over a very fair price, better than clean as a whistle. of course will reccommend to others. keep your painter he was just Great! Wants to know when the stock will go public want in on such a great company.
- Robert Burns, Toronto, Ontario
very good, very friendly painters WOW from all neighhbors that came into see the job
- Sheila Pattison, Toronto, Ontario
Hi, I was blown away by what a great job Peter's crew ( Peter, Chris, Andre, Brent, Nat, Richie and Collin ) did in my house. The clean up was also unbelievable. The flowers and card were such a nice touch! I will sing your praises to everyone I know. Thank you so much for all you did.
- Margit Coxe, Toronto, Ontario
We got back from Montreal and we are very pleased with the color and pleased with the work your team did, WOW'd even!
- Kurt S, St. Catherine's, Ontario
These guys are amazing!!!! I just moved to the area they accommodated me GREATLY to start the day escrow closed!! So friendly, fast, honest, reliable, and VERY meticulous! I could not be happier with the job they have done for me! I most defiantly will be calling them for all my painting needs!! Thank you WOW painting for doing such a great job!!
- Dena S., Reno, Nevada
The room looks great as usual-quality paint, clean trim and no roller marks on the wall. The painter was presentable, very cordial, told us what he was doing when we asked, and cleaned up when he was done. Bonus is they always arrive on time!
- Tracy Bank, Washington, D.C., District of Columbia
Wow 1 Day paining was very thorough, professional and efficient.
- Mary Montgomery, San Diego, California
Quality work. Friendly staff and done in a timely manner
- Stephanie L , Vineland, Ontario
Did what you promised, on time.
- Michael Suman, Miami, Florida
Quality work Professionalism Friendly
- Betty Maloney, Calgary, Alberta
great experience well organized and excellent communication
- Giselle Damiano, Toronto, Ontario
"The crew was on time, cleaned up, taped off everything perfectly...Fernando, the foreman, was wonderful to work with, very professional. We are a swim/tennis club and the large job was completed in one day, we are very impressed and will recommend WOW to other clubs in the area. Thank you, Steve Chaney Mgr. Fairbrae Swim and Tennis Club"
- Steve Chaney, San Jose, California
They were beyond punctual and professional showing up early each morning (we had wallpaper that needed a day to be stripped and walls prepped prior to painting) and explaining each step in the process for me. The crew worked extremely hard and left after 7pm on the final day after a full day of priming and painting. They left my kitchen looking beautiful thanks to the new paint job and the floors were cleaner than when they arrived! They also brought me a bouquet of flowers, which was a very nice touch. : ) It's been a week since they finished and my husband and I love the look of our updated kitchen and are definitely going to contact WOW 1 day painting again for our cabinets and other rooms in our home!
- Jennifer Rinn, Bergen County, New Jersey
Excellent service!
- Nathaly Nessim, Miami, Florida
All I can say about my house painting is WOW! Great job guys!!
- Virginia North Customer, Stafford, Virginia
The guys were wonderful, great customer service...easy to work with and very patient. Everything was done in a day and it looks amazing. So happy with everything!
- Allison Russell, Washington, D.C., District of Columbia
Absolutely beautiful job, fantastic communication throughout the job. I am 100% wow-ed and even recommended your company already just this morning to a realtor who was very eager to know who did such a great job.
Good communication from estimator. Pleasant workers. Excellent job.
- Steve Blackwell, Calgary, Alberta
<! -- // row inner -->