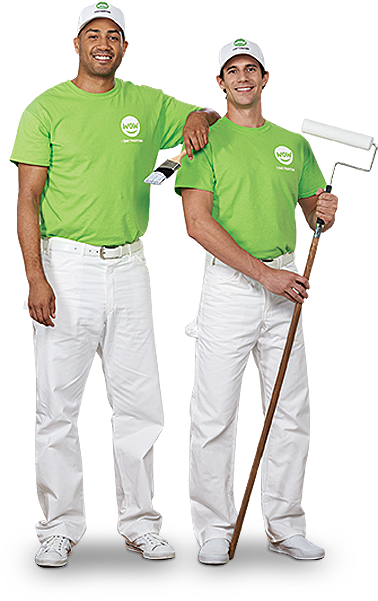 We love what we do! But don't take our word for it, see what our customers have to say!
Peter and his team arrived on time, and conducted themselves professionally during the timeframe of our project. Peter and his team fixed a number of deficiencies (i.e. things that were supposed to be primed or areas that were not necessarily paint ready to create a ""perfect finish"") without hesitation and did an amazing job painting our renovation. I would definitely recommend WOW 1 DAY PAINTING to friends and colleagues. Actually, I have been recommending WOW since the beginning of our project to many people. If I had another project in the Toronto area, I would specifically request Peter and his team. I want to thank Peter, Dino, Joe, Sean, Lazlo, Luiz, Rob, Dan and Josh for an exceptional job! And of course George Gill and Val for an amazing experience when they were on-site to give us a quote! Our positive experience with the company started a few months ago with 1-800-GOT-JUNK! I realized that WOW was part of the same umbrella, and because of the amazing service that we had from the crew of guys that came out to empty the contents of the same space that WOW painted, I was sure that hiring WOW would not be a mistake!
- Kim Jones, Toronto, Ontario
They picked the right name for their business! They showed up when they said that they would, finished ahead of schedule and did a great professional job at a very competitive price. I would definitely use them again!
- Coni V., Fort Collins, Colorado
Just a fantastic job, always did painting herself and very please with results, the team went ou their way to assist a disabled person and will give an A+ to all she reccommends to WOW
- Jean Gairns, Ottawa, Ontario
Met with Lee for the estimate, which went well and he was a very nice guy. Once the day came to have the work done Robby and Ezekiel did the actual painting and it came out perfect! I would recommend and use Wow for any future needs, this company is amazing to work with and very courteous.
- Ryan Sabouneh, Scottsdale, Arizona
Wow 1 Day Painting finished our job today and it is amazing! We went from dark and closed-feeling house to bright and open. The crew were all such nice guys and they work FAST. Alexis was totally communicative about the whole process and the painters always let us know how far they had gotten and how much more time it would take. We will use them in the future for our exterior too. :)
- Beth Mclaughlin, Reno, Nevada
WOW, One Day Painting. I just moved to the Reno area, was desperate for a house painting Company to paint the inside and garage of a re-sale home we purchased, I called WOW. What an amazing job they did, they were very professional from the get go, did every thing I asked...on time, and made my 'vision' of the dream home I showed them come true. Alex Pahang the co-ordinator is the most polite and organized manager ever, and I felt I could trust him and his paint crew with every detail, they did not let me down. I highly recommend these people.
- Lisa L., Sparks, Nevada
These guys are amazing!!!! I just moved to the area they accommodated me GREATLY to start the day escrow closed!! So friendly, fast, honest, reliable, and VERY meticulous! I could not be happier with the job they have done for me! I most defiantly will be calling them for all my painting needs!! Thank you WOW painting for doing such a great job!!
- Dena S., Reno, Nevada
very good, very friendly painters WOW from all neighhbors that came into see the job
- Sheila Pattison, Toronto, Ontario
I am so happy with WOW 1 DAY PAINTING service that I've already recommended their services to a colleague. From the initial contact with Tyrone and the mid day update/photos to the follow-up at the end of the day to ensure I was happy made for a fantastic experience with WOW 1 DAY PAINTING. They were on time; professional and did a great job. I would not hesitate to call WOW 1 DAY PAINTING again.
- Brenda Slater, Kitchener/Waterloo, Ontario
Great service easy to book, in and out very quickly very easy process starting with the call center, friendly and wonderful staff will really just recommend to all.
- Alison Heden, Toronto, Ontario
WOW 1 Day Painting was very accommodating in terms of a date and time for the work to be completed and by allowing me to send pictures of the walls to be painted while construction of my home was ongoing. This allowed me to have a general idea of how much my paint job would cost. Once construction was complete, an estimator (his name was Steve... super friendly and knowledgeable guy!) came out to give a final estimate before the work was completed. The work itself was impeccable. The painter's attention to detail was SPOT ON and my feature walls turned out amazingly well. No streak marks and no imperfections. The work was completed in under 6 hours. I couldn't be more pleased with the results!
John and his team went above and beyond their call of duty. They not only manage to finish the job in few hours, but they also fixed our impossible -to-fix wall. They kept coming back to make sure everything was perfect. All the bumps and imperfections in the walls were gone.
- Taz Kamal, Hamilton, Ontario
Customer service was great, quick to respond and deal with. The team onsite was friendly throughout and did a great job painting the house. Job was done quickly and efficiently and they made sure we were happy with the results.
- Dan Young, Toronto, Ontario
Wow indeed! Alexis and his crew just finished our house. it looks amazing, and was just the change we were looking for! In under two days, we went from dark and closed-feeling to open and bright. What's more is the crew was a total delight to have here; they are excellent painters and totally nice guys. I can't believe how fast and how well they worked. When the rain stops, we'll be looking forward to having Wow 1 Day Painting come and paint the exterior. It feels like a brand-new house. :)
- B.M., Sparks, Nevada
Absolutely beautiful job, fantastic communication throughout the job. I am 100% wow-ed and even recommended your company already just this morning to a realtor who was very eager to know who did such a great job.
Fantastic team work, punctual, courteous... could ask for better service! Thanks again Mike, Boris and Yves for going the extra mile for us..... Tyrone thanks for everything..... we will see you when we do the basement! :)
- Tara Flery, Kitchener/Waterloo, Ontario
Terrific! Estimate appointment was very thorough, wasn't sure if I wanted to do bathrooms but given price was lower than expected requested additional work. Estimate workup very thorough, advised based on what type of paint I was purchasing how much I should have on-hand. Wasn't certain if job would take 1 or 1.5 days but explained would bring 6-man crew to try to finish all in one day. Crew arrived just before expected, everyone introduced themselves and they set to work. Every time there was a question (like where to put something or what to do with any nails I had in the wall for removed artwork), they always checked with me for direction instead of making any assumptions. I checked prior to lunch whether they had sufficient paint in case I had to run out for more, advised there was enough, even needing to do 4 coats in one area to ensure great coverage (red paint on builder-grade white wall). As job was nearing completion, was requested to review all areas - found two areas that needed minor touch-up, which was addressed immediately. Received a thank-you card signed by team & a cookie. I was very pleased with how everything turned out & would recommend them highly - in fact I plan to use them again when I'm ready to take on my kitchen!
- Ashley Steyer, Elgin, Illinois
We began to paint our entire house and third day in we realized we were over our heads, I called WOW, that afternoon Steve came by to give us an estimate, this was Wednesday. They came on Sat and finished the job. It lifted a huge weight off our shoulders. They did an excellent job and I would not hesitate to recommend them to anyone. I will be using them again in the future.
Hi, I was blown away by what a great job Peter's crew ( Peter, Chris, Andre, Brent, Nat, Richie and Collin ) did in my house. The clean up was also unbelievable. The flowers and card were such a nice touch! I will sing your praises to everyone I know. Thank you so much for all you did.
- Margit Coxe, Toronto, Ontario
If I could give 10 stars, I would!!! Craig, Kyle and the whole team were absolutely the best in all aspects of the painting of my condo, including the extremely messy, labor intensive job of removing popcorn ceilings throughout the entire unit. I am very happy I chose them to do the work and highly recommend them. Thanks to each of you who worked so hard on this project. Well done!!!
- Charlotte, McLean, VA, Virginia
The team at Wow were incredibly easy to work with. Their estimate was more than fair and were very professional. They were clean and respectful of my home and our family. We felt very comfortable with the guys working at our house and were very nice people. The results were great and you could tell they really cared about the finished product. The details and their lines were clean and had zero complaints. I would recommend using Wow to anyone that needs their house painted! Good work guys!
- William Cain, Scottsdale, Arizona
The service went very well. I had them paint the hallway, doors, trim and ceiling. Two painters were out and completed the job in about 6 hours. The painters were personable and did everything they promised. We plan on using them again in the future. They did excellent work and a high quality job. They did an immaculate job with the clean up. I had no problem scheduling the deal.
- Kevin H, New Rochelle, New York
You guys were punctual and ready to go. You went above and beyond especially for just a small area that had to be painted compared to what I'm sure you guys usually do.
- Robert Gill, Riverside, California
Wow 1 Day paining was very thorough, professional and efficient.
- Mary Montgomery, San Diego, California
Would rate 11 if possible just immaculate and professional service, great communication, no hassel over a very fair price, better than clean as a whistle. of course will reccommend to others. keep your painter he was just Great! Wants to know when the stock will go public want in on such a great company.
- Robert Burns, Toronto, Ontario
Your work is impeccable. The crew finished the job in one working day and left my home in immaculate condition.
- Wendy Kotler, Washington, D.C., District of Columbia
Great job and very professional. Involved exterior painting of only one side of house (sunbleached). Very quick job, and reasonably priced.
- Alan S., Boulder City, Nevada
Efficient communication and service. Polite and professional. Cleanliness and skill are A+.
- Laura Pillarella, Worcester, Massachusetts
The painting crew was AMAZING! They were on time, super quick, and did such an excellent job on my walls! Thank you Ruth and Carlos!
- Kate Dalton, Vancouver, British Columbia
Wonderful professional clean and neat crew. The painting is done quickly and precisely. WOW is my first choice for all painting needs. Nancy
- Nancy Craig, Detroit, Michigan
<! -- // row inner -->