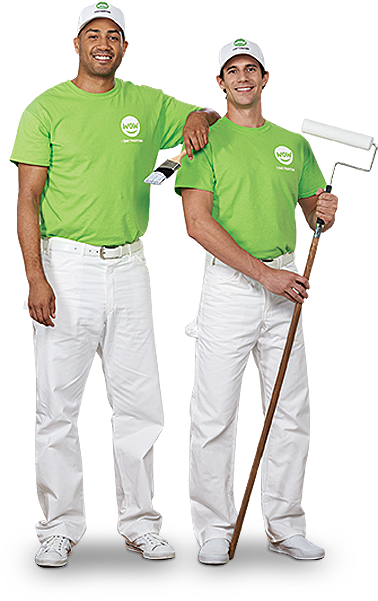 We love what we do! But don't take our word for it, see what our customers have to say!
Very professional, and Jay bent over backwards to help me out and get the work done in short notice. The walls look great and I was able to get my unit rented that weekend because Jay was able to change around his schedule and get the unit painted with a days notice. Well Done! and thank you!
- Adam Bransfield, Westchester, New York
Mike Sanders and his crew operated with the highest level of professionalism throughout my one day job. They checked in with me throughout the day to ensure I was happy with their work and to answer any questions I might have.
- Lisa Bohne, Minneapolis, Minnesota
Quick, did a great job on the coats of paint, efficient, even came back to help after the project was finished!
- Michael Treece , Dallas, Texas
The painting crew was AMAZING! They were on time, super quick, and did such an excellent job on my walls! Thank you Ruth and Carlos!
- Kate Dalton, Vancouver, British Columbia
We got back from Montreal and we are very pleased with the color and pleased with the work your team did, WOW'd even!
- Kurt S, St. Catherine's, Ontario
Leesha offers superior customer service, the price is fair and good quality. Receiving exceptional value is what will keep me coming back and keep recommending her.
- Renee Lavallee, Ottawa, Ontario
Great service at a great price
- Alan Cosgrave, Vancouver, British Columbia
Great customer service, very accommodating, and affordable. The General manager Sion and his team are amazing, so happy I didn't settle for another company.
- Ashley Edwards, Miami, Florida
Friendly, courteous staff who did a professional job for a reasonable cost and completed the job in the time promised.
- Kaveeta Ajwani, Ottawa, Ontario
Perfect! Polite, professional, friendly, top quality work.
- Jack S, Niagara, Ontario
The team painted my entire 1800 sq ft home. Project required 2 coats and sometimes 3. Dated dark colors were replaced with tropical bright happy colors. Each crew member was the utmost professional and courteous. Each one insisting that I was constantly please with the outcome. I am not certain which is more awesome, the new paint and look or how awesome Steve and his crew was. I certainly recommend Steve Lewis and WOW 1-Day Painting.
- Rick Richter, Sarasota, Florida
Could not have had a better experience. The quote was done the next day after calling. The pricing was great. The work was scheduled quickly and completed on-time and in one day as promised. The work was of high quality and looks good. I would highly recommend WOW 1-Day Paining.
- Mike M, Rosemount, Minnesota
The room looks great as usual-quality paint, clean trim and no roller marks on the wall. The painter was presentable, very cordial, told us what he was doing when we asked, and cleaned up when he was done. Bonus is they always arrive on time!
- Tracy Bank, Washington, D.C., District of Columbia
Did what you promised, on time.
- Michael Suman, Miami, Florida
The guys were wonderful, great customer service...easy to work with and very patient. Everything was done in a day and it looks amazing. So happy with everything!
- Allison Russell, Washington, D.C., District of Columbia
great experience well organized and excellent communication
- Giselle Damiano, Toronto, Ontario
When I hired 'Wow 1 day painting' I was a little skeptical. Those thoughts were quickly put to rest when the crew showed up on time, prepared and ready to work. The project wasn't a large one (3 rooms, all of my baseboards and doors) but needless to say I was impressed, they easily finished in one day. Not only that, they did a fantastic job. It has me already thinking about my next project. Id recommend their service to anyone wanting the job done the right way and fast.
- Jonathan Gilmore, Scottsdale, Arizona
They came, and they stayed on the job until it was done. Theses saved us, we have had such bad experience with a few contractors, who stole deposits from us, who showed up high on drugs, these guys brought a true foreman with 35 years experience, and we were so grateful, that they picked up the job in such great way. I give them my highest recommendation. They are so dependable, you can give them our highest possible rating. We were feeling desperate after the last painting company that had contact with us. We gave them a deposit of $1600 and then we never heard from them again. WOW didn't take any money from us, until the job was done to our satisfaction, and we can use them without reservation. They saved us, I don't know where we would be at if it had not been for Joe and Marc Novak coming along to work with us to get this job done. I am so grateful to these guys, because our house looks so beautiful now, we have eight different colors on, it looks gorgeous. If you want to do a promotion for Angie's list, send them out here, we'll tell you our story, and all of it is true. I've never met these guys, but they were true to their words, and they came by and finished the job.
- Cathy Wilson, Elgin, Illinois
Sion and his team definitely WOWed me!!!.
- Jessica Rimeris, Miami, Florida
ever had better experience working with contractor Jason follow through gave more than expected wished I had more house to paint
- Mike Orrell, Detroit, Michigan
Amazing customer service, as I organized painting of a property from Ontario, Work to be done in British Columbia. It went flawless, Lee was great to deal with personality to performance all BRILLIANT
- Sharon Scott , Vancouver, British Columbia
Your work is impeccable. The crew finished the job in one working day and left my home in immaculate condition.
- Wendy Kotler, Washington, D.C., District of Columbia
Lovley people Tracie explained what she was do every step of the way. amazing group of people, beyond his expectations, so very very pleased, you can't tell they were help except the walls are a different color
- Bruce Haynes, York, Ontario
ever had better experience working with contractor Jason follow through gave more than expected wished I had more house to paint
- Mike Orrell, Detroit, Michigan
Excellent experience from start to finish! The crew went above and beyond to make sure everything was done right. I'm very happy with the results.
- Rick Shermer, Miami, Florida
WOW 1 Day Painting was very accommodating in terms of a date and time for the work to be completed and by allowing me to send pictures of the walls to be painted while construction of my home was ongoing. This allowed me to have a general idea of how much my paint job would cost. Once construction was complete, an estimator (his name was Steve... super friendly and knowledgeable guy!) came out to give a final estimate before the work was completed. The work itself was impeccable. The painter's attention to detail was SPOT ON and my feature walls turned out amazingly well. No streak marks and no imperfections. The work was completed in under 6 hours. I couldn't be more pleased with the results!
Before choosing Wow, I was researching Yelp and couldn't get Painters to fit my timelines. My colleague referred me Wow and I called them. Estimation appointment took sometime but actual Paint Job was scheduled and done very quickly. They are very professionals and done an awesome job. Very punctual and accommodated our requests. Used quality Paint and changed home's interior and brought a new look. I would definitely recommend.Thanks
- Nages Meesala, San Jose, California
I didn't believe their slogan of "1 DAY and Done…..Guaranteed", but they proved me wrong, and with neat, professional results. This is truly the best way to paint a house. Their performance proves there isn't a need to waste a homeowners time dragging a project on for days or weeks. Well done, WOW 1 DAY PAINTING!
- Jill Hill, Calgary, Alberta
Good communication from estimator. Pleasant workers. Excellent job.
- Steve Blackwell, Calgary, Alberta
These guys are amazing!!!! I just moved to the area they accommodated me GREATLY to start the day escrow closed!! So friendly, fast, honest, reliable, and VERY meticulous! I could not be happier with the job they have done for me! I most defiantly will be calling them for all my painting needs!! Thank you WOW painting for doing such a great job!!
- Dena S., Reno, Nevada
<! -- // row inner -->