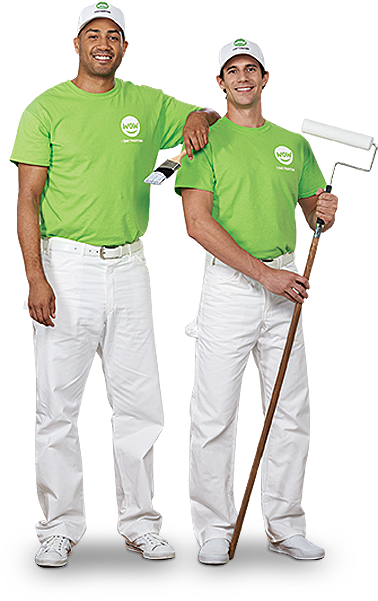 We love what we do! But don't take our word for it, see what our customers have to say!
When I hired 'Wow 1 day painting' I was a little skeptical. Those thoughts were quickly put to rest when the crew showed up on time, prepared and ready to work. The project wasn't a large one (3 rooms, all of my baseboards and doors) but needless to say I was impressed, they easily finished in one day. Not only that, they did a fantastic job. It has me already thinking about my next project. Id recommend their service to anyone wanting the job done the right way and fast.
- Jonathan Gilmore, Scottsdale, Arizona
very pleased will call again salesman Matt charming/ understood what I wanted/ / go to the job done/done after husband went to work and done before he got home. issue with plants dallus stork were brused/ steam broken used a drop cloth. score 9 that is how you keep a marriage happpy"
- Charmine Neary, Westchester, New York
everything is perfect left 5 Star review on yelp price comepetive, timely and professional
- Channa Jayasekera, San Jose, California
WOW Painting did a FANTASTIC Paint job on my commercial showroom. Very detailed, and done in 1 day. WOW. Would recommend them to anyone looking for a fair pricing paint job and concern for detail.
- Deb T, Anoka, Minnesota
Your work is impeccable. The crew finished the job in one working day and left my home in immaculate condition.
- Wendy Kotler, Washington, D.C., District of Columbia
Customer service was great, quick to respond and deal with. The team onsite was friendly throughout and did a great job painting the house. Job was done quickly and efficiently and they made sure we were happy with the results.
- Dan Young, Toronto, Ontario
Perfection, from initial contact with Justin, to job completion by KC. This service was purchased with an Angieslist special deal, and it was a GREAT deal. I will certainly call them for any additional work we need, and would highly recommend their services. Very professional and conscientious of homeowners comfort. KC went over and above what we requested. He left his work area spotless, and the job he did was perfect.
- Linda, Monroe, Michigan
They were able to start painting the entire exterior of my house the very next day after they gave me a quote when I absolutely needed it to be done on that time frame. They were very reliable, trustworthy, professional & nice. They went over every detail.
- Gloria Gregg, Miami, Florida
Timeliness and delivery. You get what you pay for.
- Jennifer Stanley, Dallas, Texas
They came out and gave me the estimate on the spot. The estimated was lower than other, and they were able to come paint the next week. They did the job and it was well done. They cleaned everything up, and even helped me with some of my own "oop" mistakes on my ceiling. I will definitely call them again.
- Debra Bickford, Knoxville, Tennessee
Mike Sanders and his crew operated with the highest level of professionalism throughout my one day job. They checked in with me throughout the day to ensure I was happy with their work and to answer any questions I might have.
- Lisa Bohne, Minneapolis, Minnesota
The staff was courteous very knowledgeable and ready to work as a team. Everyone knew what task they had and worked very hard to accomplish this. I am very pleased and would certainly recommend your company.
- Sheila P, St. Catherine's, Ontario
Timely quote, accommodated quick schedule, clean and great job. It was 10s all the way around.
- Brandon Yanskey, Dallas, Texas
2367Great service and work! Thanks!
- Daniel Williams, Mississauga/Oakville, Ontario
It went wonderfully. I appreciate the speed with which the whole process took place, from first contact to job completion. All representatives from the Wow were wonderful to work with from the estimate to the paint job to billing. A perfect experience for someone new to town with no recommendations. I, however, can recommend them highly.
- Stephanie Anthony, Geneva, Illinois
Excellent experience from start to finish! The crew went above and beyond to make sure everything was done right. I'm very happy with the results.
- Rick Shermer, Miami, Florida
Awesome crew, they even took the time to care for my dog. I'd recommend them to anyone looking for awesome painters.
- Jorge R, Crystal Breach, Ontario
Thank you for your friendly support and understanding, the house sold in just 6 days and the new people loved the freshness. Job well done!
- Sharon McCoy, St. Catherine's, Ontario
Amazing customer service, as I organized painting of a property from Ontario, Work to be done in British Columbia. It went flawless, Lee was great to deal with personality to performance all BRILLIANT
- Sharon Scott , Vancouver, British Columbia
Great service, great price, no complaints. I'd recommend the WOW 1 Day team to anyone.
- Chris Kurtzman, Scottsdale, Arizona
Quality work. Friendly staff and done in a timely manner
- Stephanie L , Vineland, Ontario
The room looks great as usual-quality paint, clean trim and no roller marks on the wall. The painter was presentable, very cordial, told us what he was doing when we asked, and cleaned up when he was done. Bonus is they always arrive on time!
- Tracy Bank, Washington, D.C., District of Columbia
Excellent service!
- Nathaly Nessim, Miami, Florida
The crew was lovely and fast
- Sara Duke, Toronto, Ontario
Mike communicated with me professionally to figure out a schedule that met my needs but also was practical for them as well - I understand I am not their only Customer. I'm a Contractor myself with a very busy schedule and having my phone calls or texts returned in a timely manner was much appreciated and allowed me to view and adjust my schedule accordingly.
- Bill Malone, Baltimore, Maryland
Leesha offers superior customer service, the price is fair and good quality. Receiving exceptional value is what will keep me coming back and keep recommending her.
- Renee Lavallee, Ottawa, Ontario
Bottom line is I would hire them again. Incredible customer service, quick to answer questions and ensure satisfaction. That will always win my loyalty. The work was a little rushed toward the end and there are several small areas that were not attended to (drips left on the wall, paint peeled from tape removal and missed nail holes) but overall I am thrilled with the colors and having as much work completed in one day was our main goal and by far achieved
- Samatha Gamble, Minneapolis, Minnesota
extremely clean and organized, the team that was here today was absolutely amazing. They were all extremely professional, polite and yet sounded like they were enjoying themselves talking to each other throughout the day. This is my second time using WOW 1 day Painting and it won't be the last. I have told everyone about how great you are. I was also re-assured that if I found any spots that may have been missed, they would be back to fix it. Nothing but super impressed with today's team. Thank you so much
- Dianne Froggatt, Hamilton, Ontario
Alex&Edgar were so polite, professional and clean! As they took a lunch break Alex asked me if I needed anything from the store which I thought was terribly sweet! Thank you so much for having such great guys, you should be very proud of them!
- Susan Hoehi, Westchester, New York
Met with Lee for the estimate, which went well and he was a very nice guy. Once the day came to have the work done Robby and Ezekiel did the actual painting and it came out perfect! I would recommend and use Wow for any future needs, this company is amazing to work with and very courteous.
- Ryan Sabouneh, Scottsdale, Arizona
<! -- // row inner -->