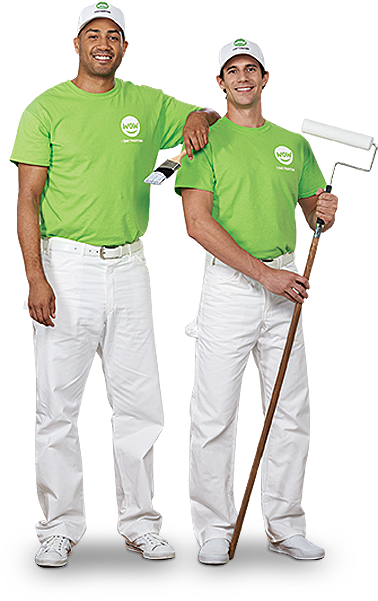 We love what we do! But don't take our word for it, see what our customers have to say!
Fantastic team work, punctual, courteous... could ask for better service! Thanks again Mike, Boris and Yves for going the extra mile for us..... Tyrone thanks for everything..... we will see you when we do the basement! :)
- Tara Flery, Kitchener/Waterloo, Ontario
ever had better experience working with contractor Jason follow through gave more than expected wished I had more house to paint
- Mike Orrell, Detroit, Michigan
Just a fantastic job, always did painting herself and very please with results, the team went ou their way to assist a disabled person and will give an A+ to all she reccommends to WOW
- Jean Gairns, Ottawa, Ontario
WOW!! Many thanks to Kyle and Marvin's team. Wish we would have found them much earlier in the game. After several bad experiences and wasting a lot of money we were finally Wowwed!
- Ewelina, Forest Hills, NY, Washington
They were very professional, lovely to deal with and did a great job of painting our new condo! We would highly recommend!
- Lynne McNamara, Vancouver, British Columbia
WOW 1 Day Painting came out to paint my master bedroom. They were AMAZING! The painters were all uniformed, listened to my concerns, and answered all my questions. The end result was absolutely stunning!! Not to mention that the price couldn't be beat. I will definitely use this company again.
- Kaitlyn Ovard, Reno, Nevada
Efficient communication and service. Polite and professional. Cleanliness and skill are A+.
- Laura Pillarella, Worcester, Massachusetts
Could not have had a better experience. The quote was done the next day after calling. The pricing was great. The work was scheduled quickly and completed on-time and in one day as promised. The work was of high quality and looks good. I would highly recommend WOW 1-Day Paining.
- Mike M, Rosemount, Minnesota
Great painters, faux finish was done perfect. Great people to work with.
- Helen W. , Hinckley, Ohio
Would rate 11 if possible just immaculate and professional service, great communication, no hassel over a very fair price, better than clean as a whistle. of course will reccommend to others. keep your painter he was just Great! Wants to know when the stock will go public want in on such a great company.
- Robert Burns, Toronto, Ontario
very good, very friendly painters WOW from all neighhbors that came into see the job
- Sheila Pattison, Toronto, Ontario
WOW 1 DAY PAINTING came out to paint my master bedroom. They were AMAZING! The painters were all uniformed, listened to my concerns, and answered all my questions. The end result was absolutely stunning!! Not to mention that the price couldn't be beat. I will definitely use this company again.
- Kaitlyn O., Reno, Nevada
John and his team went above and beyond their call of duty. They not only manage to finish the job in few hours, but they also fixed our impossible -to-fix wall. They kept coming back to make sure everything was perfect. All the bumps and imperfections in the walls were gone.
- Taz Kamal, Hamilton, Ontario
If I could give 10 stars, I would!!! Craig, Kyle and the whole team were absolutely the best in all aspects of the painting of my condo, including the extremely messy, labor intensive job of removing popcorn ceilings throughout the entire unit. I am very happy I chose them to do the work and highly recommend them. Thanks to each of you who worked so hard on this project. Well done!!!
- Charlotte, McLean, VA, Virginia
Friendly, available and professional service!! I strongly recommend.
- Christiane Raspa, Toronto, Ontario
Quality workmanship , Do What they say they are going to do.
- James Fewagle, Knoxville, Tennessee
WOW Painting did a FANTASTIC Paint job on my commercial showroom. Very detailed, and done in 1 day. WOW. Would recommend them to anyone looking for a fair pricing paint job and concern for detail.
- Deb T, Anoka, Minnesota
Bottom line is I would hire them again. Incredible customer service, quick to answer questions and ensure satisfaction. That will always win my loyalty. The work was a little rushed toward the end and there are several small areas that were not attended to (drips left on the wall, paint peeled from tape removal and missed nail holes) but overall I am thrilled with the colors and having as much work completed in one day was our main goal and by far achieved
- Samatha Gamble, Minneapolis, Minnesota
Mike Sanders and his crew operated with the highest level of professionalism throughout my one day job. They checked in with me throughout the day to ensure I was happy with their work and to answer any questions I might have.
- Lisa Bohne, Minneapolis, Minnesota
Alex&Edgar were so polite, professional and clean! As they took a lunch break Alex asked me if I needed anything from the store which I thought was terribly sweet! Thank you so much for having such great guys, you should be very proud of them!
- Susan Hoehi, Westchester, New York
ever had better experience working with contractor Jason follow through gave more than expected wished I had more house to paint
- Mike Orrell, Detroit, Michigan
Reliability and honesty is huge! Customer service was great. Easy process--once I decided what I wanted! ;-)
- Kristen Pumphrey, Washington D.C., District of Columbia
We recently had the pleasure of working with Ramsey Frangul and his team in the Cedar Rapids, Iowa market. What a great experience! From submitting an inquiry to job completion, they were wonderful to work with. Ramsey was always updating me on the status of the project beginning with the initial walk around for quoting. His quote came back extremely fair and they were able to schedule my project quickly. His team was professional and courteous. I talked with Ramsey daily throughout the project. I appreciate the opportunity to do a final walk through. There were very few touch ups needed and they were quick to get them done. Oh…and it looks fantastic!!! I would not hesitate to recommend Ramsey and his team to family, friends and neighbors. I am so happy that they are a qualified option in this market!
- Kristy & Dan Ryan, Cedar Rapids, Iowa
The team was great. Showed up when they said they would. Preparation was very thought out. Performed a couple task that weren't in the bid and didnt charge or complain about it. The job was completed above my expection. And at a price that was that was very far.
- Randy Randy, San Jose, California
Before choosing Wow, I was researching Yelp and couldn't get Painters to fit my timelines. My colleague referred me Wow and I called them. Estimation appointment took sometime but actual Paint Job was scheduled and done very quickly. They are very professionals and done an awesome job. Very punctual and accommodated our requests. Used quality Paint and changed home's interior and brought a new look. I would definitely recommend.Thanks
- Nages Meesala, San Jose, California
The crew at WOW 1 Day Painting were quick, efficient, polite and did a spectacular job painting and cleaning the area afterward.
- Nancy McCune, Worcester, Massachusetts
Leesha offers superior customer service, the price is fair and good quality. Receiving exceptional value is what will keep me coming back and keep recommending her.
- Renee Lavallee, Ottawa, Ontario
They came, and they stayed on the job until it was done. Theses saved us, we have had such bad experience with a few contractors, who stole deposits from us, who showed up high on drugs, these guys brought a true foreman with 35 years experience, and we were so grateful, that they picked up the job in such great way. I give them my highest recommendation. They are so dependable, you can give them our highest possible rating. We were feeling desperate after the last painting company that had contact with us. We gave them a deposit of $1600 and then we never heard from them again. WOW didn't take any money from us, until the job was done to our satisfaction, and we can use them without reservation. They saved us, I don't know where we would be at if it had not been for Joe and Marc Novak coming along to work with us to get this job done. I am so grateful to these guys, because our house looks so beautiful now, we have eight different colors on, it looks gorgeous. If you want to do a promotion for Angie's list, send them out here, we'll tell you our story, and all of it is true. I've never met these guys, but they were true to their words, and they came by and finished the job.
- Cathy Wilson, Elgin, Illinois
The WOW crew was honest and upfront about everything. I got several quotes and they followed up very quickly and clearly answered all of my questions and concerns. They explained the quote and cost in detail and even came back out for free. I have already referred WOW to friends and family who are thinking about giving their home or office a new look.
- Michael Dinn, Scottsdale, Arizona
Met with Lee for the estimate, which went well and he was a very nice guy. Once the day came to have the work done Robby and Ezekiel did the actual painting and it came out perfect! I would recommend and use Wow for any future needs, this company is amazing to work with and very courteous.
- Ryan Sabouneh, Scottsdale, Arizona
<! -- // row inner -->