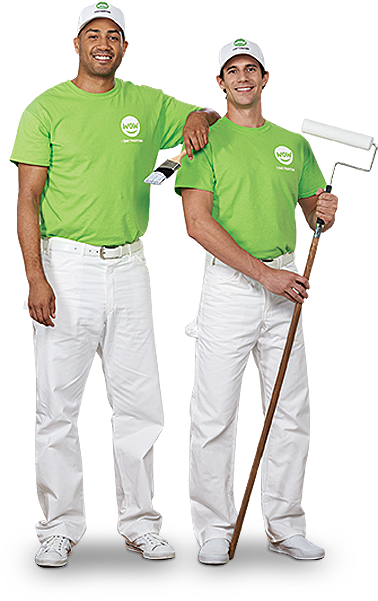 We love what we do! But don't take our word for it, see what our customers have to say!
John and his team went above and beyond their call of duty. They not only manage to finish the job in few hours, but they also fixed our impossible -to-fix wall. They kept coming back to make sure everything was perfect. All the bumps and imperfections in the walls were gone.
- Crystal Mccovely, Las Vegas, Nevada
The WOW crew was honest and upfront about everything. I got several quotes and they followed up very quickly and clearly answered all of my questions and concerns. They explained the quote and cost in detail and even came back out for free. I have already referred WOW to friends and family who are thinking about giving their home or office a new look.
- Michael Dinn, Scottsdale, Arizona
I needed my entire house painted before we left on vacation. I was pretty stressed out and started looking for painters. Dave came by, gave a quote and promised to have the job done before I left on vacation. They finished the job in 1 DAY and I was so happy with the work. I felt completely comfortable with the price and the service was fantastic. I would highly recommend these guys to any of my friends and family. Thanks so much!!
- Sarah, Seattle, Washington
Great customer service, very accommodating, and affordable. The General manager Sion and his team are amazing, so happy I didn't settle for another company.
- Ashley Edwards, Miami, Florida
Would rate 11 if possible just immaculate and professional service, great communication, no hassel over a very fair price, better than clean as a whistle. of course will reccommend to others. keep your painter he was just Great! Wants to know when the stock will go public want in on such a great company.
- Robert Burns, Toronto, Ontario
After having to wait to pay for a day I sort of lost my cool. It really wasn't anyone's fault..and honestly waiting ANY other time would not have been a big deal..but ...my temper just boiled over. Bad Day. You guys STILL gave me a 5% discount for the inconvenience...even though I REALLY didn't deserve. Thanks :D I look forward to using you in the future when things aren't so hectic.
- Jennifer Katzmaier, Worcester, Massachusetts
They arrived on time, did an awesome job, were professional and friendly. I would use them again in a heartbeat.
- Karyn Williams, York Region, Ontario
Amazing service by Robby and Ezekiel, very professional.
- Ryan S, Scottsdale, Arizona
WOW 1 Day Painting was very accommodating in terms of a date and time for the work to be completed and by allowing me to send pictures of the walls to be painted while construction of my home was ongoing. This allowed me to have a general idea of how much my paint job would cost. Once construction was complete, an estimator (his name was Steve... super friendly and knowledgeable guy!) came out to give a final estimate before the work was completed. The work itself was impeccable. The painter's attention to detail was SPOT ON and my feature walls turned out amazingly well. No streak marks and no imperfections. The work was completed in under 6 hours. I couldn't be more pleased with the results!
Leesha offers superior customer service, the price is fair and good quality. Receiving exceptional value is what will keep me coming back and keep recommending her.
- Renee Lavallee, Ottawa, Ontario
You guys were punctual and ready to go. You went above and beyond especially for just a small area that had to be painted compared to what I'm sure you guys usually do.
- Robert Gill, Riverside, California
The service went very well. I had them paint the hallway, doors, trim and ceiling. Two painters were out and completed the job in about 6 hours. The painters were personable and did everything they promised. We plan on using them again in the future. They did excellent work and a high quality job. They did an immaculate job with the clean up. I had no problem scheduling the deal.
- Kevin H, New Rochelle, New York
We recently had the pleasure of working with Ramsey Frangul and his team in the Cedar Rapids, Iowa market. What a great experience! From submitting an inquiry to job completion, they were wonderful to work with. Ramsey was always updating me on the status of the project beginning with the initial walk around for quoting. His quote came back extremely fair and they were able to schedule my project quickly. His team was professional and courteous. I talked with Ramsey daily throughout the project. I appreciate the opportunity to do a final walk through. There were very few touch ups needed and they were quick to get them done. Oh…and it looks fantastic!!! I would not hesitate to recommend Ramsey and his team to family, friends and neighbors. I am so happy that they are a qualified option in this market!
- Kristy & Dan Ryan, Cedar Rapids, Iowa
It's tough to beat the speed in which it was completed though
- Megan Bentley, York Region, Ontario
Did everything right. Showed up on time. Cleaned the area after the work left it spotless. Covered all furniture with no issues. Great work guys will use u again.
- Paul Rene, Miami, Florida
WOW, One Day Painting. I just moved to the Reno area, was desperate for a house painting Company to paint the inside and garage of a re-sale home we purchased, I called WOW. What an amazing job they did, they were very professional from the get go, did every thing I asked...on time, and made my 'vision' of the dream home I showed them come true. Alex Pahang the co-ordinator is the most polite and organized manager ever, and I felt I could trust him and his paint crew with every detail, they did not let me down. I highly recommend these people.
- Lisa L., Sparks, Nevada
All I can say is WOW! The job was great, very thorough and efficient. Would highly recommend!
- Columbus Customer, Columbus, Ohio
Everything... costumer service, quality... overall the experience was amazing
- Steffi Gabay, Miami, Florida
2367Great service and work! Thanks!
- Daniel Williams, Mississauga/Oakville, Ontario
They were punctual, precise with painting and left our place in order after painting. Moreover they delivered on the 1 day painting promise which was one of our priorities. I would definitely recommend it to friends and family.
- Roberta Cernautan, Vancouver, British Columbia
They were beyond punctual and professional showing up early each morning (we had wallpaper that needed a day to be stripped and walls prepped prior to painting) and explaining each step in the process for me. The crew worked extremely hard and left after 7pm on the final day after a full day of priming and painting. They left my kitchen looking beautiful thanks to the new paint job and the floors were cleaner than when they arrived! They also brought me a bouquet of flowers, which was a very nice touch. : ) It's been a week since they finished and my husband and I love the look of our updated kitchen and are definitely going to contact WOW 1 day painting again for our cabinets and other rooms in our home!
- Jennifer Rinn, Bergen County, New Jersey
Quick, clean, professional service. Made the process so easy!
- Melissa Supraski, Miami, Florida
Just a fantastic job, always did painting herself and very please with results, the team went ou their way to assist a disabled person and will give an A+ to all she reccommends to WOW
- Jean Gairns, Ottawa, Ontario
The staff is fast, on time, professional, detail oriented, and willing to make sure all their work comes out great. They go above and beyond. I would DEFINITELY recommend WOW 1 DAY PAINTING. I will be calling them again in the near future for more work to be done in my house.
- Sonja Rodriguez, Worcester, Massachusetts
Peter and his team arrived on time, and conducted themselves professionally during the timeframe of our project. Peter and his team fixed a number of deficiencies (i.e. things that were supposed to be primed or areas that were not necessarily paint ready to create a ""perfect finish"") without hesitation and did an amazing job painting our renovation. I would definitely recommend WOW 1 DAY PAINTING to friends and colleagues. Actually, I have been recommending WOW since the beginning of our project to many people. If I had another project in the Toronto area, I would specifically request Peter and his team. I want to thank Peter, Dino, Joe, Sean, Lazlo, Luiz, Rob, Dan and Josh for an exceptional job! And of course George Gill and Val for an amazing experience when they were on-site to give us a quote! Our positive experience with the company started a few months ago with 1-800-GOT-JUNK! I realized that WOW was part of the same umbrella, and because of the amazing service that we had from the crew of guys that came out to empty the contents of the same space that WOW painted, I was sure that hiring WOW would not be a mistake!
- Kim Jones, Toronto, Ontario
Mike communicated with me professionally to figure out a schedule that met my needs but also was practical for them as well - I understand I am not their only Customer. I'm a Contractor myself with a very busy schedule and having my phone calls or texts returned in a timely manner was much appreciated and allowed me to view and adjust my schedule accordingly.
- Bill Malone, Baltimore, Maryland
Absolutely the best quality work and the most professional EVER. I would give WOW 10 stars if I could! I was recommended to Ty by a friend of mine. I went to visit one day and noticed that his house had an awesome new paint job. I looked at the lines on the archways and ceiling. I was astonished to see that all the lines were perfect! I had been looking for someone who could do work quality like this for quite some time. I called Ty on a Saturday and received a return call within hours. We scheduled a time on Monday to give me a bid. He actually arrived 15 minutes early which is very unusual. I had told him that I wanted to have some rooms painted as a surprise for my husband who was out of town on business. The bid was very reasonable. I was so impressed by Ty's professionalism that I asked him to begin immediately. He accommodated my needs time wise. The work was absolutely perfect in every way. They even cleaned up everything when they were done. Moved all my furniture and put everything back. Ty is also a great artist. After seeing some of his artwork I decided to commission him to paint a mural on my entryway which has 26 foot ceilings. I'm excited to see what he comes up with.! Anyway...you will get all that you are expecting, and more.
- Gayle Lee, Scottsdale, Arizona
Absolutely beautiful job, fantastic communication throughout the job. I am 100% wow-ed and even recommended your company already just this morning to a realtor who was very eager to know who did such a great job.
- Chrysta Rae, Edmonton, Alberta
Wonderful professional clean and neat crew. The painting is done quickly and precisely. WOW is my first choice for all painting needs. Nancy
- Nancy Craig, Detroit, Michigan
Excellent experience from start to finish! The crew went above and beyond to make sure everything was done right. I'm very happy with the results.
- Rick Shermer, Miami, Florida
<! -- // row inner -->