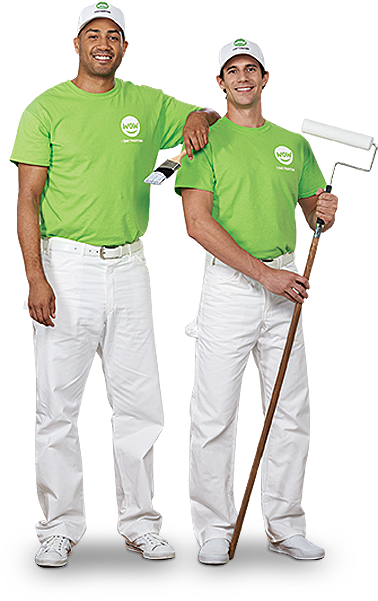 We love what we do! But don't take our word for it, see what our customers have to say!
Quick, clean, professional service. Made the process so easy!
- Melissa Supraski, Miami, Florida
I am so happy with WOW 1 DAY PAINTING service that I've already recommended their services to a colleague. From the initial contact with Tyrone and the mid day update/photos to the follow-up at the end of the day to ensure I was happy made for a fantastic experience with WOW 1 DAY PAINTING. They were on time; professional and did a great job. I would not hesitate to call WOW 1 DAY PAINTING again.
- Brenda Slater, Kitchener/Waterloo, Ontario
Absolutely the best quality work and the most professional EVER. I would give WOW 10 stars if I could! I was recommended to Ty by a friend of mine. I went to visit one day and noticed that his house had an awesome new paint job. I looked at the lines on the archways and ceiling. I was astonished to see that all the lines were perfect! I had been looking for someone who could do work quality like this for quite some time. I called Ty on a Saturday and received a return call within hours. We scheduled a time on Monday to give me a bid. He actually arrived 15 minutes early which is very unusual. I had told him that I wanted to have some rooms painted as a surprise for my husband who was out of town on business. The bid was very reasonable. I was so impressed by Ty's professionalism that I asked him to begin immediately. He accommodated my needs time wise. The work was absolutely perfect in every way. They even cleaned up everything when they were done. Moved all my furniture and put everything back. Ty is also a great artist. After seeing some of his artwork I decided to commission him to paint a mural on my entryway which has 26 foot ceilings. I'm excited to see what he comes up with.! Anyway...you will get all that you are expecting, and more.
- Gayle Lee, Scottsdale, Arizona
All I can say about my house painting is WOW! Great job guys!!
- Virginia North Customer, Stafford, Virginia
John and his team went above and beyond their call of duty. They not only manage to finish the job in few hours, but they also fixed our impossible -to-fix wall. They kept coming back to make sure everything was perfect. All the bumps and imperfections in the walls were gone.
- Crystal Mccovely, Las Vegas, Nevada
It went wonderfully. I appreciate the speed with which the whole process took place, from first contact to job completion. All representatives from the Wow were wonderful to work with from the estimate to the paint job to billing. A perfect experience for someone new to town with no recommendations. I, however, can recommend them highly.
- Stephanie Anthony, Geneva, Illinois
Tyrone and his team at Kitchener-Waterloo Wow1Day painted the interior of a 1,540 square foot apartment in our 117 year old Victorian income property. From start to finish, the entire process was quick, efficient, professional and exceedingly courteous. Exceptional service at a fair price and accomplished in an incredible 16 hours! I will definitely use Tyrone and his team again.
- Michelle B, Kitchener, Ontario
The staff was courteous very knowledgeable and ready to work as a team. Everyone knew what task they had and worked very hard to accomplish this. I am very pleased and would certainly recommend your company.
- Sheila P, St. Catherine's, Ontario
They were professional, fast, super tidy and great price!
- Jodie Cohan , Vancouver, British Columbia
The WOW crew was honest and upfront about everything. I got several quotes and they followed up very quickly and clearly answered all of my questions and concerns. They explained the quote and cost in detail and even came back out for free. I have already referred WOW to friends and family who are thinking about giving their home or office a new look.
- Michael Dinn, Scottsdale, Arizona
<! -- // row inner -->