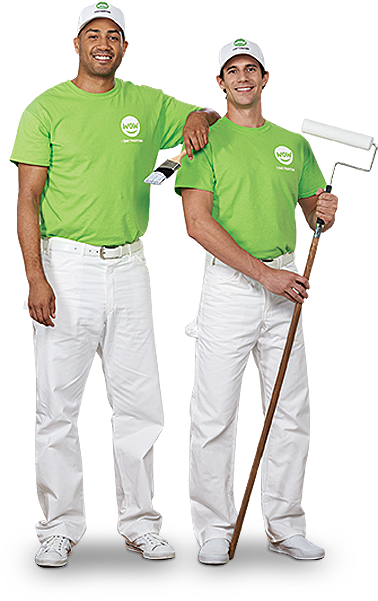 We love what we do! But don't take our word for it, see what our customers have to say!
I was very happy with Mike's communication regarding our project. When we went into Sherwin Williams to pick out our paint color and the paint guy there referred to Mike and said what a great guy he was to work with, we knew we had picked the right company. The painting job looks absolutely amazing and the price couldn't be beat..
- Aaron & Sarah White , Minneapolis, Minnesota
Perfection, from initial contact with Justin, to job completion by KC. This service was purchased with an Angieslist special deal, and it was a GREAT deal. I will certainly call them for any additional work we need, and would highly recommend their services. Very professional and conscientious of homeowners comfort. KC went over and above what we requested. He left his work area spotless, and the job he did was perfect.
- Linda, Monroe, Michigan
Very professional, and Jay bent over backwards to help me out and get the work done in short notice. The walls look great and I was able to get my unit rented that weekend because Jay was able to change around his schedule and get the unit painted with a days notice. Well Done! and thank you!
- Adam Bransfield, Westchester, New York
Great painters, faux finish was done perfect. Great people to work with.
- Helen W. , Hinckley, Ohio
Before choosing Wow, I was researching Yelp and couldn't get Painters to fit my timelines. My colleague referred me Wow and I called them. Estimation appointment took sometime but actual Paint Job was scheduled and done very quickly. They are very professionals and done an awesome job. Very punctual and accommodated our requests. Used quality Paint and changed home's interior and brought a new look. I would definitely recommend.Thanks
- Nages Meesala, San Jose, California
These guys are amazing!!!! I just moved to the area they accommodated me GREATLY to start the day escrow closed!! So friendly, fast, honest, reliable, and VERY meticulous! I could not be happier with the job they have done for me! I most defiantly will be calling them for all my painting needs!! Thank you WOW painting for doing such a great job!!
- Dena S., Reno, Nevada
The painters at WOW 1 DAY are very talented, meticulous, and professional. I am very satisfied with the result of my paint job.
- Kristen, Austin, Texas
They were beyond punctual and professional showing up early each morning (we had wallpaper that needed a day to be stripped and walls prepped prior to painting) and explaining each step in the process for me. The crew worked extremely hard and left after 7pm on the final day after a full day of priming and painting. They left my kitchen looking beautiful thanks to the new paint job and the floors were cleaner than when they arrived! They also brought me a bouquet of flowers, which was a very nice touch. : ) It's been a week since they finished and my husband and I love the look of our updated kitchen and are definitely going to contact WOW 1 day painting again for our cabinets and other rooms in our home!
- Jennifer Rinn, Bergen County, New Jersey
amazing experince John and crew were great through every step from quote to color to painting,everything went smoothly, got everything our wish list done with all smiles, even with last minute changes,absolutly happy, cheerful great fun experience will recommend to all I know
- CanRef Flamborough Manse, Hamilton, Ontario
The team painted my entire 1800 sq ft home. Project required 2 coats and sometimes 3. Dated dark colors were replaced with tropical bright happy colors. Each crew member was the utmost professional and courteous. Each one insisting that I was constantly please with the outcome. I am not certain which is more awesome, the new paint and look or how awesome Steve and his crew was. I certainly recommend Steve Lewis and WOW 1-Day Painting.
- Rick Richter, Sarasota, Florida
spk to Mrs W. very, very happy with WOW- Excellent work will have us back again- already referred us to a neighbor 10 without a doubt
- Paul Weinsten, Kitchener, Ontario
Absolutely the best quality work and the most professional EVER. I would give WOW 10 stars if I could! I was recommended to Ty by a friend of mine. I went to visit one day and noticed that his house had an awesome new paint job. I looked at the lines on the archways and ceiling. I was astonished to see that all the lines were perfect! I had been looking for someone who could do work quality like this for quite some time. I called Ty on a Saturday and received a return call within hours. We scheduled a time on Monday to give me a bid. He actually arrived 15 minutes early which is very unusual. I had told him that I wanted to have some rooms painted as a surprise for my husband who was out of town on business. The bid was very reasonable. I was so impressed by Ty's professionalism that I asked him to begin immediately. He accommodated my needs time wise. The work was absolutely perfect in every way. They even cleaned up everything when they were done. Moved all my furniture and put everything back. Ty is also a great artist. After seeing some of his artwork I decided to commission him to paint a mural on my entryway which has 26 foot ceilings. I'm excited to see what he comes up with.! Anyway...you will get all that you are expecting, and more.
- Gayle Lee, Scottsdale, Arizona
We had our living room painted in our house recently. I was really pleased how the WOW crew was on time, finished the job in less time than they estimated, and most importantly did a very good quality job for a fair price.
- Tracy H., Fort Collins, Colorado
The painters were personable and did everything they promised. We plan on using them again in the future. They did excellent work and a high quality job.
- Scottsdale Customer, Scottsdale, Arizona
The service went very well. I had them paint the hallway, doors, trim and ceiling. Two painters were out and completed the job in about 6 hours. The painters were personable and did everything they promised. We plan on using them again in the future. They did excellent work and a high quality job. They did an immaculate job with the clean up. I had no problem scheduling the deal.
- Kevin H, New Rochelle, New York
I needed my entire house painted before we left on vacation. I was pretty stressed out and started looking for painters. Dave came by, gave a quote and promised to have the job done before I left on vacation. They finished the job in 1 DAY and I was so happy with the work. I felt completely comfortable with the price and the service was fantastic. I would highly recommend these guys to any of my friends and family. Thanks so much!!
- Sarah, Seattle, Washington
Great service easy to book, in and out very quickly very easy process starting with the call center, friendly and wonderful staff will really just recommend to all.
- Alison Heden, Toronto, Ontario
Tyrone and his team at Kitchener-Waterloo Wow1Day painted the interior of a 1,540 square foot apartment in our 117 year old Victorian income property. From start to finish, the entire process was quick, efficient, professional and exceedingly courteous. Exceptional service at a fair price and accomplished in an incredible 16 hours! I will definitely use Tyrone and his team again.
- Michelle B, Kitchener, Ontario
WOW 1 Day Painting came out to paint my master bedroom. They were AMAZING! The painters were all uniformed, listened to my concerns, and answered all my questions. The end result was absolutely stunning!! Not to mention that the price couldn't be beat. I will definitely use this company again.
- Kaitlyn Ovard, Reno, Nevada
They arrived on time, did an awesome job, were professional and friendly. I would use them again in a heartbeat.
- Karyn Williams, York Region, Ontario
John and his team went above and beyond their call of duty. They not only manage to finish the job in few hours, but they also fixed our impossible -to-fix wall. They kept coming back to make sure everything was perfect. All the bumps and imperfections in the walls were gone.
- Taz Kamal, Hamilton, Ontario
All I can say about my house painting is WOW! Great job guys!!
- Virginia North Customer, Stafford, Virginia
Could not have had a better experience. The quote was done the next day after calling. The pricing was great. The work was scheduled quickly and completed on-time and in one day as promised. The work was of high quality and looks good. I would highly recommend WOW 1-Day Paining.
- Mike M, Rosemount, Minnesota
John and his team went above and beyond their call of duty. They not only manage to finish the job in few hours, but they also fixed our impossible -to-fix wall. They kept coming back to make sure everything was perfect. All the bumps and imperfections in the walls were gone.
- Crystal Mccovely, Las Vegas, Nevada
We recently had the pleasure of working with Ramsey Frangul and his team in the Cedar Rapids, Iowa market. What a great experience! From submitting an inquiry to job completion, they were wonderful to work with. Ramsey was always updating me on the status of the project beginning with the initial walk around for quoting. His quote came back extremely fair and they were able to schedule my project quickly. His team was professional and courteous. I talked with Ramsey daily throughout the project. I appreciate the opportunity to do a final walk through. There were very few touch ups needed and they were quick to get them done. Oh…and it looks fantastic!!! I would not hesitate to recommend Ramsey and his team to family, friends and neighbors. I am so happy that they are a qualified option in this market!
- Kristy & Dan Ryan, Cedar Rapids, Iowa
everything is perfect left 5 Star review on yelp price comepetive, timely and professional
- Channa Jayasekera, San Jose, California
Wow made it really easy to get my house painted. They showed up on and gave me a fair price. 5 Stars.
- Mark Tevis, Scottsdale, Arizona
Would rate 11 if possible just immaculate and professional service, great communication, no hassel over a very fair price, better than clean as a whistle. of course will reccommend to others. keep your painter he was just Great! Wants to know when the stock will go public want in on such a great company.
- Robert Burns, Toronto, Ontario
clean,efficient, arrived on time, made my house ready for sale.
- Linda Lefeuvre, York, Ontario
extremely clean and organized, the team that was here today was absolutely amazing. They were all extremely professional, polite and yet sounded like they were enjoying themselves talking to each other throughout the day. This is my second time using WOW 1 day Painting and it won't be the last. I have told everyone about how great you are. I was also re-assured that if I found any spots that may have been missed, they would be back to fix it. Nothing but super impressed with today's team. Thank you so much
- Dianne Froggatt, Hamilton, Ontario
<! -- // row inner -->