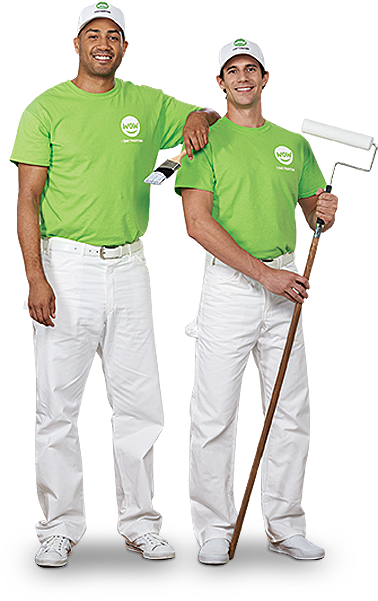 We love what we do! But don't take our word for it, see what our customers have to say!
Alex was professsional and handled all my requests. Job well done!
- Gordana Grbic, San Jose, California
Met with Lee for the estimate, which went well and he was a very nice guy. Once the day came to have the work done Robby and Ezekiel did the actual painting and it came out perfect! I would recommend and use Wow for any future needs, this company is amazing to work with and very courteous.
- Ryan Sabouneh, Scottsdale, Arizona
clean,efficient, arrived on time, made my house ready for sale.
- Linda Lefeuvre, York, Ontario
ever had better experience working with contractor Jason follow through gave more than expected wished I had more house to paint
- Mike Orrell, Detroit, Michigan
All I can say is WOW! The job was great, very thorough and efficient. Would highly recommend!
- Columbus Customer, Columbus, Ohio
WOW 1 DAY PAINTING gave us a competitive price and looked after us and our project using quality materials applied by skilled trades people, on time and on budget! Who can ask for more!
John and his team went above and beyond their call of duty. They not only manage to finish the job in few hours, but they also fixed our impossible -to-fix wall. They kept coming back to make sure everything was perfect. All the bumps and imperfections in the walls were gone.
- Crystal Mccovely, Las Vegas, Nevada
The entire customer experience. You grabbed me for life and all I was doing yesterday was talking about your company. I teach a class in Humber about Digital Projects and dealing with customers, I took my flowers and my mug to teach the students how to make a great customer experience. And yeah of course the wall instead of being yellow, is green... an absolute stunning green. Makes me happy every time I see it. Not because of the color, but because of how you guys made me feel. Thank you!!
- Luis Balaguer, Mississauga/Oakville, Ontario
They went above and beyond what they said would do. Very professional and polite. They took care of every little detail and would hire them again or recommend them to a friend. Thanks Jason, Jullien and the crew!
- Horacio Barajas, Calgary, Alberta
Reliability and honesty is huge! Customer service was great. Easy process--once I decided what I wanted! ;-)
- Kristen Pumphrey, Washington D.C., District of Columbia
Customer service was great, quick to respond and deal with. The team onsite was friendly throughout and did a great job painting the house. Job was done quickly and efficiently and they made sure we were happy with the results.
- Dan Young, Toronto, Ontario
Quality work Professionalism Friendly
- Betty Maloney, Calgary, Alberta
ever had better experience working with contractor Jason follow through gave more than expected wished I had more house to paint
- Mike Orrell, Detroit, Michigan
The painters at WOW 1 DAY are very talented, meticulous, and professional. I am very satisfied with the result of my paint job.
- Kristen, Austin, Texas
Mike communicated with me professionally to figure out a schedule that met my needs but also was practical for them as well - I understand I am not their only Customer. I'm a Contractor myself with a very busy schedule and having my phone calls or texts returned in a timely manner was much appreciated and allowed me to view and adjust my schedule accordingly.
- Bill Malone, Baltimore, Maryland
Mike Sanders and his crew operated with the highest level of professionalism throughout my one day job. They checked in with me throughout the day to ensure I was happy with their work and to answer any questions I might have.
- Lisa Bohne, Minneapolis, Minnesota
The painters were personable and did everything they promised. We plan on using them again in the future. They did excellent work and a high quality job.
- Scottsdale Customer, Scottsdale, Arizona
You guys were punctual and ready to go. You went above and beyond especially for just a small area that had to be painted compared to what I'm sure you guys usually do.
- Robert Gill, Riverside, California
Absolutely the best quality work and the most professional EVER. I would give WOW 10 stars if I could! I was recommended to Ty by a friend of mine. I went to visit one day and noticed that his house had an awesome new paint job. I looked at the lines on the archways and ceiling. I was astonished to see that all the lines were perfect! I had been looking for someone who could do work quality like this for quite some time. I called Ty on a Saturday and received a return call within hours. We scheduled a time on Monday to give me a bid. He actually arrived 15 minutes early which is very unusual. I had told him that I wanted to have some rooms painted as a surprise for my husband who was out of town on business. The bid was very reasonable. I was so impressed by Ty's professionalism that I asked him to begin immediately. He accommodated my needs time wise. The work was absolutely perfect in every way. They even cleaned up everything when they were done. Moved all my furniture and put everything back. Ty is also a great artist. After seeing some of his artwork I decided to commission him to paint a mural on my entryway which has 26 foot ceilings. I'm excited to see what he comes up with.! Anyway...you will get all that you are expecting, and more.
- Gayle Lee, Scottsdale, Arizona
very pleased will call again salesman Matt charming/ understood what I wanted/ / go to the job done/done after husband went to work and done before he got home. issue with plants dallus stork were brused/ steam broken used a drop cloth. score 9 that is how you keep a marriage happpy"
- Charmine Neary, Westchester, New York
WOW, One Day Painting. I just moved to the Reno area, was desperate for a house painting Company to paint the inside and garage of a re-sale home we purchased, I called WOW. What an amazing job they did, they were very professional from the get go, did every thing I asked...on time, and made my 'vision' of the dream home I showed them come true. Alex Pahang the co-ordinator is the most polite and organized manager ever, and I felt I could trust him and his paint crew with every detail, they did not let me down. I highly recommend these people.
- Lisa L., Sparks, Nevada
Could not have had a better experience. The quote was done the next day after calling. The pricing was great. The work was scheduled quickly and completed on-time and in one day as promised. The work was of high quality and looks good. I would highly recommend WOW 1-Day Paining.
- Mike M, Rosemount, Minnesota
Wow indeed! Alexis and his crew just finished our house. it looks amazing, and was just the change we were looking for! In under two days, we went from dark and closed-feeling to open and bright. What's more is the crew was a total delight to have here; they are excellent painters and totally nice guys. I can't believe how fast and how well they worked. When the rain stops, we'll be looking forward to having Wow 1 Day Painting come and paint the exterior. It feels like a brand-new house. :)
- B.M., Sparks, Nevada
Very professional, and Jay bent over backwards to help me out and get the work done in short notice. The walls look great and I was able to get my unit rented that weekend because Jay was able to change around his schedule and get the unit painted with a days notice. Well Done! and thank you!
- Adam Bransfield, Westchester, New York
Loved the result with Mike and his team. Our 100+ year old house has never looked better. Excellent communication and even when things didn't go as planned (trim required an extra coat to cover dark brown) good options were presented communicated in a timely manner. Will definitely use next time we need painting done.
- Kyle S, Minneapolis, Minnesota
Wonderful professional clean and neat crew. The painting is done quickly and precisely. WOW is my first choice for all painting needs. Nancy
- Nancy Craig, Detroit, Michigan
The team painted my entire 1800 sq ft home. Project required 2 coats and sometimes 3. Dated dark colors were replaced with tropical bright happy colors. Each crew member was the utmost professional and courteous. Each one insisting that I was constantly please with the outcome. I am not certain which is more awesome, the new paint and look or how awesome Steve and his crew was. I certainly recommend Steve Lewis and WOW 1-Day Painting.
- Rick Richter, Sarasota, Florida
Perfection, from initial contact with Justin, to job completion by KC. This service was purchased with an Angieslist special deal, and it was a GREAT deal. I will certainly call them for any additional work we need, and would highly recommend their services. Very professional and conscientious of homeowners comfort. KC went over and above what we requested. He left his work area spotless, and the job he did was perfect.
- Linda, Monroe, Michigan
very good, very friendly painters WOW from all neighhbors that came into see the job
- Sheila Pattison, Toronto, Ontario
WOW 1 Day Painting was very accommodating in terms of a date and time for the work to be completed and by allowing me to send pictures of the walls to be painted while construction of my home was ongoing. This allowed me to have a general idea of how much my paint job would cost. Once construction was complete, an estimator (his name was Steve... super friendly and knowledgeable guy!) came out to give a final estimate before the work was completed. The work itself was impeccable. The painter's attention to detail was SPOT ON and my feature walls turned out amazingly well. No streak marks and no imperfections. The work was completed in under 6 hours. I couldn't be more pleased with the results!
<! -- // row inner -->