Spring Painting Colors to Refresh Your Home
Sarah Robinson
After a long winter, spring brings us a feeling of renewal and excitement. We can't help but be inspired by the shift in the landscape from those wintery neutrals of brown, gray, and white to the vibrant hues of spring! If the new season has got you feeling like you want to bring some more color into your home, now is the perfect time to paint. 
Not only are you naturally ready to change things up in spring, but it's also ideal for painting from a practical standpoint. For exterior painting, the weather tends to be favorable and it's much easier to book professional painters in spring—if you wait until summer to get your painting done, painters tend to be booked up very quickly. Check out our post on why it's smart to paint in the spring for more details. 
Spring Painting Colors
When it comes to choosing paint colors to brighten up your home, the possibilities are endless! If you're unsure about where to start, a good tip is to look to the world around you for inspiration. During spring, nature really puts on a show! You'll find color inspiration everywhere you look, from the different shades of green in your garden to the pretty little flowers popping up all over town. Once you get a sense of what colors speak to you, it's much easier to start narrowing down the particular shade you're after.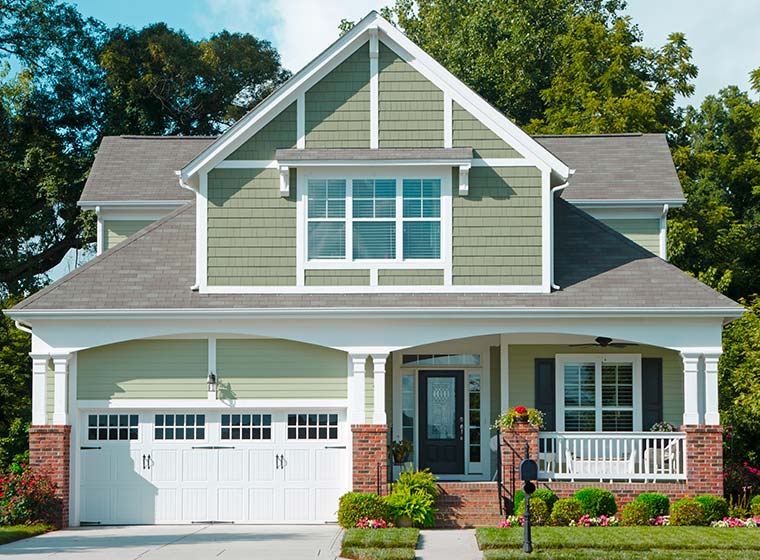 Exterior paint colors to brighten up your home
For exterior colors, you want something that will stand the test of time, since most people tend to change up the outside of their homes a little less frequently. When choosing a color palette for your home, there are a few things you need to consider beyond your own personal style and what's trendy at the moment. You'll want to make sure you choose something that blends in well with the natural surroundings and fits in with the homes around you—you don't necessarily want to be the loudest house on the block! Many places have guidelines about paint colors that must be followed, so it's a good idea to check and make sure you're not breaking any rules by choosing a new color.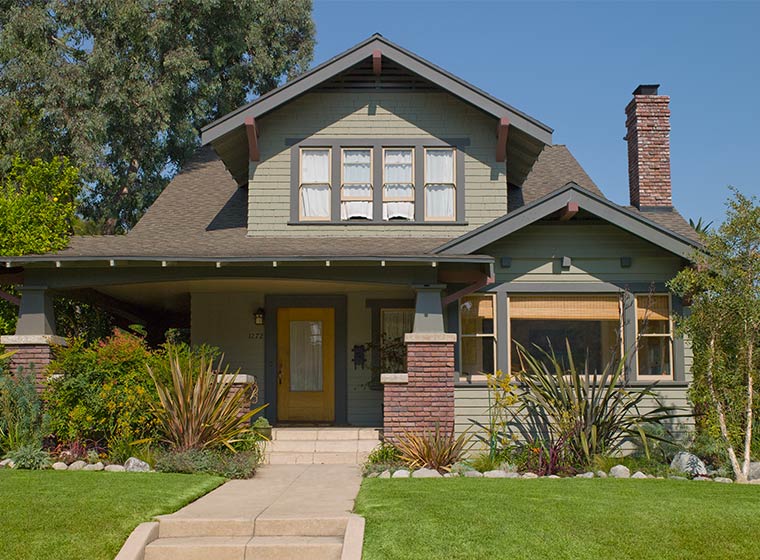 Gorgeous Green
Green is always a fun choice for an exterior look and can offer you that pop of color while still keeping things on the more neutral side of things. While dark shades of hunter green are typically popular year round, for a fresh spring take we love the idea of using a lighter green for an allover exterior color. If you want to stay on the slightly darker side, try Basil by Sherwin-Williams; for something softer we love October Mist by Benjamin Moore.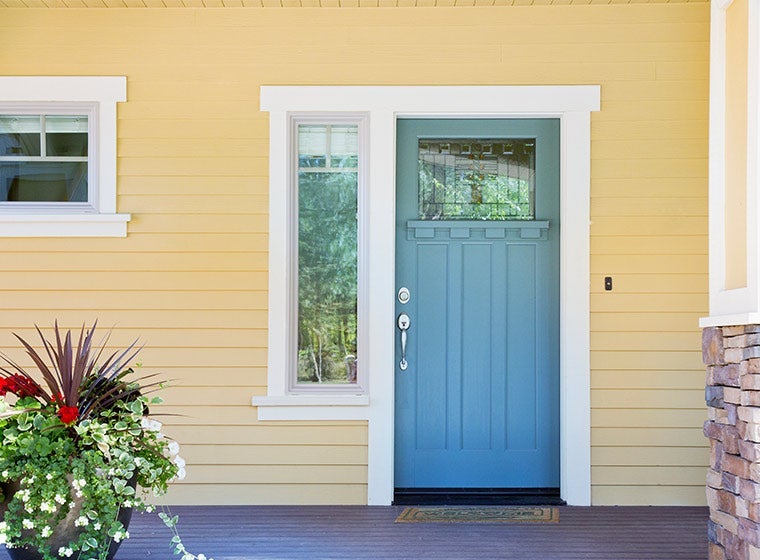 Buttery Yellow
Yellow is kind of the perfect spring color—it instantly gives off that sunny, happy vibe! While we often see shades of yellow being used inside homes, we love a soft buttery yellow shade as an exterior color. Paired with a simple crisp white trim and accents, it's a look that stands out but isn't overwhelming. What's great about soft yellow is that it also pairs well with brighter colors as an accent—how cute would it be with a vibrant pink or blue front door? We love Pale Moon by Benjamin Moore as an exterior shade.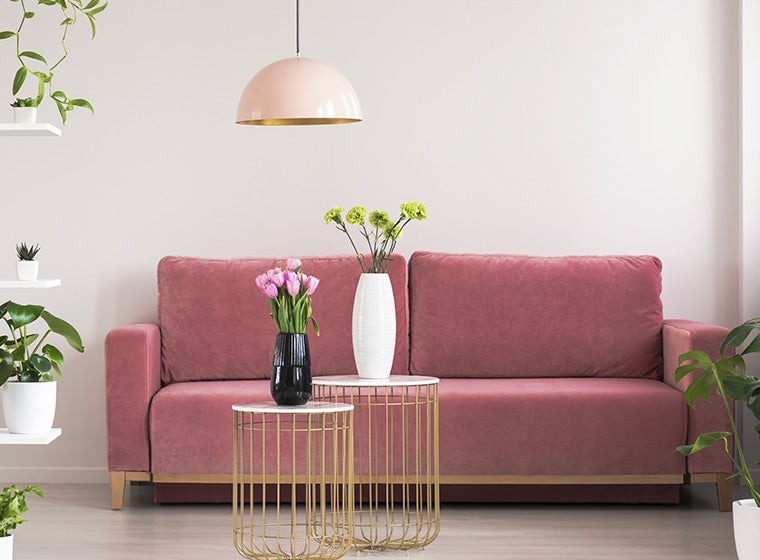 Interior Spring paint colors to liven up your home
For the interior of your home, you want to think about how the room functions when you're choosing your fresh spring colors. For a space that is meant for entertaining, you might want something brighter and more dramatic to bring some energy into the room. Or for rooms like bedrooms, bathrooms, and even family rooms where you really just want to relax, look for softer, more soothing tones. There's so much room to play—once you choose your wall colors you can have fun picking out other elements to highlight with other accent colors.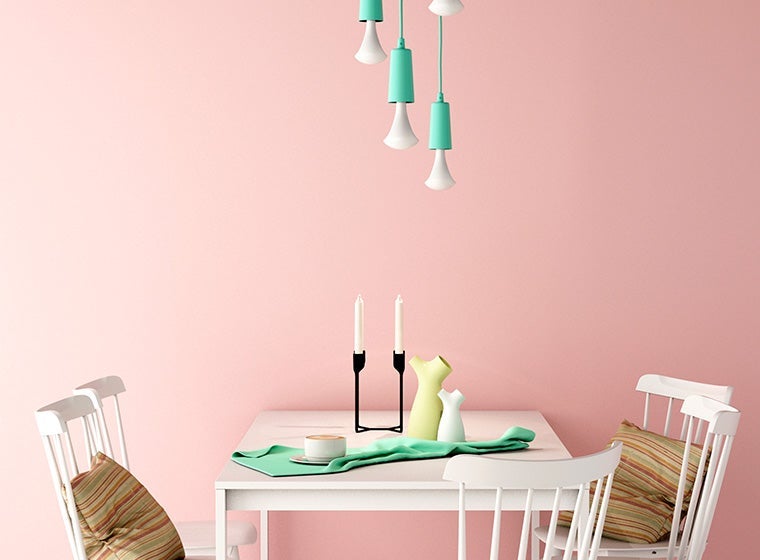 Blush Pink
Blush is about as classic spring as it gets! This soft shade of pink has elements of those pastel Easter tones but is a little more soft and sophisticated. What's nice about blush pink is that there is a range of shades to work with, from an almost white tone with just a hint of pink to a true rosy light pink that stops short of being too vivid. This warm, soothing color creates an instant cozy feel in any space, keeping things calm and soothing while still injecting some happy energy into your room. When it comes to accent colors, anything goes! Keep things balanced with neutrals like soft white, light gray, or beige for a more subtle look. For something bolder, pair it with sage green, soft blue, or a darker shade of gray. Check out Cosmetic Blush by Sherwin-Williams for some color inspiration.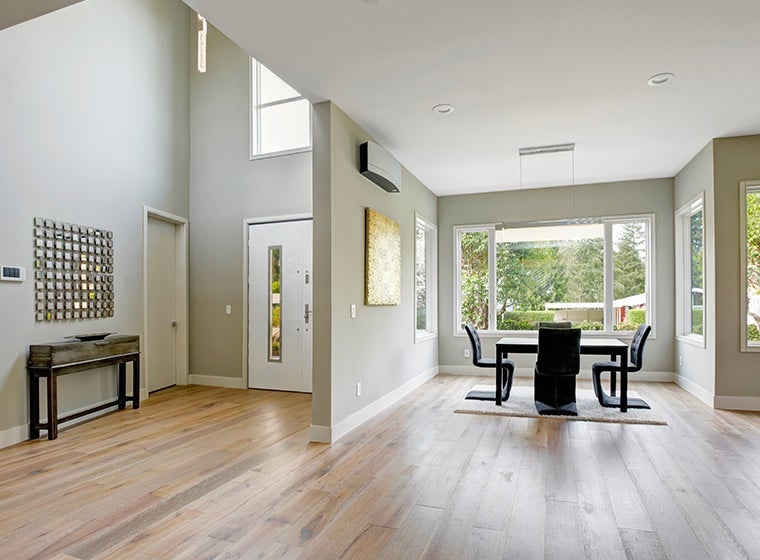 Soft and Subtle Gray
We know what you're thinking. Gray for spring? Absolutely! If you style it the right way, gray walls can really sing spring. In this case, it's all about the accent colors. A soft shade of gray is a great alternative to basic white walls that will really make the other more colorful elements of your room pop. This is a great option in a room that has a cool dramatic feature you want to highlight, like a wall with a big window, a fireplace, or even a piece of art. Soft gray provides a perfect backdrop to play with color, from bright sunny yellows to brilliant turquoise, or bright fuschia pink to bring in those gorgeous spring elements. For a true soft gray, try Light Pewter by Benjamin Moore, or for a more greige look try Alpaca by Sherwin-Williams.
If you're considering giving your home a fresh look for spring, WOW 1 DAY PAINTING is here to help! Whether it's interior or exterior, our teams of professional painters will transform your home in no time. We can help you choose your perfect colors and we'll take care of all the prep work—just leave everything to us and you'll come home to a brand new space at the end of the day. To get started, book your free consultation today!