Stunning Painted Brick Houses
Considering a fresh coat of paint on your brick home? Well, you just might be onto something!
Brick is a classic home exterior and serves as an incredible barrier against dirt, snow, and other elements of nature. However, with time your brick may begin to show unsightly signs of wear and tear. But not to worry! Breathing life back into your brick is actually quite simple. All you need is a bit of paint.
PAINTED BRICK HOUSES IN 2022
There are a ton of benefits that come with painting brick. For starters, it's a pretty simple yet effective way to really transform the overall look and feel of your home. Your home is something personal, so it should reflect your own sense of style. Brick is incredibly versatile and can present itself as traditional or modern depending on your style and color selection. Here are some important things to consider before moving forward with your exterior painting project. 
Benefits of painting brick
Painting brick serves as a practical solution to boosting curb appeal and increasing the value of your home. With inevitable exposure to moisture and extended periods in the sun, it's natural for bricks to show signs of deterioration. A coat of paint can create a transformative visual impact, creating a uniform surface over the uneven signs of aging. Not only does it act as camouflage over existing weathering, but the use of the right paint also acts as a sealant, and protects your home from future decay.
Brick is a naturally porous material, meaning there are many small holes or openings which allow for air and moisture to pass through. When left unpainted, it's easy for brick to trap dirt and debris that can be quite difficult to scrub away. This collection of buildup in conjunction with moisture and other natural seasonal elements can lead to further obstacles such as limescale and mold. All home exteriors require some level of maintenance, but not all are equal! A painted exterior provides a smooth surface, making cleaning your home as simple as an occasional power wash.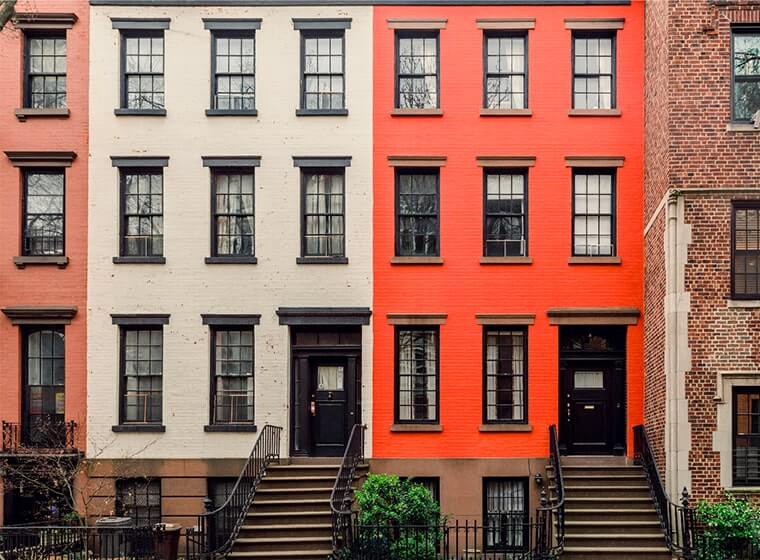 Of course, location can play a big role in the longevity of your paint. If you live in a warm climate, your home may be more vulnerable to fading. Comparatively, living in a cold climate might mean harsh winds and snow can reduce the luster of your home. This is why it's essential to hire trusted professionals for an exterior painting project. 
When executing big home improvement projects, hiring the right professionals can make or break your experience. Expert painters are knowledgeable on the process of painting a variety of home exteriors from start to finish and know exactly which tools, paints, and other materials are necessary to ensure your brick home is properly equipped to look fantastic for years to come. Skilled painters utilize the best tools available, which makes for a stress-free experience!
PAINTED BRICK HOUSES BEFORE AND AFTER
Don't just take our word for it! Here are some stunning examples of how a coat of paint can revive and elevate a home.
Whether your style preference is regal, modern, or chic, the right coat of paint can help your home achieve the elevated restoration you've been dreaming of!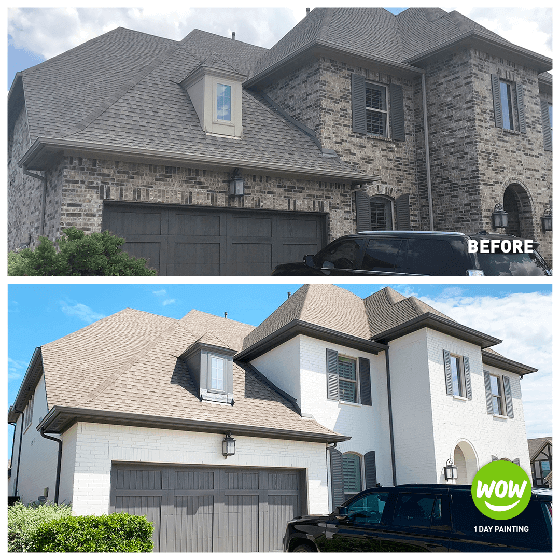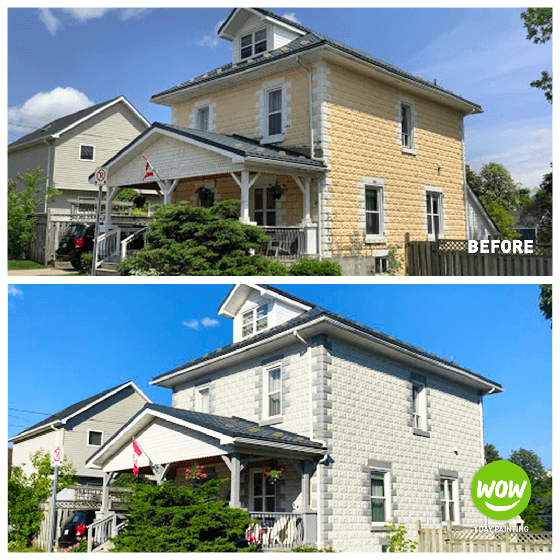 Ready to make a transformative difference to your home? Our experts at WOW 1 DAY PAINTING are ready to help! From color selection to paint type, we're ready to assist you every step of the way. To get started, book your free, no-obligation estimate today!