Franchise opportunities for women
Business. Entrepreneurship. Franchising.
What was long believed to be a man's game has, in the last few years, seen a dramatic shift in climate. With more female entrepreneurs than ever before we are seeing a spike in female owned and operated franchises.
Why the shift?
Franchising offers some exceptional benefits, such as:
Flexible work schedule –  allowing for better work/life balance;
Training & systems – learn from a team of knowledge experts and benefit from developed systems;
Ongoing support – a franchise network with a pool of resources to fish from for shared learning opportunities;
Opportunity to be collaborative yet autonomous – ultimately it's your business, but you're not alone! There are a bunch of Franchise Partners that have been there before and can offer advice.
Women and Home services
At WOW 1 DAY PAINTING over 10% of our franchises are female owned and operated. In a traditionally male dominated painting industry we are seeing Franchise Partners such as Leesa Franklin and Leesha Cunningham in Ottawa succeed and build a solid business. They believe that being women in a field typically controlled by men gives them an advantage. "It puts them (the customer) at ease right away," says Leesha. "Women are all about relationships and building networks".
Leesa and Leesha are clearly capitalizing on this innate advantage.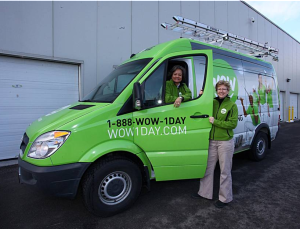 Tammy and Terry Ricketson of WOW 1 DAY PAINTING Cleveland, OH are seeing the benefits of having a family business. With Tammy owning the networking and Terry managing the paint crew, they are able to focus their strengths and positively grow the brand in their hometown. In one month Tammy attended over twenty-one networking events. They saw a dramatic increase in the number of estimates and brand awareness, allowing them to develop relationships with construction companies due to increased public trust in their brand.
To learn more about WOW 1 DAY PAINTING franchise opportunities visithttp://www.wow1day.com/franchise/ or call 1-888-WOW1DAY
Chantelle Jones is an Operations Coordinator for WOW 1 DAY PAINTING. A well-traveled Welsh girl living in Vancouver, Chantelle has a knack for getting things done and making an exceptional cup of tea. You can connect with Chantelle on Linkedin.