How to Paint a Porch? - The Complete Guide
Katherine Gillard
Painting a porch might seem like a daunting task, but when you follow the right steps it isn't as bad as it seems! With a little planning and preparation, you can make your porch look like new in no time!
How to Paint a Porch?
The first step is to remove everything from your porch. (And we mean everything!) Make sure everything in the area that you'll be painting is removed, and any objects by the porch that you can't move are covered with drop cloths. (Old sheets will work perfectly for this.)
After clearing everything off the porch, give the area a good sweep. Start on one side of the porch, and work your way across. Sweeping all of the debris off the area will ensure a smooth working surface. After you've finished sweeping up, hose down the surface to get it really clean and clear of dirt and debris. Depending on the material, this process might look different and change the way you continue.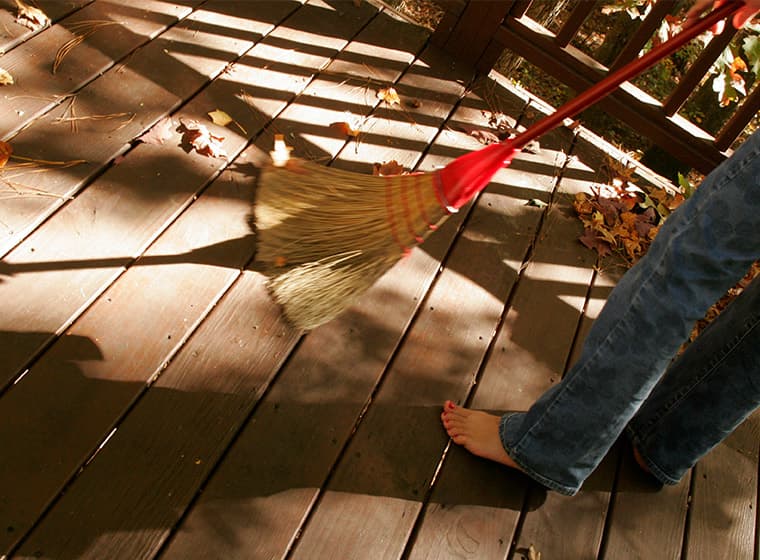 How to Paint a Concrete Porch?
For a concrete surface, you'll want to use concrete cleaning chemicals, water, and a scrub brush to really ensure the porch is clean. Make sure you wear gloves for this process so you keep yourself from touching harmful chemicals. Once you're done scrubbing, rinse the surface off again with a hose and wait for the surface to dry completely before taking next steps (this can take up to 24 hours depending on the weather). A great option for this process is to get a power-washer, it will save time and elbow-grease! 
After the surface is clean and dry, tape off any areas you don't want paint to touch. There are mixed reviews on best practices when it comes to painting concrete, but we like to keep things nice and simple: prime then paint. Concrete primers are easy to find from any paint provider and will ensure that your paint goes onto the surface smoothly.
For paint, make sure you buy concrete exterior paint. These products are designed to last a long time and will endure harsh weather conditions and frequent traffic. Once you're finished painting, wait a full 24 hours before walking on the surface to ensure it is dried and ready!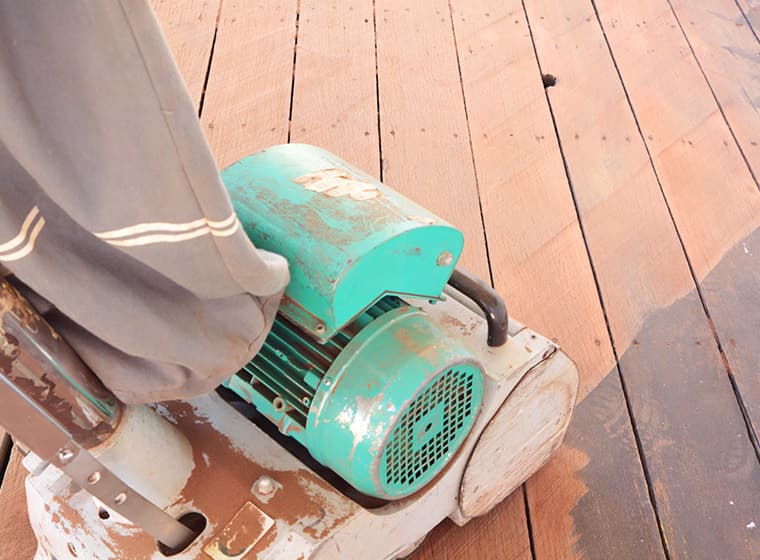 How to Paint a Wooden Porch?
For a wooden surface, after you sweep and hose it down, you'll need to wait for the wood to completely dry before taking next steps. Depending on the weather in your area, this can take up to 24 hours. Don't rush this, because the paint won't dry and cure properly if the surface isn't fully dry. 
Once you're sure the surface is dry, it's time to remove any existing paint on the porch. The best way to do this is to use an orbital sander to sand the old paint off. Make sure you wear protective goggles and a mask for safety while you work. After you are done, sweep the remaining dust off of the surface. 
Now you're ready to tape! Take painters tape and line the area that you don't want any paint to touch (edges, siding, your home, etc.). 
Once the tape is in place, it's time to prime! Ensure you use an exterior primer; you can find these through any paint provider. Just like with sweeping, you'll want to start on the opposite side of the porch so you don't step on wet paint as you walk back. (And don't paint yourself into a corner! You also don't want to get trapped, so make sure you finish up by the stairs or a door.) Keep an eye out for wind that brings debris and make sure you quickly remove anything so that it doesn't stick to the surface as it dries. Wait for the primer to dry before moving on to the next step. Depending on weather conditions this can take anywhere from one to eight hours. Plan accordingly! 
After the primer is dry, you can begin to apply your chosen paint color. Using an exterior, porch specific paint is important because those paints are designed to withstand the wear and tear of people walking on them frequently as well as outdoor conditions. After your first coat dries completely (which can take up to eight hours), paint your second coat.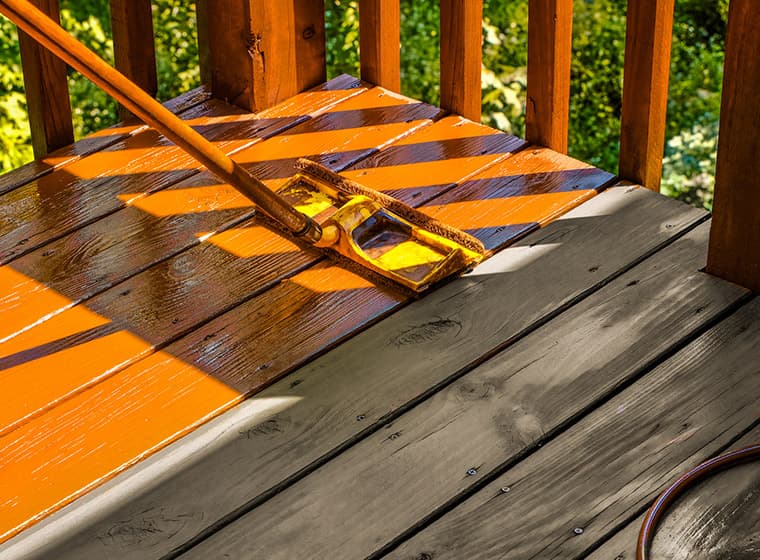 Types of Porches
Ever wonder what the difference between a porch and a deck was? Well, the difference is in the cover. There are a variety of porches, but the common denominator is that they're covered and attached to a home! From gorgeous slick concrete, to the rustic beauty of a wooden porch, all of them will last a long time with proper care. 
Screened in Porch
Screened-in porches are a great option if you're trying to keep the bugs out, and the kids and pets in! These porches give you the ability to enjoy the outdoors while maintaining the serenity of the indoors. Depending on the frame you have, you can also paint the frame of the screen. If you are able to paint the frame, consider choosing a different color than the porch floor to break things up a bit and add some visual interest. 
Front Porch
Picture this: You walk outside your home to grab the paper, and after you do you sit in your wooden rocking chair on the front porch to enjoy the news and the view of the neighbourhood. Sounds like it's out of a dream! Front porches are common in both new and old homes because they are timeless. With the right care, you can make these last for years to come. Going with a solid color on the floor of the porch, or a traditional wood stain are both sure to look gorgeous.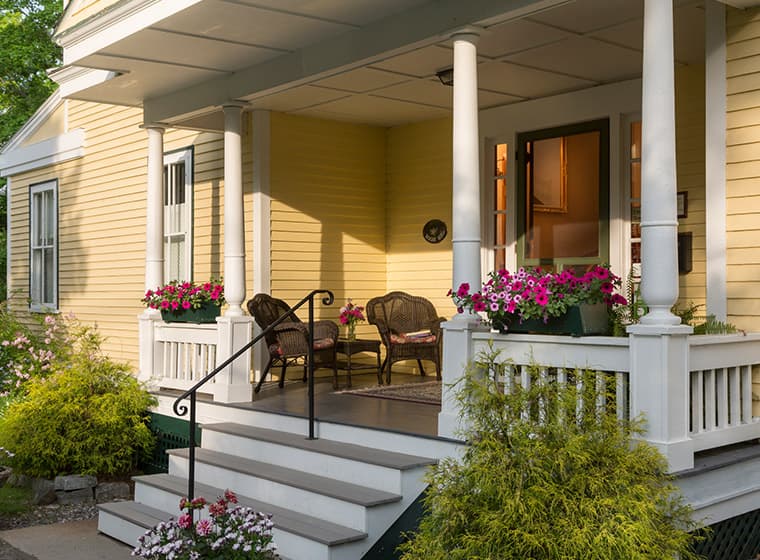 Farmers Porch
Farmhouse style is very on-trend for 2020. With this in mind, go big with the Farmers Porch trend! The key is rustic wood, bold reds, and subtle white accents. Try a rustic welcome sign, and consider accenting your porch with comfy seats and accessories. When decorating, keep in mind that anything you add will need to accent your exterior home color and front door! Consider making your door pop with color - may we suggest red?
Thinking about having your porch painted? Get in touch and we can help you out!